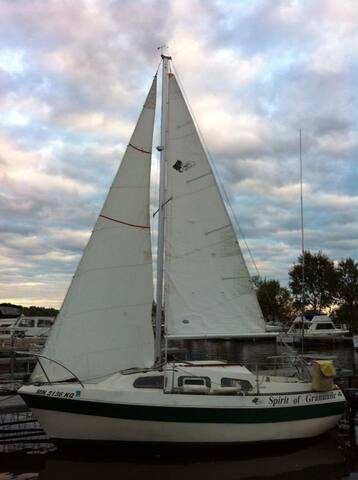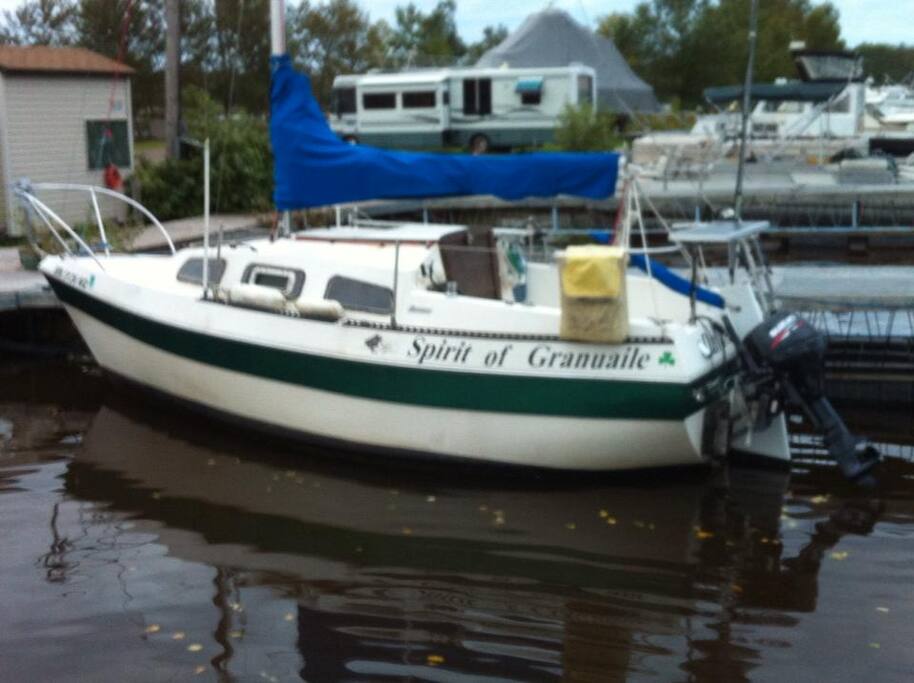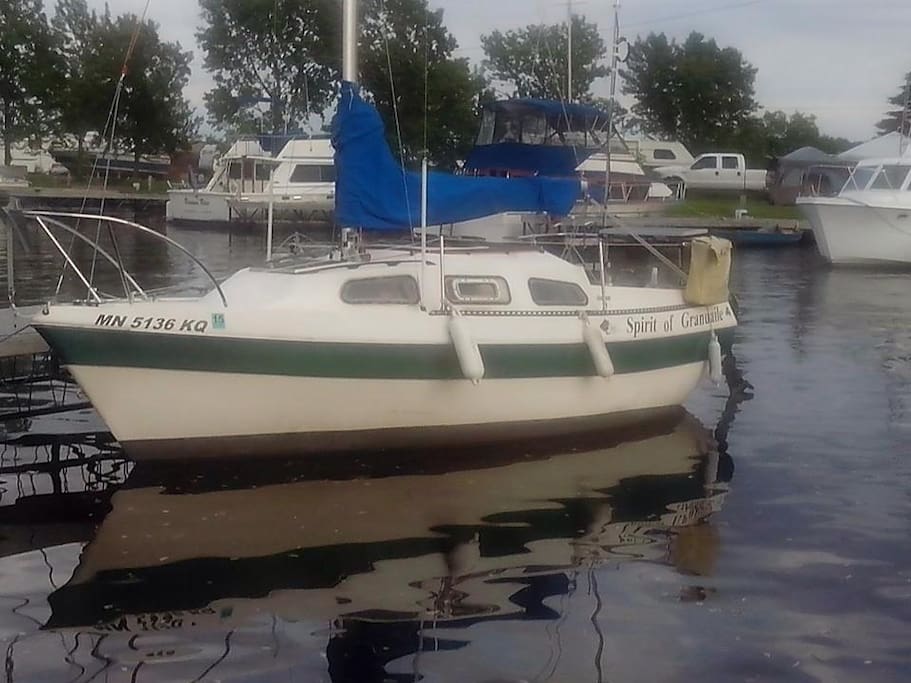 Friends & Family, Sleep on "Spirit of Granuaile"!
Friends & Family! Come visit me and stay on the sailboat, while I stay in the RV. The sailboat sleeps two at the front/bow berth and one at the side/port berth. The City of Duluth MN, passed a new ordinance in May 2016, adding new restrictions to short term housing listings such as AirBnB. Sailboat or RV lodgings are no longer allowed at marinas. You must be a friend!
房源
"Spirit of Granuaile" is a 20 foot Bayliner Buccaneer sailboat, named after an Irish sailor, business woman, and occasional pirate when the situation suited her. Two adults under six feet can sleep in the front, bow berth. One person under 5'8" can sleep at the side/port berth. Cooler available for canned or plastic bottled drinks. Please refrain from bringing glass on board for safety reasons. Coffee available. Cups, mugs, and dishware are available. Great public bathrooms and hot showers at marina. Otherwise, there is a five gallon bucket with a toilet lid for those who do not want to get up through the night. Superior Sailing Adventures might be possible, depending on the weather or other conditions. Check in daily to see if it is possible to go sailing! Look to wind in trees and waving flags! Life jackets are available and must be worn by all. I love to share my joy of sailing! No experience necessary!
房客使用权限
Dining at the table within the cabin for up to four. Dining outside while sailing. Eating outside at deck or eating inside the RV when docked. Many recommendations for own adventures venturing out on your own in either Duluth or Superior.
与房客的互动
Interaction varies depending on my schedule, the weather, and plans of those visiting. I love taking people sailing. No experience is necessary. The sails to the comfort level of my guests. We can other take tours by water with motor on low wind days. Learn to navigate the channel, proper marine radio etiquette, hoist and drop sails, trim the jib/front sail, and even skipper. Occasionally large gusts or storm come upon us, without warning. You can head to the cabin, and I will drop sails and motor home as soon as possible.
其他注意事项
I am between St. Paul and Duluth for much of the time between May through October. Sailing Adventure are available according to my schedule, and weather allowing. No sailing without me!
---
We had a great time staying at Marie's. It was really awesome learning a little bit about sailing from someone experienced like Marie- the lines are color coded so it makes instruction easy to follow. Marina bathrooms and showers are a short walk from the boat and are very clean. The sleeping bunk was really comfy, and we slept great. Would highly recommend.
---
My grandson and I had a wonderful adventure sailing with Marie. Don't hesitate to climb aboard for a sail through the river and out onto Lake Superior. Marie is a wonderful captain. We also slept on the sailboat which was much like camping on water. Marie was great with my grandson, and went way out of her way to make sure we were safe and secure.
---
Marie was a great host. We had a blast staying at the RV. It was clean, cozy and close enough to Duluth's attractions to get back and forth easily. Marie was incredibly friendly and communicated immediately in regard to any questions.
---
As Marie describes, this is a small working sailboat. There is little room for guests' personal belongings so pack small or leave things in your car. Bring an ice filled cooler if your food/drinks need refrigeration. Due to gas spillage on the boat we spent only one night and then Marie found a place for us to spend the second night. If you want to experience sailing with Marie or to experience sleeping on a cozy boat, this could be the AirBnB for you. The beds were quite comfortable.
I provide a large cooler and various drinks for guests to use, if they wish. The sailboat does not list a refrigerator. I volunteered use of frig on RV. In addition, I showed guests where towels, blankets, coffee pot, mugs, glasses, utensils and more were stored. I usually fill gas tank for motor off the boat. I didn't this one time, nor will I again. I cleaned gas, but I didn't realize fumes were present. I wish I had been told about concerns immediately, especially since I was literally within a few feet away in my RV and could have made other accommodations immediately. Bizarre to be so concerned, yet not tell me until the second evening, when I immediately provided alternative accommodations at a much higher value. No communication first evening, the following morning, or through out the whole day wasn't helpful to me, especially since they stated concerns were so great. Situation has been resolved quite easily.
---
Staying on the Spirit of Granuaile was quite the enriching experience! Marie was an excellent host and willing to go the extra mile to assist with anything needed and was a fun friend to kill some time with. Sleeping was quiet and cozy and you can look at the stars through the hatch above you! If you're lucky, Marie may even take you sailing. I recommend this stay to anyone willing to try a fun and unique experience.
---
We had a wonderful 4th of July weekend staying on Marie's sailboat. She had excellent communication from the beginning and allowed us to plan out when we would meet and made arriving very effortless. Once we met, she felt like a long-lost friend. We enjoyed a beautiful day on Spirit of Granuaile with Marie. It was most enjoyable, sailing, chatting, and laughing! Sleeping at night on the boat was cozy and snuggly under the Minnesota sky and cool breeze. It was absolutely lovely. We hope to stay in touch with Marie and make another trip up to Duluth sometime again. Definitely an experience that few have the opportunity to partake in. We are so glad we did! Thank you, Marie, for a wonderful weekend!
---
Originally from New England, I fell in love with Duluth, MN the first time I saw the large spans of Lake Superior, while driving down the hill from I-35! Stop at the visitor center off I-35 for a spectacular view and lots of information! Previously, I sailed competitively on Lake Minnetonka as a crew member with various skippers and boats at the Wayzata Yacht Club. Now the owner of an old 20 foot Byliner Buccaneer sailboat, I spend much of my time between Duluth for fun and St. Paul, where I live with my partner, two cats, and my dog, Rico, who also loves trips to Duluth. This is the seventh year for my sailboat and the fourth year for the RV in Duluth. I'm at a great locational for longterm and full season boat and motorhome owners and well as short term travelers.

Effective May 2016, the city of Duluth MN, USA no longer allows boat and RV rentals at marinas. I find this very disappointing, because it was a win, win, win. I won as a host meeting some great people, who might also enjoy sailing. Guests won, because people from various walks of life could afford an alternative to more expensive lodging. And the local economy won, when my guests attended various cultural events, dined out at a delightful range of places, and shopped at many locations, both nearby and along the North Shore.

WELCOME, FAMILY & FRIENDS!
Please check my schedule to see if either my sailboat OR my RV are available for overnight stays. You can sleep in the sailboat or the RV, and I will sleep in the other location. Only supervised children are allowed on the sailboat!

SAILING ADVENTURES: Suggested donation of $25-$50 per person, depending on length of trip. Contribution towards beverages such as a case of water, ice tea, lemonade, ginger ale, beer in cans, and two bags of ice for the cooler. Pack a picnic or take me out for breakfast, lunch, or dinner! Make a great meal to share. Contribute toward gas for sailboat's outboard. Share the Skipper's Toast to Granuaile with Baileys Irish Cream, after 3-7 hours on the water! No experience needed. Sailing is adjusted to the comfort level of guests.

SLEEPING ON SAILBOAT: Suggested donation of $50-$75 per night for up to three people. Two night minimum. Discount on 3-7 nights.

SLEEPING ON RV: Suggested donation of $100-$150 per night for up to three people. Have full and private use of RV for cooking, refrigerator, private bath room, and many amenities. Or contribute to groceries, meals and cleaning for larger group at sailboat. Help clean dishes and switch twin bed to table for game night or social. Discount on 3-7 days.

RV TOURS of NORTH SHORE for up to three seat-belted guests, with owner as insured driver. Contributions towards gas and other expenses are graciously accepted!