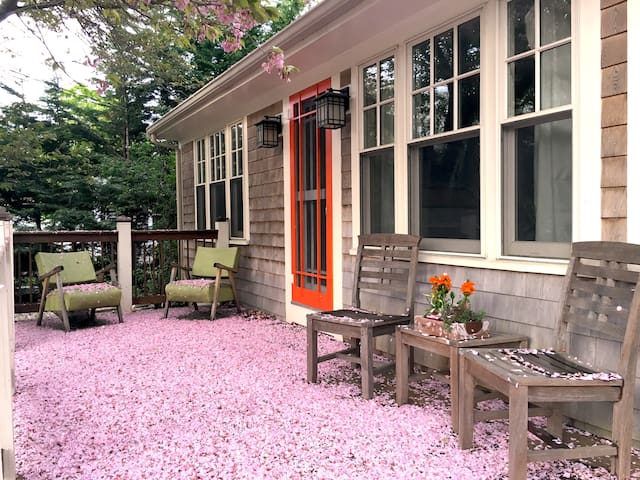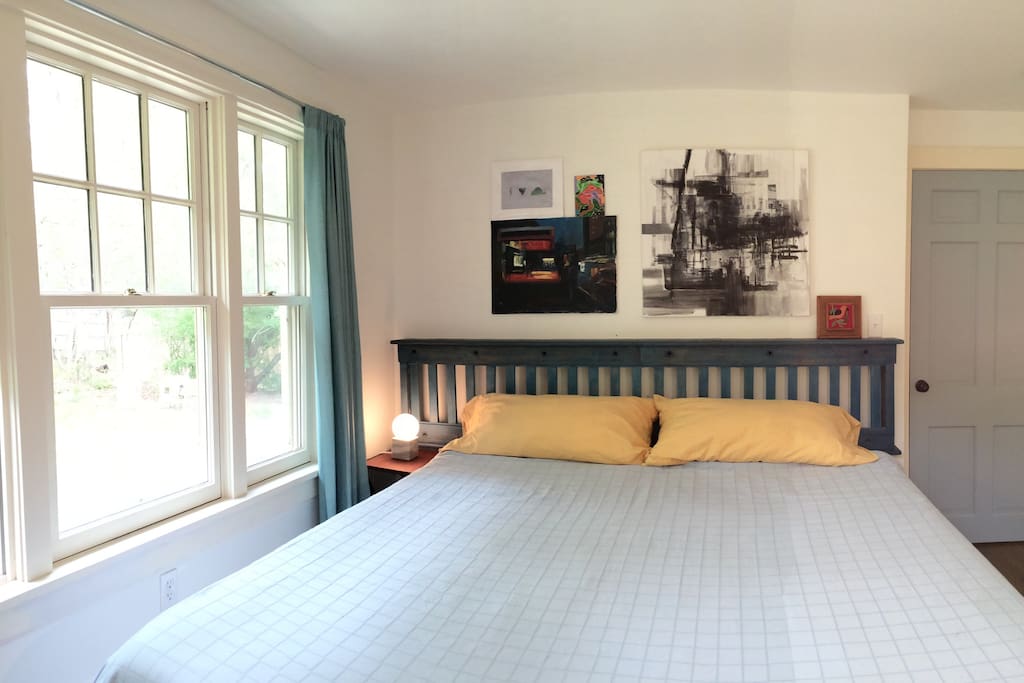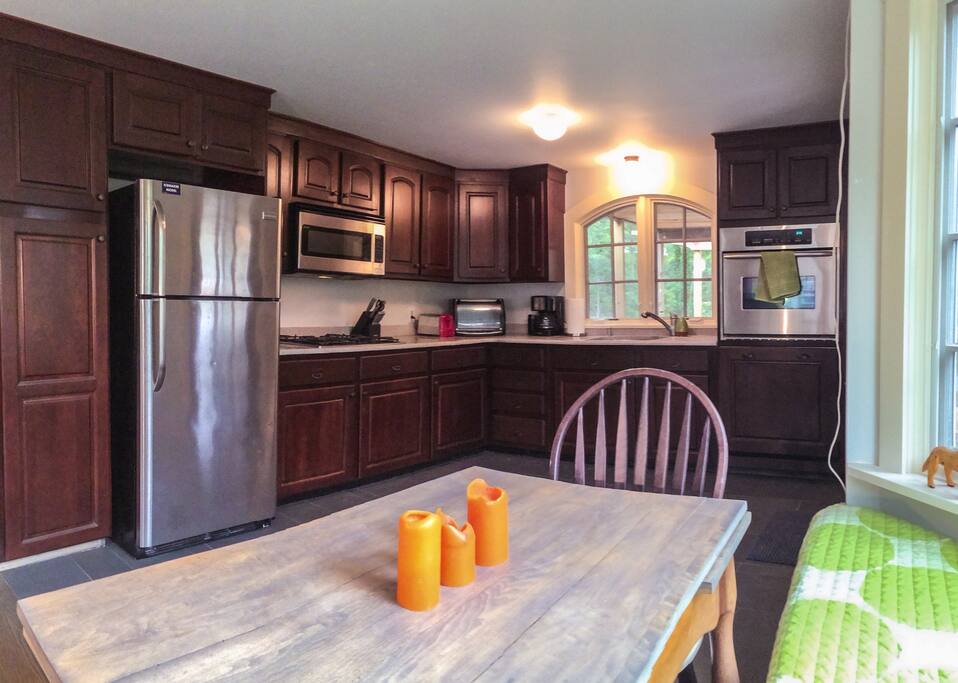 Three Bedroom house, Vineyard Haven, sleeps 6 - 8.
.7 miles to ferry and .9 to beach.
New renovation. Full kitchen, BBQ, porch, walk-in shower, soaking tub, wi-fi, linens, large outdoor shower
3 king beds, 3 queen sofa beds and 1 pack-n-play crib.
12 minute walk from ferry. Bus stops at house.
房源
Modern, comfortable design with lots of light. Each 3 bedrooms have comfortable king size beds. There are 2 pullout queen size beds in the living room. Airy, open concept layout with a spacious eat in kitchen. It's full of amenities like dishwasher, washer dryer, ice machine flat screen television and more. The first bathroom is a large and luxurious with a deep soaking tub and a huge walk in shower. The 2nd bathroom has a deep jetted tub and shower with a double trough sink. There's a large outdoor shower. The kitchen is user friendly with everything you need to cook up a feast. Stainless appliances, wall over, gas stovetop and quartz countertops. You can BBQ on the back porch. We designed an arbor in the front of the house with benches to wait for the bus. It's all custom designed to be functional and beautiful.
Clean luxury sheets, bedding and towels provided.
Location is convenient but it's on a busy main street so there's some noise in front.
与房客的互动
We'll get you settled in and then it's very private.
其他注意事项
Location is great but it's on a busy main street so there's some noise in front.
---
i would highly recommend this home to anyone ,its warm and cozy and has every thing you would need. The bathroom are gorgeous and modern, you don't want to leave them. The kitchen is laid out nicely and clean. i really love the place and Julie is great, very responsive and friendly. I will surely be back again and again. Todd
---
Julie was a wonderful host. Very responsive and ensured that we had everything we needed to enjoy our weekend in Tisbury. The house was fantastic and well equipped with everything that we needed. Very convenient on the bus route if you don't have a car. Overall a great experience. If we ever go back to Martha's Vineyard we would certainly stay here again, if available.
---
Julie was an ideal host! Super responsive both before and during our stay. The home was just as described, very comfy with a/c units and covered back yard deck during our particularly hot and humid week on the island. Julie clearly has put a lot of thought into the design of her home. Feels unlike a vacation rental and more like staying a friend's home. The location is great for easy walks to Vineyard Haven (we were vacationing with our 3-month-old) but also well-situated for drives up-island or to Edgartown. The only real negative is the noise from the main road but we knew we'd probably hear it and for everything else, it's an ok trade-off. I'd happily stay at Julie's again.
---
This was our first experience using Air B&B and we were a bit worried because Martha's Vineyard is hard to get to and get off of if something goes wrong. The house itself was perfect for our trip (2 adults for a week with another couple for 2 nights). It had two roomy bedrooms upstairs and a renovated bathroom. The kitchen was well-appointed, although we didn't do any cooking. The house is convenient to Vineyard Haven and to the busses. There is a nice porch in the back which we used quite a bit. It's also right on the bike path which makes it convenient to bike around to the other towns. The one issue we had was that when we arrived at the house at our check-in time, the key was not where the host said it would be and the house had not been cleaned. We waited outside on the porch for over 2 hours trying to get in touch with the host. We were in a panic because there were no available rooms anywhere else on Martha's Vineyard. We were frantically calling hotels (and Air B&B) and trying to find other arrangements. The issue was that the woman who cleans the house didn't realize that we were coming. Eventually Julie called us back and got the cleaning lady to come. We left and got dinner while she cleaned. The cleaning lady was obviously rushed to get the house ready for us and it wasn't completely clean when we finally got in (dirty sheets and towels left in the washing machine, kitchen and dishes not completely clean, etc). But we did the laundry ourselves and since we weren't planning on cooking we just bought disposable cups and plates to use for the week. The host refunded part of our payment (which was more than fair). And Air B&B gave us a coupon for a future trip. All in all, the house worked out for our trip, but the first day was a bit stressful. I think the house was fine but the entire experience the first day made it unlikely for us to use Air B&B again.
We gave Debbie received a $768 discount for her inconvenience bringing her rental amount to $57 a night per room. Within 2 hours of their check in time the situation was completely fixed. I was horrified that my cleaning person didn't show up before her rental. This has never happened before and will not happen ever again. Airbnb was very happy with our response.
---
Overall, Julie's home is a really nice house, we thoroughly enjoyed our visit. The location is great for access to vineyard haven and easy to get a cab or bus to oak bluffs and edgartown. The street it's on is a little busy, but we never had any issue with noise or anything, I would just be mindful of small children. That being said the back yard is huge with plenty of room for kiddos to play back there far away from the road. The house itself can sleep four in beds comfortably, then has three couches for additional sleeping if necessary, and I think one if not two of those couches pulls out to a bed. The bathroom is gorgeous, I really like the fixtures and design a lot. The kitchen was nice with nice appliances and kitchen ware. If you are planning a trip to the Vineyard, you should definitely consider Julie's AirBnB as it will only make your trip that much more enjoyable!
---
Hi, I'm an artist/designer, RISD alumni. I like using recycled materials and designing to make life as easy as possible.
We used as much recycled materials as possible. The bathroom floor and wall tiles from old roofing slate. We used old fir bar board for the bathtub surround and porch roof. We made a headboard from an old pool table. The floors are recycled from an old house in Boston that was being torn down.
I love the quality of older materials and it's sad how much of it ends up in the landfill.
语言:
English