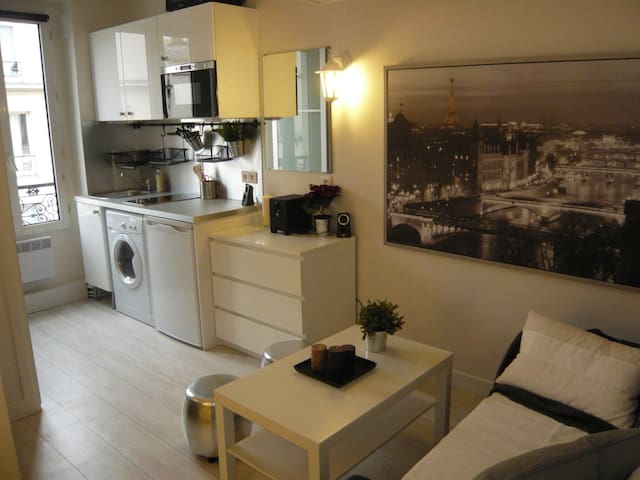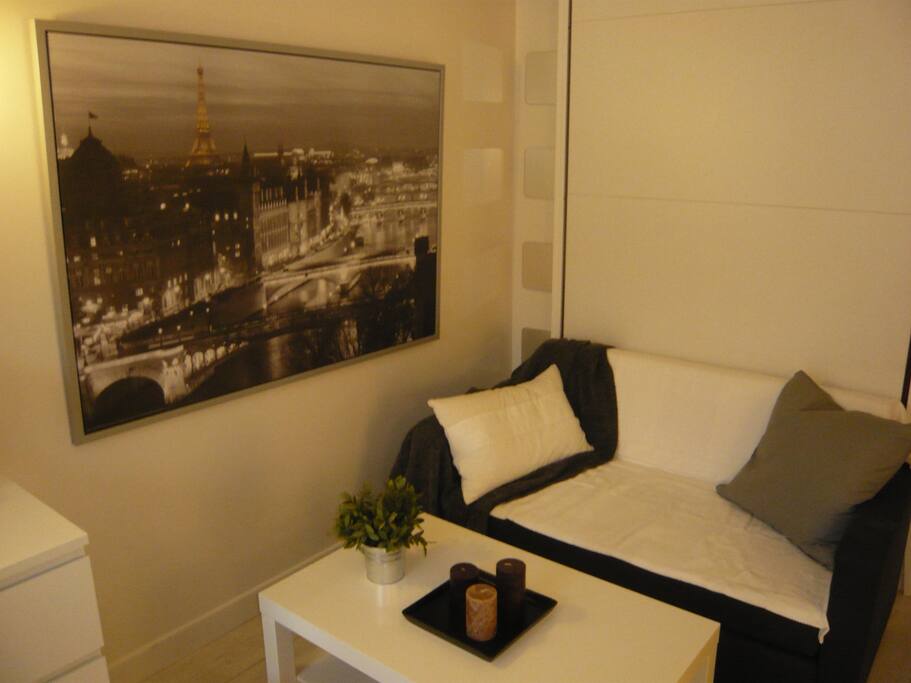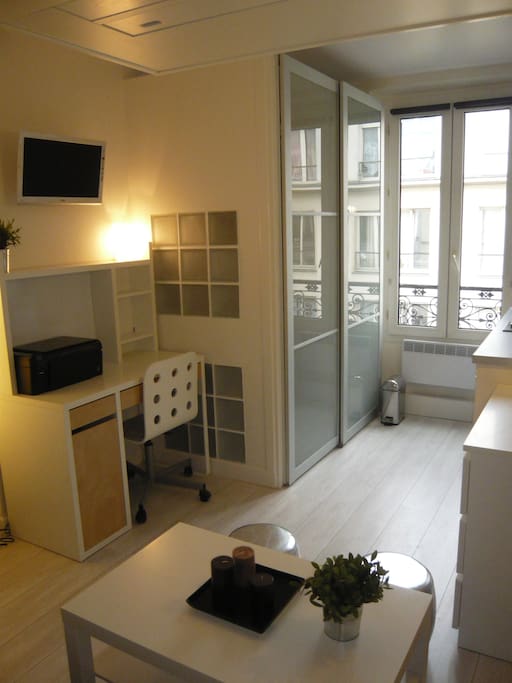 The studio is completly furnished and luxurious. flat tv, dvd, scanner/printer/copier, HIFI speakers, washing machine/dryer, micro wave, oven ... the studio was decorated by an interior designer.
The area : located in the famous area of OBERKAMPF
---
I had a really good experience staying in this studio apartment. The location is awesome! It's in a very hip neighborhood with lots of bars, restaurants, cafes, and a great coffee shop down the street. Christilla was excellent with communication, as was her son, Max. The bed is very comfortable. The wifi is EXCELLENT (very fast and reliable). The shower had plenty of hot water. The apartment stayed cool, even without air conditioning. Overall, it was a very good experience. But please keep two things in mind: during the week, the street was very quiet at night, but on the weekend it can be a bit noisy until about 1am or 2am. Also, the apartment is quite small. I would say it is a little bit smaller and a little bit less polished than the impression you may get from the website. If you are OK with these two things, I think you will really enjoy staying here.
---
Great stay of 1 month in a cute, cosy flat. The host is very welcoming and helpful in case of questions or problems. The apartment was perfectly clean when arrived. Warmly recommended to stay at this great place.
---
Our experience at Christilla's apartment was not what we had expected. I stayed with my daughter for 2 weeks at the beginning of her studies in Paris and she stayed an additional 3 months. If we had only been in Paris for a short stay, this apartment would have worked well as it is centrally located and in a very vibrant area of the city. However, we would NOT suggest this apartment for an extended stay or for more than one person (unless you are a couple). The apartment is very, very small, about 15 square meters, and was not properly cleaned when we arrived and there were several things that needed to be fixed. We spent about 3 hours cleaning and even found dirty socks under the wardrobe! It seemed like the upkeep and maintenance of the apartment was not done regularly. The pictures on the website must be from years ago. Christilla was very apologetic and accommodating when I contacted her about the issues with the apartment and had a repair man come by to fix a number of leaks in the bathroom and kitchen. However, when the weather grew cold and the heating unit was not working properly, Christilla did not fix it because she said no one else had complained previously. Then there was construction and painting work in the stairwell and lobby of the building that took place over several weeks which we had not been informed about in advance. The workers were often there very late at night, and once even asked my daughter to wait 30 minutes before climbing the stairs at 1 am because they had just finished painting! There was also a lot of noise and strong paint fumes during this time that made it difficult to sleep or stay in the apartment. We know Paris is expensive, but the monthly fee we paid was very high for the size of the space and we were told by a neighbour that that a previous student had left because it was too expensive. Christilla also told us we needed to buy short term rent-insurance, which we were told by the agency when we left that we should not have paid because we rented the apartment via airbnb. Thus, I would not recommend the apartment for a student studying in Paris, or anything longer than a week. It is more suited for a long weekend.
Dear Evelyn, I cannot believe what I read. I am really surprised. For one thing, I have cleaned myself with my 30 years old daughter the studio before you arrived in order to check myself that it was perfectly cleaned. and it was.. then I did not tell on my comment for Flora that after she left the studio, my cleaning lady had to spend 4 hours to clean a 15 sq meter studio, which never happened before! the studio was filthy after a 3 month stay of Flora. The studio is 15sq meter and meant for one person on a long stay and might be convenient for a couple on a short stay. it is not meant for a mother and daughter , of course it is too small. I never knew that you would stay 15 days in Paris with your daughter and would have warned you. I just did it for an australian couple who wanted to stay two months and I told them it was not a good idea. The studio is perfect for a student alone in a intership for example. some do like it so much that they stay two years , it happened with two of my students.. so .. they seemed to like it:-). Painting occurs in building life and I am sorry for the 15 days inconvenience, but then Flora enjoyed a clean staircase afterwards. did she not appreciate it ? She was bothered by the noise ? When I came after she left, the neighbour told me he had to come and knock at her door at two in the morning to ask her to stop the music too loud. Is this a rumor ? like the rumor you are writing about saying that someone you don't know and never heard of ,left because it was too expensive.. malevolent rumors are so easy on internet .. I have always taken your remarks into account when something was not working in the studio and it happens everywhere it is the life of a house, and my maintenance guy did come and fixed it the next day, and it was just one leak not a number of leaks...and you have been nonetheless unhappy. Flora never called me, it would have been simple, since we both lived in Paris, but you wrote from NY, not being able to see for yourself. it's a pity. I am very sorry Flora did not like her experience. I did all I could to please her.. because I enjoy receiving people and seing them happy on their stay in Paris, I love my town and I love to have foreigners in the studio, helping them have a wonderful experience of their stay in Paris. I do hope she enjoys other experiences elsewhere. best regards, Christilla
---
Host was very nice and helpful. Met us at the studio. Studio was very nice. Neighborhood was really awesome nice and vibrant. Lots of restaurants, bars and things to do. For American visitors....stairs...on the 5th floor no lift. Can be tough of you have a lot of luggage. Space was smaller than I expected. If going in the summer it is not a true A/C but a fan. Overall we had a nice visit.
---
Very disappointing experience. Very tiny and dirty studio. The Space: It was tolerable for a couple of nights stay. The good: The WiFi worked great, the TV was nice to have but the space is very small. The bed was comfortable, but requires some climbing to get up on it when it is fully lowered. The Bad: place was VERY dirty. We took pictures just to make sure we could recall this later if there was a dispute. There was a ring of dirt, and other human particles along the frame of the bed that was so obvious it was the first thing I noticed when I lowered it down. The bathroom was dingy, and there was so much dark mold growing in the white shower, our feet STUCK to the shower floor, and the glass doors had tons of stains on them. Bathroom walls don't meet ceiling, no privacy. Food scraps on top of the fridge and washer. Dirt in every corner. Dirty blanket covering the couch. With no air conditioning we had to leave the windows open to keep cool and the street was very loud throughout the night. Hospitality: For the first time in our 2 month trip in Europe we had booked a last minute flight from Prague to Paris that arrived around 2300 (our fault for not planning better). We notified Christilla 2 days before we arrived that we would be arriving late. We arrived at the apartment near 0030. We arranged with Christilla ahead of time, to compensate her for being so late by paying for her taxi home (after apologizing profusely via AirBnB and in person, I offered more but she declined). We were greeted and shown around the place. When we asked about the air conditioning unit, she told us it had not been working FOR 3 DAYS and that she would attempt to bring over a new one the next day but may not be able to because she was very busy (she made no attempt nor contacted us to let us know that she would not be able to bring us one). She did not make this known before we arrived and met her in person and did not offer compensation for inconveniencing us as we had inconvenienced her. When we told her that we would be checking out at 0700 on Sunday, she looked at us as if we had just kicked her dog, telling us in a passive-aggressive manner, "you are the worst tenants I have ever had." In 2 months of traveling solely on AirBnB's, we have never had an issue of arranging a checkout. We ultimately agreed upon, after some pouting on her side, that we just leave the key there and leave the apartment locked (since she has a separate set of keys). An easy solution to a problem that was made bigger than it needed to be. Overall, a very disappointing stay. Terrible hostess, and dirty place. Would not stay here every again.
Dear Russel and Kelly, I apologize for all this inconvenience you found during your stay. I am devastatded by your comments since I have always had very good comments from my tenants, some have become friends.. I am deeply sorry for the state of the studio. I found out after you left that the cleaning lady never showed up as she should have before your arrival. Coming to meet you à Half past midnight, I was sleepy, I did not check deeply that the cleaning had be done, and again I apologize for it. It never happened before , and i will make sure it does not again. I actually totally cleaned myself the studio yesterday after you left. (and was ashamed of the state, so I do agree with you on this point, sorry again!!) I understand it is too late for you. As for the Fan, i had planned to change it. You arrived at a very difficult moment for me since i am moving from one place to another right these days and I am truly incredibly busy with the packing on one side and making things work on the other apartment. So i forgot about the fan, and feel really sorry. For this also accept my apologies. I did though, thought about you and your wife being sick and sent you a texto to inquire if everything was alright and if she needed a doctor i could come as useful. You never answered. you could at this point remind me of the fan.. As for my comment : I am used to meet my tenants and come again to say goodbye to them . It is my custom and my treat since what I do like about airbnb is meeting new people and establish some relationship with them , which makes the difference between going to a hotel and choosing a guest. Your arrival at half past midnight, your wife, running to the toilets, and myself being incredibly tired made things quicker than i would have hoped and not taking time to establish a Relationship. I thought we would compensate when you would leave, but you announce you were leaving very early morning on sunday. it came as a blow, i felt i was used like any kind of hotel and we were missing something . I tried to make a second degree joke , telling you you were the worst tenants I ever had, but it was not apropriate, a very poor joke I admit, and not taken by you as a joke. I could see your incomprehension, and felt silly.. anyhow, everybody was tired. Again I apologise, feel sorry for the whole misunderstanding and sorry that your experience was not the best. I do sincerely hope you will come back and i will compensate or try to , give me a call if you do, let's have a drink , or a free night in the "clean" studio, and talk about you.. :-)
---