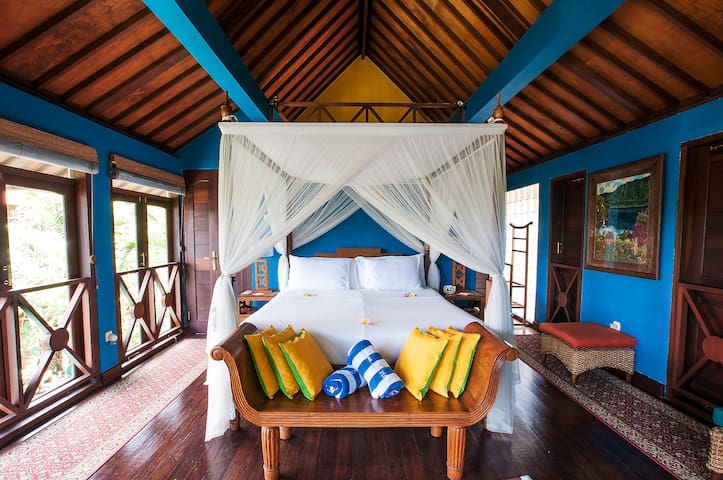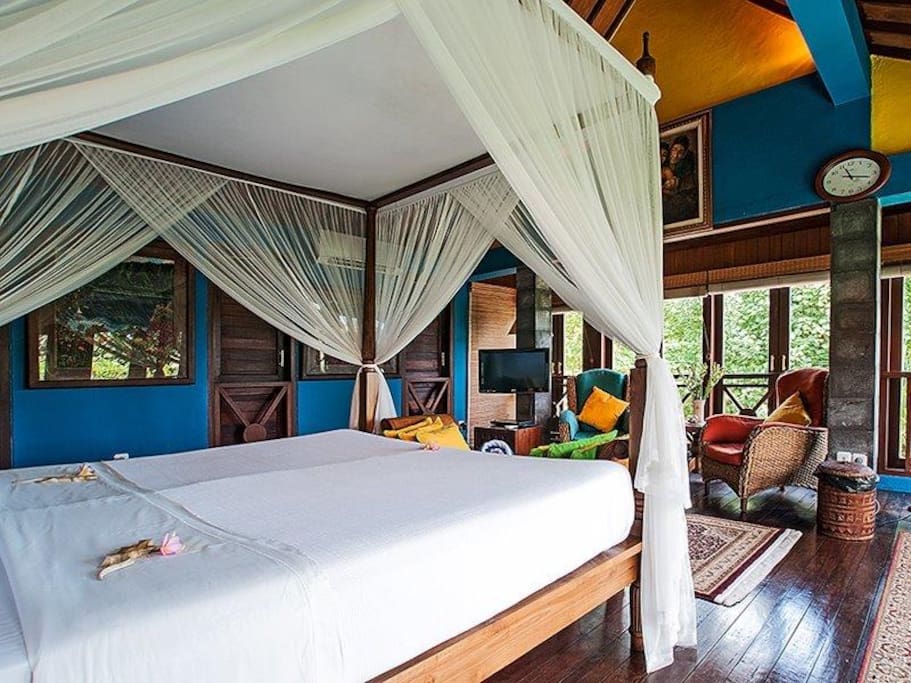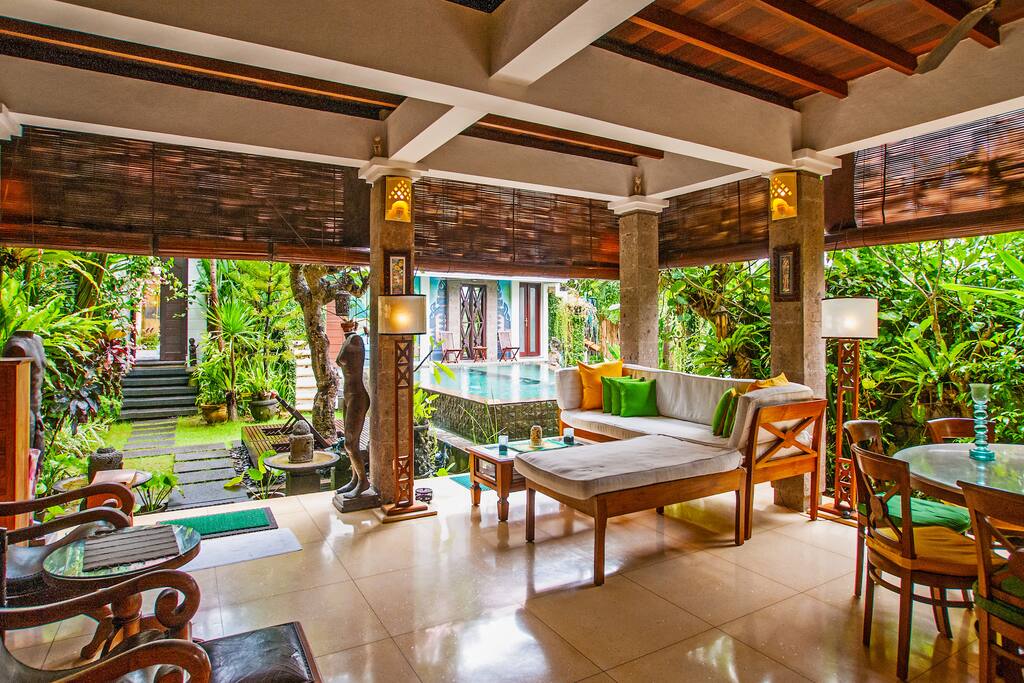 旅行顾问 - "获奖" - Taman Toya"Guesthouse"是一个"令人惊叹"的巴厘风格 - 一卧室套房。全套人员,包括迷你酒吧,安全,免费Wifi,茶/咖啡可选 - 早餐,机场接送/司机/导游随时随地。
Trip Advisor's-"Award Winning"- Taman Toya "Guesthouse" is a "stunning" Balinese Style - 1 Bedroom-Suite. Fully staffed, includes Mini Bar, Safe, Free Wifi, Comp. Tea/Coffee. Optional- Breakfast, Airport Transfers /Driver/Tour Guide always on hand.
房源
A tastefully appointed upstairs deluxe one bedroom suite, with magnificent views of the rice paddies.The "Guesthouse" is fully air conditioned. The bedroom sleeps up to 3 persons with a king size bed, kalumbu (mosquito net), and a "trundle" bed for a third person if required. A separate dressing room adjoins a stunning terrazzo "outdoor" en-suite bathroom. Colourful Balinese style furnishings and art work, combined with comfortable sitting/reading chairs, blend the decor. Complimentary Tea and Coffee.
Breakfast , Airport Transfers and Tours can be arranged at additional cost. A truly magnificent deal !
房客使用权限
套房与业主的主要住宅分开。对于您的整个住宿,您将使用共享的半私人"无限"游泳池,花园和楼下的客厅/客厅区和迷人的主要别墅的厨房。
The suite is separate to the owner's main residence. For your entire stay you will have use of the shared semi-private "infinity" swimming pool, garden and the downstairs living/sitting room area and kitchen of the charming main villa residence.
其他注意事项
如果这个"宾馆"不适合您,而且您想要更多的"上市",您可能希望看到我们的完全私人一卧室/三卧室"塔曼托亚"别墅的Airbnb房源列表。 (https://www.airbnb.com.au/rooms/3258487)1卧室别墅。 (https://www.airbnb.com.au/rooms/3258756)2卧室别墅。 (https://www.airbnb.com.au/rooms/3258828)3卧室别墅。 另一方面;你可能想要一点点"经济和预算意识"。在这种情况下,您可能希望看看我们的Taman Toya"客房"列表。 (https://www.airbnb.com.au/rooms/3139496) 我们还可以安排私人司机到旅游团,还可以到巴厘岛其他更大的景点游览。一切都非常合理。 请注意:我们正在印度尼西亚旅行许可证。请注意在印度尼西亚是非法的假冒住宿经营者。 注册Pondok Wisata - 印度尼西亚住宿许可证。 TGL:2012年3月1日。 查看我们在"Umah Watu"别墅,巴厘岛的点评。
If this "Guesthouse" does not suite you, and you would like to be a bit more "up market" you might like to see our Airbnb Listings for our fully Private- One/Two and Three Bedroom "Taman Toya" Villas.
( https://www.airbnb.com.au/rooms/3258487 ) 1 - Bedroom Villa .
( https://www.airbnb.com.au/rooms/3258756 ) 2 - Bedroom Villa .
( https://www.airbnb.com.au/rooms/3258828 ) 3 - Bedroom Villa .
On the other hand; you might like to be a little more "economical and budget conscious". In that case you might like to take a look at our listing for the Taman Toya "Guestroom". (https://www.airbnb.com.au/rooms/3139496)
We can also arrange a private driver for tours, and tours to other of Bali's larger attractions. All at very reasonable rates.
Please note: We operate on an official Indonesian Accommodation License. Please be aware of bogus Accommodation operators that are illegal in Indonesia.
Reg. Pondok Wisata - Indonesian Accommodation License.
TGL: 1 March, 2012.
See our TripAdvisor reviews under "Umah Watu" Villas, Bali.
We really do not have any house rules. Basically we like good manners, and respect for property, and the local Balinese and other Indonesian people.
我们一家三口(夫妻和4岁的小孩),在印尼雅加达生活了5-10年了,本次在Peter的房子里面住宿了3天,这是我们本次Bali 10天 旅程的最后三天,整体感觉Perter的房子以及服务: 1、位置一般: 比较偏僻,路不好走 2、房间很小: 比之前在Kuta、Ubud 花费低20-30%价格住宿的房子,面积只有30-40%; 3、价格较贵: 没想到这么贵还是房间租赁,不是一套,这是我自己看错了,导致损失(周边有很多价格相当,但是是一套150-200M的房子) 4、要求太多: Peter先生,习惯了指挥别人按照干这个干那个,特别喜欢要求付了钱的(客户)房客,必须这样..必须那样..,不能这样...不能那样...缺乏了印尼人民的服务态度与服务意识,感觉花了钱休假还得给Peter老板当打工仔 5、干扰客人: Peter先生,不关注别人的感受,我和我的老婆明确表达了不喜欢,还是每天找我提很多的的要求,我们感觉到假期收到了极大的干扰。 6、缺乏服务: 主要忙着给房客提要求,主动性服务不足,连一杯热水还得自己去搞 7、合作不足: 收了我那么多钱,租个车印尼人都知道租2天送1天,租他的车让他时间上灵活一点,还吧我说了一顿,真是有意思,
徐 高山 (Mr Shu , and his wife) need to learn how Airbnb operates, and their obligations as a member before they arrive at a venue. Their visit was a total "nightmare" from start to finish. On arrival, they showered no signs of warmth or friendliness. They were rude and demanding, as if they were in a 5-Star Hotel. Not even a "whisper" of appreciation for the "welcome" drink offered on arrival, and a short briefing (from myself) which they just refused to listen to. They knew everything! During their stay they showed no responsibility for security. On several occasions, they left the "Guesthouse" doors and windows open and unlocked, as well as the main "Front Door" to the Villa. They showed no responsibility for or consideration of safety to my other resident guests, and myself. When I advised them of their carelessness, I was informed there were too many rules, and blatantly refused to listen. It was obvious that they did not choose to read the "Welcome Letter" setting out details for their stay (especially with an emphasis on security, and using the safety deposit box provided"). My staff when cleaning the filthy mess in the bedroom, found their passports lying under a chair amongst dirty clothes. The staff then placed and locked them in the "open" safety deposit box in the room. Thankyou staff. On their unfriendly departure, the "Guesthouse" was left like a filthy "pig sty". However, damage was minimal, except where furniture had been moved and dragged, resulting in scratched floors. Wet towels were left lying everywhere on the floor, bed and furniture. It should have been left reasonably tidy for my staff to prepare to clean for our next guests.
---
I got picked up from the airport as arranged with Peter. The check in process was really smooth and I was able to rent a scooter immediately. The room was exactly as described in the pictures - clean, tastefully decorated, with a lovely view of rice fields outside your window. The villa is a 5 minute scooter ride from the hustle and bustle or seminyak or a 15 minute walk down some small windy roads. Also walking distance to ku de ta and the beach. However, seminyak feels as much Bali as Cancun feels like Mexico - exclusively geared towards international tourists and quite busy!
---
Favorite highlight of Peter's place was the pool which was refreshingly nice to take a dip in and the well running A/C unit. Taman Toya Villa provides continental breakfast at an additional cost. Though I feel that if there was more of a variety in food choice - especially something leaning towards more traditional Balianese food, I would be more inclined to pay for it. However, the villa is set at a pretty easy location once you've walked it from the main street and know where Oberei or Straw Hut is. They have a laundry machine on site so I figure requesting for laundry would be pretty quick but they took it out to have it washed instead so it took a few days to get back. Big shout out to Annie though! She was very quick with most of our inquiry and requests. Not to mention, she came to the rescue when my sister and I forgot to pack up our bathing suits that we laid out to dry!
Thank you for your comments regarding Breakfast and Laundry during your stay in our "Guestroom". Firstly, I would like to say that since you never tried the American Breakfast or the Continental Breakfast I find it difficult to think that you can make comment on it. We have never had a review that has criticized what we have to offer the guest. In fact the choice is quite large. The cost of professional Laundry is extremely cheap, and is far better than doing it yourself. The facility is available to you if you wish. Wifi is normally very good, and is Optic Fibre. Indonesia does its best to keep it up and running at all times. Unfortunately; we have no control over the efficiency at certain periods when International Communication is effected. Also maybe it should be mentioned that we supply a lot of extras that other Airbnb's do not . Maybe it is important to mention some of those in your future reviews. Thank you for your feedback. We take note, and always do our best to improve.
---
对于可能对当地景点,旅游团,餐馆等有疑问的客人,总是可以使用所有者和愉快的友善的工作人员。
Owner and delightful friendly staff are always available to guests who may have questions on local attractions, tours, restaurants etc.
Villa/Hotel Accommodation Owner from Bali, Indonesia. Australian nationality.Originally from Melbourne, Australia, Pete has lived and worked in Indonesia for the past 15 years. Now fully retired he has a load of experience in Accomm./Airlines, Corporate , PR ,and Entertainment. He has owned (and previously managed) Villas in Bali since 2002. The accommodation he offers here is a result of his good knowledge of architecture , interior design and landscape. He invites you to come and share it with him.
Here he offers his TA "Award Winning" 1/2/3 Bedroom Private Villas , Guesthouse and Guestroom. He invites you to come to Bali and share it with him.
语言:
Bahasa Indonesia