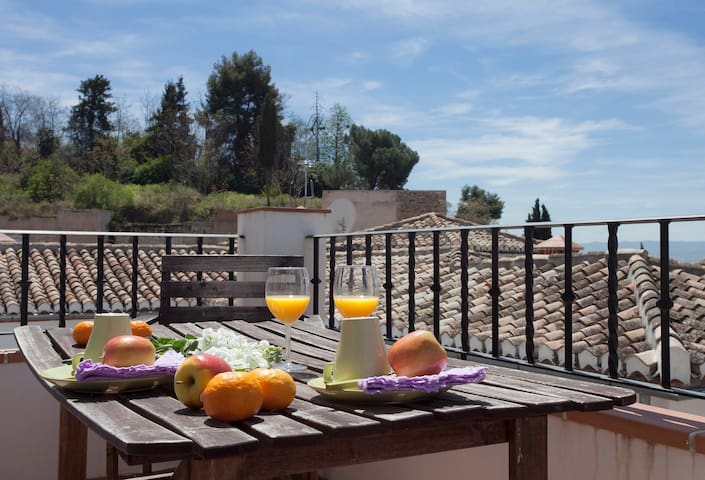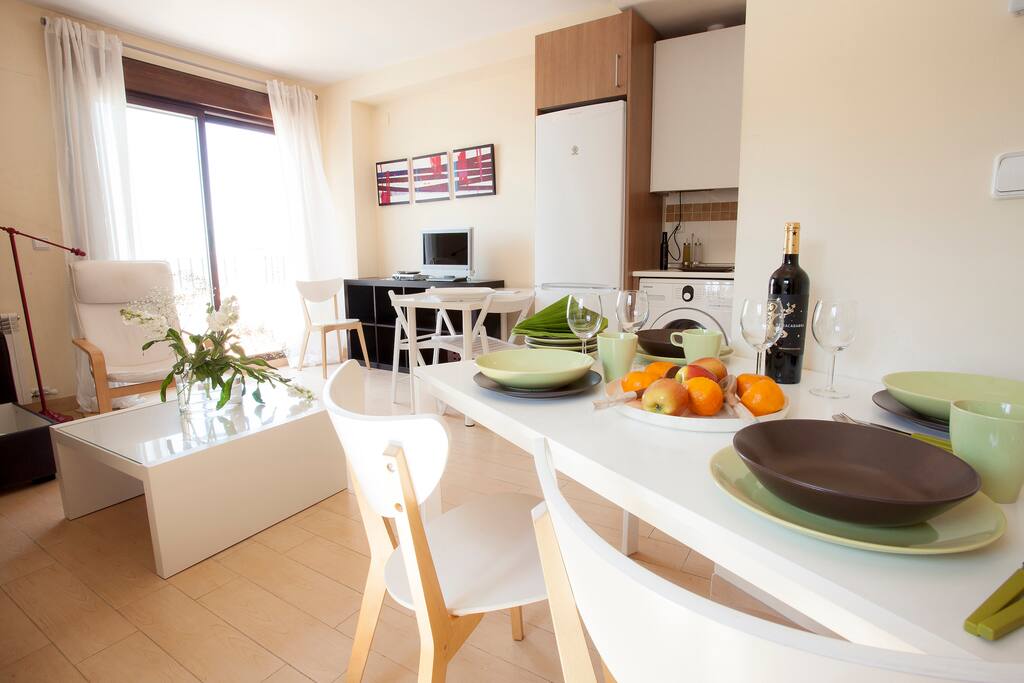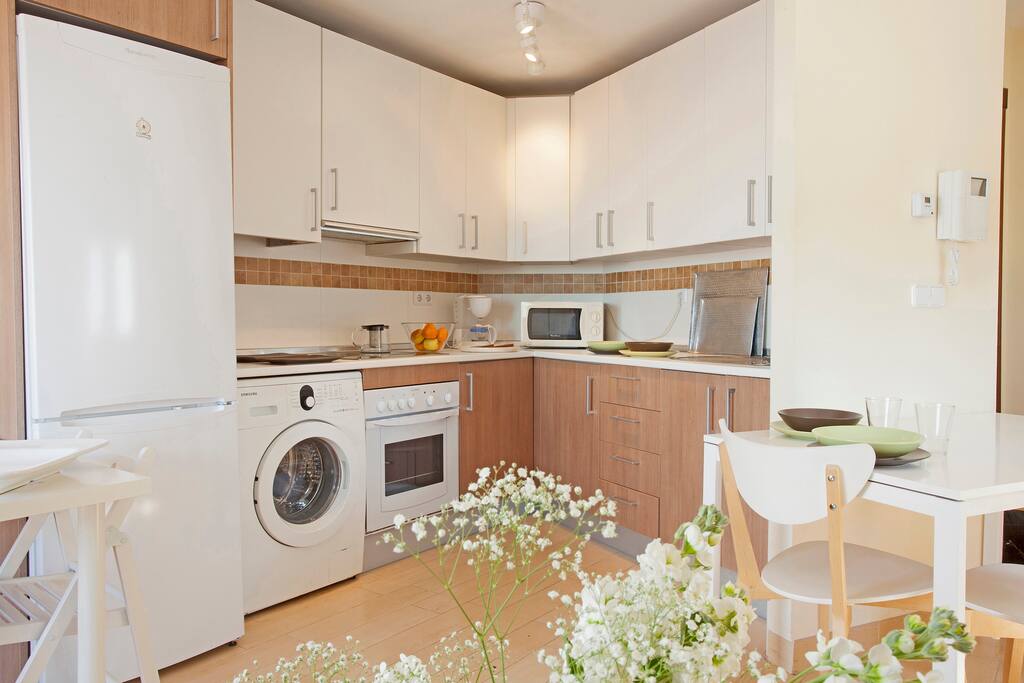 Ático Dalahorra, excelente, único
VFT / GR / 001146 宽大,舒适,阳光充足。现代,新家具。高雅的装饰。壮丽景色。 的Albaycín在附近遗产为它的美丽和历史 位于市中心,距离市中心几分钟的步行路程。
VFT/GR/001146
Amplio, confortable, muy soleado. Mobiliario moderno, nuevo. Exquisita decoración. Vistas magníficas.
En pleno Albaycín, barrio Patrimonio de la Humanidad por su belleza e historia
Muy céntrico, a pocos minutos caminando del centro de la ciudad.
---
Because of the swift responses by Olivia and the efforts of the owners to fix the problems we experienced, our rating is 4 rather than 3, which was our first day impression. This listing is flagged as having air conditioning. For this unit, A/C is defined as a single unit in the main room only (fans provided in two of the bedrooms). And this A/C wasn't working when we arrived. Given that it was July in Granada (104 F / 40 C highs), this was a problem. This was mostly corrected by the next afternoon (they replaced the band-aids we used to hold up the outlet cover with packing tape and the air was much cooler after they replaced very dirty air filters. We continued to run into minor unpleasant but not fatal surprises for our 3 night stay – no laundry detergent, no way to store left-overs or partially opened packages, no replacement trash bags, no extra sheets to sleep on the sofa bed in the salon with the heat made sleeping in the bedrooms impossible. There are drawers that slammed themselves shut, and an echo-chamber effect which makes the L-shaped apartment quite loud. This shape also prohibits the cool air in the salon to flow elsewhere into the house. And the great, open views you get (they are very nice) means that the bedrooms have no protection from the sun and they get very hot. Staying in Albaicin is not for everyone. Like many houses in the area, and as mentioned by others, you must walk uphill on slick, rocky surfaces to get here. I cannot recommend this flat for anyone with any sort of mobility limitation. Just thinking about walking around here with rain or snow on the ground makes me nervous; my kids and I slipped several times on the stones when they were dry. I selected this location due to its proximity to the Alhambra but did not take the extra step to map out access to the site from this unit. Due to the layout of the city, this unit is 30 minutes from Palacious Nazaries by car or public transport. Or you can walk 2.5 km and then walk the entire grounds. For some owners, these listings are just an income source. That seems to be the case here. This is a rental house; the owners have taken few extra steps to make this truly "homey".
Hi Erin, We are sorry that your stay in our apartment was not as comfortable as it should be. I'm also very sorry that the air conditioning did not work properly when you arrived. As you put in the commentary we fixed it the next day. There is always detergent for the dishwasher and trash bags I will notify the cleaning staff in case it was an oversight. When we indicated that there were no such products we went to take them in a short time. The house is prepared with the distribution of beds requested by the customer and thus was prepared when you arrived. Even so when you requested to sleep on the sofa bed we brought the necessary sheets in a short time. Thank you for your comment and I feel again that your stay was not entirely satisfactory. Maria and Joan
---
Very bad experience. The reception staff was very warm, but our stay was so bad! The landlord changed another house, extremely simple. Bed is not comfortable, all is simple bed. No air conditioning, the room air is not in circulation, very oppressed. If you open the window, the window has a very smelly taste. There is a bathroom water is very small, completely unable to take a bath. There is no shampoo in the bathroom. Completely with the landlord's picture and introduction is not the same. In short, everything is terrible.
Hello Vina, thank you for your comment, I regret it was not a positive experience. Regarding the change of house, before confirming your reservation was told that the house you requested was occupied that if you wanted we could offer the other, we showed the information of the other house and you said that I agree. The change of house was made with your consent. The house where you stayed has air conditioning in the living room and in one of the bedrooms as the page indicates. The house has two bathrooms, one with a shower and the other with a large and large bath where you can shower and bathe perfectly. In the shower of the other bathroom is also possible to shower without problems. I regret that opening the window smelled bad, never is, that day there would be something on the street that would produce a bad smell, sorry. We always leave shampoo in the baths, I will talk to the cleaners so that it does not happen again. I reiterate my apologies because your stay was not positive.
---
Great views and convenient parking in the building with an elevator right up to the flat. for one couple maybe with children its ok. The bedrooms are very small, we used secone bedroom to leave the suitcase. There is no room for supposedly 7 (URL HIDDEN) little all in one sitting, dining kitchen. Not enough out door furniture for 7 ...it did not feel like a home, but a comercial holiday flat. You will never meet the host, an employee, very nice, will meet and greet you. TV is of no use, if not spanish (URL HIDDEN) tea towel, no paper towels...very empty...not a home...rooms are very small. We read many reviews of many places before booking ...we had to tell the host about us...we did, it was a special trip for us, my husbands 60 th birthday...but no notice of that...not even a bottle of water or a bit of sugar in the house...
---