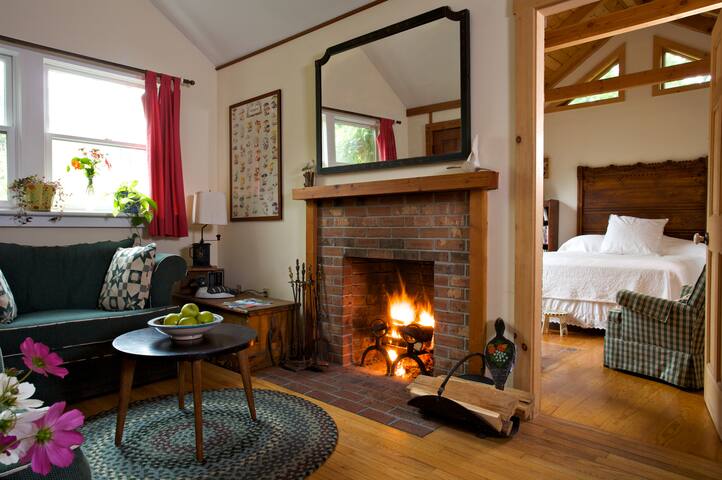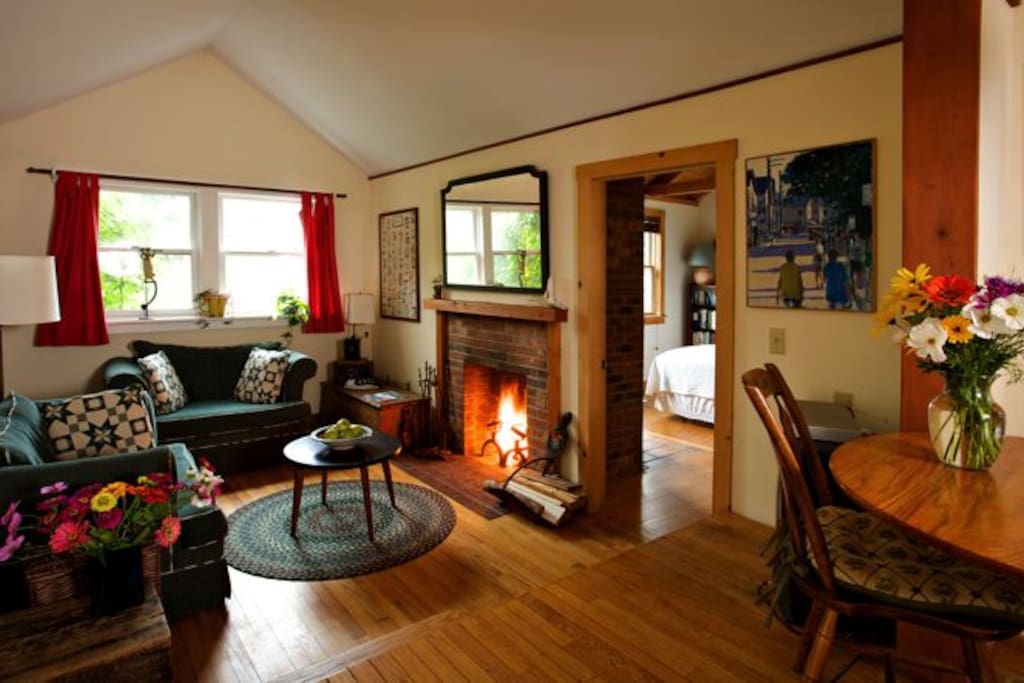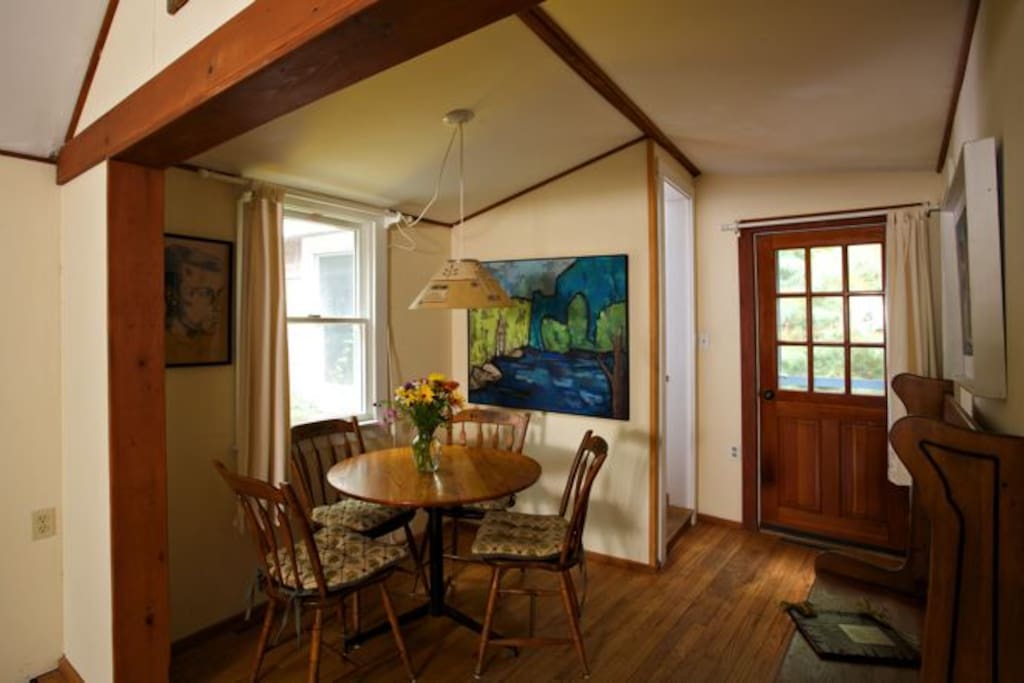 房源
Looking for a very special place, green renovated accommodation, the comforts of home? Check out the coziest accommodation on Cape Cod! This lovely cottage is nestled in the woods and surrounded by gardens in a beautiful setting in Wellfleet!
**WEEKLY ONLY IN SUMMER. SUNDAY TO SUNDAY**
Discover Wellfleet at its best: green accommodation in a traditional Cape Cod setting, newly renovated rooms decorated with local art, cosmopolitan hosts from Europe. This beautiful accommodation is centrally located on a "scenic road," unpaved as in colonial times. This small intimate B&B offers organic cotton sheets, 100% natural amenities, and kid-glove care.
Wellfleet is famous for pristine kettle ponds, wide expanses of deserted beach within the National Seashore park, oysters, great theater, art galleries, proximity to Provincetown. Owner writes blog on living green.
The cottage is a two-bedroom suite for three (one queen, one twin), or accommodation for two (queen). Both options include private bath with soaking tub and working fireplace. The outdoor shower, wraparound deck and sun-porch, decorated with gingerbread brackets, all contribute to the charm.
The cottage is the ideal accommodation in summer. "Why, this is a whole house!" a happy guest exclaimed. "Whimsical," "delightful," "a hidden treasure" – accolades fill the guestbook. How come people like it here so much? The owners lived in the cottage after they moved over from France and have not changed the interior design, which is why guests feel like they're staying in a home, rather than a hotel.
Staying in spring and fall are pretty nice, too, when it's possible to sit by the fire after a long walk on the beach and relax with a cup of hot chocolate. The only sound will be the chickadees, fussing at the feeder. The cottage has central heating, but the main bedroom remains cool for comfortable sleep. Laundry facilities are available for weekly bookings. This accommodation is, unfortunately, not appropriate for anyone who has difficulty with stairs.
One couple enjoyed the cottage so much that they came back a month later and he proposed. We hope the cottage will work its magic on you, too!
"Perfect stay!" Ben & Heidi, Boston, MA
"...the perfect oasis after our many miles of biking. We enjoyed the company during breakfast and the delicious scones. It's refreshing to stay in a place so conscious about health and the environment."
Meredith, Aaron, Harriet & Ari, Somerville, MA
"This was a wonderful place to spend our first September visit to Wellfleet. You were terrific hosts and we loved being surrounded by flowers, quiet, and the warm September sun."
Susan & Norm, Montclair, NJ
Book Cape Cod Code: WEL-02
We are proud that to be the first bed & breakfast on the Outer Cape to promote eco-tourism and do our very best to maintain a healthy, chemical-free environment. Due to the owner's allergies, we have always kept all rooms as allergen-free as possible, following guidelines established by the Green Hotels Association. We are also committed to conserving energy and reducing waste. Indeed, we encourage guests to join in this effort. In 2014, Wellfleet became a "green" community. As eco-tourism becomes more popular, we look forward to the time when other Cape establishments adopt the principles we embraced from the start..
-We provide 100% natural amenities.
-We use only "green" cleaning products.
-We do not use chemical fertilizers ever, just compost and well-rotted manure.
-We provide Cuddledown bed linens, certified by Oeko-Tex®, and, upon request, 100% organic cotton sheets from Coyuchi.
-We recycle plastics, bottles, and cardboard at the Wellfleet Transfer Station.
-We have one rule: no smoking and no pets.
-We purchased a high efficiency, frontloading washing machine as soon as it became available. We wash our cotton sheets with environmentally-friendly washing powder and line-dry whenever possible. Ditto for washing towels, which spin with dryer balls, not chemicals.
-Cape Cod is like a large sandbar and has a fragile ecosystem. Every property in Wellfleet has its own well and septic. Ours is a Title-5. We test our water on a regular basis.
Since the newspapers say the risk of tick bites is high this year, we have our whole yard sprayed every 2 to 3 weeks by PURE Solutions, a non-chemical treatment for tick and mosquito control.
---
We had a wonderful experience at this cottage last weekend. It has just the right amount of room and plenty of privacy. It was lovely and peaceful falling asleep under the beams in the cottage bedroom. We appreciated how clean the space was, how well-appointed, and how taken-care-of we felt. The artwork was a treat, too. We came to mostly visit Wellfleet center. We parked our car at the cottage, took our bikes off the rack, and didn't get back into the car until the end of the trip. It is a short easy ride to town, to the beach, and to the kettle ponds. Highly recommended.
---
The linen is super soft and the whole setting is cozy. It's a little tricky to find though and the parking spot is good for one vehicle. Some walking from the parking to the cottage so if you have heavy luggage or accessible problem this is challenging. Overall the place is clean and well-maintained. However, the washing machine is only available for people stay a week or more....Due to the chemical free laundry the sheets do not have the normal 'fresh' smell from the popular fabric softener. It's really close to most attractions offered by Cape Cod. Overall it's a good place for a Cape Cod escape.
---
My Name is Margaux and I run a bed and breakfast and vacation rental company. My husband, Hugh, runs his own global travel company to destinations around the world. We live outside Boston and have a vacation home on Cape Cod which we rent out when we are not using it.