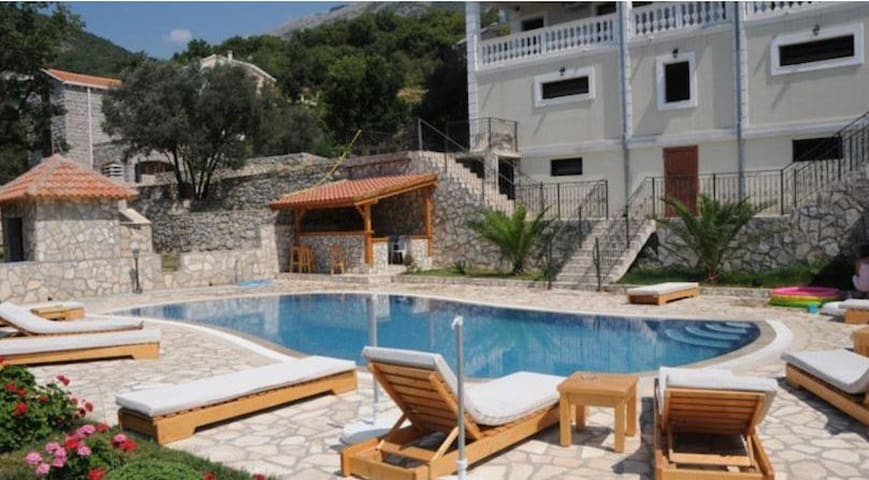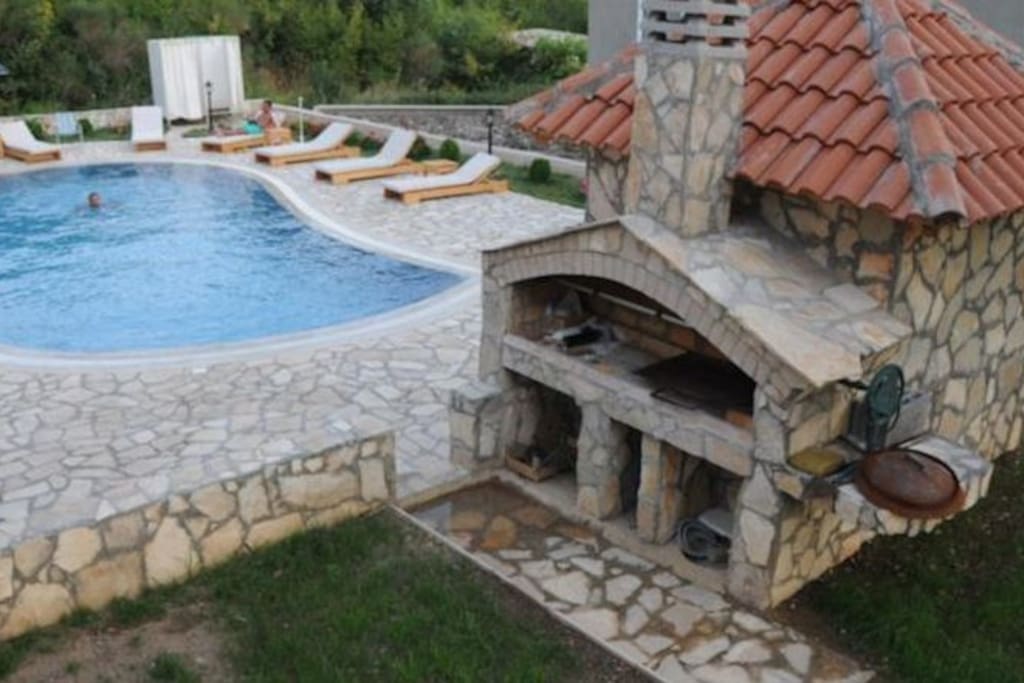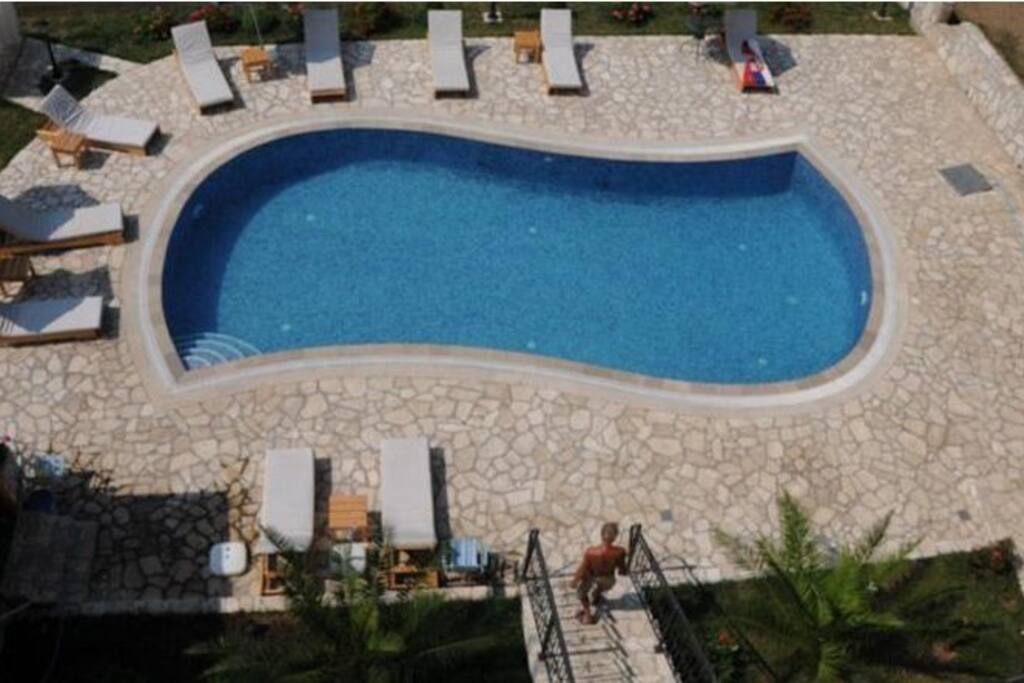 This exclusive villa consists of 16 independent apartments is located at ideal location where Mediterranean air mixes with a fresh mountains climate. Only 5 km away from the centre of Budva, and you will be able to avoid incredibly hot summer nights.

房源
This exclusive villa consists of 8 independent apartments and 8 independent studios. It is located at ideal location where Mediterranean air mixes with a fresh mountains climate. Only 5 km away from the centre of Budva, and you will be able to avoid incredibly hot summer nights.
There are eight big apartments of approximately 60 sq meters, and another eight studios of approximately 40 sq meters. Every apartment has a balcony with a sea view, and all of big apartments has magnificent coastal view of complete riviera of Budva.
With views of the pool and the sea, the air-conditioned apartments feature wooden floors and a flat-screen TV with cable channels. The studios has a shower while the big apartments features a bath.
Each accommodation type has a kitchen with a fridge, a stove and an electric kettle. Guests can enjoy their meals in the dining area before having a drink in the property's bar.
房客使用权限
This space is air conditioned. We provide to all of our guests parking places and garage if needed. Villa is 100% covered by WiFi signal.
Beautiful swimming pool is opened for our guests 24 hours.
---
The localisation is good to be close to Budva in quiet place. Difficult to comunicate with Maria as she doesn't speak english but Milos is here by mail to help us. The appart 1 wasn't clean (Maria cleans it on our request) and bathroom doesn't smell good. The view on the swimmping pool and Budva city is nice.
---
The host never visited and the arrival process was very bad. Our names were written in a list with a door number and the keys were in the door. A mistake had been made with my friends room and the host refused to rectify it. A lady named Maria lived there and seemed to keep an eye on the place for the host, she made us feel very unwelcome throughout our stay as she was constantly rude to my group of friends and really created a bad atmosphere for our holiday. She repeatedly told us to go out every day as the pool was busy. They had 50 guests and only 11 sunbeds! Maria was aggressive at times telling us to be quiet in the evenings eventhough they had signs saying quiet time between 12am and 7am which we always respected. Her bad manners and rude behaviour really ruined our stay as we couldnt avoid her and she was deliberatly very difficult. Towards the end of our stay we had to start locking our front doors to avoid her as she constantly walked straight in without knocking and had no respect for our privacy. Our shower had a crack in the floor so the bathroom was constantly flooded. There was a lack of towels and bed linen as only 1 bed sheet, 1 pillow and 1 towel was provided per person which is not enough for 6 days! The kitchen utensils were poor, we had no kettle and 1 bowl to share between 4 of us so we could never eat at the same time. Also only 1 roll of toilet paper was provided and Maria told us to buy our own, which may be expected with Airbnb but 1 roll to start with is very stingy! The apartment itself was nice with large balconies and great views over Budva and the pool was lovely but needed more sunbeds as many people were forced to lie on the floor. The area is VERY remote, I wouldnt stay here unless you hire a car as we spent a fortune getting taxis into the town centre every evening and the taxis were not the safest especially for women travelling alone. There are no shops, cafes or restaurants near the apartments and even if you were happy to self cater the kitchens in the apartments aren't well equipped for this. A dissapointing stay due to issues that could have been avoided such as the rude lady looking after the place and the poor provision of amenties. As a result I would not recommend staying here.
---
About the welcome was a disaster, we arrived in late night and there was none to welcome us. Fortunatly we had mobile to contact Milos to tell us which were the appartements otherwise we are still waiting news about accomodations. The description of building location was correct and the position is as written 5 km from budva but i think that is the best solution for visit montenegro.
---
Business trip+morning sea at the end of July. Apartments are located in the village, a real one) Very nice place, the host is always available. Kitchen is ready to cook you something. The undoubtable pros to stay in this apartment: 1. The temperature is lower for 4 point then near the seaside +37!!! So when everything (especially a skin) is melting in the sun near the sea, you can easily breathe in the pool in your village. 2. You have everything (amenities) what you need there. If no host will solve all problems. There is only 1 cons: if you don't have a car you'll spend much time (20-30 min) to get in the city Budva. If you drive - 5 min. I would recommend this place.
---
The apartment was just as depicted in the listing! It was very spacious and clean, with a huge terrace and an amazing view! There are only a few small flaws to mention: for some reason, the bathroom smelled bad (the neighbouring aparment's as well). We also could have needed some more kitchen utensils (e.g. bottle opener), or more glasses (only had 2, although the apartment was intended for 4 people). But apart from those thiny things, the apartment was really great and I would definitely recommend it! We were especially happy with the pool, which was super clean, and that we could use the BBQ in the garden (just had to bring our own coal). The villa was at first a little difficult to find, as the village there does not have street names nor numbers, but Milos was very responsive and talked us through until we found it. In general, he was very helpful and reacted to all our requests promptly. Only the communication with the actual owners was a little more difficult, as they do not speak English. But overall it was a very pleasant stay, and I would definitely recommend it!
---