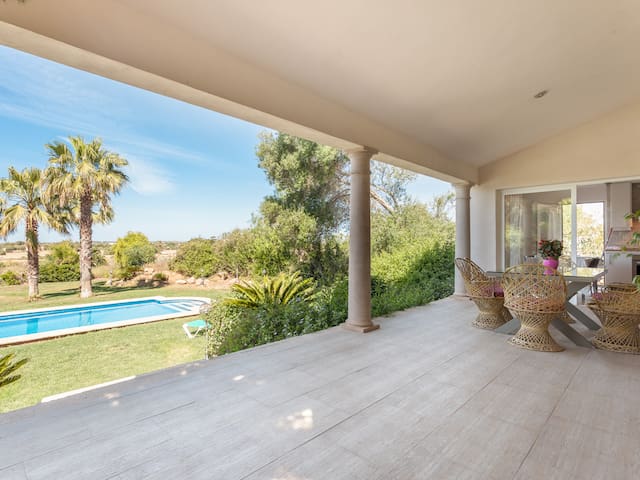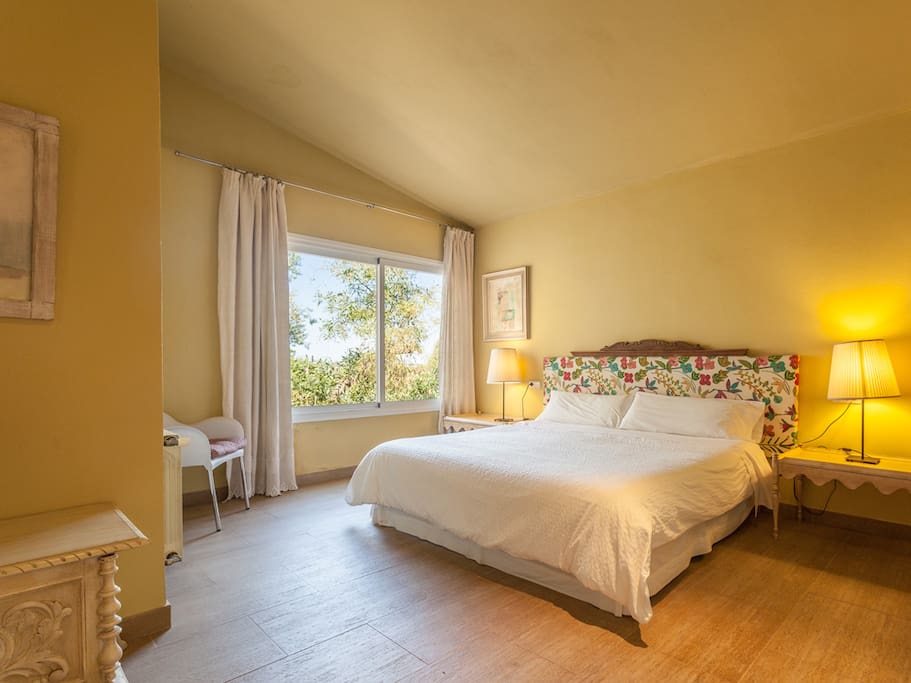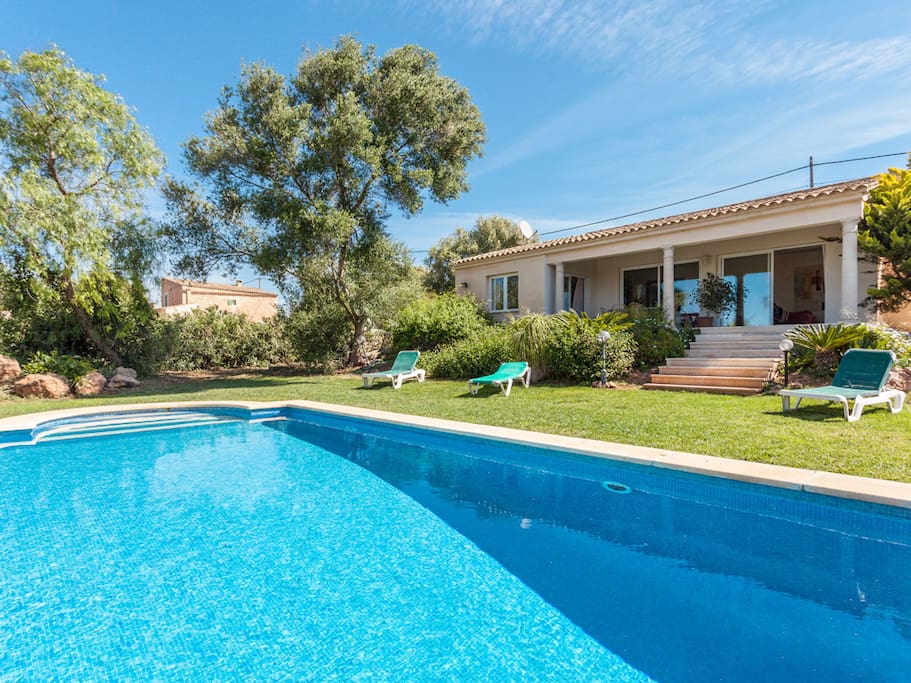 Featuring an outdoor swimming pool Ca´n Álvaro is located in Ses Salinas, Mallorca. The famous Es Trenc Beach is 5 km from the villa while a shopping and restaurant area is 200 metres away.
房源细节
The living room and dining area comes with 3 sofas and a TV, while the fully equipped kitchen includes a dishwasher, an oven and a microwave. There are 2 bathrooms with a shower and a bath tub respectively.
The villa has a terrace and a garden with outdoor furniture, where guests can enjoy dinner. Other outdoor facilities include 5 sun loungers and a barbecue.
Spacious and well furnished house in an area that is very convenient for Ses Salines (great little village with excellent eating out options), Colonia de Sant Jordi on the coast as well as local beaches like Es Trenc, and other nearby towns (Campos, Santanyi). Kitchen and showers in need of maintenance and upgrading, but otherwise very clean and functional. A lack of any basic supplies (toilet roll, hand soap, dish washing liquid, salt, pepper, sugar, etc) meant it felt less welcoming than we had hoped and necessitated an immediate shopping trip with small children, having only just arrived. Having seen another guest's review that was similar, I tried to contact the host (Alvaro) in advance to check this, but sadly without a response. As a host, I always try to ensure basic supplies are in stock to make guests comfortable straight away. Mid way through our stay, the owner Margarita was very helpful in getting the pool cleaned, even though we were staying late in the season. The children were delighted to be able to swim in the garden! It was a bit odd to have a semi-stray family of cats in the side yard who seemed desperate to get in the back door and probably looking for food, as though they are fed regularly when guests are not staying. There was no mention of animals/pets in the description.
---
The house is as pictured. Very spacious and stylish. Check in and communication was easy. A bit outside of town but nicely located to reach cool restaurants in Ses Salines and Colonia Sant Jordi as well as the great beach of Es Trenc. We loved the pool and terrace. Need to bring or buy your kitchen and bathroom essentials. There were 6 little cats in the back of the kitchen and our kids loved to feed them.
---
Es un sitio bueno al que ir para pasar unos días relajantes. La casa es moderna por dentro, parece casi reformada. Como defecto encontraría el hecho de que no hay camino a la piscina, si no césped, que siempre está mojado, así como que las luces de la misma se apagan a las 12 y no pueden ser encendidas de forma manual. Otro detalle a mejora sería añadir aire acondicionado, ya que en Mallorca en verano se puede pasar calor. Por lo demás, todo perfecto.
---
We really liked the house and the pool and the beautiful garden. The house was clean, but not as chic as on the photos, but still okay. What was a bit of an unexpected issue for us, was that there was nothing in the kitchen to clean (no lotion, no sponges, nothing), no condiments (such as pepper, salt and oil), no good knife, etc. We thought that was not really a fully equipped kitchen, so we first had to spend money so we could use the kitchen. And we had to get the garbage to Ses Salines, which is normal in Mallorca, as we learned. In the kitchen there was just a note saying that, but not where we should put the garbage. A few directions wouldn't harm. Keep in mind, that the location has no AC, so the nights are either very hot or full of bugs and geckos :) We choose hot, and it was okay, because we knew beforehand, that it had no AC. Other than that we really enjoyed our stay, the communication with Alvaro was very good, the weather was nice.
---
Nydelig og romslig hus med en flott terrasse/hage og et deilig basseng. Parkering på lukket eiendom/gårdsplass. Man trenger å ha bil. Gangavstand til Ses Salines med noen supre spisesteder, anbefaler spesielt stedet Cassai, med vakkert interiør, nydelig mat og god stemning. Kan bli varmt på soverommene uten aircondition i de varmeste periodene - selv med vifter. 15 min med bil til den vakre stranden Es Trenc. Husk parasoll da det kun er solsenger på den vestre enden av den 2 km lange stranden, fins 2 stk i huset. Perfekt for familie med større barn eller 2-3 par. Søppel må kastes i containere i nærmeste by, men kan samle i stor søppeldunk i uthuset ved kjøkkeninngangen . Vi elsket dette stille og fredelige ekte spanske hjemmet.
---
Eine sehr tolle Casita in wunderbarer Lage! Schön aufgeteilt, toller Garten mit Pool und eine weite Sicht bis zum Meer! Ses Salines ist fussläufig erreichbar und die hübschen Buchten und Strände des Südens schnell mit dem Auto erreichbar! Wir haben unseren Aufenhalt sehr genossen und die Kommunikation mit der Inhaberin war super und unkompliziert! Vielen Dank:)
---