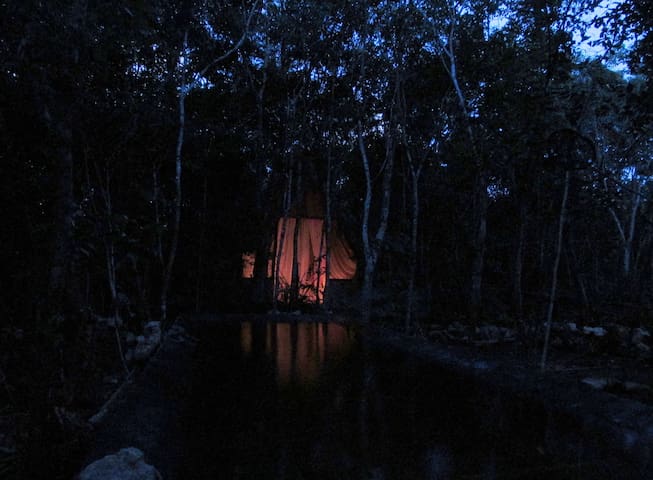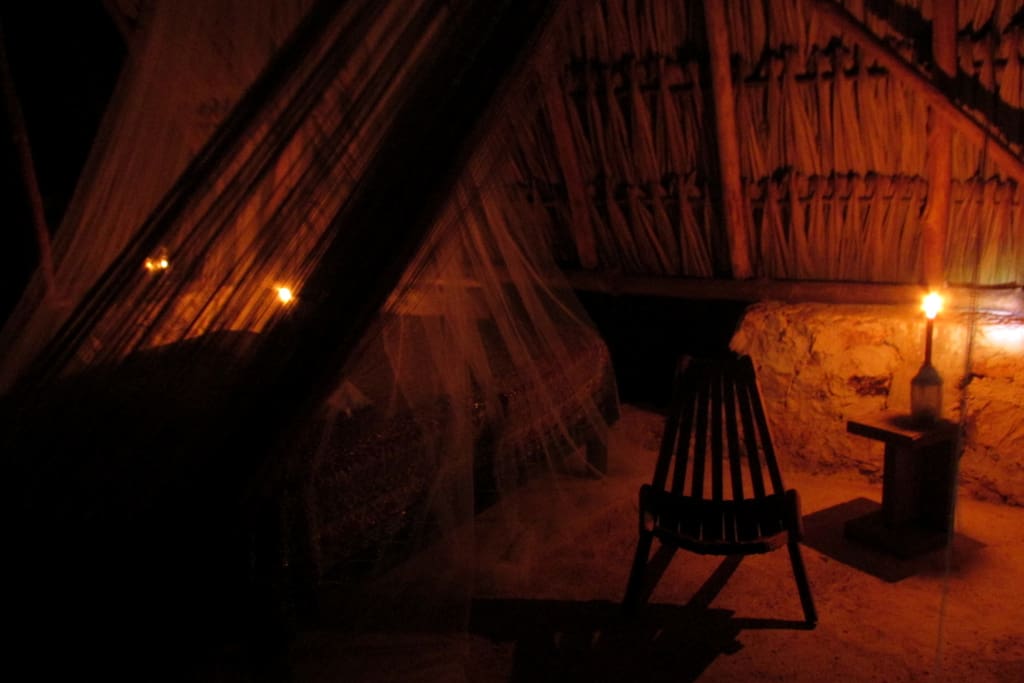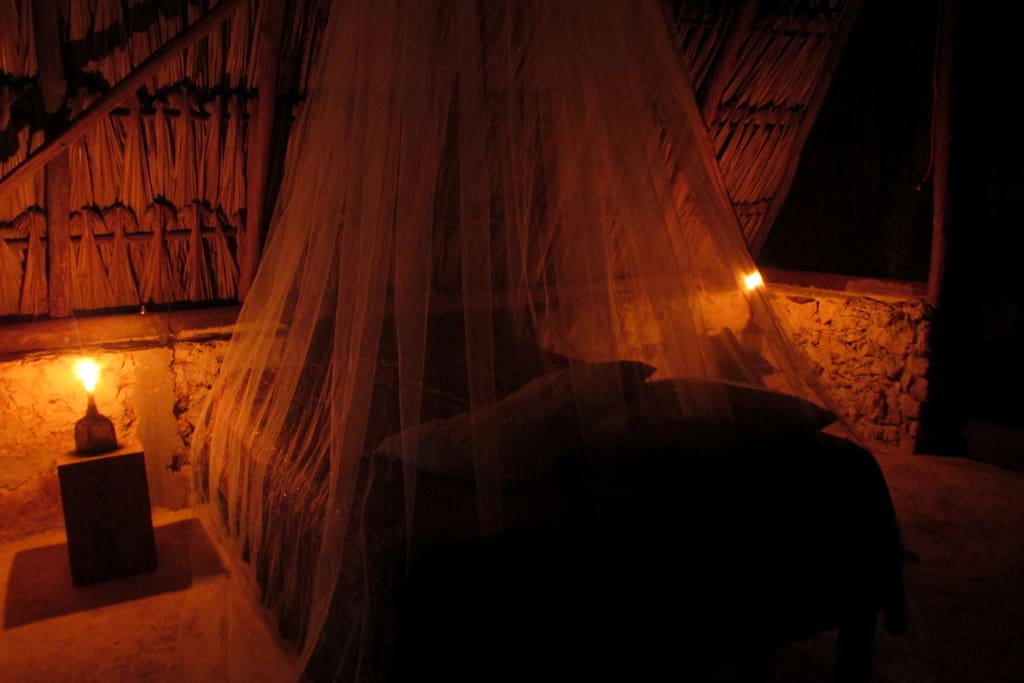 Take the path least traveled and yet just over 15 min from downtown Tulum. Ideal to disconnect from the world that we know and delve into a simple but confortable way of relating with nature. Minded for couple to enjoy a cozy candlelit stay. This room is often visited by a writer who enjoys tranquil time.
房源
High thatched roof built in two water ceiling pa-la-pa (hut), absent side walls covered with mosquito net, surrounded by lushy nature offers a private getaway as a fulfilling indoor-outdoor experience. Placed close t othe swimming pond, its orientation happens to meet cardinal points into witness the dance of moon and stars unbothered by city lights, experience the sunrise breaking through on the edge of civilization.
This is spacious bedroom can accommodate comfortably up to 3 adults or possibly 2 adults traveling with 2 kids.
Swimming pond, exterior lounge areas and outside bathroom facilities are shared among other 2 guest bedrooms. Bathroom facilities consist in a separate composting toilet room, an open sink, and a separate roofless shower. Not hot water supply.
Either completely in the dark or glowing under the moonlight, the nights of this place are sonorized by cicadas, frogs and distant cumbias. You may expect to find some wildlife as this is still the jungle. The place sets a peaceful time to rest from dawn on up to the first hours of the morning break when our neighbor roosters boast in joy to receive the sun... perfect for early starters.
Before going to sleep or first thing at dusk do not forget to check out the impressive winter night skies at this latitude.
房客使用权限
Guest access includes also into swimming pond, gardens and exterior lounge areas around the property.
We like to be ambassadors for the taste of our Mexican tradition, a constantly changing menu likes to experiment around Mexican and Mayan traditional cuisine mainly based on maize, most likely vegetarian dishes. The kitchen works on a clay stove and stone oven entirely on wood. Artisan beer, sometimes rustic bread and a selection of mezcal cocktails and wine. Dinner is served upon request at candlelit at the main palapa between 7 to 8pm. If interested in dinning please advice so, reserves are taken up to 2 hours ahead serving time.
与房客的互动
Same as at our surrounding town, the activity at th house also starts early: there is coffee and biscuit courtesy service extended daily at main palapa from 7am to 9am. Check out time at 12pm max.
We are keen into extend travel information personally based on your specific needs. We prefer the off beat paths, to find hidden ruins, unrevealed cenotes, little towns trapped in time.
其他注意事项
The house is being developed as model for sustainable housing in the area. Measures have been taken for not polluting the underground waters this area is so famous for. The water we use is after filtered and used again to irrigate a tobacco crop. Solar system provides limited but enough electricity to run internet, charge devices and light the main palapa. Organic is waste treated into compost making this a non polluting house.
Last check in at 9pm. Please advice if later needed.
Weather throughout the seasons:
The rainy season extends from July to November. The weather is very hot and humid even in the dry season. Temperatures range from (day-night) 25-15ºC in winter to 35-25ºC in summer.
Watch our other listings to get a better idea of this unique house and premises.
---
---
---
We are flexible on the check in time and take in consideration your travel plan. on your first time at this house is recomended to show up while daylight so you get your bearings in an out the house.
---
---
---
---
We are a couple from central Mexico who like ancient civilizations. We were delighted with Mayan culture and the peninsula.

We built our house with an architecture of the earth on the rural side of the Mayan transition zone in the ejido of Macario Gomez.
With the purpose of harmonize with the peculiar environment in which we live and in order to preserve the underground water flows, we incorporate alternative and sustainable solutions, happens to be also off the grid.

In 2013 by support of many local workers we started this housing project "Casa Xaan In Ná" (mayan: house of palms), minded to consciuous travellers, artists and friends.
We enjoy to share a real look of a local life. We like the off beat paths, hidden ruins, unrevealed cenotes, little towns trapped in time.

You are very welcome to immerse into the beauty of the simplicity and a simpler way of life.


About Food&Beverages.
We offer dinner by advance reservation and some extras to enjoy in the room.
We work based on the remains and recipes that persist in the Mayan area where we are neighbors and Nahua part of the central Mexico. We elaborate artisan beer.


Some literature we can recommend to read before or while your trip down here:
Diego de Landa, RELACION DE LAS COSAS DE YUCATAN
Sylvanus Morley, THE ANCIENT MAYA
语言:
English、Español