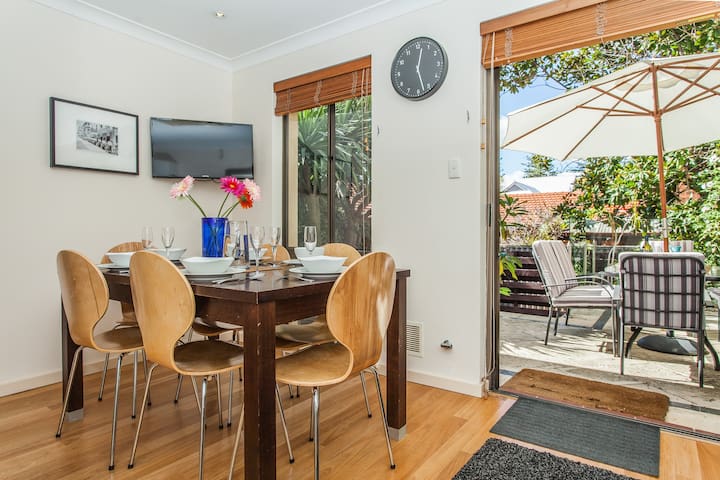 Our home is a Cottesloe Villa, with ocean views to Rottnest Island from the top level balcony.
We are close to the train and just 3 stops to Freemantle and the Ferry to Rottnest.
We accommodate 6 adults (+ baby = 7) with 3 bedrooms & 2 bathrooms and are equipped for kiddies: cot, baby bath, high-chair, stools, play-table and chairs, and plastic utensils.
The beach is just down the hill, as is golf, tennis, fishing, kite surfing, exercise areas, windsurfing, rollerblading etc.
房源
Location | Location | Location
We do rent for 3+months so please ask for special discounts.
Cottesloe is the best beach location in Perth, and from the top balcony (level 3 of the townhouse) you can sip your sunset drinks whilst watching the sun set over Rottnest Island.
The property is 3-levels and we've arranged the rooms to match the activity and weather.
Ground-floor is an open-plan kitchen, dining room with 6 chairs, sofa, flat-screen TV, and connects to a laundry with washing machine and dryer, mop, broom, buckets and laundry baskets. Within the laundry you will find a set of cupboards containing laundry supplies, BBQ supplies, a light for the BBQ at night (clips onto the glass walls) with extension cord, spare light bulbs and batteries, and a basic tool kit. The lower level is air conditioned.
The ground floor area opens out on the back terrace through sliding doors to an outdoor entertaining area with garden furniture that includes an umbrella, BBQ, drinks cooler, table, chairs (8). The garden contains a massive Magnolia tree, and one of the largest Dragon Trees found in Cottesloe.
The first floor comprises a bathroom with bath, a double bedroom, and a twin-share bedroom. Both bedrooms have built in wardrobes. Within which you will find ample supply of coat hangers and a fan. The twin-share bedroom has an air conditioner and both bedrooms have sliding doors leading out onto a west facing adjoined balcony.
The upper floor comprises the main living room and master bedroom with views across the ocean to Rottnest Island. The living room is furnished with large sofa's, a large flat-screen TV, a DVD player, stereo system, and soft lighting. The room is air conditioned and leads onto the upper balcony through sliding doors. The balcony has a large pillowed sofa around a coffee table and chairs.
房客使用权限
The property will be all yours for your stay. There is a twin carport at the ground level, and neighbours are great. There is further parking for visitors at the front.
The back terrace has a BBQ and a full set of garden furniture and a drinks cooler. The watering is on auto-reticulation and the gardener comes in once a month to clean up leaves and attend to the plants.
其他注意事项
Kid Equipment
- Baby bath
- Baby Cot
- High Chair
- Little stools for kids to stand up at sink and wash-hands, brush teeth
- Table and chairs (2) for craft activities
- Plastic cups, plates, forks, knives, spoons
Baby-Cot and baby-chair can be rented from external service if required.
---
---
Please do not request to rent if you are a group looking to party. This property is strictly not available for such, and has a neighbour enforced noise curfew of 10pm. Our house is within a family residential area and noisy, boisterous people are pretty much not welcome.
We open our doors for guests to enjoy our home for the period of your rental. Please take care of our home as you would expect us to take care of yours. If things get broken or damaged please do the right thing and let us know, and please do not steal things. The most delicate area of our home the carpet, as we've noticed a lot spills up the stairs and in the top floor living room as guests take their food and drink up to watch the sunset. (We do the same thing ourselves). Please pay extra care and let us know immediately of any spills as treatment is cheaper and more effective if done immediately.
1. Keys: We will start communication on your arrival planning once Airbnb advises payment confirmation. Upon completion of stay, Guests are required to leave the keys at the property. If you forget to leave them, please let us know ASAP and arrange to have them sent back to us. It will save you some headache. Please note a fee of $150 will be charged if keys are lost. You will receive two sets of keys for your stay
2. Bins and Trash. Please separate your trash into the Red and Yellow bins. Yellow is for recycling, and the Red is for everything else. The bins have stickers on them identifying what is allowed in each. Put the bins out Tue evening, for collection Wed morning. Red goes out weekly, Yellow goes out every two weeks. Follow that you see the neighbours doing. Just make sure you put them out, and they face the correct way. If you miss a bin-day you will never forgive yourselves as there is barely enough allowance. Freeze anything that is smelly (like crab/prawn/crayfish leftovers) into bags, and then put into the bin on Tue. It will avoid you having smelly bins at the front door. We have very friendly neighbours who try and help our guests remember. If bin trash is not sealed, and results in leaking liquids (foods, sauces, beer, wine etc) into the bin, there is a $100 charge for cleaners to come back and clean bin after the Tuesday service. Please do the right thing and pre-clean items before they go into the bin, and pay special attention to drink cans and bottles.
3. To maintain a good standard for our Guests we require certain conditions to be complied with. We appreciate most people will respect the property, but the occasional abuse requires that we state the following conditions.
-Number of Guests accommodated shall not exceed the guest number as per the booking. Exceeding 6 adults will result in forfeiture of the Security Deposit or possible eviction. ie, you cannot have people sleeping on the sofa's, on air mattresses etc.
-Parties and functions are STRICTLY PROHIBITED. The price charged is for domestic use only and not commercial. The rate does not allow for the extra wear associated with functions in terms of cleaning, garbage removal, wear and tear, repairs etc. Use contrary to this may result in loss of your Security Deposit and/or additional payments and possible eviction.
-The property should be left in a similar state to its condition on arrival save for normal cleaning.
-Disturbance to our neighbours, including excessive noise, is prohibited and may result in termination of rental and a charge against the Security Deposit.
- A noise curfew is in place for all properties in this residence. No noise after 10pm. This is strictly enforced within the residential area.
4. No Smoking is permitted within the property. A $50 charge will be deducted from your Security Deposit if cigarette butts are left lying in garden beds or paved areas. Charges will apply for any evidence of smoking inside the property.
5. No pets are permitted on the property during your stay, as pets are not allowed in the complex at all.
6. The Guest should be an adult and shall be an occupant of the property during the entire reserved period. If you booked on behalf of someone else thats no problem, just ensure we know who that person is. Other occupants or visitors will be family members, friends or responsible adults. Use of the premises will be denied to persons not in the foregoing categories, and as a result they will have to vacate the property immediately without any refund.
7. Damage and Breakages: Whilst they do happen, please be responsible and let us know. We take care of little things like the odd glass and plate, but breakages are the Guests' responsibility during your stay. Please note the Security Deposit does not limit the Guests' liability with respect to damages and breakage. The cost of breakages and damage to property will be deducted from the Security Deposit at the discretion of the owner and Airbnb.
8. Theft and Loss: The Owner takes no responsibility for the Guests' personal property during their stay at the property.
9. Water, Gas, Power: During your stay the utility costs are our responsibility. Please act responsibly and turn off lights, cooling, and heating when not needed.
10. The Internet is an unlimited WIFI package, allowing you to watch your favourite series through Netflix etc, or to catch up on work.
11. Maintenance and general repairs: Please report any maintenance issues to our manager as quickly as possible, and we'll do our very best to take care of it as quickly as possible.
12. Hold Harmless: The Owners do not assume any liability for loss, damage, injury or death to persons or their personal property. Neither do they accept liability for any loss or damage caused by weather conditions, natural disasters, acts of God, or other reasons beyond their control. With full knowledge of the above facts and warnings, the signee accepts and assumes all risks associated with the rental of this property.
13. Waiver: The signee, for himself/herself, his/her heirs, assignors, executors, and administrators, fully releases and discharges the Owner and contractors from any and all claims, demands and causes of action by reason of any injury or whatever nature which has or have occurred, or may occur to the signee, or any of his/her guests as a result of, or in connection with the occupancy of the premises and agrees to hold the Owner free and harmless of any claim or legal action arising there from.
---
We are available to help out with any request. Suzanne Day is your guest manager until Mar 11, and Madeline Boetcher will take over. Phone numbers are on our listing and were sent to you with your Booking Confirmation.
Married with 3 kids. We are foodies. Love exploring cultures through tastes and travel. Monique is a French chef from an advertising background. Peter is an engineer from Australia. We travel to Asia most years, we host large dinner parties with family and friends, and we enjoy the periphery of life.
语言:
English、Français