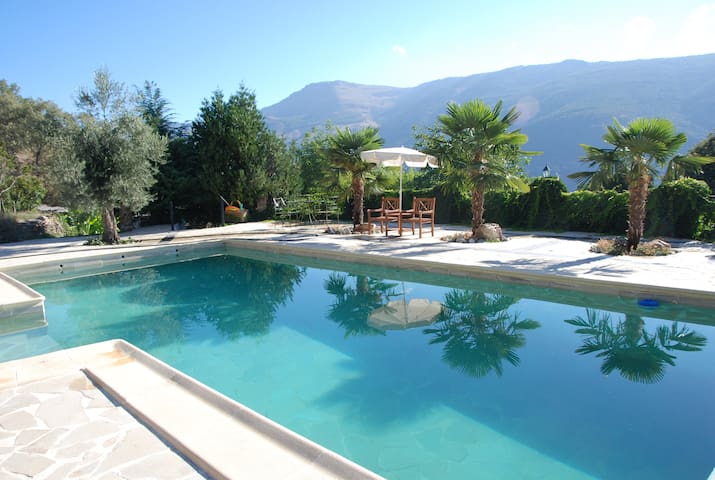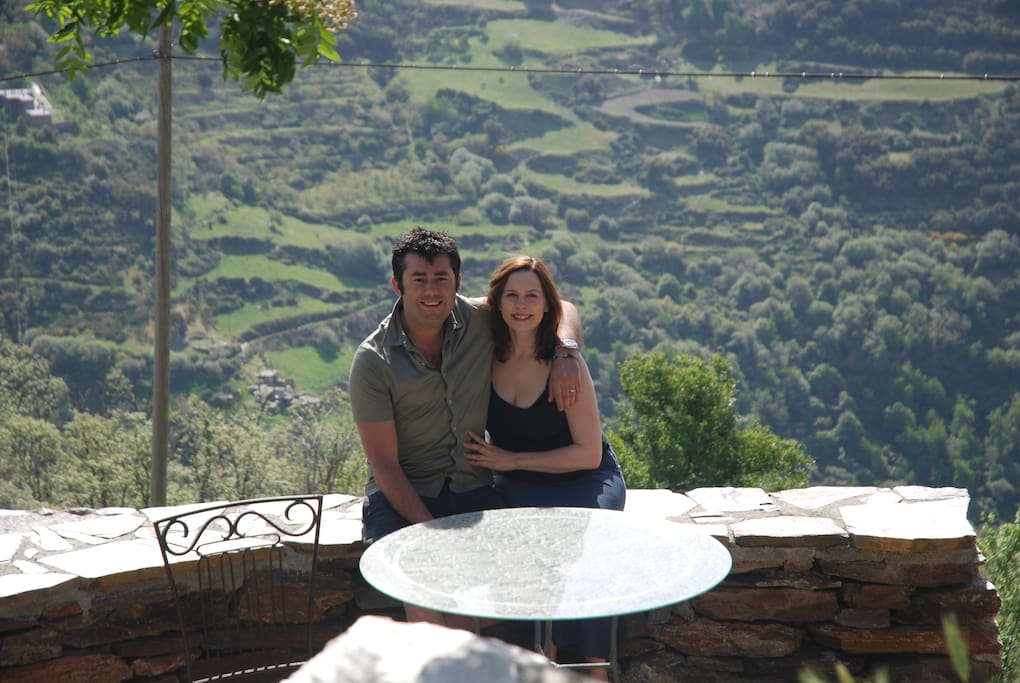 Romantic cottage Granada / Pablito
Pablit Cortijo is one of the detached and private cottages "Cortijos" in the heart of Sierra Nevada National Park. Its unique location makes it wonderful for those who like to explore Sierra Nevada, Alhambra in Granada and the Mediterranean beaches .
---
We booked the place for one week in august and it was an amazing apartment. The view from our own terrace was picture perfect with view over the mountains! On the terrace there was a lot of wasps, but Mo put up a trap which help a bit. The rest of the place is so lovely! Amazing pool area and a lot of fruit and vegetable plats where you can collect your own vegetables for dinner. Overall a wonderfull place to stay and very much like the pictures. We where a bit surprised about the final road up there, but Mo had some good tips on how to drive it, and from there it went smooth.
---
Unfortunately there were several problems with this accommodation: - First of all - next to our cottage there were construction works going on, which made a lot of noise during the day. Honestly - that's just very ironic when you're looking for a quite place in the mountains... In our opinion, organizing construction works while welcoming guests at that particular place is really selfish, dishonest and opportunistic! - no WLAN although it was indicated on the website. Mo didn't mentioned anything about it. - the cottage was a bit desolate. It seemed like no one has been looking after the cottage for a while. When we noticed those problems, it was extremely difficult to reach Mo as he wasn't in Europe at that time. When we finally reached him, he offered us another cottage on the same property. This cottage was much bigger but in the same dirty condition. Two days before leaving we had to move again to Pablito as new guests arrived at that cottage. Nevertheless the area, the garden, the view are beautiful and Antonio, the gardner, is a loooovely, lovely guy!!!! If you take in consideration to go to this place, check in advance if all the informations on the airbnb-website are up-to-date and if the construction works are finished already!
We believe these guests present an inaccurate account of their stay at the cortijos. So far everybody else sees it as a paradise and a place to retreat. They are right about the noise from building work which we were totally unaware of thinking the building work had finished before their arrival. After the first night that I was informed I emailed the guests and offered them a complete refund, not even charging for the first night or alternatively that they could move up to Almond, at no extra cost, (our larger more prestigious cortijo which is normally 800 euros a week as opposed to 250 they paid to stay in Pablito). Later that day I contacted them and received a message saying they were happy in Almond and did not want to move. Since Almond is several hundred metres up the valley away from the building works, noise was no longer an issue. We made sure our caretaker Antonio saw them regularly and every night we contacted Antonio who told us they were happy especially since they had the entire resort to themselves with no other guests. All the towels, linen and kitchen facilities were clean and provided free of charge. However, you need to remember, this is a country retreat and obviously not a place suited to such people as natural living brings with it dust as well as fresh country air. We recommend that people like them think hard as they seem to be people who would be happier along the coast of costa del sol or costa brava as our place we consider appeals to people who are happy in nature. Further, 4 days before they departed both Lucy and I came back to the cortijos and we personally went to see if they were ok. We never experienced such unsociable guests before, they just said, they were fine. Why didn't they tell us they were not happy rather than waiting to complain online afterwards? Under these circumstances we would recommend that in the future such people should think hard about where they want to go and research carefully as this would help them as well as any future hosts to avoid having such unhappy guests.
---
A unique and blissfully peaceful spot. Lovely relaxed but very warm welcome from mo Lucy and Leo. There's nothing better than fresh tomato from the vine and fruit trees all around. The swimming pool is an absolute luxury to cool down in with fresh spring water to fill it. Our baby slept so well too!
---
A gorgeous rustic cottage in a wonderfully rural location (4km from the nearest village). We loved going for early morning walks, picking fruit and veg from the garden for our meals, relaxing by the pool in the hammocks, and cooking dinner on our own patio. What a brilliant week! It really was home for home and we were in our element. Two recommendations - if you would like to book days out, (alhambra? horse riding?), I would do this well before you leave. The Alhambra had sold out, and it takes a while to get hold of the horse riding people so we missed out. Our own fault though - Sierra Nevada time! Also, although the local villages of Busquistar and Trevelez (both a 15min drive away) have supermarkets, the one in Pitres is much better. If you can go there on your way to the cortijo all the better. Closed 2pm-4pm though of course!
---
The cottage and it's surroundings were just amazing. Quiet, simple and natural. We enjoyed our stay so much. The cool house in the hot Andalucia sun was perfect and the pool is over-looking the valley. The cottage is also very well-equipped. On its terrace, you also have a beautiful view. Barbecues, walks and visits of the white villages is a must on your agenda.
---