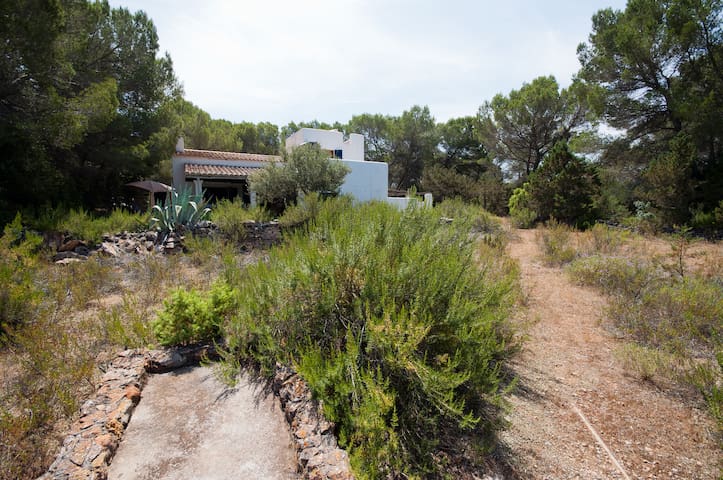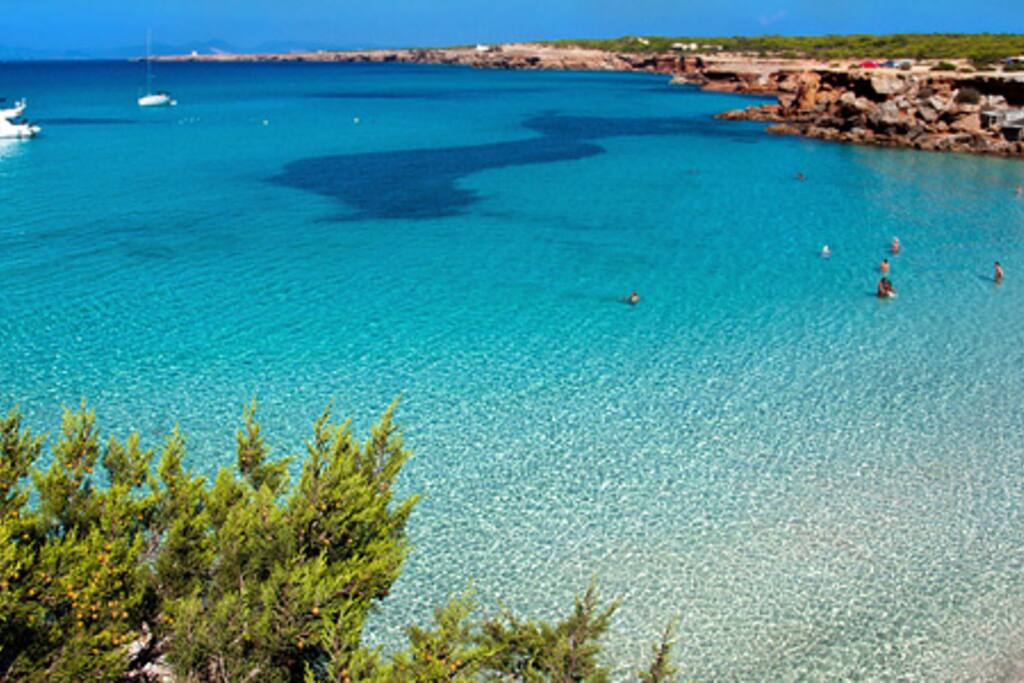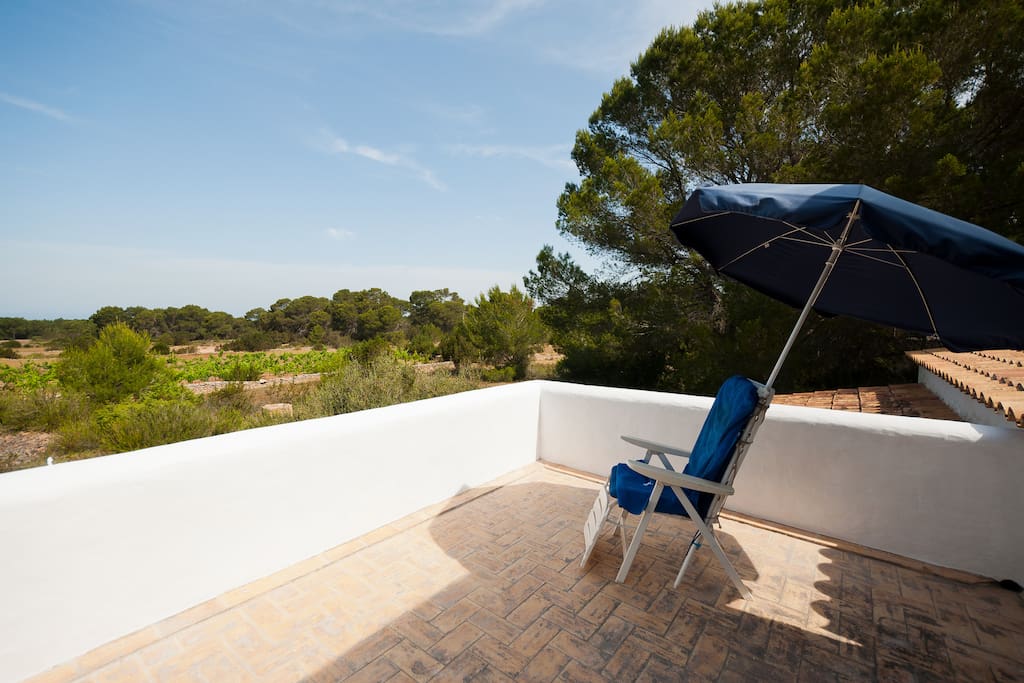 房源
Casa Julia is a unique place for families and friends to spent time in one of the most beautiful corners of Formentera, one of the most fascinating and wonderful islands in the Mediterranean Sea.
The house was built by my father, architect Gunter Graf. It is a great place for a quiet and true island experience.
The house is one of a kind, elegantly shaped and spacious with one big living room, a spacious outdoor terrace, a big balcony, a spacious backcourt/patio and 4 large bedrooms.
The house is facing the seaside which which is just 5 min away and the sun sets magnificently right in front of your eyes.

The most beautiful aspect is its location in a pine forest and its absolute quietness. This house is for everyone who is looking for time to relax and enjoy time with their family and friends.

Every room has its own en-suite washbasin for ultimate private comfort. Please be aware that the house has only 12V sockets so please do not expect to have normal power usage (charging phones simultaneously, blowdrying hair etc) in every room. However there is one 220V converter in the 'Beehive' room for charging a phone for one piece at a time. The spacious and comfortable rooms are very bright and my father intentionally designed it with high ceilings. In particular the high ceilings are a blessing in the heat of the summer months and a true difference to normal houses.

The house allows for a a great change of scenery as you can spend time on many beautiful spots. You can stay at the main terrace with a wide view across wild wine fields, the peaceful Patio, the second terrace in the back or the big balcony for sun bathing. You can also use the large living room inside for playing games, chats with friends and reading books.
The main terrace is the vivid centre point of living where you can host large dinners to remember under the Spanish sun and heartily welcome friends and family.
For even more people to host you can withdraw to the backcourt/patio with his wide space and a Catalan open grill to host bigger barbecues and entertain children. There are sun loungers, sun chairs and a hammock to enable a truly relaxing time.

Cala Saona, one of Formentera's most beautiful bays, is a 5 minute walk away and allows for fun activities during the day (snorkeling, swimming, beach volleyball, sailing) and outstanding sun sets during the night at one of the three good and peaceful restaurants at the Cala.

This get-away home is for families and friends who know how to take care of an individually styled, unique house and we like to give it a try and rent it out over airbnb.
---
---
---
The house is ideally fitting to the island of Formentera. It has all the necessities it needs for the island. We kindly ask our guests to use resources like water and electricity respectfully.
Water is the most precious resource in Formentera. We kindly ask you to refrain from long showers or using it for any other than functional purposes.
If you do seek modern amenities like TV or big entertainment systems we kindly recommend to search for someplace else.

Kind regards
Gero Graf
---
---
---
Nice house in the pines, calm but close to the beach in the meantime. Spacious, it can host many people. We had a pleasant stay at Casa Julia. It is however worth noting that the 12V socket can hardly charge a phone without taking a lot of energy from the house battery - I recommend not to use it. In addition, the water pump works with electricity as well, so if you use too many lights, you might miss energy for your shower. Fortunately, Gero was very reactive when we needed his help to fix these small issues and we were very well welcomed by his trustee, Andrea.
---
Hi there,

I am a young professional living in London who does love his home country Germany where I still spend a lot of time with family and friends.
My third destination is the island of Formentera where I spent all my summers, ever since I was a child. It is a truly beautiful place with a lot of outdoors activities to do, like sailing, snorkeling, even running in the heat. I recommend everyone to take a trip to this beautiful island.
All the best
Gero
语言:
Deutsch、English、Español