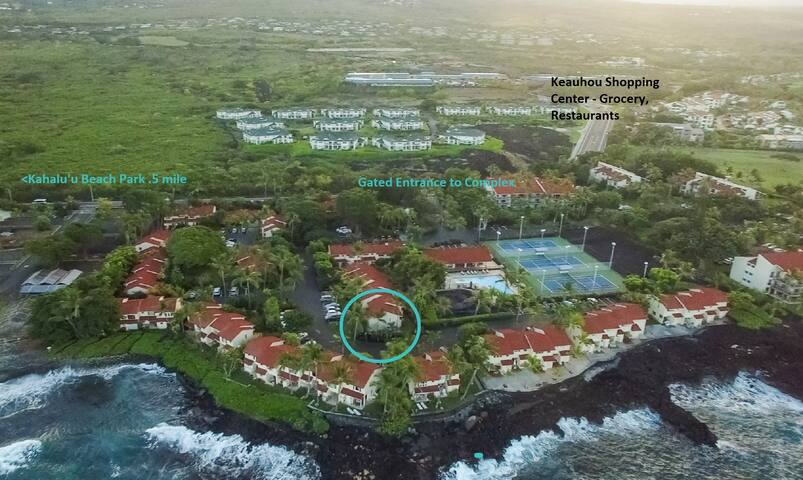 This lovely townhouse is only 60 feet from the shoreline and our recently renovated pool. Sounds of the surf and birds greet you indoors and out. It's lovely. We have many lovely repeat guests who want well-maintained and lovely accommodations and return each year!
July/August/September Guests - ***Air- Conditioning (AC) is available in KING bedroom only. $10 electric fee per day. Most guests just use fans when further air movement is desired. ***
房源
Enjoy the luxury of this delightful two bedroom/two bath fully furnished condo that's gorgeously landscaped and less than 60 feet from ocean and pool. It's the only unit like this in the complex! The tropical setting and views and the sounds of surf will offer all the comforts of a hotel plus plenty of space and the added convenience of allowing you to prepare your meals in a fully prepped kitchen with refrigerator, dishwasher, microwave, stove, oven. In addition to all the linens, soaps, and paper supplies we include a cooler, beach towels, and boogie boards to supplement your land and sea excursions. This lovely unit is perfect for a couple, families with kids, or a few friends enjoying a holiday break together. There's a designated parking spot only 15 feet from front door and there's WIFI in the unit; both are FREE for our guests. And, if you want a game of tennis, enjoy our newly resurfaced, PREMIER tennis courts which are also FREE for our guests; we even supply a couple of racquets! There's also a volleyball area, two separate pavilions (the one next to the pool has WIFI as well, and a beach with petroglyphs and turtles just 200 yards from unit. If you like to BBQ we can happily accommodate that as well. The complex has several gas and charcoal BBQ's. Our guests also enjoy the convenience of having the best snorkeling/turtle park just 1/2 mile north of complex and a shopping center complete with restaurants, drug store, groceries, and URGENT care 1/2 mile south. Perfect for easy access to everything yet you'll feel like you're completely removed to a lush Hawaiian paradise the rest of the time. Kona was recently voted the #1 spot for visitors to Hawaii; we think our townhouse is the #1 place to stay in Kona! Come try our piece of paradise - we're waiting to share it with you. Let us know if we can help you with vacation tips, equipment rentals (cribs, high chairs), etc... we're happy to do it all! Mahalo!
房客使用权限
整个单位是您的日期的家。请享受您的住宿,让我们知道如果我们可以帮助任何事情!
The entire unit is your home for your dates. Please enjoy your stay and let us know if we can help with anything!
与房客的互动
我不在岛上全职,但我有很好的本地人,可以在我缺席的时候覆盖任何东西。
I'm not on the island full-time but I have great local people who can cover anything in my absence.
---
---
---
GENERAL POLICIES; RELEASE AND WAIVER OF LIABILITY AND INDEMNITY AGREEMENT
I. GENERAL POLICIES
Cleaning Fees:
• All stays have a check-out cleaning fee.
• Housekeeping charge covers general cleaning only; any excessive cleaning will incur additional charges @ $30.00 per hour. Please keep the unit clean and ensure that only linens from last morning are left for housekeeping. Beach towels, extra sheets, etc…should be washed, dried completely, folded and put away prior to departure to avoid further charges. Any extra laundry will be billed at hourly rate of $30/load and withheld from security deposit to cover this additional housekeeping time.
• No food or drink (except water) should be brought into bedrooms.
• If you have a spill or staining 'event' (wine, blood, other), please contact housekeeping/local contact immediately so that we can assist with stain removal. If stained items are washed/dried without treatment they are costly to replace. Please let us help.
• Rinse dishes thoroughly prior to putting them in the dishwasher. Ants are not picky – they'll move into the dishwasher if food remnants are available. If you see an ant anywhere; 'stop it' immediately and its friends or army will look elsewhere.
Check-In/Check-Out:
• Check-In Time is at 4:00 PM.
• Checkout Time is at 11:00 AM.
General Policies:
• Please make sure that all keys are left in the condo prior to final departure.
We charge a $50.00 replacement fee for each lost key.
• Please make sure that any gate proximity cards and/or swimming/tennis gate keys are left behind at the condo.
We charge a $150.00 replacement fee for each lost key or card.
• This is a non-smoking condo. If you need to smoke, please do so 30 or more feet away from condo or other buildings. Smoking is NOT allowed on lanai. Please dispose of smoking debris in outdoor garbage receptacle.
• It is customary in Hawaii, to leave your shoes at the door. Please do not wear outdoor shoes inside. This will make your interior living stay cleaner and nicer for YOU! Designated indoor-only shoes or flip-flops are welcome.
• KEEP THE FLOORS DRY AT ALL TIMES - the tile floors can be slippery when either the floor or your feet are wet. Use the hand rails when using the steps.
• Please rinse any sand and dirt outdoors prior to entering the unit. Housekeeper charges additional cleaning fee if excess sand is present.
• No pets or animals allowed in the condo.
• Always leave the lockbox key in the lockbox; local contact/housekeeper charges $50 for 'locked-out' visits. We can give you the code to lockbox, at no cost, over the phone.
• Lock the condo doors & secure (downstairs or landing) windows whenever you are absent or sleeping. Break-ins are rare but it only takes once to unpleasantly disrupt your vacation. Owner/s are not responsible for break-ins.
• We allow a maximum of four overnight guests in most units. Please ensure we are notified of exact number of guests for emergency and billing purposes. All guests should sleep in beds; not on couch or loveseat. No exceptions.
• We charge a fee of $25.00 for any missing beach or bath towels upon checkout. NOTE: Beach towels are provided for pool & beach use. Bath towels should NOT be removed from condo.
Check-Out Procedures
• Check-out Procedures are sent with FINAL RESERVATION information to the email address on your reservation.
Contact Sandy or designated 'Local Contact' immediately if any of the following occurs:
• The unit is not in 100% satisfactory condition upon arrival.
• If during your stay you notice ANY problems; ex: appliances, plumbing, etc., so that we can correct problems immediately.
• Any damage to any of the condo contents occurs. This includes kitchenware, appliances, linens, furnishings, etc…so that we many correct any problems immediately.
If you have any questions or concerns about these policies, please call Sandy Kumar toll-free at 1-888- KONA-(PHONE NUMBER HIDDEN)).
II. RELEASE AND WAIVER OF LIABILITY AND INDEMNITY AGREEMENT
IN CONSIDERATION for being permitted to enter any premises and property located at 78-6800 Alii Drive, Kailua-Kona, Hawaii, 96740 for vacation rental or any other purpose, the undersigned, for himself/herself, his/her personal representatives, guests, children, heirs, and next of kin, acknowledges, agrees, and represents that he/she has or will immediately upon entering, and will continuously thereafter, thoroughly inspect such areas and his/her continued presence constitutes an acknowledgment that he/she has inspected house, lanai and entire property and he/she finds and accepts such areas as being safe and reasonably suited for the purposes of his/her use, and he/she further agrees and warrants that if, at any time, he/she feels anything to be unsafe, he/she and all guests will immediately leave the area and advise appropriate persons.
THE UNDERSIGNED hereby RELEASES, WAIVES, DISCHARGES AND COVENANTS NOT TO SUE Kona 101 Vacation Rentals, LLC as a company or corporate representatives, their members, managers, operators, officials, officers, directors, employees, owners and lessees of the premises, all for the purposes herein referred to as "releasees", from all liability to the undersigned, guests, representatives, assigns, heirs and next of kin for any and all loss or damage, and any claim or demand thereof on account of INJURY to the person(s) or property or resulting in DEATH of the undersigned or guests, whether caused by negligence of the releasees or otherwise while in or upon the area.
THE UNDERSIGNED hereby AGREES TO INDEMNIFY AND SAVE AND HOLD HARMLESS the
releasees and each of them from any loss, liability, damage, or cost they may occur due to their presence in or upon the area and whether caused by the negligence of the releasees or otherwise.
WARNING: Use of pool, lanai's/decks, step/stairs, kitchen, BBQ, tennis, shoreline and ocean carries risk that may result in serious injury or death, and unsupervised use by children is prohibited.
THE UNDERSIGNED hereby ASSUMES FULL RESPONSIBILITY FOR RISK OF BODILY INJURY, DEATH OR PROPERTY DAMAGE due to the negligence of the releasees or otherwise while in or upon area.
THE UNDERSIGNED hereby certifies that he/she and guests (they) have adequate insurance to cover any injury, illness or damage that may be caused or suffered while in or upon area, or else agrees to bear the costs of such damage or injury. The undersigned further that he/she/they have no medical conditions which would interfere with use of pool, swimming, canoeing, hiking, shelling/exploring beach/tide pools, rock climbing, climbing stairs, playing tennis, etc. or else assume and bear the costs of all risks that may be created, directly or indirectly, by any such condition and expressly acknowledges such physical activities are dangerous and involve the risk of serious injury and/or death and/or property damage.
The undersigned further expressly agrees that the foregoing release, waiver and indemnity agreement is intended to be as broad and inclusive as is permitted by law and that if any provision is held invalid, it is agreed that the balance shall, notwithstanding, continue in full legal force and effect.
Any dispute, controversy or claim arising out of or related to this Agreement or the interpretation of this Agreement shall be settled by arbitration through Arbitration Service of Portland, Inc., except to the extent modified below. The place of arbitration shall be Washington County, Oregon.
This Agreement will be governed by and construed in accordance with the laws of the state of Oregon, without regard to conflict-of-laws principles.
---
---
---
This is a lovely condo suitable for a small family or 2 couples. Well We were presented with a very nice welcome basket of goodies to start off our great week in Kona.
---
We had a wonderful stay in townhome #59 at Keauhou Surf and Racquet Club. It was super clean and light with very tasteful Hawaiian decor. Everything we could possibly have needed was there. The beds were very comfortable and the linens and towels were abundant. It is steps to the ocean and we could hear the waves as we went off to sleep. It is also just a few steps to the beautiful pool, which has to be one of the largest on the coastline. The grounds at this resort are well maintained and absolutely beautiful. We didn't have time to play tennis, but if you enjoy playing the courts are well kept and there were many people using them, well on into the evening. We will definitely be requesting to stay here again. It was delightful.
---
Nice place, description was fairly accurate, and communication with host was good. The house got a little hot at times, though there were several fans provided, and it was difficult to get anywhere else without a car.
Aloha, Jo: Thank you very much for your recent stay! We were delighted to accommodate you and would be happy to welcome you back anytime! Thanks, too, for the info on unit getting hot at times...I'll make sure we keep the fans available to promote air movement and hope that those tradewinds are a bit more active as usual. Also, I'll reiterate that air-conditioning in available in upstairs main bedroom if guests decide this is necessary and would like to have it set-up. We do recommend that anyone staying in this lovely complex have a vehicle to commute around the island. There are a couple of buses that serve our area but it's really inadequate for MOST activities. I do have a great recommendation for car rentals for our booked guests - it's the same place we use EVERY time we come to the Big Island. I hope you enjoyed the fabulous pool, superb gardens, and the sounds of the surf at our nearly oceanfront location. We have many guests that come back each year to enjoy this wonderful place so availability is limited at times. Thanks again for choosing to stay with us! With much mahalo! Sandy K.
---
I love to travel! I've been very blessed to enjoy traveling as a child while my dad was in the military and then as an adult for my job and with my husband. We began visiting Hawaii in 1999 and our annual visits turned into our first purchase of a vacation home in 2006. It was on our 4th trip to the Big Island of Hawaii and during our 2nd stay at the Keauhou Kona Surf and Racquet Club that we began looking for our own place. The diversity of this island paradise and the wonderful snorkeling and the lovely townhouse settings made all the other complexes pale in comparison on our searches - we purchased townhouse #59 and returned for our fifth trip to completely redo the unit (tile to ceiling) in preparation for personal and guest visits. We still feel the same way about this wonderful place and now own a second, completely oceanfront unit (#196) in this same lovely complex. And, it's only gotten better. Our goal in rentals is to offer what we'd want and expect in a unit if we were traveling. Super clean, well maintained, simple and beautful decor, plenty of space to pack away our suitcases and settle in comfortably, good beds & linens, and complete kitchens for at home meals whenever we like. Fortunately for us, many of our guests appreciate and expect the same type of accomodation and we have several guests or groups of guests that have become repeat visitors to our lovely place/s. All have said this is the best place they've found and the first place they check for return visits. We love and appreciate all of our guests but even more so our repeat or referred guests. We'd be delighted to welcome you and your friends to a stay in paradise. Our motto in life - pay it forward; be the first to do the right thing; set the right example; good karma will follow you. Our guests should know that we will do everything to help them enjoy their stay with us. It's a point of pride for us - no cutting corners, etc...we want and expect that guests continue to say how nice they expected it to be and how much nicer it actually was. And, if there's ever a problem; resolving it is our top priority. We don't want our guests to worry or be inconvenieced wherever possible.