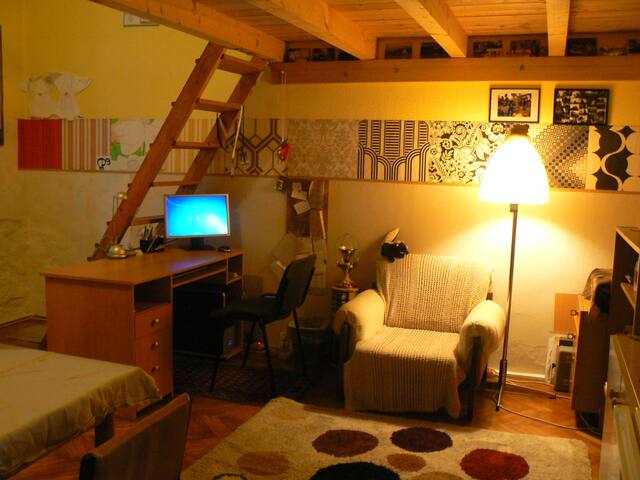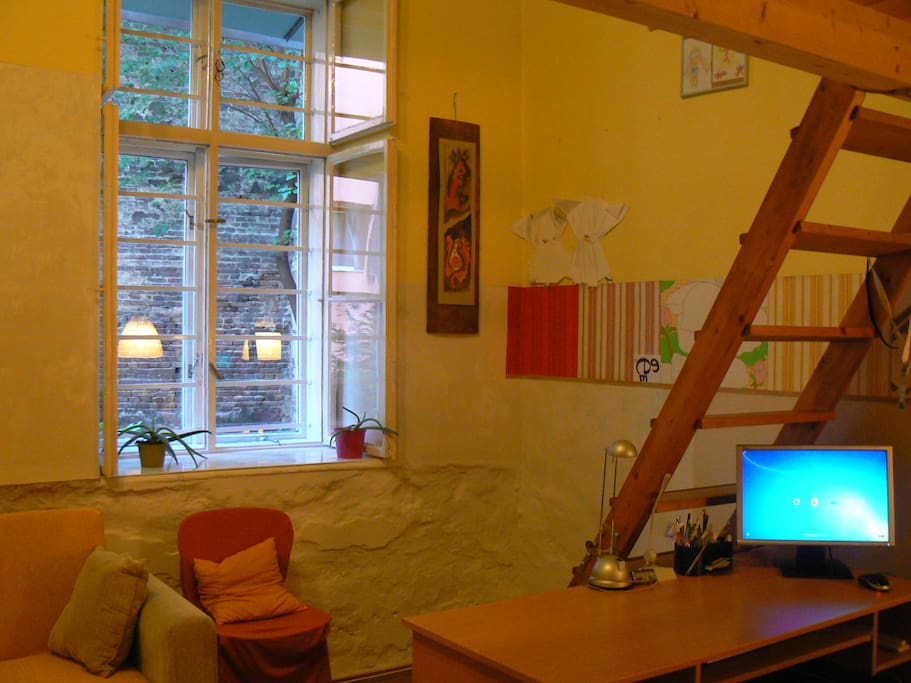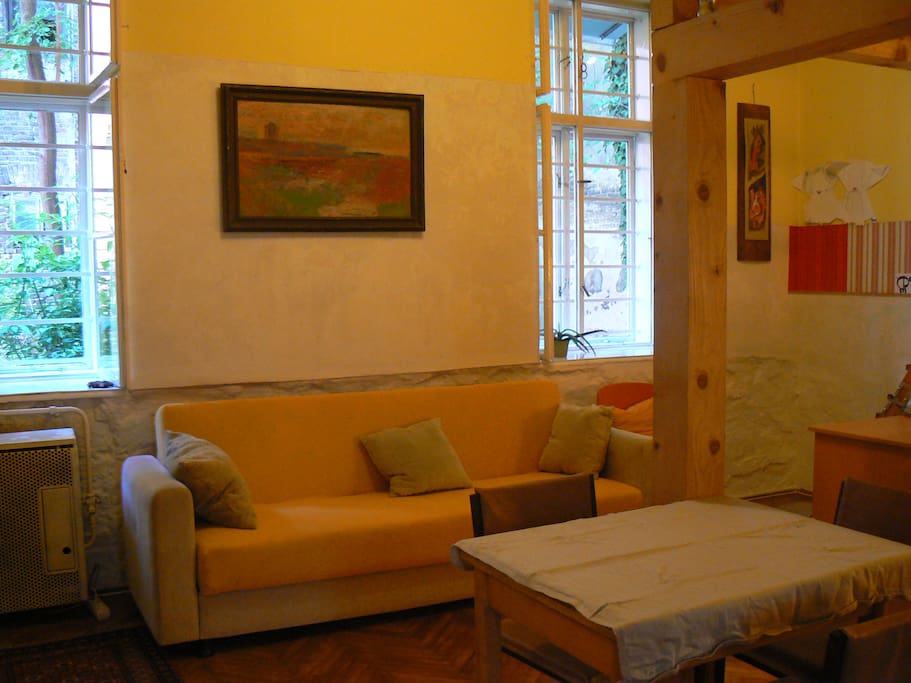 The apartment is in the downtown, right next to the so called party district but still a very quit one! It is a simpe one room studio on the ground floor. You can have a great sleep after an exciting night, and enjoy the breeze coming from the little garden with the birds singing.
Belvárosban a bulinegyed és a palotanegyed határán, egyszerű földszinti egy szobás galériás garzon. Csendes és sötét, jókat lehet aludni benne egy mozgalmas nap után.
房源
The flat is 34 m2 in itself, a sleeping gallery with a double matrass is included on the top. The kitchen is there as you enter from the courtyard, and then the shower and the corridor continues to the room. Two people can stay in comfort, but two more people could also sleep on the sofa. It is a dog and child friendly apartment, the only thing you might have to be aware of is the stairs to the gallery. There are parks and playgrounds nearby, and the biggest park, so called Városliget is relatively close too:)
A lakás földszinti 34 m2 egy szoba + galéria. Az udvarról belépve egy kis előtér majd a konyha, onnan nyílik a szoba, egy zuhanyzó és egy külön WC. 2 ember fér el, de plusz két főnek is van hely. A szobában kinyitható kanapé van, a galérián kétszemélyes matrac. Gyerek és állatbarát hely az ő igényeiket külön megbeszélés szerint intézzük. A környéken van több játszótér és park is.
房客使用权限
In the room you can find a big cupboard, plenty of place to put your staff in. There is a desk and the eating table with four chairs. The kitchen has all the equipments you need for cooking, microwave oven, gas cooker, toaster and an old fashioned coffe machine. The fridge is a small one, and it is placed in the room. If it gets chilli, you can use the electric heater. If that doesn't get warm enough, please contact us, so we can switch the gas heater on personally. The washing machine is in the kitchen, feel free to use it. There is a PC and of course WI-FI is provided, but please note that there is no TV, neither a CD or DVD player. There are plenty of books, arty things, magazins etc, feel free to read or use them with care, and put them back to their own place.
A szobában, akasztós, polcos és fiókos szekrények, íróasztal, egy étkezőasztal, 6 szék és egy fotel van. A konyha szerényen felszerelt, gáztűzhely, mikró, kenyérpirító van. Hagyományos kávéfőző, evőeszközök, poharak, tányérok és néhány edény. A hűtő kis méretű és a szobában van. Az automata mosógép a konyhában található. Hideg idő esetén van elektromos fűtőtest, és gázkonvektor. A gázkonvektort külön kérésre mi kapcsoljuk be, kérlek ne próbálkozz vele.
Internet és asztali számítógép van lehet használni, más technikai berendezés nincs, Tv nincs, CD és DVD lejátszó nincsen. Vannak könyvek újságok, társasjátékok, kártya, ezeket lehet használni, vigyázva rájuk.
Lehet művészkedni is, vannak papírok, ecsetek, festékek, ceruzák, ezek is használhatóak. Örülök, ha készül valami, csak ezt úgy tedd, hogy utána a hely tiszta és rendes maradjon.
与房客的互动
We probably not meet personally, but we are availabe 24/7 on airbnb or phone if anything occurs if you have any questions, we can answer within 1-2 hours. You will get all the information you need about using the flat and the neighborhood also.
Kapcsolattartás főleg írásban e-mailben lehetséges, mi nem tartózkodunk a helyszínen, mindent előre egyeztetünk. Telefonon is elértek minket bármikor, ha felmerül valamilyen kérdésetek.
其他注意事项
It is a one direction street, there is a parking slot next to the house, but you have to pay for that. The streets are safe, there is a CCTV around. There is a community city bike system, 3-4 mins from the house. Check (URL HIDDEN)
Az ház csökkentett forgalmú utcában van, csak egyirányú a közlekedés, parkolni az utcában nehézkes, fizetős, de a ház mellett közvetlenül van őrzött parkoló.
A környék utcái be vannak kamerázva!
Közbringa programban bérelhető biciklik vannak a háztól (3-4 percre).
---
---
---
---
Simpla basic rules are asked to folow.
Please don't use the common courtyard because we have small children and elderly people living there. Please don't throw rubbish away, and you are asked kindly to water the plants outside if you stay for a longer period.
Smoking is only outside, please don't throw the cigarette stub away.
Please use the selective garbage.
Feel free to use anything what's in the flat, but be sure to put them back to their place.
If something breaks or damages you are kindly asked to repeat it, or to leave the money for it.
Please leave the flat in a condition as you would love to find it.
All personal request can be met, just please tell them beforehand, we are happy to provide all the help and information you need.
Néhány szabály van, ezek közül a legtöbb olyan ami általános érvényű és minden utazó alapból be is tartja, de azért leírom a félreértések elkerülése miatt.
A házban mások is laknak gyerekesek és idősek is! Az udvart ne használd csak csendes tevékenységekre és ne koszold, szemeteld össze.
Dohányozni kint az udvaron lehet, csikkeket ne dobáld el.
Szelektív szemétgyűjtés van, a megfelelő helyre tedd a dolgokat.
Vigyázz a lakásban található eszközökre és tárgyakra, úgy és oda tedd vissza ahonnan elvetted.
Ha valamit elhasználtál, megrongáltál pótold!
Olyan állapotba, hagyd el a lakást ahogy találtad, hogy mások is használhassák.
Lehetnek egyéni igényeid, de mindent kérdezz meg előre és a megbeszélteket kérlek tartsd be, mi is így fogunk tenni.
---
---
---
From the start Agi was a great host! She left us detailed information and we were able to reach her whenever we needed. She was very flexible with our check in and check out times. The place was in a great location and walking distance to everything we wanted to see. The building seemed very safe and secure. The walls are very very thin so you have to whisper past 23:00 for the neighbors can hear everything you are doing. The kitchen was equipped to cook meals but the pots and pans were very used and looked unclean so we were unable to use them as well as the washing machine was covered in mold so we were not able to use that as well. I believe a bit of cleaning up and touch ups would make this place a 5 out of 5! The host sure was a 5 out of 5!!
---
Ági és Andrea jó fogadók. Nem találkoztunk mert nem illet az időnk, de amikor volt kérdésem mindig kaptam választ. Olyan a helység mint a képekben. Van pár trükk amit ki találsz után könnyebb, mint az ajtó nyitás zárása, meg a tus. A közlekedés is jó mert fő járatokat el lehet pár perc sétával érni. Javasolnám másoknak a lakást.
---
The apartment is wonderful! Everything you could need to cook, excellent wifi, comfortable bed and a good location. Agi was so helpful throughout and provided us with a great recommendation of a place to watch the fireworks on St. Stephens Day. I would definitely recommend staying here while in Budapest!
---
Ági was a wonderful host, although I never got to meet her. Her flat is located in a great part of Pest, a brisk 5-10 minute walk from the trams 4 and 6 (which run all night). The flat is very cozy, great for 1 or 2 people, overlooking a tiny courtyard garden of wild flowers. She was also great when it comes to communicating about arrival time, directions, and the flat -- always accommodating and helpful. I would definitely stay here again.
---
The apartment was a real home and felt like we are guests, not just visitors. They did let us live without interrupting, and we didn't even meet them personally at all. The whole experience was pretty good and we would go back to the "Rózsa Odú" again. Getting the address at the very last minute was a little bit tricky but next time we will know where to go. The transportation is good and the neighborhood is historic with buildings even with holes from the WW2. We found great museums close by and lots of food stores, even 24 hours one.
---
Our stay here was so fantastic! The apartment is beautiful, but I don't need to tell you that; you can look at the pictures. THE LOCATION IS FANTASTIC. If you have never been to Budapest, rest assured that the seven is the densest, and in some ways most diverse, district in the city. There are plenty of busses, trams and trains nearby to get you anywhere you need to go, but there is so much just in walking distance. Staying here made our time in Budapest phenomenal! We are so thankful that we found this listing. You will love it, too.
---
Hy Everyone!

We are two good dancer friends living in Budapest. We love city life but enjoy nature a lot too! We love art generally, you can find our equipment (papers, paintbrush, paints, pencils) in the flat, feel free to create!

At the moment we are a little busy, and quite a lot out of the city, so we may not meet personally. We will definetely arrange to give you the keys (sometimes not personally) but please be aware that you may have to manage other practical things for yourself. Otherwise you can reach us any time through here and on the phone too, so we will make sure to be in touch with you!

Looking forward hosting you!