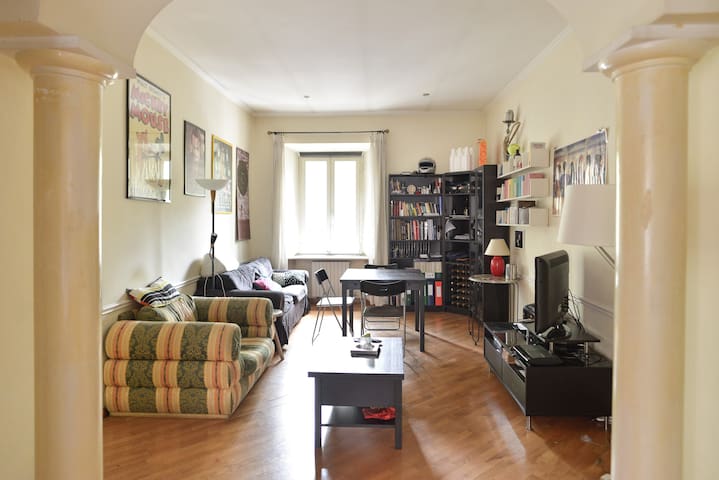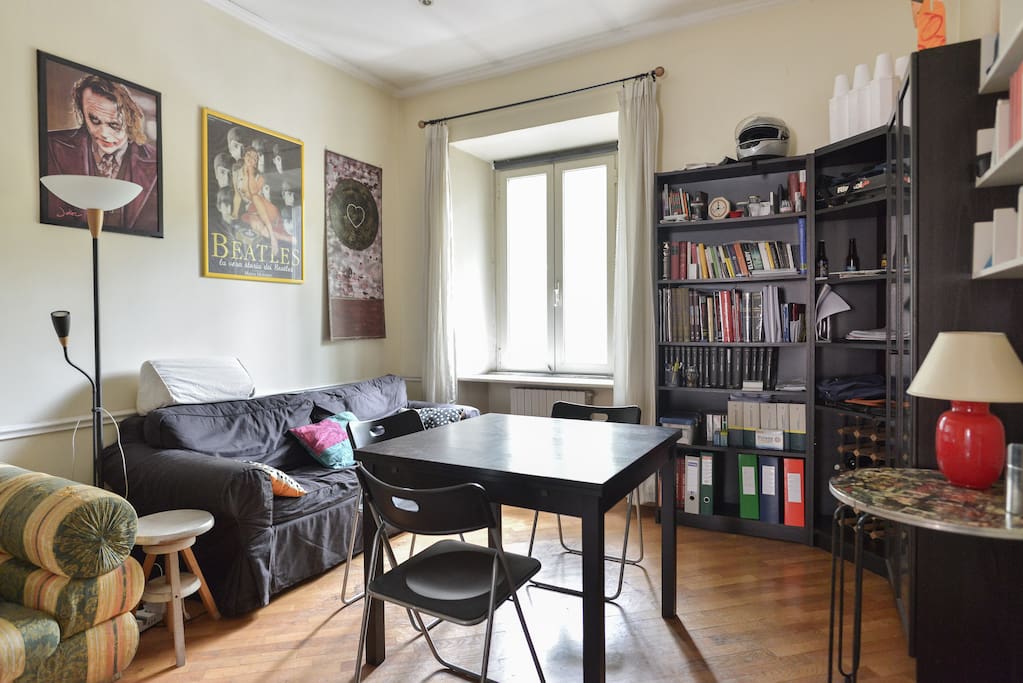 我的公寓坐落在普拉蒂(Prati),是罗马的一个可爱的社区.Prati的街道从清晨就安静而活跃,因为有许多商店和办公室。 Metro A(Ottaviano):步行2分钟即可抵达圣彼得大教堂,Campo de Fiori步行10分钟
My Flat is situated in Prati, an lovely neighborhood in rome.Prati's street are quiet and alive from early morning,because there are many shops and office. Metro A (Ottaviano): 2 min by walk for St. Peter's Basilica,10 min for Campo de Fiori
房源
The Flat is made up of a comfortable room,bathroom,kitchen and living room
房客使用权限
The Guests will have access to all part of the Flat, apart my room.
---
---
you can't cook,but you can use Fridge.
---
Bruno's place was a short walk to Vatican City, which is what we were looking for. The place was clean and spacious. Unfortunately there was not a fan in the room so it got quite hot. There was a A/C in the living but it did not reach the room we stayed in. One night he had a friend over and they smoked in the apartment, which may not be a problem for some but if you are sensitive to smoke be advised. Other than it being super hot, Bruno was very nice and it was a good stay.
---
My boyfriend and I stayed here for 2 nights in May 2017 and loved it. Location -- perfect. My roommate back in the US is from Rome and recommended staying in Trastevere. This Airbnb is 5 min walking to the Vatican area, and ~15 to the Pantheon on the other side of the Tiber River. Food in this area is abundant and very reasonably priced. The unit itself is exactly as pictured and the room comes with light blocking shades (why we slept until almost noon one day haha). The only difficulty I had was due to the fact I didn't have a phone that worked in Rome, I had trouble finding the exact building and unit within the address listed -- so make sure you do this beforehand if you don't have data on your phone! otherwise our stay was perfect and we definitely recommend this place!
---
Bruno has a great location, close to the Vatican and Ottaviano metro. The bed is a great bed for one person or a snugly couple, there is a lift, and Bruno smokes out the window. The bathroom did not have soap and the ac doesn't reach the bedroom; there is a window to the street. The bedroom was very clean with good pillows, the bathroom could have used some tidying. His apartment isn't listed under his name, and you have to be buzzed through a few doors; make sure he gives you the apt. name, the number gets you only to the main front stoop. Bruno seemed like a nice guy, but perhaps not fully prepared for guests. We left for a cooler abode, because my mom wanted ac and no smoking.
---
Estuve 4 dias en la casa de Bruno. Me recibió su chica y a el lo vi por la tarde. Los demas dias no coincidimos. Tanto la casa como ma ubicacion excelente. Lo unico que eché en falta fue mas ropa de cama, ya que empezaba a hacer frio en roma y toallas un poco mas grandes, ya que solo tenia una pequeña.
---
Great location and spacious, nice room. We would happily stay here again - walking distance to so many cool areas. The only issue we had was checking in, directions weren't provided on how to enter the building (I did ask) so we were stuck on street for several minutes. Otherwise very good stay.
---
Bruno's flat is well located for the Vatican with only a 13minute walk. However it is located on a busy intersection meaning you cannot keep the windows open for cooling purposes and since there is NO fan and NO air con in the room, in 35 degree heat this was very unpleasant. The Wi-Fi was very good and check-in using a sitter was seamless but unfortunately the flat was dirty. The floors were dusty, the sheets were musty and there were ants in the shower eating away at the wall and leaving dirt in the shower every morning. There was also no toilet roll left for our 4night stay - which we feel is a little gesture that makes a holiday so much more pleasant, but it was missing. Bruno was away for the duration of our stay meaning we got the majority of the flat to ourselves which was good value for money however the flat is a 45minute walk from the colosseum which is a shame if you wish to walk around. Cannot recommend unless you are on a tight budget or are visiting the Vatican only.
I'm sorry if Sarah was not at ease in my flat. But I'm specify some thing: 1) when i say that my flat is situated at 20min by walk from the centre is truth. Because the centre of Rome is (piazza dal popolo, piazza di Spagna, via del corso, San Pietro) NOT colosseum! 2) Air condition is not in the room, but is in the living room, so you can leave open your door of bedroom for refresh your room. 3) Now i'm in the flat and don't find any ants in the shower, and the floor wasn't dirty as you say. 4) I find one toilet roll. 5) I ask additional money for check-in because you arrived at 1 o'clock am (not usually hour) and if I didn't asked you before you wouldn't say anything. In Conclusion certainly I can enhance for somethings, if I had been there many things would not happened. But your reference wasn't honest and excessively far from reality (how you can read from the other reference before you). P.s I received another host after you and he don't say anything about this things!!
---