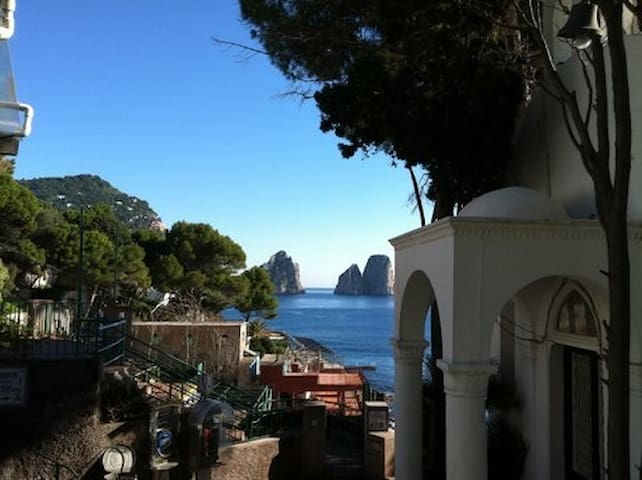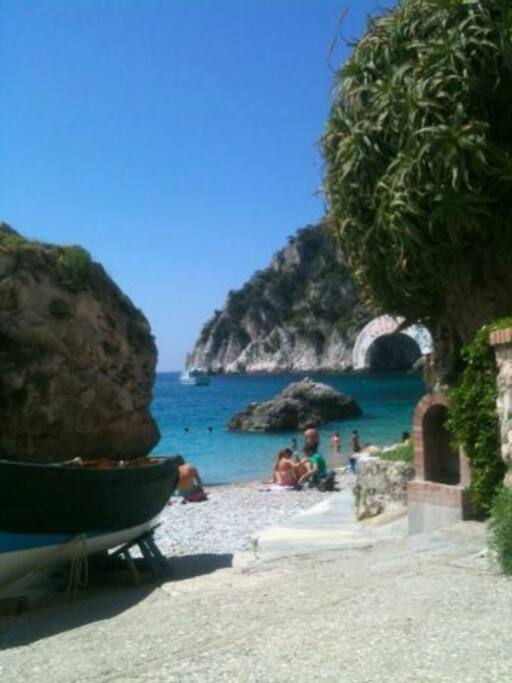 房子距离大海仅几步之遥,所有的设施,并享有滨海Piccola的海湾。两间卧室和两间浴室。这露台。良好的连接。
Casa a pochi passi dal mare, con tutti i comfort e vista sulla baia di marina piccola. Due stanze e due bagni. Terrazza arredata. Ottimi collegamenti.
房源
这个位置,靠近岛上最美丽的海滩,对faraglioni的美景,方便的接近和公共汽车和出租车站的接近...所有这些甚至更多的是我的房子的品质
The position, nearby the most beautiful beaches of the island, the great view on faraglioni, the easy access and the proximity to bus and taxi stops... All these and even more are qualities of my house
---
Staying at Paola's was a great way to experience Capri, and also to get away from some of the business of the main area of Capri. Her house is literally on the path to the beach, a 1-2 minute walk. The view is remarkable, and her pictures don't do it justice- it's really really amazing. It was great to have a private deck to wake up to, and come home to enjoy some wine after dinner. There are a few restaurants right by the house that are delicious! Specifically La Pizzeria which has gorgeous views, reasonable prices, and one of the best pizzas and homemade pasta we had! They make their own house wine too :). For us it was a positive to be literally staying right next to the bus station because there is a bus right into capri and Ana capri. It was loud at times, bu we closed the bathroom door and I wore ear plugs and was completely fine!
---
PROs: Good communication and Chiara was very helpful in getting us settled in. Clean. Location is right by the beach, restaurants, and public transportation. Gorgeous view. CONs: The entrance is literally next to the ticket booth of the bus stop. So as others said shut the bathroom doors at night to help with that noise which didn't bother us. The biggest issues we had were the shower drain not draining and trash pickup. Chiara said she would come back to fix the shower and never did. The trash recycle pickup daily is obnoxiously loud (glass bottles crashing into a dumpster) which sounds like it's happening in the bedroom and wakes you up at roughly 630-7am daily.
---
We only had one night in Capri and this place was terrific! The place is in a great location for beach access with several restaurants with in walking distance. We particularly enjoyed the omelette at the restaurant just outside her door with the upper terrace views! You can actually walk up to Capri with this fabulous foot path stairway passage cutting out the many switchbacks of the road. The way up is not particularly easy, we took the bus up for dinner and then had a nice stroll down the path at midnight. Very well lit and nice after a late dinner. Thanks again Paola for a great short stop, we now have very fond memories of Capri because of your place and helpfulness! I travel a lot due to my job and this place will definitely be at the top! Rick Jetblue Airlines Airbus 321 Pilot
---
Paola's place is adorable! We lived outside on that balcony. The views are exactly, if not better in person. Chairo was very persistent and made it easy to check in and check out. She setup a private boat ride for us as well, it was fantastic! Only complaint is the dang dumpsters in the morning. Seriously loud! Very early AM. Whatever you do, remember to shut that bathroom door before going to bed. It will help out quite a bit.
---