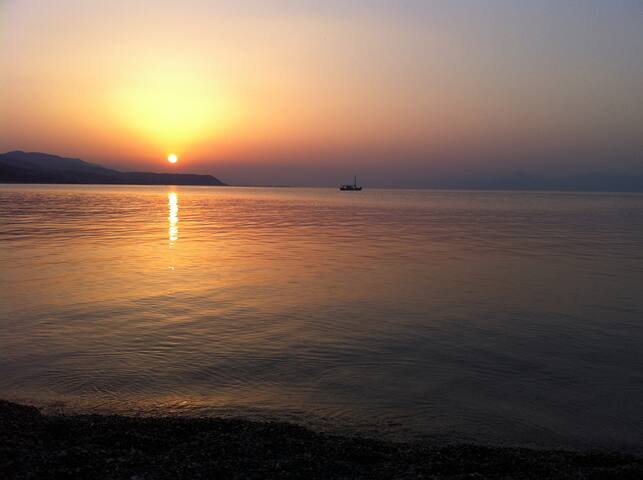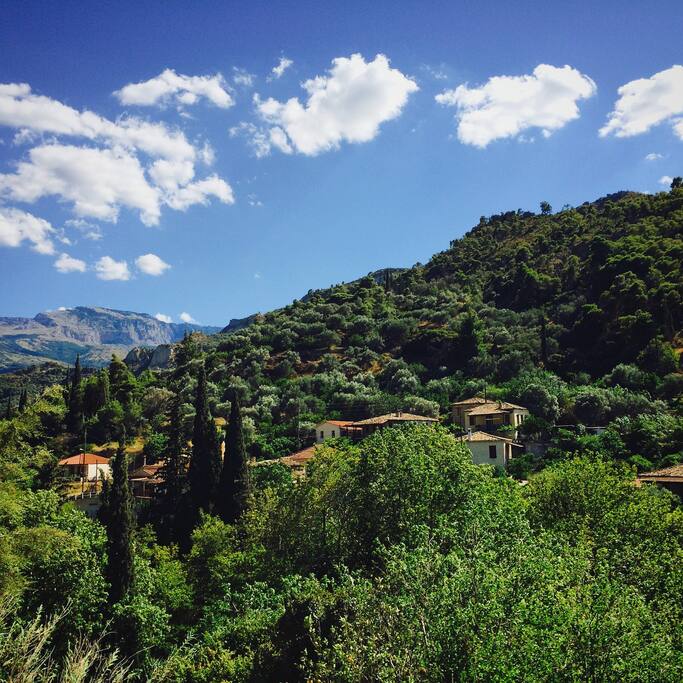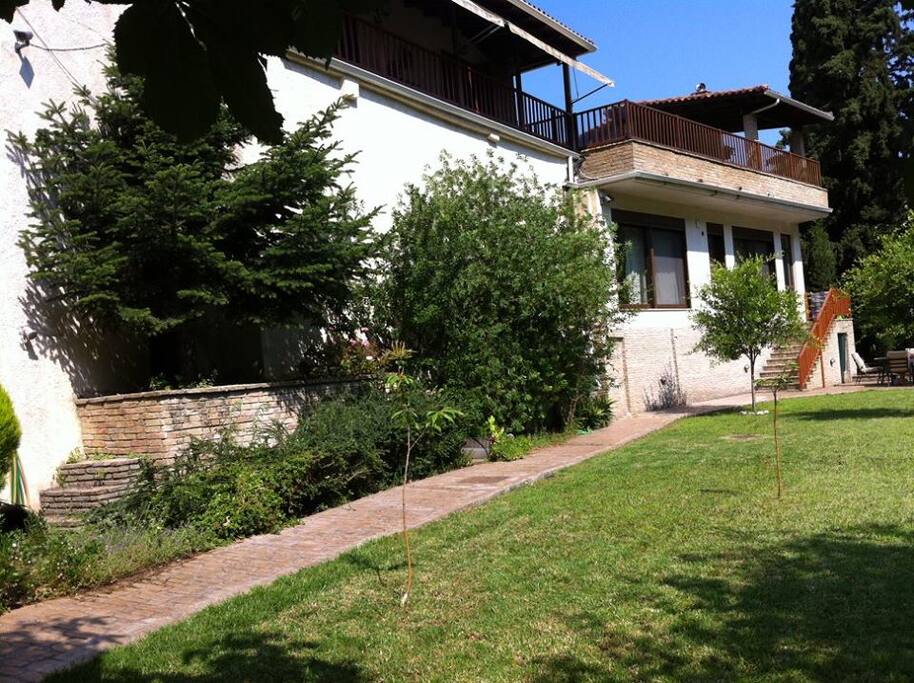 Summer Retreat in the Corinthian Bay
The house is located on a riverside and has a magnificent view of river, citrus grove and mountain side. It is modern, spacious and fully furnished to meet your everyday needs. The garden patio, situated in a tranquil natural private setting, is ideal for a wonderful breakfast before your morning swim.
Staying in Derveni will allow you to enjoy nature, swimming, hiking and relaxing. Just 1.5 hrs away from Athens International airport and 800 m from the beach.
房源
A 65 sq.m. hidden jewel set on 350 sq.m. landscaped grounds, offering splendid view of river, citrus grove and mountain side.
The house features one spacious bedroom. Comprised ample reception room with fireplace, an open-plan kitchen with dining area and a bathroom. The house facade features huge windows blending the indoor with the outdoor and opening to the garden.
The property's 350 sq.m. landscaped garden is most certainly a standout feature, including a patio with sitting/dinning area, blending into the landscape and giving a sense of sheer relaxation and wellness. Hidden lighting installations in the garden adds a romantic atmosphere in the evening.
The house offers parking space for up to two cars.
The property is a few minutes' drive from several of the most popular beaches of the area.
其他注意事项
The house is suitable for all seasons. In winter the scenery is beautiful as you sit indoors drinking coffee with the fireplace lit. In summer you enjoy the scenery outdoors right by the river and in the evening the hot weather of the day turns cool and refreshing.
---
It was amazing vacation,35 days in Paradise! Good comfortable house,great view,fresh air,silent place,and it looks really better ,then it may be shown on pictures! About 20 minutes walk to the beach with ches-longues,good entrance to the water(pebbles and deep water after 2 meters) And there's no tourists at all))) If you wanna rent a car,you have to do it in Athens or Korinthos,because in Derveni,like all same villages around no rent-a-car (URL HIDDEN) and my wife appreciate for Fanis and Tony very much,they were very helpfull and hospitable,and I'm glad that we become a good friends! Thank you Fanis and Tony,see you next year)))
---
I'd like to express my gratitude to our hosts - Fanis and Toni! They were really hospitable and did everything to make our stay well and comfortable. The house is perfect: spacious, cozy, bright and clean. There are all necessary stuff and facilities inside. The house is very good located: it is built between two hills and because of this, it has only a couple of hot hours: from 9 till 13 (in August). But this is not a problem - split A/C and thick shutters do their job. The place is the best for travellers with car. It is only three minutes from the house to the nearest beach by car, but on your feet the way could take about fifteen or twenty minutes. The beach is pebble and very clean. There are a lot of stores in Derveni: you can easily find fresh fish and meat, good vegetables, delicious bread and cookies. Also there are a supermarket with good prices in five minutes away from the house by car. I can highly recommend this place for travellers with kids - it is quiet, beautiful and not very hot in summer.
---