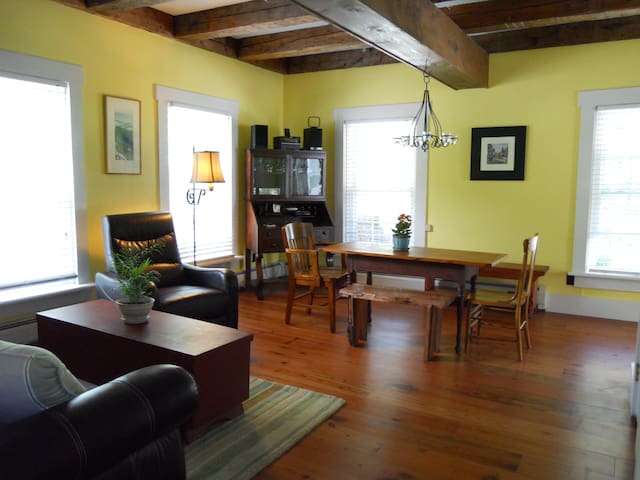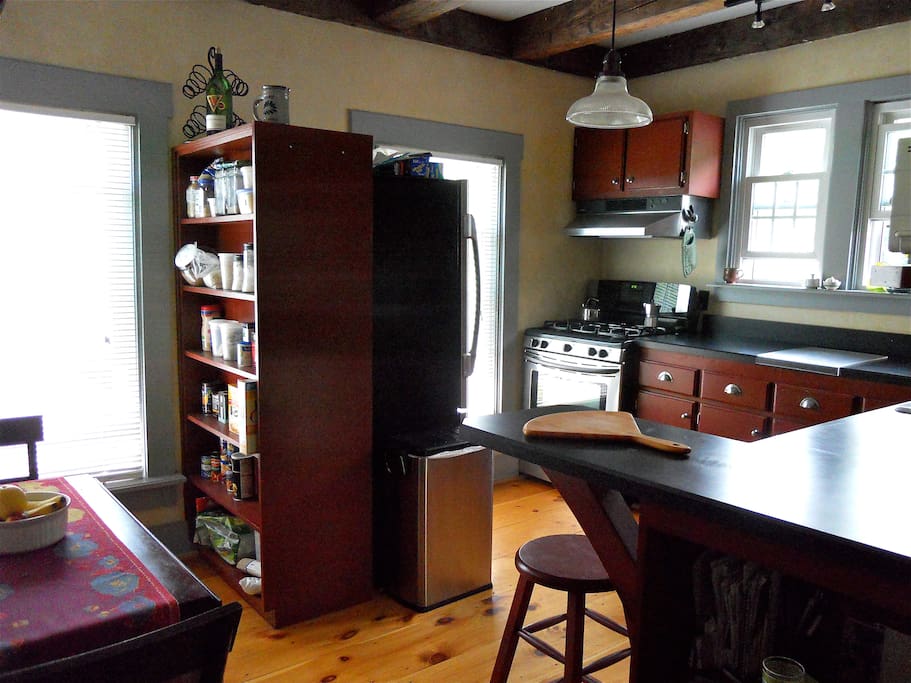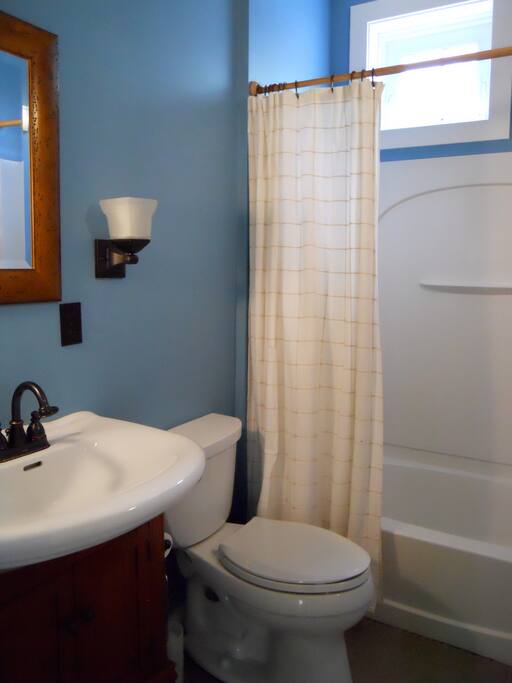 The Annex Building dates back to the mid-nineteenth century during the first big building boom in Stowe. Our newly-renovated 2-bedroom and 2 full-bath condo is ideal for the getaway couple, a family, or two couples who can each have their own floor.
房源细节
The Annex Building dates back to the mid-nineteenth century during the first big building boom in Stowe. You will have no problem locating the four white pillars which distinguish the "Annex" façade from other buildings in the village as you come in on—from both the West and the East—scenic VT Route 100. The exposed wood beams inside create a warm and inviting space for guests who want access to the Vermont landscape as well as the quintessential village life. Our newly-renovated two-bedroom and two full-bath condo is ideal for the getaway couple, a family of four to six, or two couples who can each have their own floor.
The gathering place is on the second floor where you can prepare meals using local ingredients from a farmer's market in a fully-equipped kitchen in view of your traveling companions reveling in the day's adventure around an antique tavern table. The original deck allows you to overlook Main Street under a blanket of snow or in northern hardwood autumn colors. Retreating upstairs with a cup of hot cocoa and a good book in hand is a natural end to the day or it might be searching the internet on a sturdy arts and crafts style desk while looking through a round top window at a towering stand of evergreen. The condo won't be overloaded with gear because the walkout basement has plenty of room to store your bikes, skis, or canoe.
This description of the Annex Building gives you an idea of perhaps how unique this space is nestled away in the village of Stowe but it still doesn't give you an idea of what Vermont is about. Vermont is more than the Long Trail, Stowe Ski Area, and maple syrup. It is a working landscape bordered by Lake Champlain, the Connecticut River Valley, and the Eastern Townships of Quebec and powered by gritty, independent, thrifty, and undeniably likable locals.
房客使用权限
If you follow the West Branch River from the village center to its source you will see why Stowe has become one of the premier outdoor recreational destinations in New England. For our money, it's simply the best. From cross-country skiing on the Catamount Trail to mountain biking Adams Camp to skiing the Front Four.
与房客的互动
What Eric learned from being an innkeeper on Martha's Vineyard is that travelers most fondly remember trips where they connected to people and place. All you need is a sense of adventure, a little bit of local knowledge, and plenty of room to explore with family and friends. This is the philosophy behind the Annex which has many of the personalized aspects of an inn without being an inn. It is our hope that with the contents of this webpage, as many informative phone discussions or e-mail chats as necessary, and a personal welcome at the beginning of your stay you will have the basis for that memorable trip. We would like nothing better than for you to genuinely enjoy your stay and experience firsthand what makes Vermont so special.
其他注意事项
In a weeklong vacation it is advisable you get out of town and see the real Vermont. If you go east you will hit Morrisville where you must hit Bees Knees either for breakfast or dinner and some local entertainment. From Morrisville you are already a third the way to Craftsbury Outdoor Center or Jay Peak. The Burke Trails are definitely a destination for any mountain bike rider.
Go under the highway and continue east and you should hit Mad River Valley. That is if you are a skier (snowboarders are not allowed). American Flatbread on weekends is a must where you will wait nearly an hour to be seated but not care in the slightest because you will be drinking Lawsons and chatting it up with strangers around a campfire. The longer the wait the better. On the way back to Stowe via Waterbury I usually stop for one more at Prohibition Pig or the Reservoir.
To the North is the biggest city in Vermont, Burlington. Most of the action is off of Church Street where you will find Vermont landmarks next door to national retail chains. I have nothing against big retail but why not see and experience something different and walk into Crow Bookshop instead of Borders, The Outdoor Gear Exchange instead of Olympia, Vietnamese coffee at Sapa instead of Starbucks, Bennington Potters instead of Pottery Barn, and Stone Soup instead of Panera Bread. If the weather is nice you must check out a show on the waterfront or bike along the Lake Champlain Bikeway.
One of the first things people notice when visiting Vermont for the first time is the lack of billboards lining the highways. Its takes some getting used to and so does the lack of fast food restaurants in the State's capital. You may be inclined to buy a lunch at the Hunger Moutain Coop, one of the first member-owned market cooperatives in the country. Take a stroll behind the capitol building and into Hubbard Park amongst huge red oaks up to a stone tower (great place for a picnic) that gives you an amazing view of the environs. Hike back into town and take a drive on Route 12 towards Lake Elmore in search of a moose in early evening. Drive slowly back to Stowe.
This unit was perfect for our family of four; close to everything Stowe has to offer and 45 minutes or less from Burlington (great day trip on off days - food and shopping are exceptional) and five of the best ski resorts on the East Coast. Pro Pig, Hen of the Wood, Mad Taco, Ben and Jerry's and all the wonderful shops and restaurants of Stowe are mere minutes away. It is far larger than expected (the loft space is an apartment of its own and where my 8 year old basically took up residence!) and is exceptionally clean with every possible amenity including a Macs Market a pitching wedge away and the village maybe a long par 4! We received close to 4 feet of snow during our epic week there and were plowed and ready to go for first tracks daily. I would wholeheartedly recommend this place to friends and the price is spot-on especially for Stowe. We hope to be back annually - if you can promise the snow!
---
Our stay at The Annex was simply perfect. The accommodations suited our family well, and we loved the convenience of being within walking distance of so many things. We much appreciated the list of local recommendations (food, activities, etc.), many of which we tried and enjoyed. Thank you Genevieve!!
---
What a beautiful apartment right in the heart of Stowe village! We stayed here over the Christmas and New Year period and absolutely loved it. Gen and Eric can not have been more helpful, nothing was too much. Gen went to the huge effort of decorating the house with a Christmas Tree for us, and even agreed to help and do a grocery shop including a fantastic turkey so that we would be all set once we arrived on Christmas Eve. Never has a host gone to so much trouble before...outstanding! The Annex itself is beautiful, clean, had LOADS of space for 5 of us, and was less than a minute walk into the heart of Stowe. I would highly recommend this rental, we will most definitely be staying here again when we come back to Stowe.
---
We enjoyed our stay at The Annex. Gennevieve was very responsive and made it very easy to book. She supplied us with both house and local info to ease our trip to Stowe. The condo was both cozy and well equipped within walking distance to the center of town and wonderful local restaurants and shopping. We will definitely return.
---
Love to split our time between Quebec and Vermont, so much so we don't see borders anymore and refer to our home as Verbec:)

语言:
English、Français