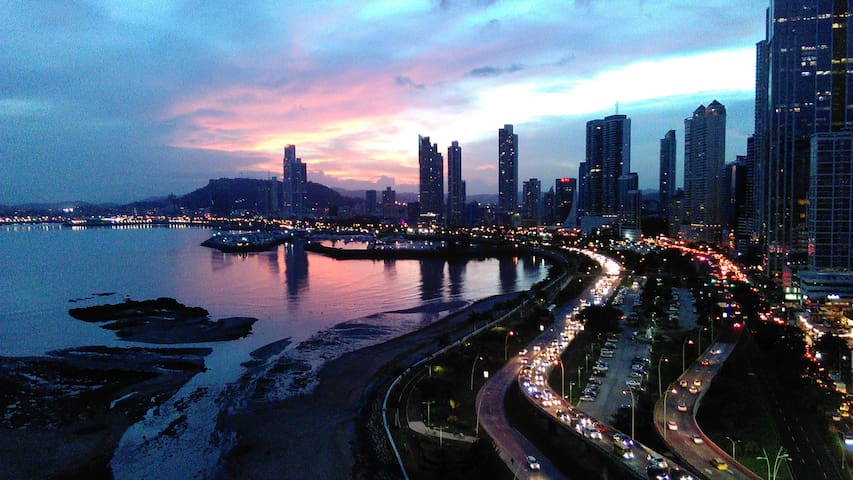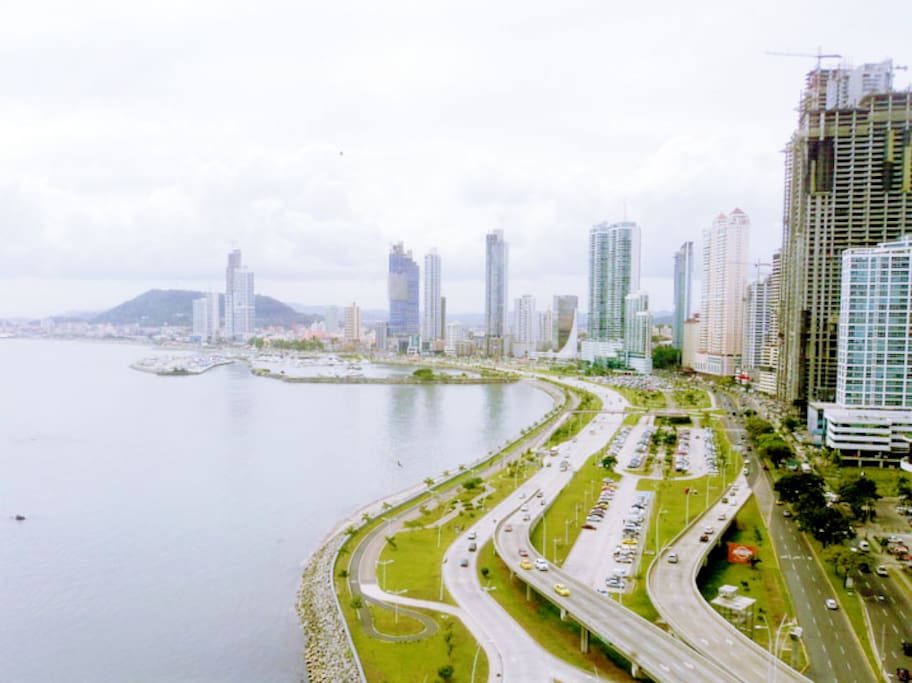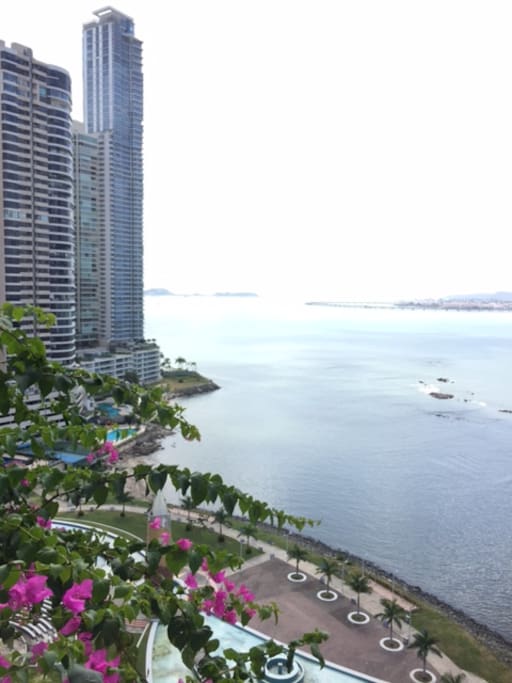 Oceanfront, Central and the VIEWS!!
Charming 1 bdrm apartment in the upscale, safe, and exclusive area of Paitilla. Easy walk to restaurants and mall. Right at edge of Cinta Costera, OCEANFRONT! You can walk to all in the city. I HAVE JUST COMPLETELY RENOVATED THIS APARTMENT (JAN 2017), NEW PHOTOS WILL BE UP SHORTLY. THANKS!
房源
Located on a nice high floor, with sweeping views of the surrounding city and bay, I offer a bright and colorful one bedroom apartment in the upscale and secure neighborhood of Paitilla in the cosmopolitan city of Panama City, Panama.
Just steps from the area's largest and modern mall, MutiCentro, Bahia Balboa is located less than a five minute walk to the best restaurants, clubs, casinos, parks and shopping that Panama City has to offer.
Features a king-size bed with ocean views and walk-in closet, a fully-equipped kitchen, a full bathroom and air conditioning. The complex offers a gym, a pool, secured parking and 24-hour security. I painted and re-decorated this apartment a few months ago.. , . It's so cozy and bright , with the addition of my Guatemalan pieces and Panamanian molas.. very colourful :) The best part is the unobstructed BAY VIEW.. bay and city and all the way over to Casco Viejo. The apartment sits majestically at the start of the Cinta Costera, our waterfront boulevard along the Bahia de Panamá that has been renovated and landscaped with palm trees, basketball courts, and fountains with spectacular views of all of Panama City. It's a very popular place for locals and visitors, day or night to stroll, run, bike, and roller blade.. and people watching.
Walk to the fish market and onto Casco Viejo using this most popular and scenic route and enjoy great views, gardens, a park, a children's playground, and miradors and get a pretty good workout in the process. They have landscaped this area beautifully, with statues that light up and change color, little gardens and it's very secure and safe.
Additional unit extras include high-speed wireless internet, an entertainment system with TV and movie selections in English, washer and dryer.
Airport pickup is easily arranged. My driver will greet you at the airport and bring you right to the apartment and check you in.
I hope that you will consider spending your vacation with us in my Oceanfront apartment in Panama City. It is my utmost goal to offer each guest a stress-free vacation, in comfortable and well maintained surroundings, all at a price that will help you stretch your vacation dollar further.
I look forward to welcoming you to my paradise ! Panama Sarah
其他注意事项
Electricity charged extra on one month or more stay., to be determined after the bill arrives. Security deposit of $500 due on arrival.
---
---
---
---
Welcome to Bahia Balboa 16B, yes it is 16B
although you must travel to 17th floor (piso) to arrive here!!
Urgent maintenance issues .flood, etc.., please see Elsa, the administrator downstairs, (phone number hidden). Any other maintenance/cleaning issues or questions, Diego is my property manag(PHONE NUMBER HIDDEN)
Owner– Sarah Booth cell (phone number hidden), when out of country best to use my email (email hidden) if you cannot reach me, please call Diego
Taxi/Tours/information: Also Diego.
BAHIA BALBOA STAFF – are all very friendly and willing to help
Administrator – ELSA – office is outside front entrance, ring bell at door to left (Mon-Saturday_ Ph(phone number hidden). After hours, this phone number will reach security at front
Security/Building Staff: Hernan (round jolly fellow!) Balbino, Smitty, Idro, Bravlio
GARBAGE – deposit on parking levels E1 and E3 where there are garbage cans
MAID SERVICE – please arrange with Susan if you would like extra. $25/visit paid to the maid (or left in the unit for her)
CELL PHONE – Your number is (PHONE NUMBER HIDDEN) Mas Movil. When purchasing cards for phone, ensure you buy Mas Movil
Wireless.
Connection type WEP, supported by MAC, windows XP, vista/2000 etc. Encryption - 64bits
Wireless Name BAHIA 16B. Password Key – (PHONE NUMBER HIDDEN) (All uppercase, those are 5 zeros)
A/C – Please try the fans first to find your comfort level, if you do use the a/c, please enjoy but PLEASE TURN OFF WHEN YOU LEAVE THE APARTMENT and always keep windows in bedroom and living room closed when on.
PARKING – E#3. Top parking floor and an immediate right as you hit that top floor. The spot is marked 16B. If you cannot find it, please ask security. If remote lost - $50
KEYS Front Door and Pool (AS level).use white card for access. There is one round key to access common doors in parking area, other 3 for apartment. 1 key for door gate, 1 key for deadbolt, 1 key for doorknob. Colour coded like traffic light.
Groceries, right across the street, parking level, excellent kosher grocery store, at Mulitcentro Mall. Also, enjoy first run movies with reclining seats and waiters to bring you dinner and drinks. Gourmet Pizza beside Farmacia Arrocha , on THIS side of the street has great thin crust pizzas and excellent greek salads! ENJOY!
Because we provide extras in our apartments, there are a few more things to think about., so as a courtesy to the next guests - please note the following
CELL PHONE
Please do not:
•Remove the cell phone or charger on departure (the next guest may have given that number out to family members in case of emergency)
•Save personal phone numbers into the phone, we have only saved numbers for Sarah, Susan, Jose and Maximo. Please do not delete those saved numbers, they are there to facilitate all guests in calling us quickly if necessary
AIR CONDITIONING (THIS IS VERY IMPORTANT)
Please do not:
Set timers on the a/c. The next guest may not appreciate an automatic on in the middle of the night, and likely they will not know how to cancel the timer. Not to mention, waste of electricity
Please do: Help us conserve energy and first try ceiling fans. If using A/C , please close all bedroom and bathroom doors and windows. When leaving apartment, please please turn off the a/c.

ALARM CLOCKS
Please do not leave an alarm clock set, if you do, please cancel on your departure. Next guest may not appreciate a preset 5am alarm going off.
Thank you for your cooperation, and we hope you enjoy your stay in Panama.
CHECKOUT. Please leave all keys and garage remote controls, front door cards etc inside the unit on the coffee table . You can lock the doorknob lock from the inside, the maid will be right behind you. Thanks for coming and have a nice trip
---
---
---
Hi World!

It's Panama Sarah, a high spirited Canadian, living in Panama for 12 years, and I LOVE hosting fellow travelers from all over the globe! In fact, it's my second favourite thing to do.. that is, after traveling the globe myself (and I use airbnb exclusively for my solo travels - you just meet the most interesting people and wherever you go, you are "home"!)

My Panama by owner portfolio includes: fully equipped apartments in the 2 best areas of Panama City, Charming fully equipped casitas (with kitchens) on my private property 5 min walk the beach in Coronado (about 1 1/4 hour from Panama City), a brand new 2 bedroom Coronado Golf Condo located on our famous Tom Fazio golf course in Coronado, and 2 beachfront studios with kitchenettes and the best amenities, TRUE BEACHFRONT in Coronado.

I know how expensive traveling can be. I keep my rates reasonable so you can make the most out of your trip and have a cozy, personal home base." Excellent hospitality and great value for the money" are comments I receive regularly.

Interested in other services? I am also a Buyer's Consultant with a reputable REAL ESTATE company in the Coronado Area. I have helped many people realize their retirement, relocation and investment dreams, and I have wonderful contacts in just about any field you can think of. I am happy to help you with everything Panama!

I started (with a dream, a prayer and a loan from a friend! ) a property management company in Whistler in the 90's and owned / operated Whistler Peak Properties, managing 85 high end ski in/out condos and townhomes, along with my wonderful team. After selling my company in 2001 I traveled SE Asia for 2 years, then moved south and put my experience and expertise to work in Mexico and now Panama. I have renovated all my properties and have learned so many interesting and valuable lessons, about the countries , the people and their unique cultures. I really love living in Latin America.

Personally, I am friendly, easy going, spontaneous and my friends compliment me on my spirit. I love a good adventure and my greatest passion is travel. I am curious and interested in other cultures and strive to learn languages and get to know the locals. I have the "wanderlust gene", as I embreace movement, change and adventure. Travel.. ahhhhhh, In essence, it inspires me....

I'm British Born, brought up in B.C. Canada (notice I didn't say "grew up" haha). and have had the pleasure and priveledge of adopting other countries (and families!) along the way. I've been an expat for 13 years, and am still in my 40's. I tell you this, because anyone can do it, no matter what your age or status. ! I believe in a "pay it forward" and am happy to help anyone make their dreams a reality if the goal is to make that move overseas. If the goal is just to have a great holiday and getaway, well.. that, of course is our specialty!

My business , and passion is real estate investing, renovating and marketing / renting vacation rentals in Panama City and country areas, as well as Puerto Vallarta, Mexico. I sincerely believe in a high level of service and my motto is "Everyone deserves a world class greeting". I also make a huge effort to keep my properties current, constantly renovating / upgrading items and furnishings. I always appreciate guest feedback (preferably directly and personally) if improvements need to be made and I am always open to suggestions. Most importantly, I and my team believe in sincere service and true hospitality!

Because of my love for travel, Panama has proven to be a fantastic hub, and I've visited almost every Central and South American country with only a couple more countries left on the bucket list.

I hope you will come and visit us in Panama!

I have had the BEST experience with airbnb.. first as a renter, then host, now both! I have used this site extensively in my travels to the Middle East, India, Bali, Thailand, Malaysia, Australia, New Zealand and Europe as a guest, and even more extensively as a host.

Please contact me for the best local experience.
Bienvenidos a Panama y Mexico, Sarita (aka Panama Sarah)

语言:
English、Español