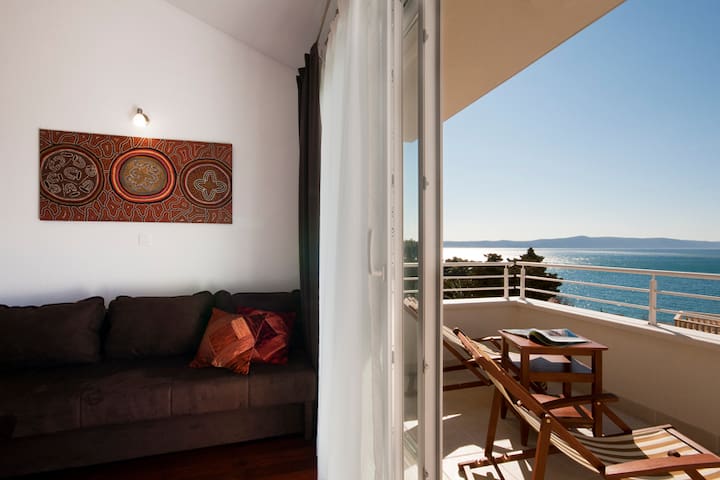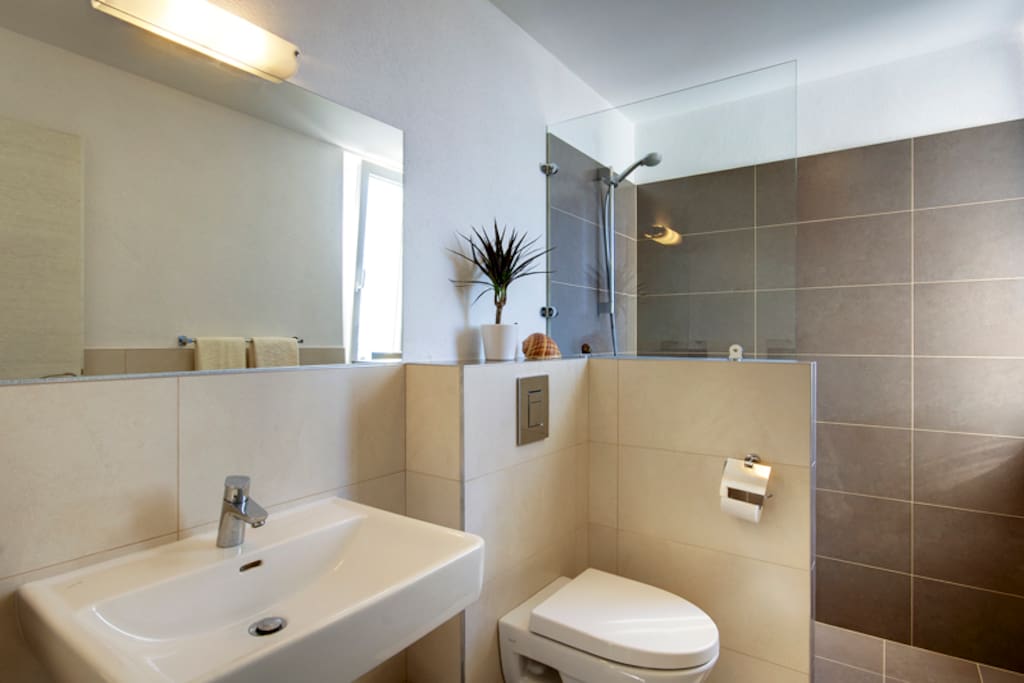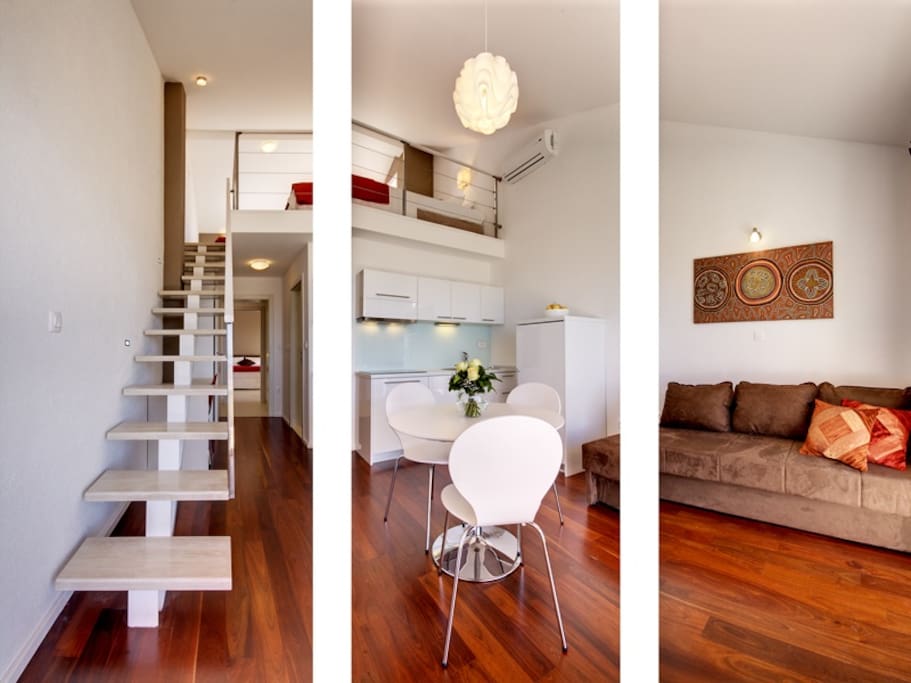 This is a beautiful apartment for up to 4 adults! With 2 rooms , 2 bathrooms, fully equiped kitchen, air-conditioning, 3 balconies, you are sure to enjoy your stay! The views are spectacular, both mountain and sea! The beach is some 250m away.
---
L'appartamento era esattamente come descritto, bellissimo, dotato di tutti i comforts e con una bellissima vista sul mare. Siamo stati benissimo. Abbiamo soggiornato nella settimana centrale di agosto 2015, goduto dell'aria condizionata in una stagione particolarmente calda, in più, nonostante l'altissima stagione, Drasnice é una località tranquilla, ci si può godere magnifiche spiagge senza il caos di certi centri marittimi.... La Makarska Riviera offre veramente moltissimo. I padroni di casa, Theo e Linda sono persone molto ospitali. Vivono nella stessa casa, e sono disponibili in caso di bisogno. Il trattamento da loro riservato é quasi da Hotel. In più, Linda parla italiano, entrambi parlano in Inglese e quindi comunicare é molto semplice, si occupano personalmente di tutto e forniscono moltissime informazioni sull'area, le spiagge, i ristoranti della zona (abbiamo sperimentato uno di quelli da loro consigliati e siamo rimasti veramente soddisfatti)...Insomma grazie di cuore a Linda e Theo! Desideriamo tornare!!
---
This accommodation is the type that puts a smile on your face when you arrive! The apartments have been designed for their purpose and are new, spacious, well equipped, quiet and very comfortable. We stayed in the two bedroom / two bathroom apartment which came with a washing machine. This apartment has a private deck with a table and four chairs which makes a wonderful place to dine! The views are stunning - In front of you the islands of Hvar and Brač reach out further into the crystal clear waters of the Adriatic Sea and to one side you have a panoramic view of Čaklje Beachfront and the tree covered point between Podgora and Čaklje. On the other side you look out to terraced land, the terraces being retained by dry stone walls of which there are an abundance of around Drašnice. These limestone walls are very attractive and add character to the environment. The views are particularly nice at sunset. The apartments are very quiet. They are off the main road and above the village of Drašnice. The tranquility is interrupted only by the occasional ringing of the local church bell which is very nice. The village of Drašnice has a number of small pebble beaches (six from memory) which are pristine and provide safe swimming opportunities. The village also has a small supermarket (Konzum) but as we were out exploring every day, we did our shopping at the large Konzum supermarket at the Southern end of Makarska which is a very short drive away. There are also many options for dining out which we found to be of good quality and inexpensive. On the hills above Podgora and Drašnice are the old villages which were severely damaged in an earthquake in the 1960's. You can gain a sense of the history of the area by visiting these villages. The remainder of the Makarska Riveria villages are a short drive away and Split and Dubrovnik can be easily visited in a day which makes this an ideal base from which to explore Dalmatia. The hosts, Linda and Teo, are very warm, hospitable and nice people. They aim to provide top quality accommodation to visitors in the area and are extremely helpful with local knowledge. As they spent fifteen years living in an English speaking country, their English is perfect which makes it easy for non-Croatian speakers. We will return in the future and recommend that you stay here too. You will not be disappointed!! Thank you Linda & Teo for providing such a nice home away from home!
---