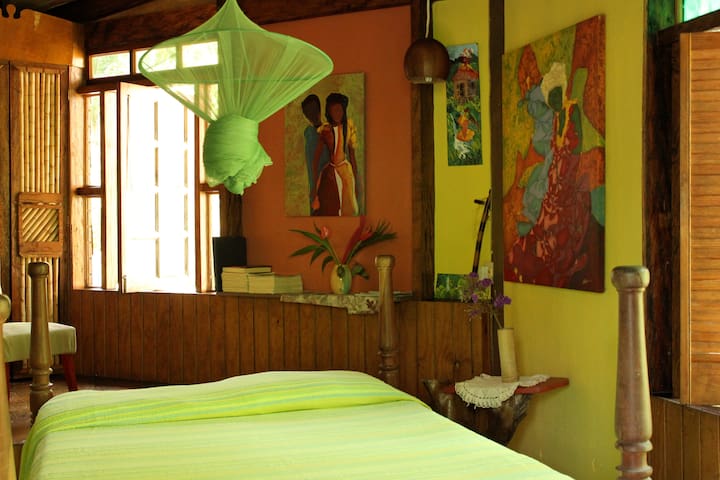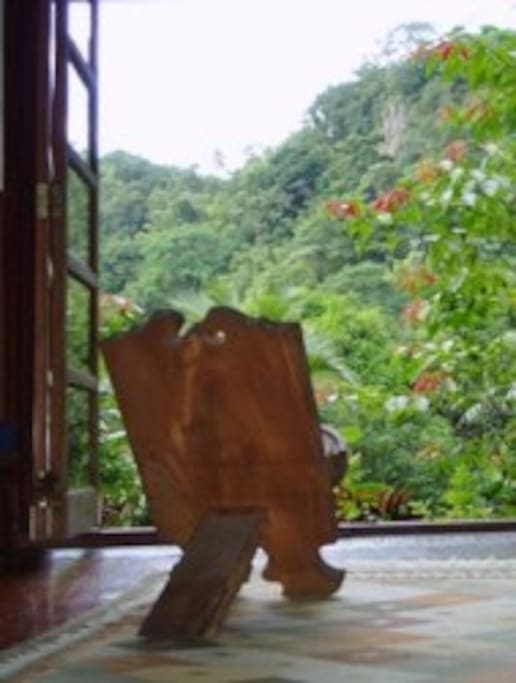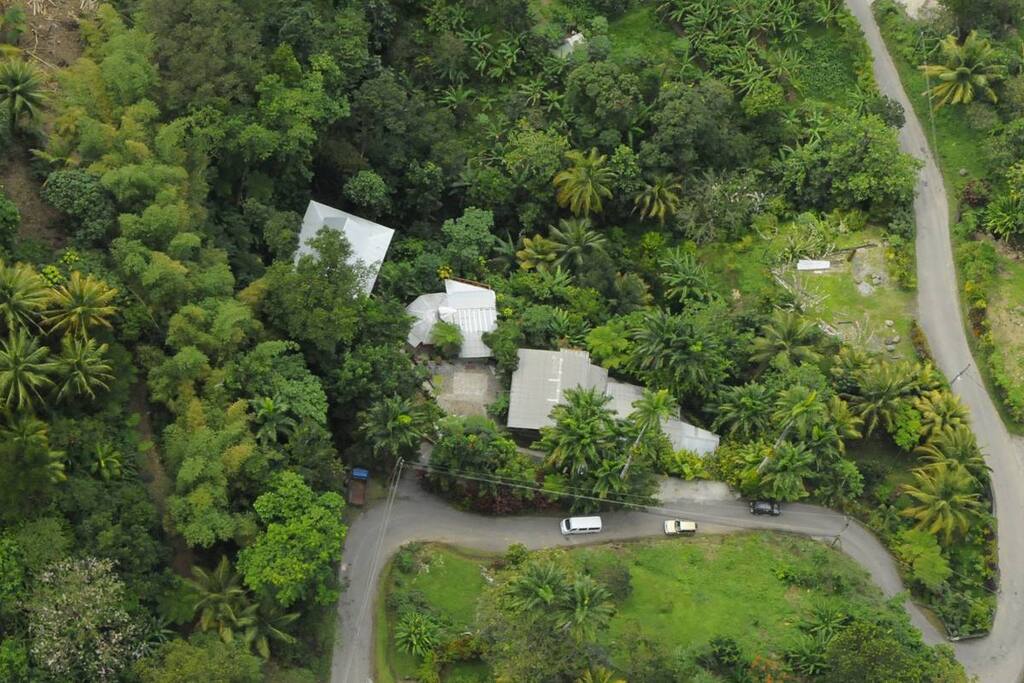 Private room at Cocoa Cottages
房源
The Kako room is part of our guest house, Cocoa Cottages. It is an upstairs room, with a Double bed and a private bath. It is perfectly located 10 minutes from Roseau, the capital, and yet worlds apart. Set in the lush rain-forest of the Roseau valley, it is the perfect base for exploring the Morne Trois Piton National Park, Trafalgar Falls, Middleham Falls, Freshwater Lake, Boeri Lake, Boiling Lake, the hot sulfur pools of Wotten Waven village, and much more. Meals and guides are available.
房客使用权限
Guests will have access to all of the services provided by Cocoa Cottages, our guest house. Breakfast and dinner available as options. Guided tours available as well. Extreme Dominica canyoning tours available.
与房客的互动
Guests can have as little or as much interaction with other guests and with the owner as they want. Meals are served in our open air kitchen, with seating around our round table, which is a great way to connect with others and discuss adventures for the day.....or for life : )
---
The cottage is perfectly situated not far from Roseau, Trafalgar Falls and Wotten sulfur spring. Liz is really helpful to get the best restaurant and sulfur spring place. He had a nice time in our little cottage and we enjoyed the swing surrounded by the forest. I definitely recommand that place !
---
Coco Cottages is excellently located in the Roseau Valley! It is approximately 15 minutes' drive from the city and you can easily visit/ access some of the major attractions in Dominica from there. Liz and Richard are very kind, accommodating and responsive. Our room was very clean and charming. There was daily maintenance and cleaning provided. In the backyard there is a brook and the noises of the water and the rainforest are very relaxing and soothing. Liz and Richard also sell cocoa treats which are truly delicious! We would definitely stay there again! Patrick & Debbie
---
The pictures of Cocoa Cottages do not do it justice. The views are spectacular, the rooms immaculate, and we were torn between exploring the beautiful Island and just relaxing in our beautiful setting. That being said, Cocoa Cottages is more hotel than B&B. We never met Liz & Richard. The onsite staff was delightful and helpful, but when we asked after planning some tours, they said we had to speak to Liz who we never met. Additionally, when we did meet local tour guides in town, we found that they were charging us $40 USD for the Boiling Lake Hike vs. the $100 USD with Extreme Dominica (the group referred to by Cocoa Cottages.) We found similar price differences for food at Cocoa Cottages ($30 for dinner and $15 for breakfast vs outside). I'm sure the food is as spectacular as the setting, but as students, it wasn't wallet friendly given the other options on the island. Shout out to Water Bar a 15 minute walk up the street from cocoa cottages for being one of the friendliest bars I've ever been too and with fresh juice and sugar cane (and an insane view to boot! Be sure to ask for the local and delicious rum drinks). Water Bar is where we met up with our driver and tour guide for the trip (ask for Darwin and Martin for driving and Cornell for a hiking guide). Finally, shout out to Cocorico Cafe for their delicious food and even better rum punch.
---
Wunderschön im Tal gelegen, von dort aus lässt lassen sich die wichtigen touristischen Hotspots gut erreichen, sehr freundliche Gastgeber. Die Atmosphäre dort ist sehr kommunikativ und angenehm. Iris unterstützt mit hilfreichen Tipps ,Burrani ist ein liebenswerter und kompetenter Koch, Jeffrey ist ein genialer und professioneller Guide.
---
We live on the tiny independent Creole island of Dominica, in the West Indies, between Guadeloupe and Martinique, in the Caribbean. We own a B&B/guest house and a Canyoning & Adventure Tour Company. Our property consists of many structures, all lovingly crafted by artisans using local woods and stones. We offer delicious home-made meals and strive to offer our guests a unique experience that will stay in their memory for a long time to come. We live simply and try to keep our footprint small. Dominica is our home and we love to share it with others. P. S. We also make delicious home made chocolate. : )