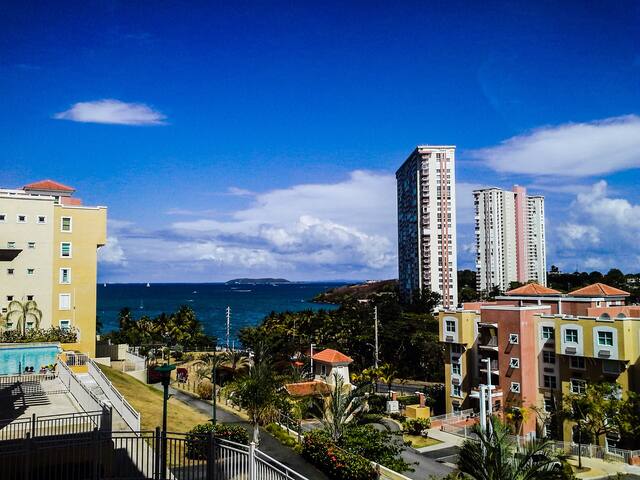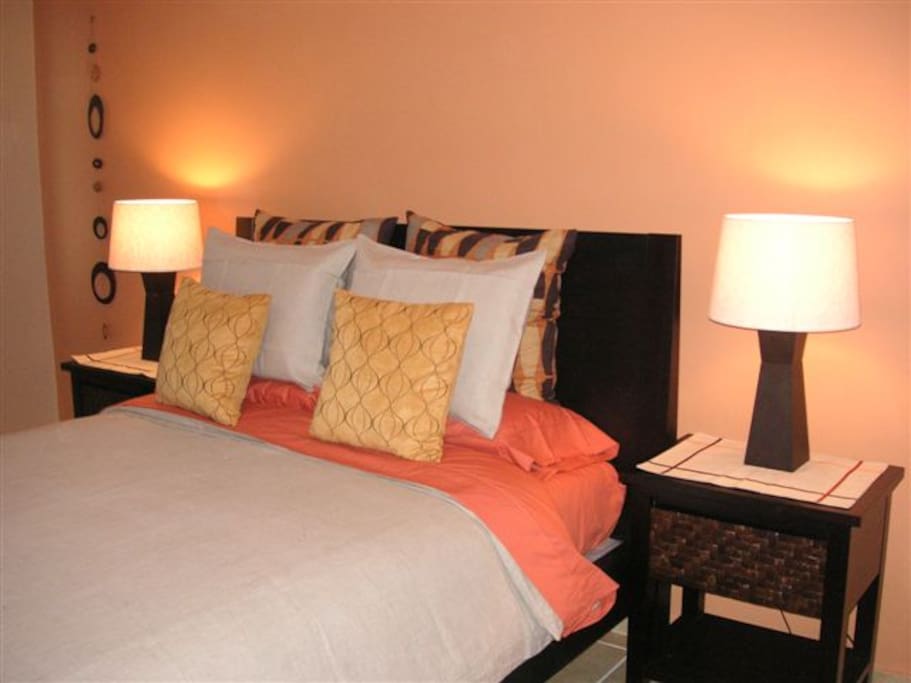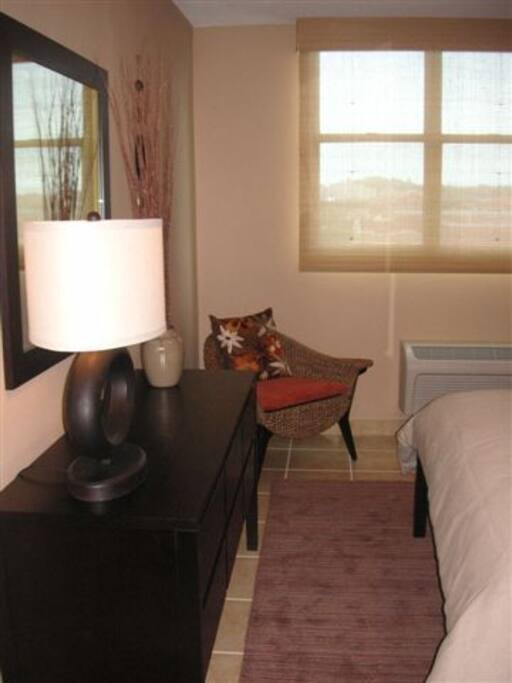 "Seven Sea's" Exclusive Ocean View
Beautiful 3BR and 2BR apartment with ocean views in Fajardo. 1,500 Sq.Ft. of pure bliss, with 3 pools, and full gym! AC in the entire apartment, Wi-Fi, granite countertops, and lovely decor. Sleeps 7 guests.
房源
Our beautiful and modern apartment is located in a peaceful and yet exciting place with breathtaking views. Resort living at its best! Sleeps 7 guests. There's an elevator and the entire apartment has A/C.
房客使用权限
Guests will have access to 3 pools with beautiful ocean views, hiking trails, a fully equipped gym, Wi-Fi, and much more. The Bio-luminescent Bay is very close by.
与房客的互动
We respect our renters' privacy but are always just a phone call or text message away. Our Magic Team is always on call to make sure everything runs smoothly during your vacation and the amenities are in top shape. Also, our Concierge Service will grant all your wishes, from dinner reservations to massages, spa treatments, boat charters, catamaran days, and much more!
其他注意事项
Our beautiful and modern apartment is located in a peaceful and yet exciting place with breathtaking views of the smaller islands of Culebra, Vieques, Icacos and Palomino, which can be reached by ferry or water transportation in just minutes.
This 3 bedroom, 2 bathroom, fully furnished apartment overlooks Villa Marina. The ENTIRE condo is air conditioned. 95% of the other rental units in Peña Mar do not have AC in the living areas. 2 Flat screen TV's, high speed Internet and DVD are there for your use. Enjoy all the comforts of home with our couches, queen size bed in the master bedroom, full size bed in the second bedroom, and a bunk bed with one full size mattress and one twin size on top in the third bedroom, all in 1,500 sq. ft. of living space with a gorgeous balcony. You'll have security and peace of mind. Most of the parking spots in Peña Mar are stacked one on top of each other. We offer 2 side by side parking spots for you or guests.
Our condo is loaded with everything! Towels, games, cooler, chairs. Besides the kitchen utensils, we supply dish washing liquid and cloths, and garbage bags. Beds are equipped with sheets and pillows only, towels, beach towels, beach chairs, cooler and umbrella are provided for your beach trips.
Peña Mar offers a ton of features not usually available in other condos in Puerto Rico. Gated entry w/24 hour security, elevators in all units, only two units per floor, granite counter tops, bidet, huge balcony with ocean view, 3 pools (one shaped like a boat, an infinity pool with a Jacuzzi, and one with a built-in slide the kids love.) For those of you who like to exercise, tennis and basketball courts are available and there's also a walking trail. Complex security is really strict, unregistered visitors are not allowed so you are invited to enjoy with your family in a gated community that provides peace of mind.
Peña Mar Ocean Club is the most desired location in Fajardo because of its resort style design. Our apartment's location is excellent. Only a 50-minute drive to San Juan International Airport, 15-minute drive to Luquillo Beach, 25-minute drive to El Yunque, the only tropical rain forest protected by the U.S. National Forest Service, 5 minutes to El Conquistador Hotel (great golf, spa, and restaurants), and 5 minutes from the famous 7 Seas Beach. We are located right next to Villa Marina, where a wide range of sailboat and catamaran charters are available to take you on daily trips to the cays for snorkeling.
You'll have access to numerous restaurants, movie theaters, various marinas, hospitals, pharmacies, and supermarkets. Nearby is the Fajardo Mall, where you can find just about anything you might need, including a Big K-Mart, and for those who enjoy serious shopping, Belz Outlets are only 30 minutes away.
One amazing advantage to staying in this apartment is that it's extremely close to the Bioluminescent Bay of Fajardo. Many people that come to Puerto Rico want to have that experience but don't have the time or the chance to go because the tours get fully booked. But that will not be your case!!! You'll be minutes away and you won't need to wait for anybody to go because you'll have kayaks!!!!!
In addition, there are a number of large marinas in the area as well as an airport and a major nature preserve. The 316-acre Las Cabezas de San Juan nature preserve features a lighthouse that has been in continuous operation since 1882. The tour of this area includes the lighthouse, the mangroves, and the bioluminescent lagoon. Reservations are required to enter the grounds and take the tour.
Fajardo is well known for its excellent day sailing, snorkeling and diving. The day-sailing trips normally take you to one of the nearby cays for a day of snorkeling, sunbathing and feasting (food and soft drinks are part of the deal). For the divers, there is excellent clear water all around the cays, with plenty to explore. Of course, the seafood in this area is fresh and delicious.
Villa Marina is right across the street from us where you can find daily catamaran charters that will take you out to the Icacos Cays for a day of snorkeling or just laying out on the beach. For a moderate fee you are treated to tropical drinks, water, lunch and all the fruit you can eat. The snorkeling gear is included. It is an experience you won't want to miss. About 10 minutes away you can reach Puerto Real where you can take a Ferry to visit our sister islands of Vieques and Culebra where you will find the most beautiful beaches. If you prefer to fly you can reach our regional airport in the town of Ceiba from where you can fly to Vieques, Culebra, St. Thomas, St. John, St. Croix and the British Virgin Islands.
We also have a framed map with the names and telephone numbers of recommended restaurants for your convenience.
Must go to eat: La Estación, Passion Restaurant, 'Los Kioskos de Luquillo' #20 EL Terruño & ask for Tito's Oyster Shack with the Local Hot Sauce.
Our Magic Team is always on call to make sure that your stay is just perfect! Anything you need, we'll make happen.
Also, ask about our exclusive concierge service.
Please read all Property and Complex Rules and Regulations along with the Rental Agreement for specific details to take into consideration during your stay.
Additional Fees:
Cleaning Fee $100.00
Security Deposit $200.00
Reservations within 72 hours prior of stay: $100.00
---
---
---
---
Short Term Lease Agreement for "Traveler"
Poppy 47 Inc., Lessor agrees to rent said property to Lessee.
This Lease Agreement is valid during reservation selected dates by the Lessee during booking process.
"Check-in" starts once housekeeping and maintenance has finished preparing the property on "Check-In Date" from 3:00 p.m. onward, upon maintenance and housekeeping finish preparing the property for access until "Check-Out Date" before 11:00 a.m.
Lessee must provide a list of names for registered guests included in the reservation while booking that will be staying in the property for short term rental.
The parties agree the Rental Charges as specified in the Reservation Quote as follows:
1. Valid ID: Lessee will present a valid USA driver's license or a valid passport to take possession of keys to the property at the arrival. Key-less properties will be assigned a unique access code per reservation. In the event the keys are delivered to the Lessee, proper coordination for pick-up and return will be arranged with local contact prior arrival and/or departure.
2. Rent: The total amount of the rent is due on or before 12 weeks prior to occupancy. The Lessee acknowledges that the rent is the property of the Lessor & if Lessee vacate the property prior to the expiration of the term of the rental period, or find the property unsatisfactory for any reason, the Lessor will not return the rent as it is informed prior booking.
3. Security Deposit: When applicable, the Lessor will return the security deposit to the Lessee within ten days of Lessee vacating the property if, in the Lessor's opinion, is left clean, neat & there are no missing or damaged items. The Lessor reserves the right to retain the security deposit in whole or in part, but not limited to, the following circumstances:
a. Damage in excess of reasonable wear & tear that are incurred to the extent of the cost of repairs.
b. Cleaning Services: One (1) paid maid service visit is included in the rental upon guest departure that includes laundry of bedding and towels and general housekeeping. This fee does not include dish washing or excessive garbage since additional garbage bags are provided prior to arrival. Dish washing and BBQ and tools cleaning when used, if applicable, not done before leaving the property will incur in a $100.00USD fee. All debris, rubbish and discards are to be placed in the dumpster assigned outside of the property.
c. Duration: The property will be rented for the total number of days as described in the confirmation. Extensions to the arrangement may be available but must be arranged in advance. There is absolutely no guarantee that the unit will be available after the ending date, and it will be necessary for the Lessor to forcible remove the tenant once the lease has ended if an extension is not granted.
d. Failure to Vacate: Failure to comply with the before 11:00 a.m. check-out time may result in Lessee being denied access to the property or immediate eviction and will result a penalty fee from the security deposit of $100.00USD. Early check-in time not authorized by Lessor may result in an additional costs or denied access to the property after 3:00pm that starts regular check-in time.
e. Do not rearrange the interior furniture unless you have owner's permission. Failure to comply will result in a $100.00USD penalty fee from the security deposit.
f. If linens or towels are lost or damaged, this action will incur in additional charges/penalties, $50.00USD per piece.
g. One bath towel is provided per guest considering maximum occupancy per property. Additional bath towels request incur in a fee of $20.00USD each to be covered prior item delivery.
h. Damage to the counter tops will result in the loss of the entire security deposit.
i. Loss of keys, beepers and / or access devices or leaving them unreturned will incur in a $150.00USD penalty fee.
4. Maximum Occupancy: Customer must comply with maximum occupancy of people per property including children at any given time as specified and confirmed in the reservation. Exceeding the maximum number of guests allowed in or on the property premises may result in Lessee being denied access to the Property or being evicted from the property with no refund of all monies paid.
5. Additional Guest: Additional guest not specified on the original rental agreement will have an additional nightly charge of $100.00USD per person and may not exceed the maximum occupancy of the property.
6. Smoking: This is a strictly NON-SMOKING property. Failure to comply may result in Lessee being denied access to the property or immediate eviction with no refund for security deposit, when applicable, and all monies paid.
7. Pets: Animals and/or pets are not permitted in the property under any circumstances. Failure to comply may result in Lessee being denied access to the property or immediate eviction with no refund for security deposit, when applicable, and all monies paid.
8. Insufficient Funds: There shall be a $100.00USD service charge imposed by the Lessor for all checks returned for insufficient funds. If the check is returned prior to occupancy, the Lessee will not be allowed to occupy the premises until the rent is paid and cleared payment is received by credit card, cash or certified check. If the check is returned during occupancy, the tenant agrees to pay the rent in cash or to vacate the property. Vacating the property does not free the Lessee from the responsibility of paying the Lessor the entire rental fee.
9. Collection Cost: Lessee agrees to reimburse Lessor for any costs of collection, including legal fees and travel cost, should the Lessee default in his obligation to make rental payment to Lessor.
10. Cancellation: Cancellations made will forfeit 100% of all monies collected. Reservation deposit fee is non-refundable. Lessor is not responsible of Lessee cancellations. Lessee should include the Cancellation Insurance offered by the webpage at the time of booking.
11. No-Shows: No-shows are not refundable and will forfeit 100% of all monies paid.
12. Acts of Nature and/or Noise: Owner (Lessor) shall not be liable for events beyond his control which may interfere with your occupancy, including but not limited to Acts of God/Nature, acts or outages of private service provider's companies contracted for services offered in reservations as add-ons, such as internet access, acts of governmental agencies affecting services and/or outages, such as electrical or water services, drought due to dry season, fire, strikes, war, inclement weather, including flooding and loud noise from street, nearby properties or events. Lessees are to obey noise house rules in the area. NO REBATE OR REFUND will be offered in these circumstances.
13. Hurricanes, Tropical Storms and/or Disease: Even though the property is built to withstand the effects of a Hurricane or Tropical Storm, and includes a strict scheduled fumigation process to avoid any disease, in the event that mandatory evacuation is ordered no refunds will be given unless:
a. The National Weather Service orders mandatory evacuations in a "Tropical Storm/Hurricane Warning area"
b. A mandatory evacuation order has been given for the Tropical Storm/Hurricane Warning area of residence of a vacationing Renter or Guest.
c. The Department of Health sets a mandatory eviction order, quarantine and/or official travel ban to destination due to outbreak of a disease.
14. Right of Entry: Lessor may enter the premises in order to protect, inspect, show or make repairs on the premises at all times in order for us to able to provide a high quality service. Customer will be notified via the reservation messaging center or contact information provided during reservation.
15. Unauthorized access to Private Property: Lessee agrees to stay in selected property as booked. Customer voluntary and unauthorized relocation to other private property different than the one rented will incur in customer's responsibility to cover all costs incurred by the Lessor during the process and may result in Lessee immediate eviction with no refund for security deposit, when applicable, and all monies paid plus covering all additional penalty fees.
16. Indemnity: The Lessee, guests and other visitors to the property shall hereby indemnify and hold harmless the Lessor(s) against any and all claims of personal injury or property damage or loss arising from negligence in the use of the premises regardless of the nature of the accident, injury or loss. Lessor will not be held responsible for the damages to Lessee's property during the stay, such as perishable goods that might be damaged die to a power outage or malfunction of electronic equipment in the property. The insurance of the property will not cover renters in the case of theft or any other loss. Lessee need to refer to their personal policies and/or purchase travelers insurance.
17. Damage to Lessees Property: Lessees assumes sole risk and responsibility for all loss, damage and injury to their own property occasioned by malfunction of electronic equipment, fire, theft, water or storm damages or other elements or any other cause whatsoever. Lessor property must be left at the check-out as received. Property furniture and goods in the facilities must not leave the location at any time.
18. Un-authorized events: Unless specifically agreed upon request, no special events are to be held on the property. This includes weddings, baptisms, or any large party that exceeds the number of
registered occupants. If approved upon request, these events require special insurance/bonding that are not covered by Lessor and these are the responsibility of the Lessee. If an un-authorized event occurs this contract will be terminated immediately and all monies will be non-refundable.
19. Disputes: This Agreement shall be governed by and interpreted in accordance with the laws of the Commonwealth of Puerto Rico, and shall be treated as though it were executed in this jurisdiction. Any action relating to this Agreement shall be instituted and prosecuted herein.
20. Miscellaneous: This Agreement, together with any attachments referenced herein and attached hereto, constitutes the entire agreement between the parties relating to the subject matter hereof, and supersedes all prior written oral negotiations, representations or agreements. No modification of this Agreement shall be binding on either party unless it is in writing signed by both parties. Each section, subsection or paragraph of this Agreement shall be deemed severable and if for any reason any portion of this Agreement is unenforceable, invalid or contrary to any existing or future law, such unenforceability or invalidity shall not affect the applicability or validity of any other portion of this Agreement.
21. Additional Services Request: We offer additional services upon request at the arrival. Lessee needs to provide a full detailed list of the products with brand preference and/or activities of interest, if needed. There is a minimum required for the contracting of additional services in order to proceed and a 25% fee of the total price of purchase to complete the service. Once the service is done we will provide a digital copy of the receipt for the Lessee to make the 100% payment during the same day of the service provision. Lessor will not be held responsible for the Lessee's experience with any third party service contracted and provided that might be included in the list provided of additional services.
22. Additional equipment: Lessor will not be held responsible for any damage or personal injury due to the use of equipment included as add-ons in the rental. Upon the use of all equipment provided as add-ons to reservations, the Lessee acknowledge that their use takes place strictly under their own risk.
23. A 4.5% fee is included in all reservations for Rental Amount only to help provide a safer and more secure booking experience, coupled with 24/7 customer support throughout your trip.
24. Air Conditioner or Electronic devices must be turned power off while no one is in the rooms or area of the property. If there is an inspection and the air conditioners or electronic devices are turned on during the hours that the property is vacant, additional charges for excess usage or damage to the units may apply. These can fuse, leak or freeze when left powered on all day as they are not manufactured for 24hrs constant use.
25. Electricity Usage: Electricity in Puerto Rico is almost 2.5 times the cost of Mainland in U.S.A. To reduce your carbon footprint and avoid high electricity consumption is requested that A/C units be switched off when not in the property or for long leaves of absence in the property. The electric meter will be read at the beginning and the end of the reservation. The owner commits to cover up to $15.00 per day in electric charges. Any electric consumption in excess of the previously mentioned amount will be charged to the Lessee at a cost of $0.37 per kilowatt/hour. If by any reason the A/C or lights are left powered-on at departure or in a regular inspection during your stay will incur in a $100.00 penalty fee.
26. Office Hours: Regular Office Hours are between Mondays to Fridays from 8:00am to 6:00pm. Out of Regular Office Hours requests, petitions and services without prior notice will result in additional charges for your stay.
---
---
---
---
Puerto Rico Rentals was born from a passion for service and travel, and the goal of offering great accommodations and first-class attention to travelers from around the world. Sharing the best of our Island in the Caribbean is the passion that drives us. Come join us and our Family and experience the best of the Island of Enchantment!
语言:
English、Español