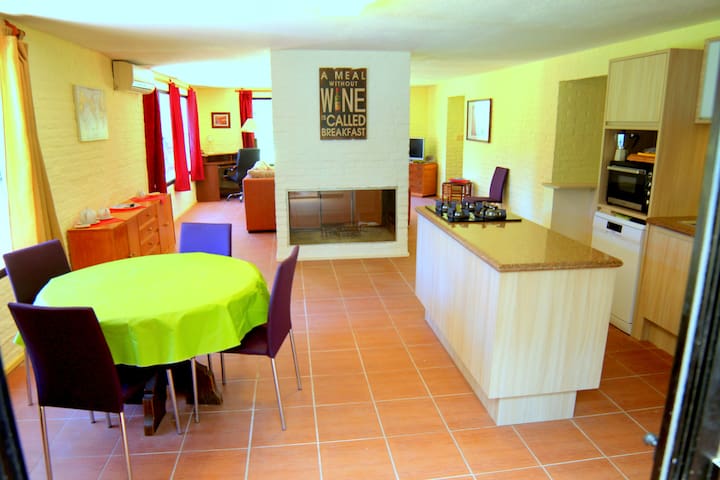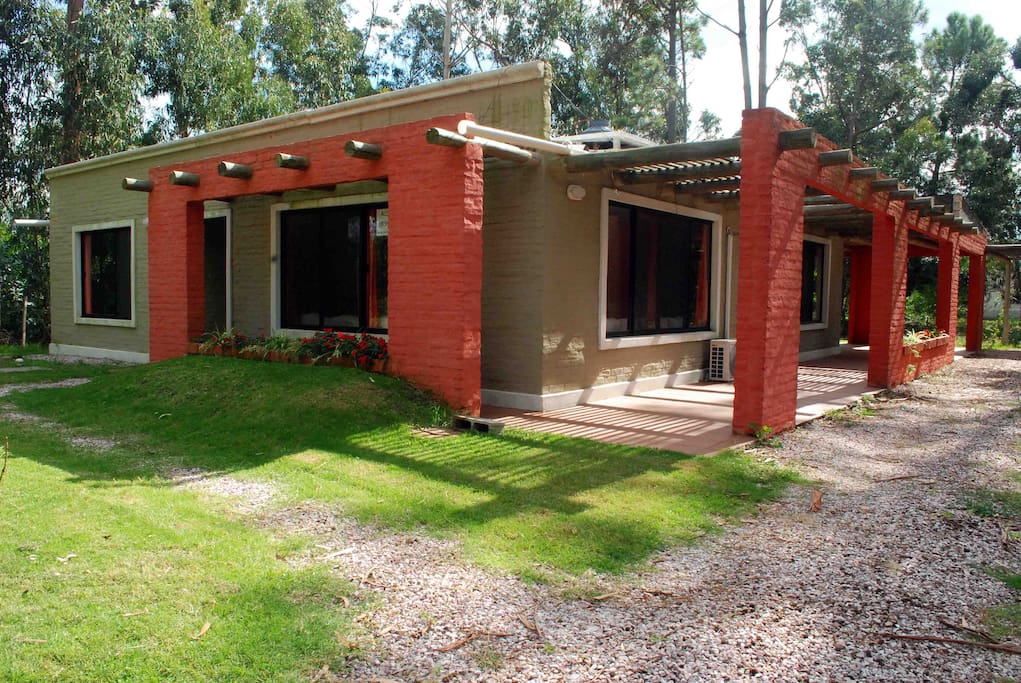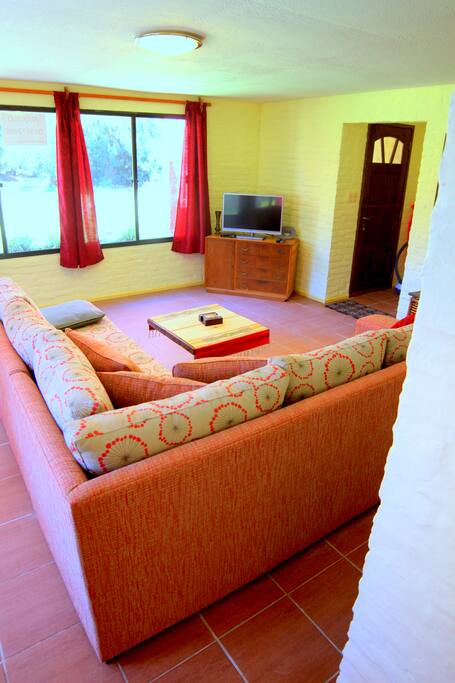 Piriapolis House 5min Walk to Beach
房源
Come stay in Piriadisio - a bit of Paradise in Piriapolis!
3 Bedrooms, 2 Bathrooms - Sleeps 6 - minimum stay is one week
Located in very scenic Piriapolis, Uruguay, this house is only a 5 minute walk from 'Playa Grande' beach. This house is located in the barrio de Los Angeles, a quiet, family friendly, neighborhood of Piriapolis, ideal for people seeking a tranquil and relaxing atmosphere. From Piriadisio house you can easily walk everywhere: to the waterfront and beach in 5 min, to Piriapolis downtown with its bars, restaurants and little shops in 20 min. Uruguayans particularly enjoy walking up and down the seafront boardwalk 'La Rambla'. If you want to get around it is also very enjoyable using the bikes that we have available for our guests. At the beach or from The Rambla, you may even be lucky enough to see sea turtles, sea lions or whales during your stay. It is the only beach town in Uruguay with the hills meet the ocean. Piriapolis is not Punta del Este, if trendy parties are your thing, you won't find it in Piriapolis. However, if you are looking for a great relaxed time at the beach, beautiful sunsets and perhaps a tasty ice cream on the Rambla, Piriapolis would be ideal for you.
We are very excited to offer a newly remodeled kitchen to our guests. It is fully equipped with new appliances, including a dishwasher for extra convenience, during your stay with us. For additional comfort, we've added a new comfortable modern couch and desk area to the living room. And couch seating on the patio for those warm summer nights.
One of Piriadisio's best features is its 42 sq. meter, 450 sq. foot covered outdoor patio and barbecue area with a grill, wood-fired oven, and sink - great for relaxing and enjoying meals outside. You will have plenty of spare room to invite family or friends over. The patio is also perfect to do a little bird watching, almost daily and depending on the season the backyard has some visitors like: green parrots, hummingbirds, bright red headed wood peckers, water chickens and more bright colored exotic birds that we have not yet identified. You may even be lucky enough to see a humming bird stop at one of our feeders for a quick bite. We've got some Uruguay bird books at the house for you to flip through if you fancy.
This house is very accessible by bus. There is a bus stop only 5 min walk from the house on stop number 6 located next to the large grocery store 'Devoto' on the Rambla. There are buses every hour to hour and a half getting to from Montevideo.
The neighborhood is calm with friendly neighbors and a small grocery store one block away from the house. The streets are unpaved and the house is located on a dead-end, so there is no traffic noise. We speak English, French and Spanish to answer any questions you may have.
Features
110 sq. meters, 1200 sq. feet
Fully furnished house with newly remodeled kitchen and living room (equipped with air conditioner)
3 Air conditioners and heaters
Solar water heater. It will give you access to virtually unlimited free hot water. If the sun decides to hide for a couple days, which happens rarely, there are electric water heaters that can be used instead.
Single level house-no stairs-safe for family with young kids
Newer construction from 2007
1 Bedroom with Queen bed (equipped with air conditioner)
1 Bedroom with 2 Single beds (standing floor fan)
1 Bedroom with King bed (equipped with air conditioner)
Down Comforters
NEW! Newly remodeled modern kitchen, fully equipped with an electric convection oven, gas cooktop, full size refrigerator and freezer, dishwasher, dishes and cooking utensils, blender and automatic coffee machine
Washing machine, drying line for clothes in garden
Iron and ironing board
Flat-screen LED TV (32 inch) with Cable TV (some English language channels, sports channels)
Internet and wireless internet, log-in information provided at check-in
Luminous windows with mosquito screens
Large indoor fireplace
Covered patio and barbecue area including a large barbecue wood grill and a wood-fired oven, outdoor sink/prep area, hot water outdoor shower
Patio area equipped with patio table and chairs, corner couch, hammocks and chair hammocks
3 Bikes
Lawn chairs and umbrella to take to the beach, beach towels
Front and back yard lawn area for relaxing
1 Car Parking Space, shaded + multiple parking space (not shaded)
Secure, quiet neighborhood
Imported linens and towels
Non-smoking inside the house, no pets allowed
Cell phone (pay-per-minute): We know how convenient traveling with a local cell phone is, so we provide our guests with a cell phone to use during their stay.
We are looking forward to hosting you and your friends or family in Piriadisio very soon!!!
---
---
---
Early morning or late night check-in and check-outs (outside of regular operating hours 8 am to 7 pm) will be charged at an additional cost of $30 USD.
Check-in and Check-out
A check-in and check-out time will be scheduled. If possible, we are able to be flexible on the check-in and check-out times. It will need to be agreed upon at least 48 hours before your arrival date, additional notice is appreciated. We will meet you at the property at the scheduled check-in time. We will show you around the property, answer any questions you may have about Piriapolis and things to do in the area
The security deposits will be held with Airbnb through your credit card.
House Cleanliness
As property owners, we maintain the highest cleanliness standards possible. In order to provide the best rate possible to our renters, we choose not to apply a cleaning fee. Upon doing this, we expect the renters to leave our property in a tidy condition - meaning, all dishes need to be washed, garbage will be collected and disposed of, old food items need to be thrown away. We really appreciate your attention to this, if not tidy upon check-out a $50 fee will be deducted from your security deposit.
Electricity Charges
We charge for electricity at cost to encourage our guests to use the air conditioning and electricity responsibly. We've equipped the house with low consumption light bulbs and recently installed a solar water heater to keep the electric consumption of the house as low as possible. Our guests normally use between $1 US to $5 US per day. Upon check in and check out an electric reading is taken. The cost of usage as determined by the Electric Company will then be charged and paid at check-out in Uruguayan Pesos.

Espanol
Check-in y Check-out
Un check-in y check-out a tiempo será programada. Si es posible, tenemos flexibilidad con la hora del check-in y check-out. Se tendrá que ser acordada por lo menos 48 horas antes de la fecha de llegada aviso adicional se agradece. Nos reuniremos en la propiedad a la hora programada. Le mostraremos alrededor de la propiedad, responder a cualquier pregunta que usted pueda tener sobre la casa, Piriapolis y cosas que hacer en la zona.
Limpieza de la casa
Como propietarios, mantenemos los más altos estándares de limpieza posible. Para maintener un tarifa mas atractivo posible a nuestros inquilinos, elegimos de no aplicar una tarifa de limpieza. Esperamos que nuestros inquilinos dejan la propiedad en un estado ordenado, - es decir, todos los platos deben ser lavados, la basura será recogida y limpia, los alimentos no se dejan en la heladera. Agradecemos su atención a este, si no es ordenado a la salida una cuota de $ 50 será deducido de su depósito de seguridad.
 
Gastos de electricidad
Cobramos por la electricidad al costo real para que nuestros clientes utilizan el aire acondicionado y la electricidad de manera responsable. Todas las lampadas de la casa esttan de baja consumo y recien colocamos un panel solar para reducir el costo del consumo electrico de la casa a un minimo Nuestros clientes utilizan normalmente entre US$ 1 a US$ 5 x día. El costo de electricidad de uso no está incluido en el precio. En el check in y check out una lectura eléctrica se toma. El costo de uso según lo determinado por la Compañía Eléctrica será aplicado y pagado al momento del check-out en pesos uruguayos.
---
---
This house was great for our family of five. It is easily accessible by public tranportation from Montevideo and is walking distance from the bus, the grocery store and the beach. We enjoyed having the bicycles to ride into town and the back yard with the grill. It provided us with a nice escape from being in a big city for a few days.
---
Erica and Greg bent over backwards by picking us up at the airport at 2;30 a.m. and driving our rental car to the house. After dropping us off, they continued to be in touch for any questions or to share the insider's point of view to really enjoy Piriapolis and the surrounding area. The home itself is very nice and with enough dishes to adequately cook the yummy vegetables and foodstuffs from the saturday Farmer's Market. The bedrooms are very comfortable and the bathrooms are practical and have nice light. The bicycles we will have to use next time! On of my favorite memories will be pulling into the driveway and smelling the eucalyptus, rosemary and lavender in the nearby plantings. Since I also host vacation rental in three properties in Kansas City, it was fun to chat about our shared experiences.
---
Passamos uma semana muito tranquila, a casa é perfeita com tudo em ótimas condições.Lugar arborizado, casa ventilada, uma varanda perfeita na parte exterior.Ahh as camas são muito confortáveis. Fomos recebidos pelos simpáticos anfitrioes e sua pequena Penélope, incríveis pois nos deixaram sugestoes de passeios e restaurantes, muito queridos.Além de tudo isso fomos agraciados com duas, "patricias" a melhor cerveja do Uruguay. Recomendamos Erica e Greg e sua linda casa em Piriapolis.
---
Erica and Greg were very responsive and helpful throughout the reservation and check in process. Greg even gave us turn by turn directions over the phone once we arrived in Piriápolis, which we greatly appreciated because our (SENSITIVE CONTENTS HIDDEN) Maps app couldn't quite get us all the way to the house. After checking in, though, we were underwhelmed by the house. So even though we had paid for three nights we decided to go back to spend more time in Jose Ignacio. The photos here suggest a bright and lovely place to stay. Our actual experience did not quite match the photos. First, the clean, bright white living room furniture featured in their listing photos wasn't there. Instead the couches had brownish yellow cushions that appeared well worn and were not very inviting. And only one of the beds was made up, with dark linens that again appeared to be late in their life cycle. There were only two of us traveling and we did only need one bed, but leaving the other rooms with bare mattresses gave the place a kind of incomplete feeling. A handle on the armoire in the master bedroom is broken. The hand towel in the bathroom was really just a rag. And another threadbare rag was being used as a doormat by the patio entrance. The three bikes they provide are kept in the living room / dining room. That takes up a lot of space and adds clutter that detracts from the relaxing ambiance featured in the listing photos. Then we were shown that the locking mechanism on the patio door has a bit of a trick to engage it, which was disconcerting, especially since we had just been advised that we needed to keep the bicycles inside when we leave the house, which implied some concern about potential theft. Given our overall disappointment we just decided to consider it a miss and drove back to Jose Ignacio.
We've received numerous positive reviews from our guests commenting on the amenities and attention to details that we provide while staying at our house. It is unfortunate that Art and his wife did not feel the same way. We still hope that they enjoyed their time in beautiful Uruguay.
---
Meu plano era de viajar para a badalada Punta del Leste. Como tinha reservado um apartamento com Greg & Eica em Montevideo, tive a maior felicidade e surpresa de alugar a casa de praia deles em PIRIAPOLIS. Eles nos receberam com braços abertos,como se tivessemos conhecidos há muito tempo. A casa estava muito limpo,completa,gostoso de ficar tanto do lado de fora como de (URL HIDDEN) bicicletas,redes,churrasqueira,sombra debaixo de árvores,paz e trnquilidade,perfeito para verão,combinando com a cidade tipicamente uruguaia de Piriapolis,com " CHIMARRÃO" por todos os lados. Greg & Erica nos deram todos as dicas ,com seus livros e mapas e nos deixou um CELULAR para eventuais problemas,o que nos deixou mais tranquilo. Adoramos de tudo, voltaremos mais vezes. Obrigado Greg & Erica.
---
We are a French, American couple from Burgundy and Montana that relocated to Montevideo, Uruguay. We have two sweet daughters, Pénélope and Talia. A perfect day for us would be spent cooking and sipping wine, enjoying time with friends and family, taking our girls for a walk on the beach, or watching a new film. We love meeting new people and welcome any guests who would like to visit Uruguay. Happy Travels!

The City that continues to surprise us on every visit - Paris
Preferred Beach to enjoy some wine - Piriapolis Playa Grande
Our Best Method of Transport - Our two legs! We love walking and exploring every place we travel to.
Favorite Fast Food - A street kebab
Favorite Slow Food - Duck confit
语言:
English、Español、Français