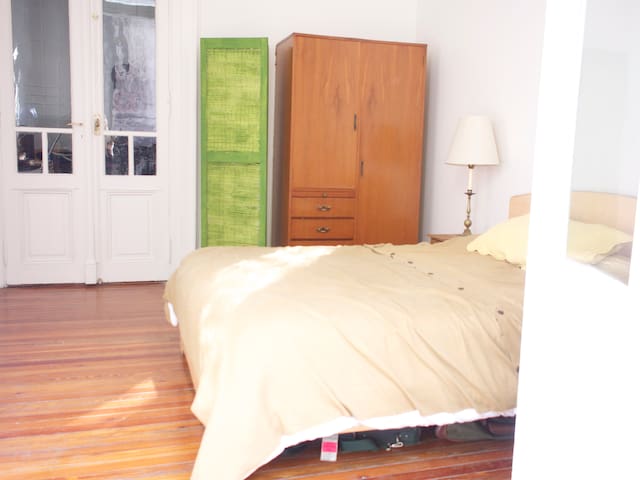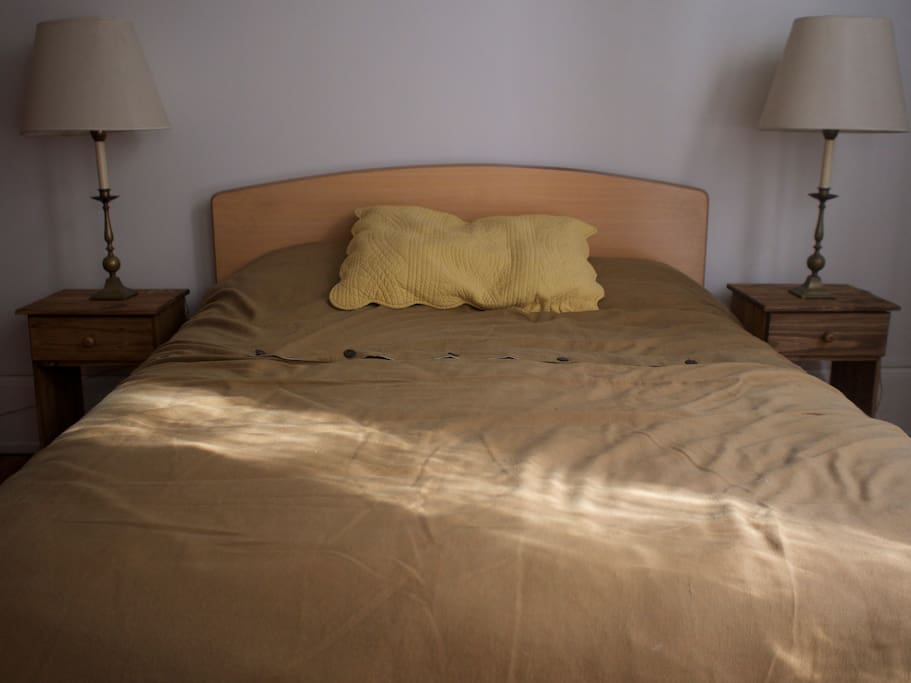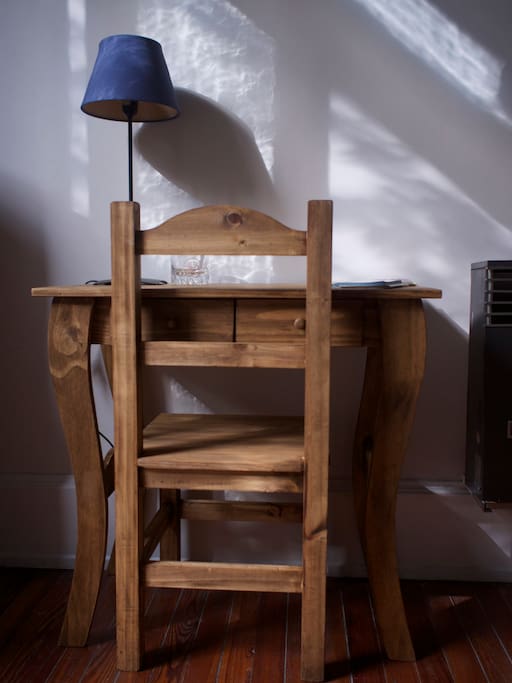 Come stay in our guestroom in our beautiful pre-war apartment. The room is large with a queen-size bed and a private balcony. There is also a separate guest bathroom with a shower. Centrally located in Congreso steps from Subte A line.
We do have a cleaning person that cleans the home, but have recently found it necessary to reiterate that this is not a hotel. It is our private home and guests should make efforts to be responsible and to clean up after themselves and keep the common area tidy.
房源
We live in a pre-war building with very high ceilings, Parisian balconies and French doors. The lay out is very spacious and comfortable.
房客使用权限
Guests will have access to their room, bathroom, kitchen and communal space.
与房客的互动
Guests are welcome to dine with us at their leisure, provided a contribution to groceries. We are happy to show you around the city or provide tips, information, or referrals given that we have time.
We are artists and we work from home. Some times we are busier than others. Please do not take it personally if we are too busy to show you around during your stay. But if we have the time we are happy to invite you out with us if we are doing anything or going anywhere interesting.
其他注意事项
We have 2 dogs, Arthur and Pam. Arthur is a lover boy and Pam is a little diva.
We are both in the arts and from the U.S. We are still learning Spanish, but we know enough to communicate.
---
---
---
This is our home, not a hotel or a hostel. We are very hospitable, and we only expect that you respect our home and belongings.
We are vegans and this is a strictly vegan house. Granted you are in Buenos Aires and you are welcome to explore the Argentine culinary treasures. We only ask that you do not bring any animal products into the house. As mentioned, guests are welcome to dine with us, as I cook lovely vegan meals often.
Please no smoking inside the house.
We generally do not allow pets as we have two of our own, but we might be willing to make exceptions.
Please write me if you have any questions regarding any of the house rules.
There are some things that may seem obvious, but I will mention them anyway because of issues in the past.
1. Do not store food items in the bedroom. You are welcome to use our kitchen counters and cabinets.
2. Please gives us a heads up before inviting friends over.
3. I have replaced my cookware for the last time. Not a single piece of metal can touch the pots and pans. Wooden and rubber utensils only. If you cannot trust yourself to not scratch the cookware, I still have the last set of destroyed cookware to use instead.
4. No shoes on the rugs, and mats.
5. Turn off lights when leaving rooms and keep doors closed when the heaters are turned on.
Just leave things the way you found it and there won't be any problems!
---
---
---
---
We spent 8 days at Amit and Lee's place. The room is comfortable and has a good size also for two persons sharing it. Actually, the whole apartment is spacious with high ceilings and pre-war charm. Amit and Lee were very uncomplicated hosts. Also, they cared a great deal about our wellbeing and checked in on us via (SENSITIVE CONTENTS HIDDEN) when on tour. They provided us with tips for restaurants and nice places in the city and we felt quite at home at their place. Plus, everything was very clean. The apartment is situated very well with a lot to be explored by foot (even with a CrossFit box just down the road). We also pretty much enjoyed the company of the two very sweet dogs. While Amit and Lee were very cautious for Arthur and Pam not to bother us, we were actually pretty much enjoying being "bothered" in the sweet and tender way, the two canines would ask for a cuddle ❤ The only thing–we feel obliged to stress here–is that the room is noisy. The beautiful old windows in the guest room vibrate with the sound of passing busses or trucks which can be loud, depending on traffic. We were okay with the noise, since we are used to it. Yet, some folks might bother. Other than that, we highly recommend this location for a stay in BA.
---
I spent my holidays in this house. It's a lovely, clean, comfortable and well-positioned apartment with lots of facilities around. Amit and Lee are very hospitable and willing, they helped me whenever I needed and they tried to answer to all my questions or doubts about the city too. For instance they suggested me some good places to visit and gave to me some contacts of people who could help me or have interests in common with me. At last I had a good time, so I strictly reccomend this host.
---
Amit and Lee were really great hosts. They were very friendly and welcoming, and even fed me when I first arrived to their home late in the evening. I was also grateful that they helped me arrange a taxi ride back to the airport when I was heading home, and even checked in with me on What'sApp when I was exploring BA to make sure I was doing OK. The room I stayed in was large and comfortable and their place was centrally located in the city. Their two dogs are also really cute and friendly. There was a little bit of a run-in with mosquitos, though, but it's summer there, so it's understandable.
---
The location of Amit and Lee's apartment is very good and the room spacious and clean! it's not the quietest location being right on the doorstep of congreso but it's nothing major and should only be a problem for people that require absolute silence to sleep. Amit and Lee were laid back and friendly! Great option to stay especially for vegans visiting buenos aires.
---