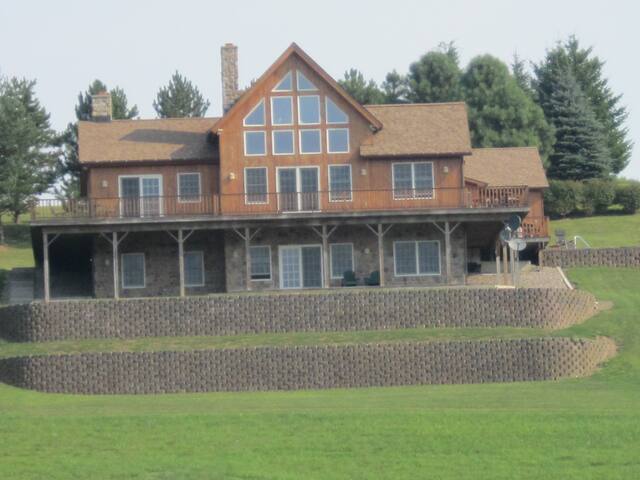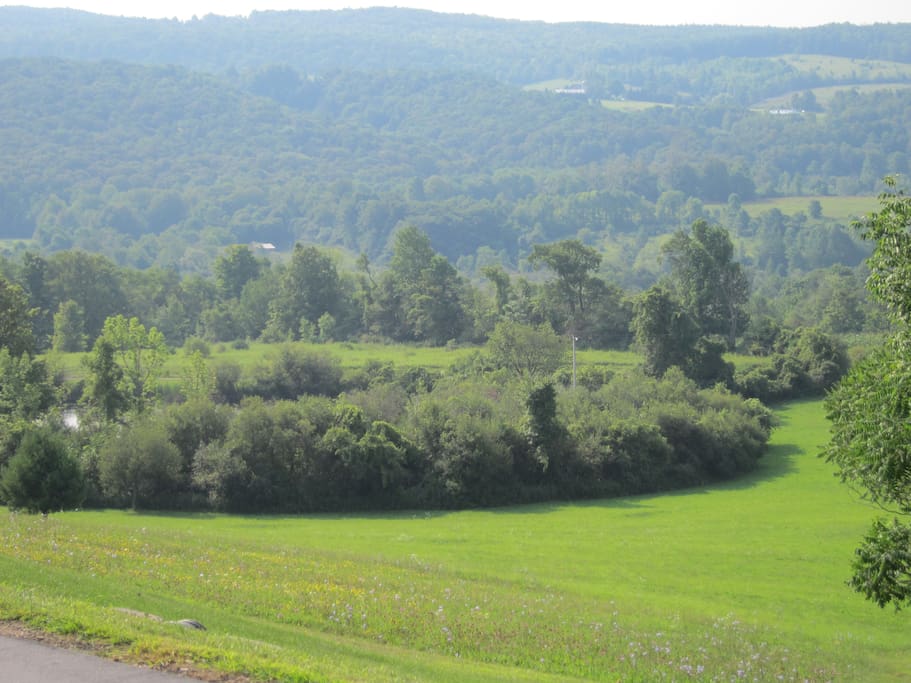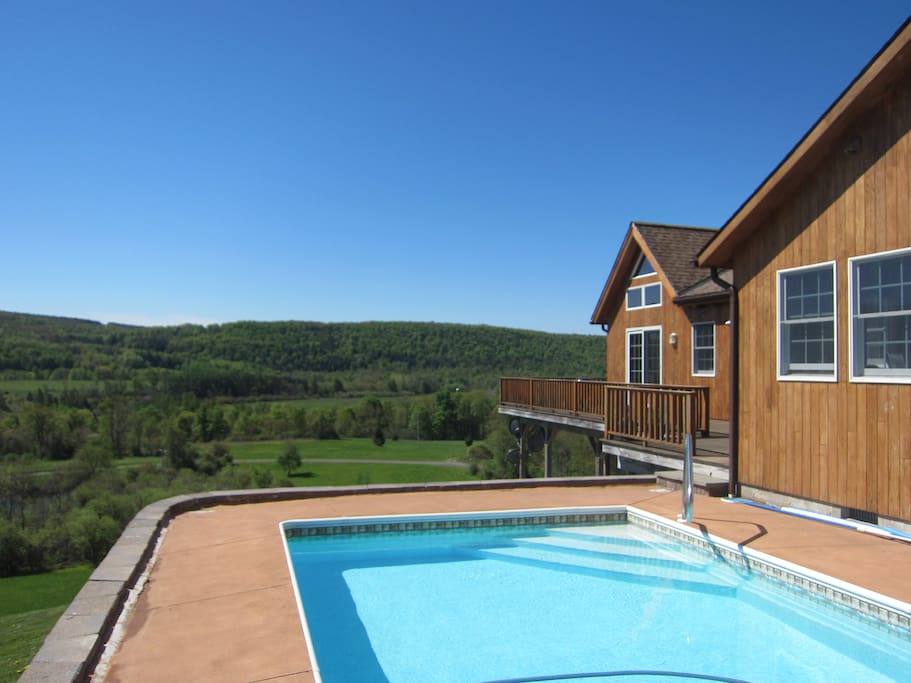 Wonderful location:
Cooperstown, Dreams Park, Sharon Springs, Glimmerglass Opera & Fenimore Art Museum are within a scenic & EASY 20 minute drive! You will enjoy the peace of Lady Hill and the convenience of being close to all our area attractions.
房源细节
Ultra private suite with nothing but the rolling hills to view outside you windows and from your own deck. Queen sized bed, large bathroom, fireplace, flat screen and a delicious continental breakfast are all provided.... complete with your own selection of coffee & teas! Easy parking and private entrance. Weather permitting the swimming pool will be just around the corner...heated to 80 degrees!
Lady Hill Suite is located 10 miles from Glimmerglass Opera and 15 miles from Main Street Cooperstown (Baseball Hall of Fame) in the historic village of Cherry Valley. The Tryon Inn and Rose & Kettle restaurants are only a few blocks away.
Filled with serenity and convenience, Lady Hill Suite will become your favorite hide-away to enjoy Glimmerglass Opera and Cooperstown. We have a two-night minimum stay policy. Lady Hill Suite is ideal for one person or a couple.
We welcome you as friends we have yet to meet and look forward to your visit!
Steve & Melani(URL HIDDEN)
房客使用权限
Beautiful walking trails
Swimming Pool (weather permitting)
与房客的互动
We are on the premises and accessible.
其他注意事项
The views are spectacular....especially in the Fall!
We do not allow pets or smoking and we want our guests to enjoy the peace that surrounds Lady Hill Suite....and the majesty of a starlit night!
My husband and I stayed in the "Lady Hill Suite" during a particular hot spell in New York in August. When I was told that there would be no problem with the suite being cool enough, even without AC, (Melanie assured me there was "cross ventilation"), I was still unsure, until we spent our first night there. The suite was naturally cool, and sure enough, with a few fans and windows open, it was quite pleasant, with cool mountain breezes entering the rooms. This house is set in a spectacular spot, overlooking the hilly farmland of Cherry Hill. Sitting outside on the porch at any time of day, was totally tranquil and completely relaxing. There are few places that offer this kind of serenity, but this is one of them. Our suite was large and very comfortable, with ample places to sit, read, and relax. We had three great nights of sleep in the peaceful tranquility of the area. Our host and hostess were friendly and warm, giving us a tour of their beautiful home, and inviting to take us out for breakfast (Melanie no longer serves breakfast, but there is a fridge in the room and coffee and coffee maker along with a microwave, so its very easy to make your own breakfast if you just pack some provisions in a cooler as we did.) Highly recommend staying here. Just 15 minutes from Glimmerglass or Cooperstown, away from the hustle and bustle and in another world.
---
Melanie and Steve provided my husband and I with a wonderful and comfortable experience on our trip to Cooperstown, NY! I was immediately swept away by the view from our suite. It made my morning coffee so enjoyable and relaxing. The suite was spacious and had all of the accommodations we needed, including a microwave, coffee maker, plates/utensils and wine glasses. Our favorite part was the pool overlooking the mountains. It was the icing on the cake and made our long hot day at the Hall of Fame Induction Ceremony very cool! Steve even went out of his way to chop some wood for us to have a fire and roast marshmallows. Overall my husband and I had a fantastic experience for our first AirBnB and I look forward to visiting the area again in the future! Thank you, Melanie and Steve!
---
This was my first experience with Airbnb and it didn't disappoint whatsoever. My son and I were looking for a place to stay close to Cooperstown for a baseball tournament this summer. We were looking for a place for 3 nights. Lady Hill Suite was the perfect spot for us. It was clean, very comfortable and the views were amazing. In fact, my son even said, "Dad, this was the nicest place we've ever stayed in." I would highly recommend. Melanie was such a great hostess leading up to and during our entire stay. We had a great time and Melanie made our stay perfect.
---
What a wonderful couple days! Melanie and Steve are very hospitable and friendly people, very easy to get a long with. The best part about they place was the pool! You can relax in the comfort of nice warm water while enjoying fantastic views that go on for miles, and the quiet serenity that accompanies them. The studio had everything we needed and was comfortable. It was convenient to have the breakfast goodies on hand, and the mini-fridge also came in handy for our own snacks. Our children really enjoyed sitting out on the patio and listening to the bullfrogs and watching the birds. Really, it was such a pleasure to meet Melanie and Steve, and we enjoyed their conversation. They are beautiful people and have a beautiful home. We highly recommend their accommodations and would surely seek a reservation at their place again if we are ever in the area.
---
How nice to say my very first AirBnB experience was outstanding! As a first timer, I was blown away by finding the "Lady Hill Suite" to be even nicer than described. It was spacious, clean and oh so comfortable. My wife and I will DEFINITELY stay here again in the future when we visit Cooperstown and Glimmerglass. Melanie and Steve were delightful hosts who made sure all of our needs were addressed. We arrived in the darkness, and found their lighted walkway lead us right to our Suite. When we woke up in the morning, their 5 acres of lawns, and the mountains behind them, made us feel that we had died and gone to heaven. The only noise you'll hear is a few bull frogs -- not a car, not a plane nor anything else. This place is pure peace, quiet and nature in what is essentially a totally private, very comfortable, one bedroom apartment on the lower level of the amazing home.
---
Retired from many years as a flight attendant for a major airline and then as an innkeeper of my own B&B, now newly married. My husband & I are wonderful travelers. We love to stay in shape....walking on our country trails and a ton of golf for the man at our local 5- Star course called 'Leatherstocking'.
My way of hosting means creating a space that I would like to stay in....welcoming, convenient, spotless and comfortable! And the better the view, the better I like it!
We've used airbnb ourselves many times since it was new and made some wonderful friends along the way.