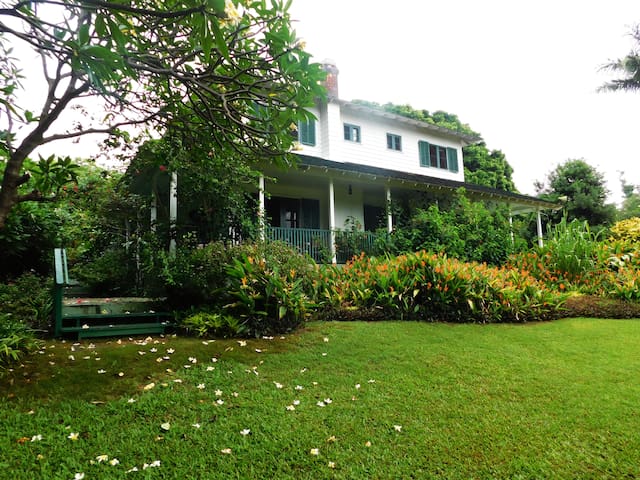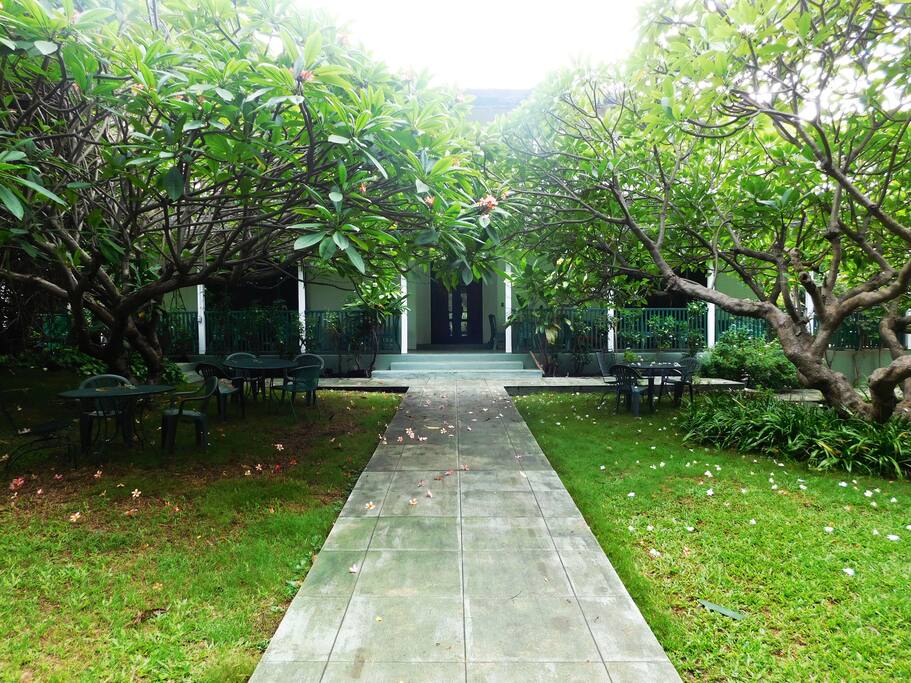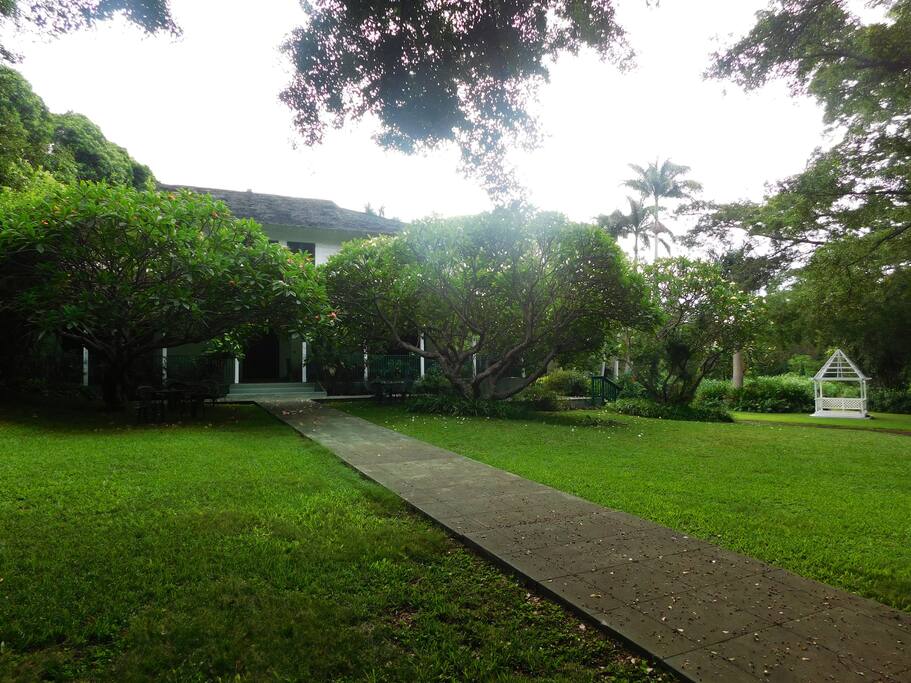 Pahala种植园拥有7间卧室和4.5间浴室,可以在糖厂的庄园里悠闲地回到老夏威夷,其宽敞的屋顶,音乐室,餐厅大小的厨房,每个人的长餐桌 - 占地3.5英亩的热带树木。
Pahala Plantation House, with 7 bedrooms and 4.5 baths offers a step back into old Hawai`i at the sugar plantation manor with its grand lanais, music room, restaurant size kitchen, long dining table for everyone - on 3.5 acres of tropical trees.
房源
历史悠久的家园位于农业夏威夷村庄。早餐的种植园经理帕拉拉,拥有高高的天花板,豪华的楼梯,带餐厅炉灶和两个冰箱的厨房,一个运输车厢,凉亭,两旁故乡的凉亭。理由有大榕树,羽毛和棕榈,以及鲜花。村庄被澳大利亚和咖啡园,牧场和森林包围。黑沙滩距离夏威夷最长的无人居民的花费6分钟。伟大的徒步旅行到绿色沙滩和夏威夷火山国家公园。 通过希洛或科纳机场到达我们。
The historic home is located in an agricultural Hawaiian village. Former home of the sugar plantation manager, Pahala Plantation House has high ceilings, grand staircase, kitchen with restaurant stove and two refrigerators, a carriage house, gazebo, lanais that wrap around the two story home. The grounds have large banyan trees, plumeria and palms, along with flowers. Village is surrounded by macadamia and coffee orchards, ranches and forest. Black sand beach 6 minutes away on Hawai`i's longest uninhabited cost. Great hiking to green sand beach and throughout Hawai`i Volcanoes National Park.
Reach us through Hilo or Kona airports.
其他注意事项
夏威夷临时住宿号(PHONE NUMBER HIDDEN)夏威夷临时住宿号(PHONE NUMBER HIDDEN)
Hawaii Transient Accommodations No. (PHONE NUMBER HIDDEN) Hawaii Transient Accommodations No. (PHONE NUMBER HIDDEN)
Hawaii Transient Accommodations No. 40041950
了解这一数字
---
The house was perfect for our group of 13 traveling as part of a college summer course. Favorites included the long table for group dinners and the spaciousness of the house. The grounds are lovely and serene except for a lot of bird activity, which I see as a feature, not a bug! Really appreciate the flexible check in/check out times and hospitality. Aloha.
---
Loved the time travel! Julia has created a wonderfully retro feeling in this large, comfortable mansion filled with interesting touches and details, some perhaps a bit bizarre but fascinating to the artistically minded. The expansive garden with romantic, time-stopping nooks and exotic trees is especially lovely in the morning, while strolling around with a cup of the nearby coffee plantation. Pahala itself is not exactly cheerful and lacks a restaurant, but it is friendly enough and the fact that it is remote and quiet fits the bill if you're you're wanting to get away from the beaten track. The surrounding landscape with the abandoned factory buildings and the black beach a few miles away with its pristine lotus pond inhabited by geese is sort of surreal. The crowning attraction of staying here is, of course, the volcano park 25-30 minutes away by car.
---
Our stay at the Pahala Plantation House was superb. It's a grand house, full of interesting stuff and surrounded by beautiful grounds. While large, the house feels very friendly.The bathrooms and kitchen are old, but the whole house is old! This was definitely not a problem for my party of 10 adults; it rather added to the charm. The kitchen was well equipped, and we had wonderful meals sitting at the long dining room table or out on the wrap around porch. The baby grand was even in tune! and it was wonderful to hear it throughout the house when my kids played. We had a lot of fun imagining what it must have been like when the sugar cane plantation manager lived there. The Pahala Plantation House is convenient to Volcano National Park and Punaluu County Beach Park - both absolute must-see sights on the Big Island. Volcano is spectacular at night, and staying at the Plantation House made this an easy trip. And though there are beaches everywhere in Hawaii, the black sand at Punaluu is amazing. It's all volcanic, and it's not like any beach we have been to in California, the eastern US seaboard, or the Mediterranean. Plus the 3 turtles who were napping there made the trip especially worthwhile. Julia was very welcoming, friendly, and easy. There was a funny mix-up about a library group using the house while we were there; but it really was not an issue and Julia and I had a laugh over it. I myself never met her, but several of my party did and they all reported having good conversation and rapport with Julia. She even left a bottle of champagne to help celebrate my birthday!
---
Our host, Julia, was very welcoming. She was very friendly over email, and we were sorry to miss her during our stay. The home was beautiful and perfect for our wedding. The setting was intimate and perfect for a small gathering of about 30 family and friends. The house was a well-kept eclectic collection of antiques and charming details that made it feel very special. It was very spacious and fit everyone very comfortably. The home came with plenty of dishes, serving ware, etc. and it was nice to be out of the main stretch of tourist areas. It was close to the Volcanoes National Park, which was a fun excursion. The nearby black sand beach was beautiful as well. If you want to be out in the country and away from the hustle and bustle of Kona, this is a great spot. If you're looking for lots of restaurants and shops or upscale modern amenities, well, that isn't the point of coming here. We had a great time, and would highly recommend this place.
---
Blessed. The hospitality, cleanliness, honesty, and friendliness of our host and property was wonderful. My wife and I had the opportunity to get married on this property and we'd do it the same way all over again! We now have a fantastic suggestion for anyone who is seeking to do the same thing in Hawaii!
---
We rented the Pahala Plantation Home for our wedding vow renewals. Julia was helpful from the beginning. She answered all of my questions and gave us a tour prior to our event date so we were able to plan easier. She is so friendly and accommodating. She also helped us find someone to help out for our event. She went above and beyond to make our stay great.
---
Aloha, I am a newspaper and magazine editor who also restores historic homes in our village of Pahala. I host a daily news show online and educational workshops at Pahala Plantation House. I am also involved in a preservation movement to conserve the longest uninhabited coast in Hawai`i, which is along the seashore below our village.