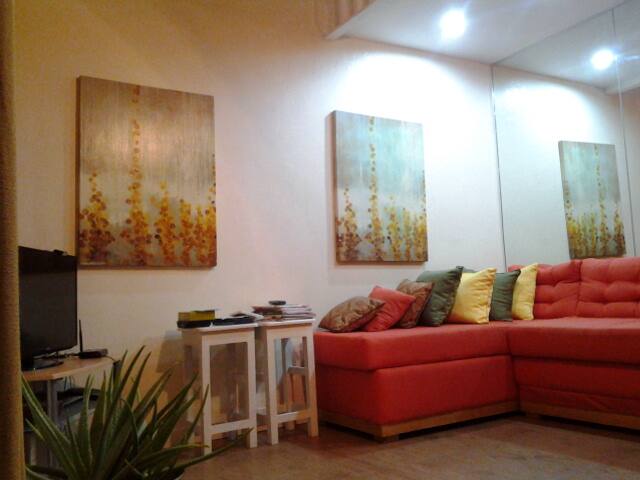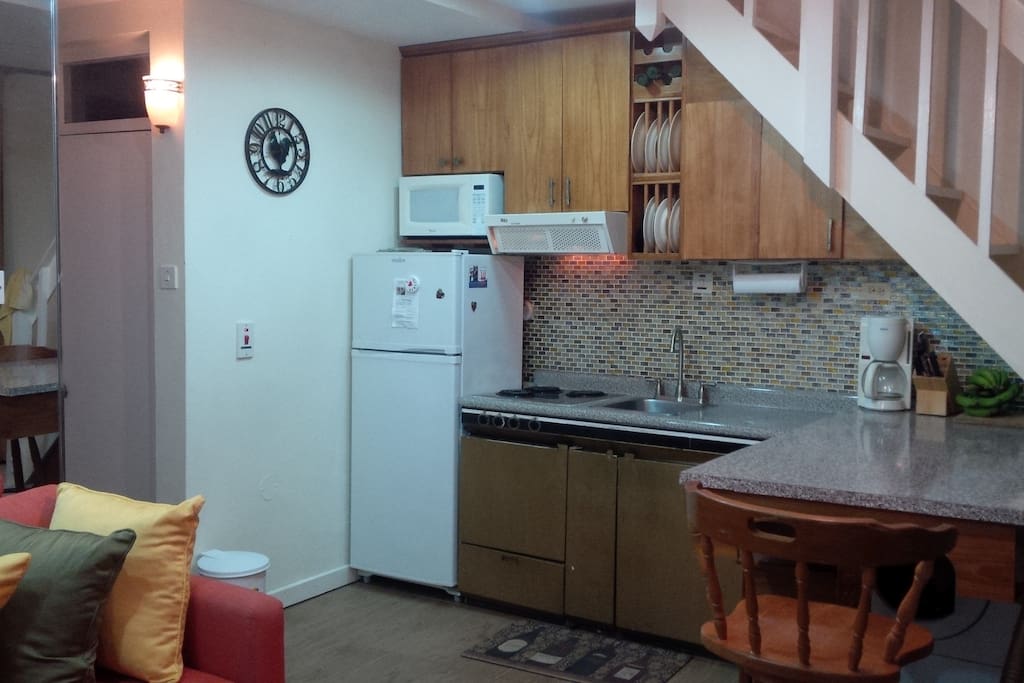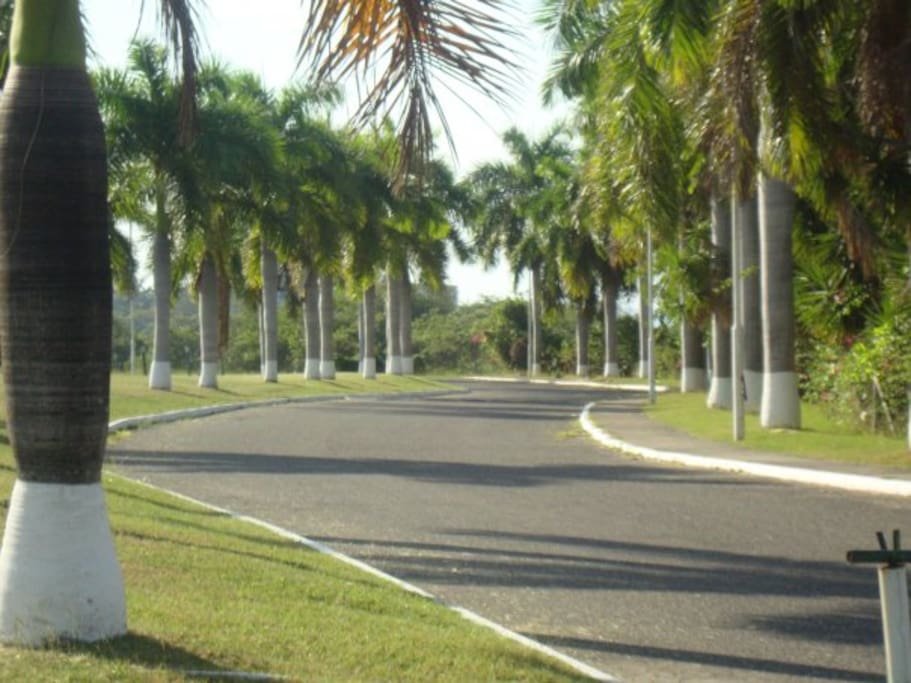 Loft apartment by-beach (studio) B
Really cute apartment in a quiet gated complex located on the North coast - access to beach, pool, beach grill entertainment on weekends. Modernized with loft; a.c. ceiling fan, Sofa bed in living room, bedroom in loft. Hot water, a.c., full kitchen.
房源
The property is nice - the exterior of the buildings are weathered (need painting) but there is a natural charm; the inside of this apartment is modern, very clean, and a nice breeze blow through the apartment. View to the pool with beach in the background. Take the steps from the pool to the beach, often frequented by windsurfers and local fishermen. Weekend beach entertainment.
Note: the bed is a double-size, and the loft ceiling is a bit low so tall persons over 5'10" may find it low.

房客使用权限
Beach, pool, small playground, pool bar, beach grill.
与房客的互动
Our hostess, Mitzie, lives on property and is available in the evenings and by phone/email.
其他注意事项
wifi is $7/day or $70/month.
We ask guests to turn off a.c. when you leave the apartment - this helps us to keep the rental price low by saving on electric (which is very expensive here).
BTW- - if you rent on a long-term rate (base rent + electric), note electric costs are $0.47/kwh, considerably higher than North american rates) but still a deal overall for long term renters (one month+).

---
---
---
---
Please report anything that breaks. Maintain the quiet - bring your parties to the beach ;-)
---
---
---
Such a pleasure once again. Easy, affordable and safe. Karen is a kind and pleasant host. Always accommodating. I had to switch units because the AC wouldn't work in the scheduled unit. Fortunately the option was available to switch and within hours we were in the A unit studio. I'm thinking I'll keep that one as my go to unit anyway. See you soon Jamaica!
---
I was not given the place I originally booked. I was told it was an upgrade but I was totally disappointed. The bathroom tub was full of mold and mildew, the toilet was totally disgusting inside and out and we were over ran with roaches from the day we got there till we left, horrible experience. The aircondition in the bedroom stopped working after the 1st night and it was not fixed by the time we left, we all had to sleep in the living room as it was 2 hot to sleep in the bedroom. The beach chairs that was available in the unit I originally booked never materialized in the " upgraded rental". I felt the taxi ride to the airport fee of $40us was excessive. The airport is maybe 15 maybe 20min from our accomodations I felt $40 was way more than was needed. We paid $40 to the driver on arrival but he stopped and allowed us to do some shopping so I felt he was worth the $40 fee and the $10 tip we provided
---
We stayed at Sea Castles for one week. The apartment was really nice, exactly like showing on pictures. Buildings are quite old and some things could be fixed, but if you not expecting Hilton quality, you´re fine. There was also a swimming pool, but the water wasn´t very clean. The beach was a small disappointment on the first day, lot of seaweed everywere on the beach and in the water, but high tide cleaned it up the next morning and I can say that the beach was great! If you want privacy, this place is perfect for you, almost all the time we had the beach just for ourselves. Karen was really helpful and when we had some problems, she helped us imediatelly.
---
If you are looking for a nice and simple place to stay, this is the place to be, has all the basics and more, private beach, pool, a tiny bar where you can get some drinks and a bit of local advice from the bar staff, just across the street and up the road are many little stores where you can find most of what ever you might need to cook or clean at a price way lower than the large grocery / super market. Its a lovely quiet place perfect for a minimalist like myself.
Thank you Erjon for your review. We were very happy to host you and would love yo do it again. Thank you for you personal feed back. We do respected it and will do all we can to make sure that you and all our guest enjoy the best quality stay that Seacastles. It is good to hear that you also enjoy shopping in the local shops.
---
Just got home from spending 2 weeks at sea castles. Beautiful view. The apartment was nice and just what we needed for our vacation. Although a little dated (which we were aware of before we booked) it was comfortable. Karen was great and helpful anytime we called her and even drove us to the airport after the driver wasn't available. (Thanks again for that!!) being able to have family and friend stop by and visit was the best part about staying at sea castles. the pool was great but newer lounge chairs would have been awesome. But having the bar so close you could easily forget about that part. Overall our vacation at Debra and Gladys apartment was great and we look forward to returning there the next time we're in Jamaica
Thank you again Tanya for sharing our home with us. We were quite confident that you would enjoy your self there. Karen is really a great hostess, and I am happy that she was there for you. I hear what you are saying about the lounge chair we try to replenish them as often as we can. It was a pleasure to host you and you your guest. We look forward to having you again. Gladys.
---
We are a mother and daughter team from Canada with Jamaican roots. We love to travel back and forth between Toronto and Montego Bay often for business and enjoyment. So we've purchased and remodeled a few apartments located on the North Coast! Looking forward to helping out any travelers visiting beautiful Jamaica - happy to give advice and recommendations!