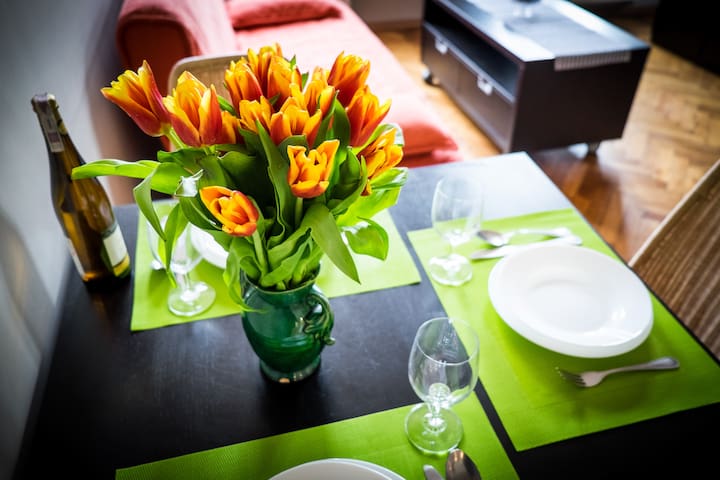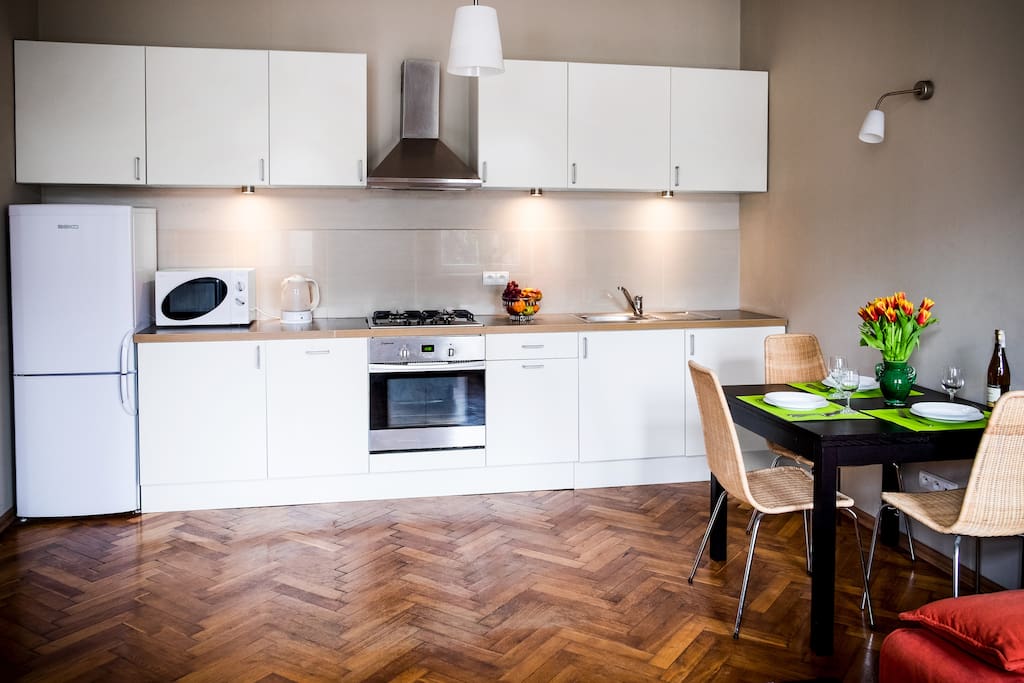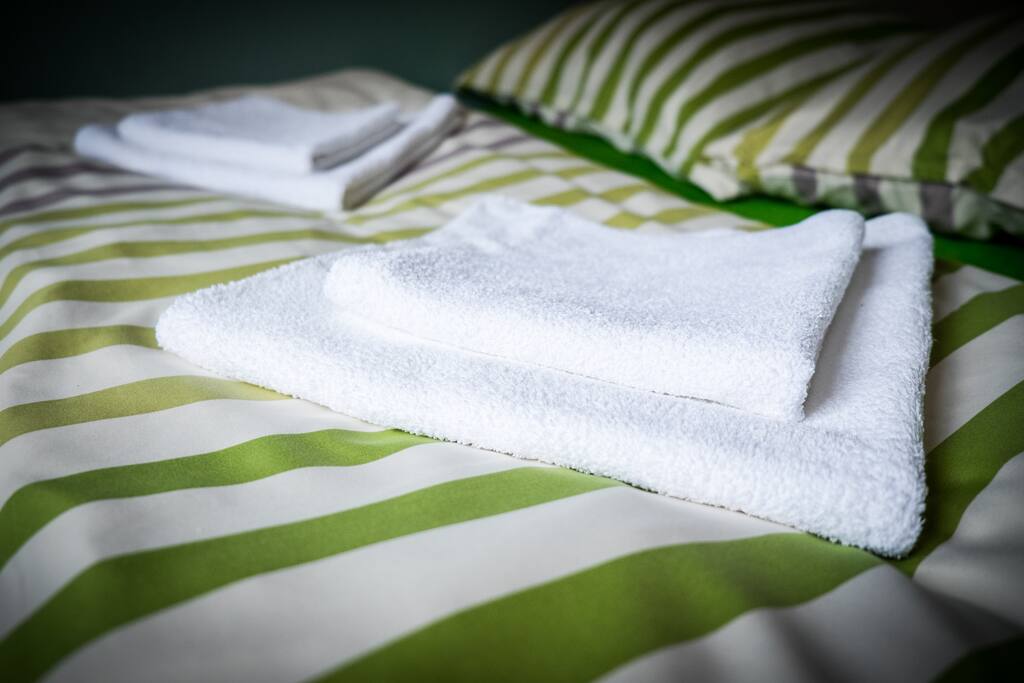 Komfortowy, dwupokojowy, klimatyzowany apartament z pięknym widokiem z okna, który znajduje się w samym sercu dzielnicy Kazimierz.
房源细节
Mieszkanie jest w bardzo atrakcyjnej lokalizacji. Sam środek Dzielnicy Kazimierz, przecznica od Placu Nowego które jest centrum życia nocnego Krakowa. Niezliczona ilość pubów i restauracji, a każda o niepowtarzalnym klimacie i ofercie zadowoli najbardziej wybrednych. Lokal znajduje się w odległości 10 minut spacerem do:
- Rynku Głównego,
- Zamku Królewskiego na Wawelu,
- Placu Bohaterów Getta (Dzielnica Podgórze),
- Bulwarów Wiślanych,
- Muzeum Inżynierii Miejskiej,
- Muzeum Etnograficznego,
- Galerii Kazimierz.
W najbliższej okolicy:
- liczne punkty gastronomiczne,
- puby,
- synagogi i muzea,
- parking strzeżony.
Do miejsc nieco bardziej oddalonych można z łatwością dotrzeć komunikacją miejską. W pobliżu 2 przystanki tramwajowe oraz 1przystanek autobusowy.
Oferujemy przytulne i wyposażone dwupokojowe mieszkanie o powierzchni 40 m2. Skład się ono z sypialni (1 łóżko dwuosobowe, szafa), dużego salonu wraz z kuchnią (meble, stół, zlew, kuchenka gazowa, czajnik elektryczny, lodówka, talerze, sztućce, okap), oraz łazienki (umywalka, suszarka, wc, wanna z prysznicem, pralka).
Ceny zawierają ręczniki, pościel, sprzątanie końcowe i wszystkie opłaty.
Zakaz palenia na terenie mieszkania.
最少住1晚
2017年12月29日 - 2018年1月02日期间最少住3晚
This apartment is really nice and in a great location, right in the Jewish Quarter, and a nice walk to the Old Town. Loads of authentic restaurants literally around the corner, with a huge variety of eating and drinking options. We also had the pleasure of shopping at a fabulous market in the Plac Nowy, which was nearby. The kitchen and bathroom were very clean. There are two huge futons in the living room, and one in the bedroom made to look like a bed. The one in the bedroom wasn't very comfortable for two people, but having the other futons gave us ample sleeping options. We really only slept in the apartment since there is so much to see in Krakow. We only spent two days in Krakow, so this apartment was ideal.
---
This is the only time I've ever regretted booking an Airbnb, and I've stayed in dozens of them. Just this trip, I stayed in 3 other Polish Airbnbs in this price range that were much nicer. In fact, one of them was the one I went to when I gave up on this place and paid for a second Aibnb for my last night. I know it looks lovely in the photos, but don't let them fool you. The worst part is the bed. It's a futon, with an incredibly uncomfortable cover pulled over it. I had to specifically ask for a sheet - the first night, I made do with the scratchy cover and duvet. (I'm not sure how - you really don't want that thing on your bare skin.) The apartment was in abominable condition. The carpet was badly stained and the curtains were in tatters. The walls are thoroughly scuffed up, as if dozens of people had moved in and out without ever repainting the unit in-between. The key and the hallway light switch only work with the correct amount of finesse and fairy dust. Spending 2 minutes fidgeting with the key is the last thing I want to do when I'm coming or going from my vacation rental. I asked before booking if the apartment was stocked with bathroom essentials like shampoo. I was told that there wasn't specifically shampoo, but there was soap. When I arrived, there was a single 20mL bottle of hotel body soap and a bar of hand soap. I had booked 4 nights. When I asked if there was any more body soap, she brought a second microbottle. I ended up buying body soap (and drinking water) at the market so I wouldn't have to think about rationing 40mL over 4 days. The shower head is much too low, and there was no hot water at all one morning. To her credit, Joanna sent her husband within the hour to restore it, and thankfully the hot water heater kicked in immediately after he fixed it. Similarly, the WiFi network she gave me originally was unusable, but she game me another SSID that worked (albeit slowly) when I complained. I appreciated her prompt responses, but they don't make up for the disappointment I had with the rest of my stay. I've come to realize there are two types of Airbnb hosts: those who "host" their guests in the truest sense of the term - making them feel at home in a faraway land, and those who do it because they think it's easy money. Joanna is unfortunately the latter - buying up a bunch of units and doing the minimum necessary to make them habitable. I understand that some things (like the construction noises I woke up to the first morning) are outside the host's control, and I'm generally pretty forgiving about them. However, when I feel like I'm being taken advantage of, I get a lot more sensitive to them. There...
---
This was one of the best equipped apartments I have stayed in. It was so comfortable, with all the cooking equipment I might need, iron, hair dryer, fresh towels, cleaning products, washer, etc. That might seem like a given but many places I have stayed in my travels come with surprise gaps in everyday life conveniences. The apartment is also really well located for grocery shopping, great restaurants, and transportation. Joanna, the host, was very helpful and responsive. I could not have been happier with my stay.
---