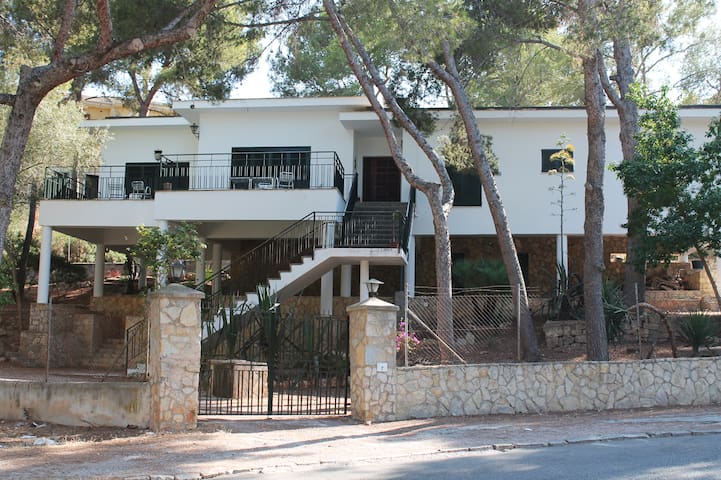 White House in Mallorca - Magaluf
House with 240 meters, 4 bedrooms, 2 toilets, 8 beds and many space in living room with solarium and big terrace. Big garden too for some barbacue
NEW; table tennis; Party Area
房源
Awesome ubication close to party BCM the biggest party saloon, Nikki beach emblematic and exclusive place for enjoy and Wave house perfect for surfing and have fun
---
La casa è molto ampia e ben arredata, si può raggiungere la via principale di Magaluf in meno di 10 minuti di camminata. Il proprietario è molto disponibile e attento alle esigenze dei clienti, abbiamo avuto un piccolissimo problema con i condizionatori che Jaime ha risolto in tempo record. Pienamente soddisfatto
---
Siamo stati a Magaluf per il viaggio di maturità e ci siamo trovati più che bene nella casa. La casa è accogliente, spaziosa e comoda e il proprietario è molto attento alle esigenze del cliente. La posizione è ottima: vicina al centro e alla spiaggia, ma abbastanza lontana dalla confusione di chi festeggia tutta la notte.
---
Jaime is a great host, he welcomed us with beers upon arrival and was always available if we needed anything. The house is lovely and perfect for our mixed group of young people. It is extremely spacious and it was handy having so many bathrooms for our large group. Although one bathroom door was broken by previous guests - Jaime clearly outlined this to us upon arrival and it didn't affect our stay. We were surprised at how close it was to all amenities, it was only a 5 minute walk to the beach with a nice scenic walk to the strip. We all loved our stay, thanks so much Jaime!
---
First of all, Jamie is a gentle and easily available host. He answers quickly and does his best to fix or respond to problems. He bought us some groceries to compensate for some inconveniences. The house is well located. Therefore the house is equipped yes, but not very well for a group. Number of glasses limited just for example, different sizes, not washed, the coffee pot is an old Italian one, does not fit the number; lack of casseroles and pans. Many things didn't work: dishwasher (even if not noted in the description), air conditioning in one room, all the others had their remote that required a change of batteries. Lock missing on a exterior door. Lights in a room. There is a TV yes, but not connected to anything but an old ps2 with no game or dvd. Internet is optional and expensive, description not clear. The plumbing is not efficient. If there hadn't been any problems, we would have never seen the host (keys under the mat all times) Perhaps our standards were too high... I would recommend this house for the youngs to party, only to sleep and picnic.
Thanks Nicolas for your comments,I have take notes and i will improve the requirements that you mention for get better level. Change the things that are not working, we will create a guide with all descriptions about the lock for example. Really apologies about the kitchenware suddenly teh dishwasher stops to work and all stuff wasnt clean. we take your notes! Thanks
---