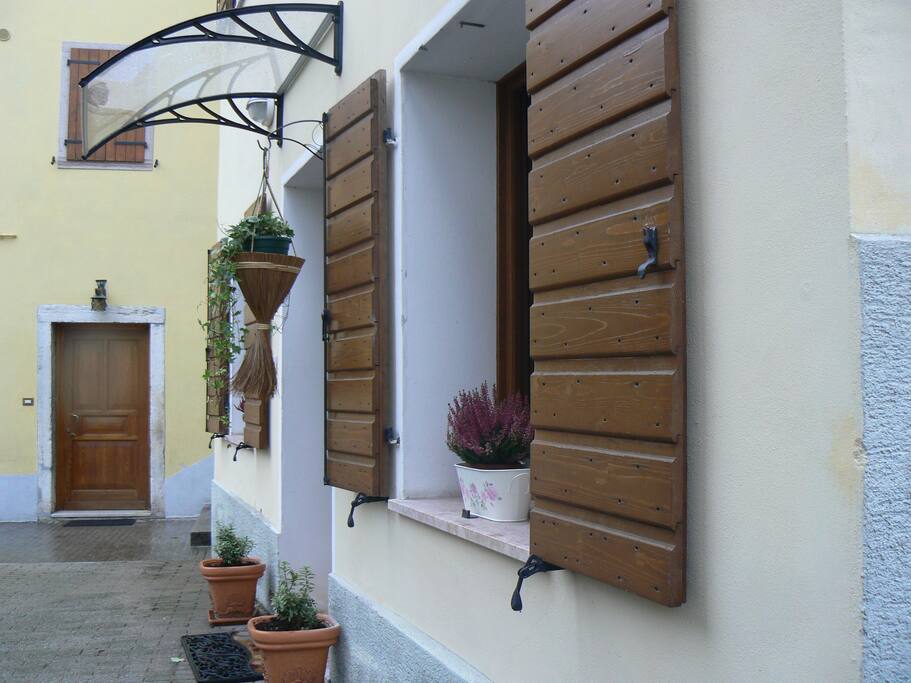 Casetta next to the creek
Dans le centre de Belluno mais près d'un torrent, c'est un bon lieu parmi les Dolomites UNESCO, la mer et les villes d'art de la Venetie. Au rez-de-chaussée, avec une place pour le petit déjeuner en plein air, dans le vert, près du torrent Ardo, à 2
房源
Jolie maisonnette dans un parc naturel, près d'un petit torrent, très proche du centre historique de la ville de Belluno, elle a un canapé-lit à deux places, 1 lit à une place dans une autre salle, 1 lit à une place caché sous l'autre. La cuisine est bien équipée avec 1 four microonde, 1 machine à laver, 1 télé, victuailles (assiettes, verres, casseroles, marmites …). A' l'extérieur vous avez une petite table avec des chaises pour le déjeuner en plein air. Une place pour la voiture. C'est un endroit privilégié pour vos excursions dans les Dolomites, dans le parc national des Dolomites de Belluno, pour les villes d'art de la région Veneto, 1 heure de voiture de Venise. Lorenzo e Loriana pourront vous donner des conseils à propos des excursions en montagne ou dans les villes. Vous trouverez des cartes et des dépliants utiles.
房客使用权限
Très facile à rejoindre, idéal pour une couple ou une famille avec deux enfants. Endroit tranquille pour tous ceux qui désirent se relaxer dans le parc naturel et au même temps être très proche du centre de la ville de Belluno (10' à pieds). La maisonnette est au rez-de chaussée, l'entrée est autonome.
---
Vicinissimo al centro, molto ospitale! Perfetto per un soggiorno a Belluno o per visitare gli splendidi luoghi vicino
---
My host very kindly collected us from the train station and took us back there on our last day in Belluno. Really helps to orientate yourself when arriving somewhere new - it's like having long lost relatives! The place is small but brilliantly equipped if you need cooking gear, maps, info etc. Wifi worked really well. Tourist Information in town is only open on Saturday mornings which is a shame. We discovered the museum of Immigration, near the train station - small but really interesting to connect with the ancestors of this area. Really friendly staff too. Belluno is a lovely small city to wander in, with several historic self guided walking tours you can do. In October it was fairly quiet and some cafes were closed - perhaps only open at weekends. It appears to be a great place to catch a bus onwards to the mountains. Nevegale is a possible day trip from here - just 16k out of Belluno. With kids we managed to entertain ourselves by walking and picnicking by the river.
---
Sono un insegnate di lingua francese, insegno ora in una scuola superiore, per molti anni ho insegnato in una scuola media, a Longarone, proprio sotto la famosa e omonima diga. Dirigo un centro linguistico a Ponte nelle Alpi, insieme ad altre colleghe/amiche. Mi piace la natura, stare con glia altri, conoscere nuove culture, naturalmente viaggiare per capire di più del mondo. Abito a 6 km dalla casetta di Fol, la curo nei particolari, anche se piccola è graziosa, con uno spazio esterno. Mi piace leggere, lavora nel sociale come volontaria. Le cose fatte con le mani sono la mia passione, ma ho poco tempo da dedicare a lavori come la ceramica, la pittura, le decorazioni in generale. Mi piace anche cucinare anche se Lorenzo mio marito è più bravo di me. Adoro la cucina regionale di tutti i paesi, ma non le cose troppo strane a base di carne. Senza la natura, l'aria aperta e le passeggiate non posso stare, così pure senza frutta e verdura ed anche un po' di cioccolato fondente, la mia debolezza, non solo la mia ... Lorenzo adora il cioccolato come me, ma molto, molto altro! Quando viaggiamo lo facciamo a volte con zaino in spalla e poche cose, abbiamo un camper e ci è sempre piaciuto questo stile di vita e di viaggio. In casa nostra abbiamo spesso accolto giovani e non, le nostre porte sono aperte anche per un barbecue in giardino o un pasta in casa. Le cose di casa se possiamo ce la facciamo noi, dal giardino a qualche mobile e perfino uno strumento musicale, Lorenzo ha costruito da un pezzo di legno un basso acustico che funziona! Abbiamo un gatto che adoriamo, siamo in attesa di un cucciolo di Golden Retriver.
语言:
English、Français、Italiano