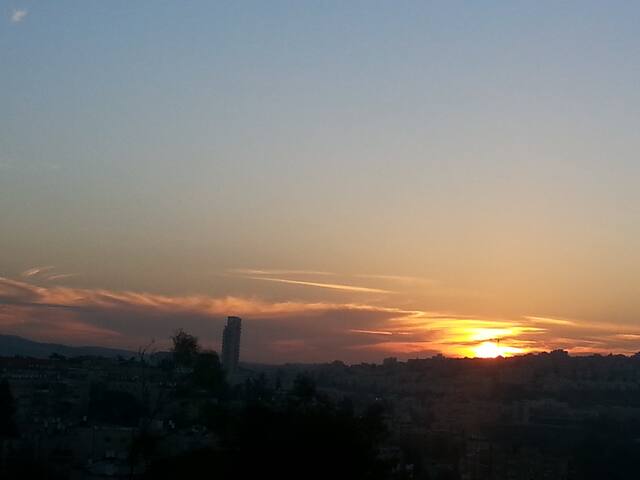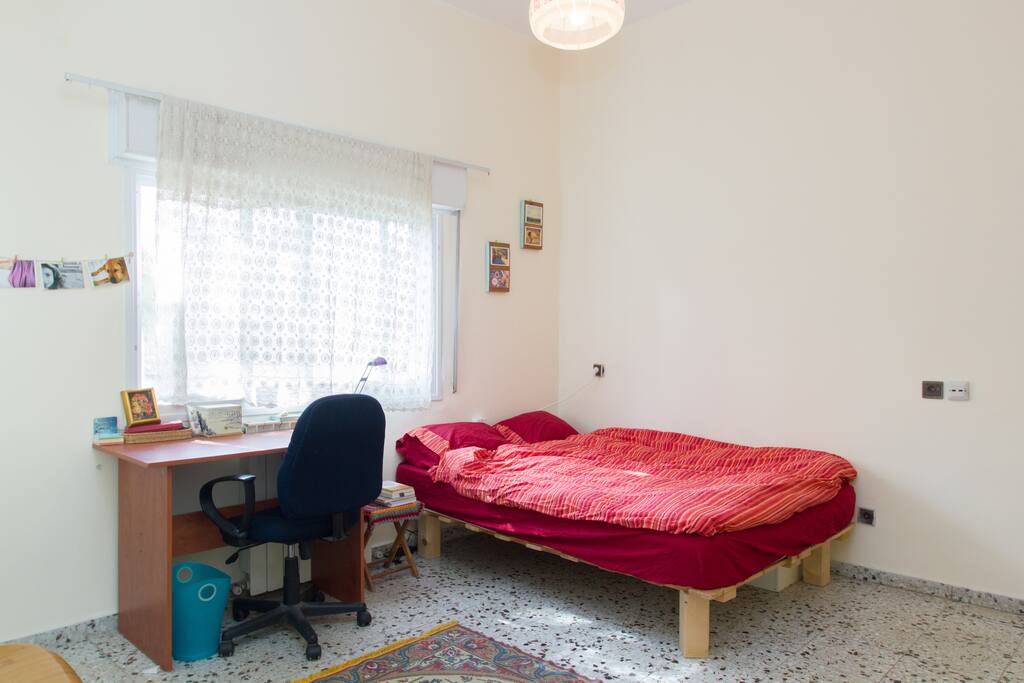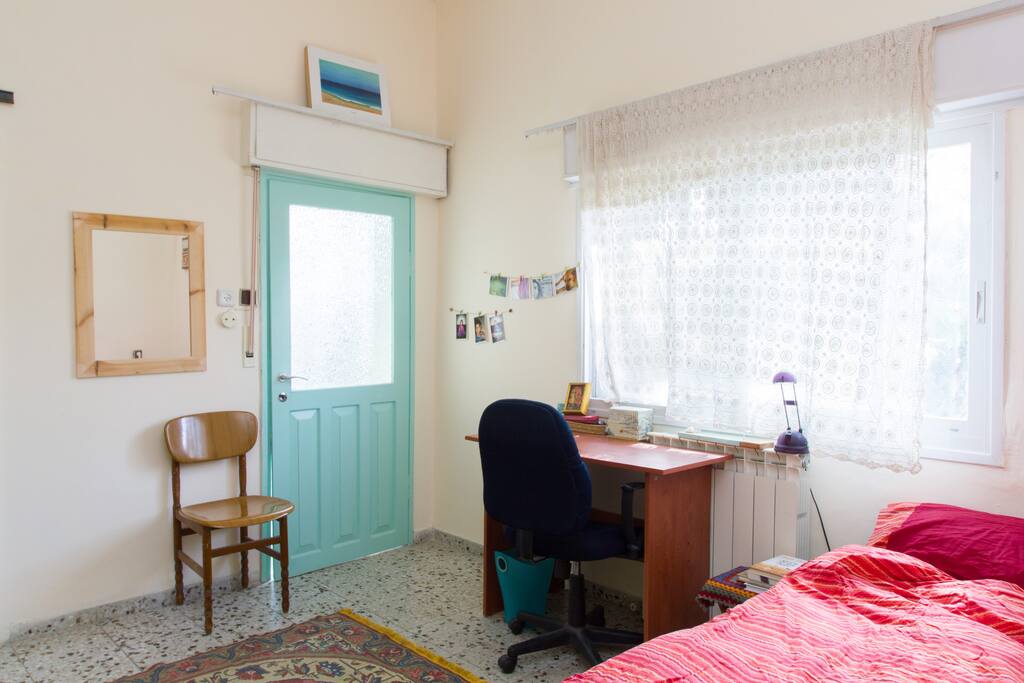 Our unique house is in a peaceful and beautiful neighborhood and built of original Jerusalem stones. with an exit to a porch and a roof. From the top of the roof u can see Jerusalem with the sunset combination:) close to the center of the city!
房源
Our home can surprise you over and over again.
First the great location, right in the corner of two main streets, in a young environment, with many coffee shops, banks and super market.
so you can reach all you need by walking;
5 minutes from bus station, or the neighborhood grocery, 15-20 min' from machne Yehuda market/city center, and 20-30 min' from the old city!
second, the house! with gorges ( I loved them!) and authentic stairs, that leads you all the way around and up the building. It includes a spacious fully equipped kitchen, with toaster oven, gas stove and a fridge, and of course an exit to the balcony and up to the roof top!
You have the chance to sublet my big and cozy room while I'm away:)
(the option is available only for women!!! on summer time for few days or more)
其他注意事项
I live with two wonderful room mates.
the option is available only for women!!!
on summer time for few days or more.
---
Shani is an amazing host! I highly recommend going to her place. The place has amazing views of Jerusalem and it is a walking distance of the Old City. Shani was checking that everything was OK with me and her communication and tips were excellent. I am very happy that I was able to stay at her home!
---
Shani was very kind and helpful just as her roommates have been. The room has a good size, there's a beautiful view over Jerusalem from the rooftop of that building. The area where the apartment is located is great too with a lot of nice pubs and bars around. It only a 15 minute walking distance to the old city. I had a great stay at Shani's place and, if you have the opportunity, I highly recommend staying at her place!
---
Shani hat mir zu allererst einen Überblick über die Gegend und die Busverbindungen verschafft. Über den gesamten Zeitraum meines Aufenthalts bei ihr hat sie mir geholfen, mich in Jerusalem zu orientieren. Das Zimmer und die Dachterrasse waren super. Die Wohnung ist toll gelegen, man ist gleich an der Azza Street mit vielen Busverbindungen und sehr schönen Cafés und Bars. Die Altstadt ist in Spaziernähe (20 min). Trotzdem liegt die Wohnung ruhig. Vor allem aber ist Shani eine tolle und liebenswerte Person! Ich wurde gleich von ihr und ihrer Mitbewohnerin zu einem Konzert mitgenommen und hatte dort einen sehr schönen Abend. Vielen Dank, Shani, für dieses tolle Jerusalem-Erlebnis!
---
Biggest apartment with the cutest host!! It just happened that I had the apartment to myself during Sukot holiday, and then met one of her roommate on my last day and wished I lived with them both the whole time as they are very cool people!! The apartment is exactly as described, with a beautiful view on the city from the rooftop that gave me awesome pictures during the sunset to show friends/family! And although Shani was not there during my stay, let me tell you she was still present all the way through! First, she stayed with me quite a bit the first night (even helped me with a complicated arrival as well, her and her sweet neighbour!) and I just clicked with her instantly. She helps people as a job, and you can see that it is something she will genuinely do with you as well. She offered me absolutely everything that was there, and even cake she baked which was delicious!! She then texted me everyday to see how I was doing with the apartment, and came again the last night I was there and we just chatted some more as she is a super interesting and kind girl :) She will also tell you where the cheapest markets are, and will just attend any of your inquiries really. I was very lucky to stay there, and just walked to the old city everyday which is literally 20 minutes away walking. Great location to visit the city! I will pass by Jerusalem again and do hope to stay at the same place just because it was such a smooth and pleasant experience with Shani, and do recommend the apartment to anyone!!
---
Shani was the most patient and kind host I could have asked for, going out of her way to accommodate my various travel disasters (including staying up till midnight the first night to show me around the apartment), and also giving me so many tips for places to go in Jerusalem that I would enjoy. The room was spacious and light, in a beautiful area. I walked everywhere in Jerusalem from the apartment.
---
Shani was amazing! I am so happy to have met her--I wish that we would have had more time to spend together, but I think we will be friends for life :) The apartments was in a beautiful location, the view was stunning, everything was pristinely clean and comfortable. I had the best time and absolutely recommend staying there. It was an easy walk to the old city, or a short bus ride. Also, everything you need is near--pharmacy, markets, ATM, coffee restaurants, everything! My only regret is that I didn't have more time to spend there. If you are going to Jerusalem, you must stay here! Shani will take care of you!
---