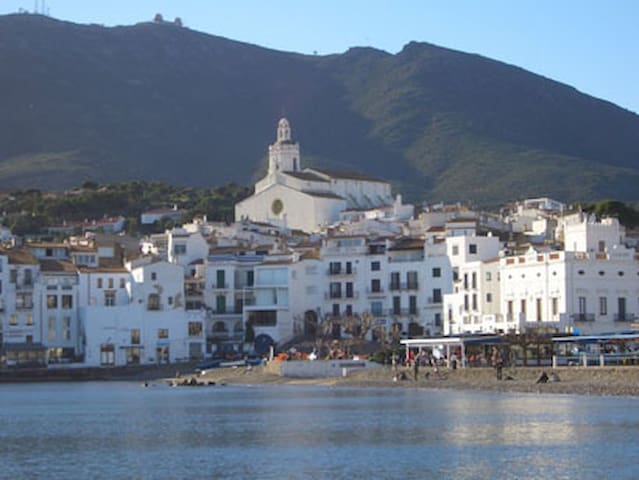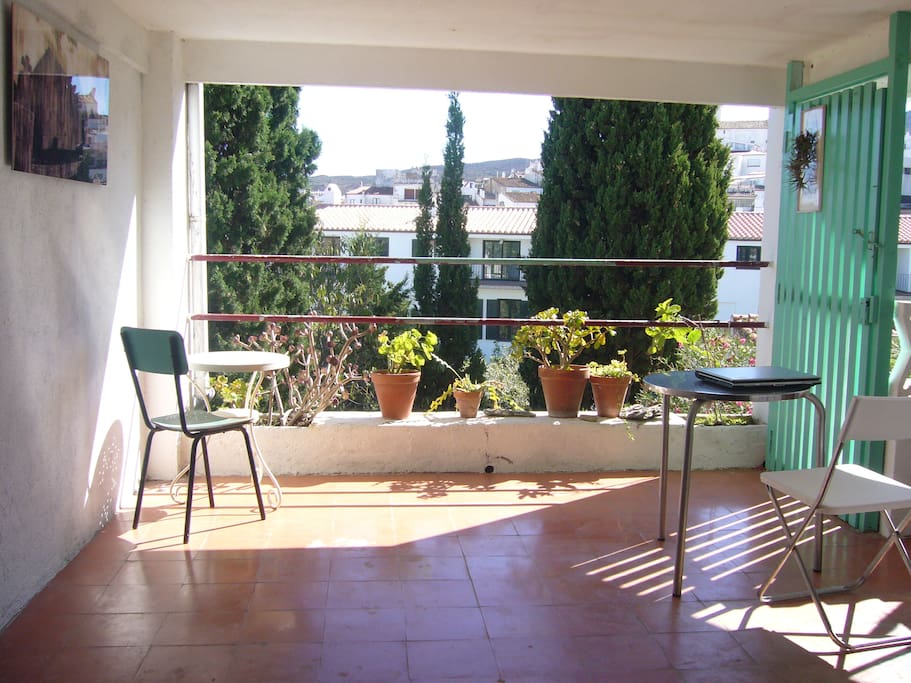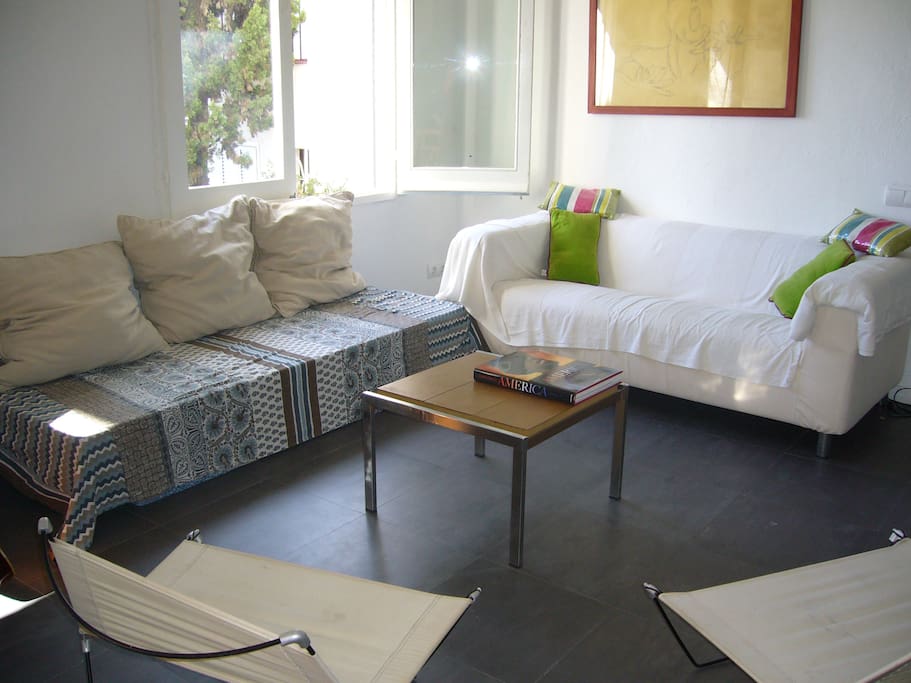 房源
迷人的公寓位于Costa Brava最美丽的村庄Cadaqués中心。设备齐全的客房设有带顶棚露台的阁楼,享有老城区的景色。你甚至可以看到一点地中海!公寓很小,这是真的。一个大的空间,60平方米。但它是如此美丽!露台被覆盖,俯瞰着一个私人花园。 位于市中心,您可以步行到着名的Cadaqués海滩,可爱的餐厅,非常好的精品店和艺术画廊。公寓是一个完美的撤退,只是放松或完成你正在写的小说,或者想想未来的项目。 Cadaqués靠近Port Leligat,超现实主义画家达利居住。来自世界各地的艺术家仍然描绘了Cadaqués的日常生活,Racksack游客与奢侈旅客相遇,每个人都会在海边迷人的酒吧享用早晨的咖啡。星期一有一个市场,你可以得到一切,有一些事件,例如艺术家和古董市场,你可以预订 - 不是! 距离瑞安航空机场有一个小时的路程,您可以在两个小时内抵达巴塞罗那,与佩皮尼昂(Perpignan)相同。
Charming apartment in the heart of Cadaqués, the most beautiful village at the Costa Brava. Fully furnished, it is a loft with a covered terrace and views over the old town. You can even see a bit of the Mediterranean! The apartment is small, that's true. One big space, 60 sqm. But it is so beautiful! The terrace is covered and looks over a private garden.
Located in the center of town, you are in walking distance to the very famous Cadaqués beaches, lovely restaurants, very nice boutiques and art galleries. The apartment is a perfect retreat to just relax or finish the novel you are writing right now, or to think about future projects.
Cadaqués is near to Port Lligat, where surrealistic painter Dalí lived. Artists from around the world still characterize the daily life in Cadaqués, where Rucksack tourists meet luxury travellers and everyone goes to have the morning coffee at one of the charming bars at the seaside. On Mondays there is a market where you can get everything, and there are little events as for instance artist and antiques-markets you can book - or not!
A Ryanair-Airport is an hour away, you reach Barcelona in two hours, the same as Perpignan.
---
---
---
The house rules are very simple: It's just common sense! I love my small apartment, and it's important to me that everybody who goes there feels well and takes care as I would. Check in and check out are flexible, depending on if there is somebody else coming the check out day.
---
---
This apartment is lovely and could not be in a better location. It's a quick walk down to the water and all of the restaurants and shops, yet the street it's on is quiet and peaceful. The place was very comfortable and clean, and we spent a lot of time out on the beautiful terrace. Barbara was very easy to communicate with although it was her friend who helped us check in, who was nice as well. This was a perfect place to stay for us and we would definitely stay here again.
---
The apartment is located so that it is a quick walk down to the water, shops, and restaurants. The person looking after the apartment was easy to communicate with and meet for directions and the key. The kitchen is spacious and modern but can use some overhead light as the apartment is lower level. The bed is small and not comfortable and really needs to be replaced.
---
Overall, we had a lovely stay in Cadaques, it is a place we come every year and love! About the house, I guess you get what you pay, which it is "fair" but in the low side. Yes, the house is fairly big, bigger than I expected, the kitchen and bathroom fairly new, I love the big window that opens entirely to a good size balcony/terrace. It is located in sort of a quiet neighbourhood, besides some of the noise coming form people walking by or cars driving by which may wake you up… It is very bright! And the sun doesn't hit directly which it is good so you don't feel too too hot, although is good to have the windows open and the shutters down at all the time to make sure you get some freshness as there's no aircon in the place. The house is very well located! Easy to get around to shops, restaurants, town centre,… there's no parking in the house or in the same street, so you need to find your way round. We were lucky and found parking everyday quite close to the house because we know the village quite well, but if you don't, make sure you get familiar with the area beforehand. Here the downsides of the place under my standards: It didn't feel clean enough, smells of a closed place (especially those cabinets in the kitchen), there are cobwebss everywhere in the house and terrace, the wardrobe is not big enough, even if it is only for a week's holiday for a couple or 2 good friends sharing the same bed, where are you suppose to put all your stuff? and also hang all your clothes in it when there's not enough hangers…? The washing machine is a bit broken and loses water when used,… the shower head is broken and fixed by someone's hairband… (and keeps loosing water and pressure from the other end)… So to cut the story short, I do agree with a lot of the other guests comments that this apartment is not very well looked after. True that I started by saying the price is "fair" but to be honest, I think there are things like the cleanness, cobwebs or broken things that should have been sorted out before anyone staying in the house! Also, communication was quite terrible! I had to chase twice the owner Barbara to get answers,… I sent a long e-mail to Kixe, the girl whom she said I should contact and never heard back from her, only my texts with a simply, ok… yes… I will be there… She welcomed us in the house arriving 10-15min late and even telling her our arrival time, with the house smelling of closure and with some drying clothes in the rag! (not the best start to be honest)
Dear Eudald, thank you so much for your detailed description. And I am really glad that you had a lovely time even with this large list of complaints. I will only answer to some of them: I think for Cadaqués on holidays you can't really criticise that Kixe arrived 10-15 minutes late. Very often, she is the one who has to wait for the guests. Any smell in my apartment goes away ten minutes after you open the windows. For my small apartment, I did not want to waste more space for a wardrobe. And the broken shower head is a problem you could/should have told me directly. Last thing: I have answered to all of your Mails, but if you ask me questions weeks before your trip I understand that it does not have to be answered immediately. I mean, this is not a hotel with a 24hrs open reception. Thanks a lot, best wishes, Barbara
---
The house rules are very simple: It's just common sense! I love my small apartment, and it's important to me that everybody who goes there feels well and takes care as I would