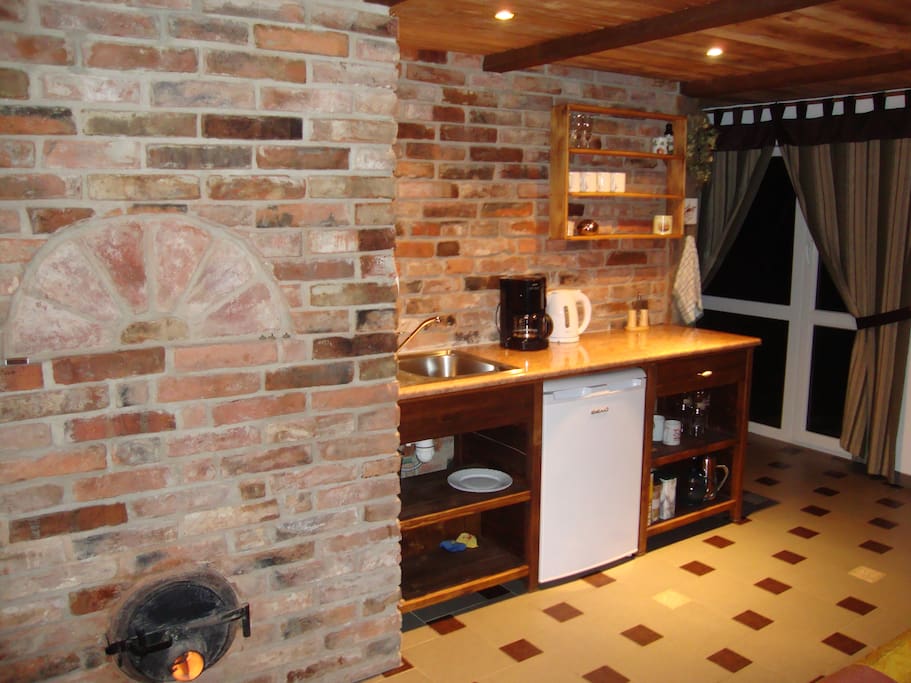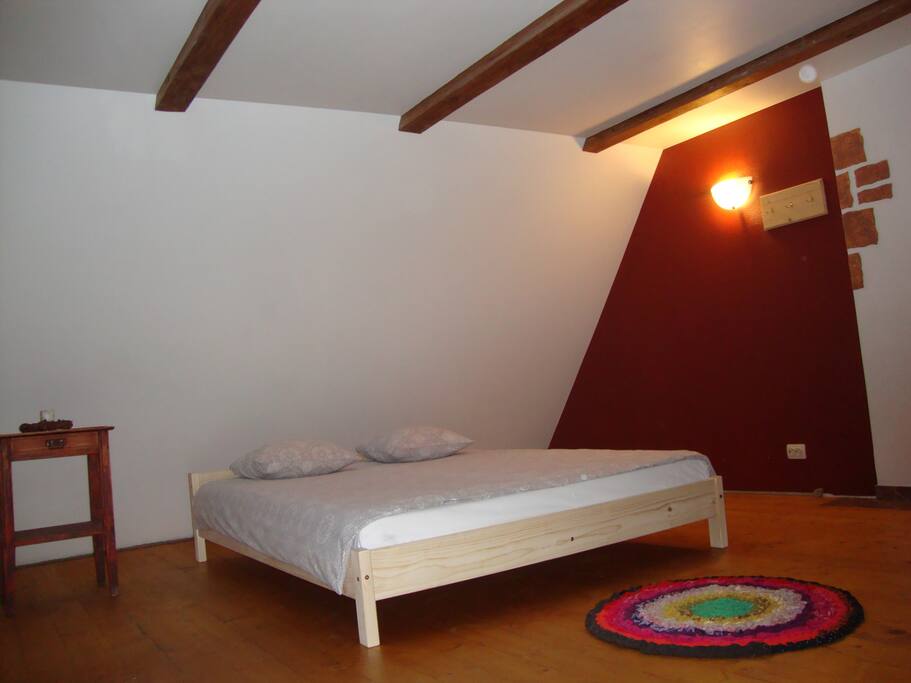 房源
Welcome to Stork Nest!
You are most welcome all year round at cosy holiday house "Stārķu Ligzda" near Latvia's largest colony of white storks, located in North Vidzeme Biosphere reserve.
Great for couples, families or small groups.

In holiday house:
- room with fireplace
- kitchen facilities
- wc/shower
- 1 double room, 1 triple room + 7 additional sleeping places on mattresses
- sauna

Large area for exploring nature, camp fire, places for tents and outdoor activities.
Meals can be organized upon your request.
Bicycles and animals welcome.
NEW - wood fired hot tub!!!

Attractions:
You are welcome to relax and explore nature in North Vidzeme Biosphere reserve, rejuvenate in sauna, taste home-smoked fish from Burtnieku lake, watch birds, animals, beavers, cook on fire and overnight in a tent, watch storks (in season), participate in farm works.

We can organize trips to nearby attractions (extra charge):
Studfarm Burtnieki and museum of horse-breeding
Vīsraga nature trail - he 2,7 km long nature and cultural history trail heralds the history of Burtnieki manor and park, it takes you to the bird observation tower in the flood land meadows of Lake Burtnieks.
Skaņākalna nature park in Mazsalaca - marked nature trails, caves, rocks, picturesque views.
Rūjienas ice-cream from natural ingredients. How is ice-cream made? Ice-cream tasting.
Adzelvieši - growing hemp, making hemp butter. Exhibition of ancient hemp processing instruments. Visitors can purchase and taste the hemp butter and help to produce it.
Ķoņu mill - milling grain and spinning wool on more than 100 years old machines
Valmiermuižas brewery - site tour, degustation of beer.
...and more :)

Easy to find/reach - just off the main road (Valmiera - Mazsalaca), 32km from Valmiera.
You can take a bus from Riga right to the bus stop Šķiņķi (Skinki) for 3.80LVL, 3h 20min. Bus leaves Riga bus station at 12:30 and 15:05 every day.
---
---
---
Some rules to follow while staying at "Stārķa Ligzda":
All guests of "Stārķa Ligzda" should not take any action that could endanger his/her or any other guests' life or health.
About safety in sauna:
• Every visitor of sauna is responsible for his/her own health condition.
• Be aware that floor tiling in changing room, shower and sauna will be wet and slippery – be careful and do not rush.
• Before and after visiting sauna take a shower.
• If you do not feel well, come out of the sauna immediately.
• It is forbidden to visit sauna for those who are drunk or have taken drugs.
• It is forbidden to take any fragile items in to the zone of sauna.
• It is forbidden for anyone, who has any skin diseases, to visit sauna.
• Do not touch sauna stove, chimney, rocks as they are very hot!

Strictly forbidden:
1. To smoke inside premises or use any open flame (candles, matches etc.)
2. To put unsuitable material in stove or fire place (plastic, metal etc.)

Be careful on stairs! They are steep and slippery.
Please do obey rules of public policy after 23:00 – do not scream, whistle or play loud music outside the premisses.
If during your stay accures any damage to interior, building or inventory, it will be covered by person renting.

We encourage you to enjoy your stay while respecting surrounding nature, environment and people.
"Stārķa Ligzda" is not responsible for losses, accidents, trauma or any situation which is caused by inattention of visitor or disregarding rules above.
BE AWARE – YOU ARE RESPONSIBLE FOR YOURS AND OTHER GUESTS SAFETY AND HEALTH WHILE STAYING AT Stārķa Ligzda!
ENJOY YOUR STAY!

---
---
---
---