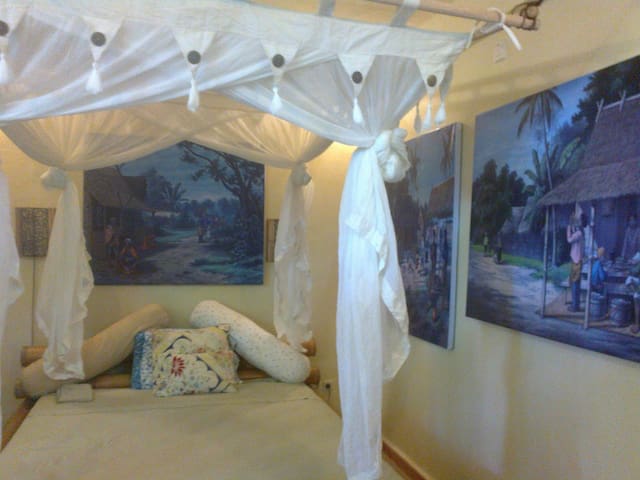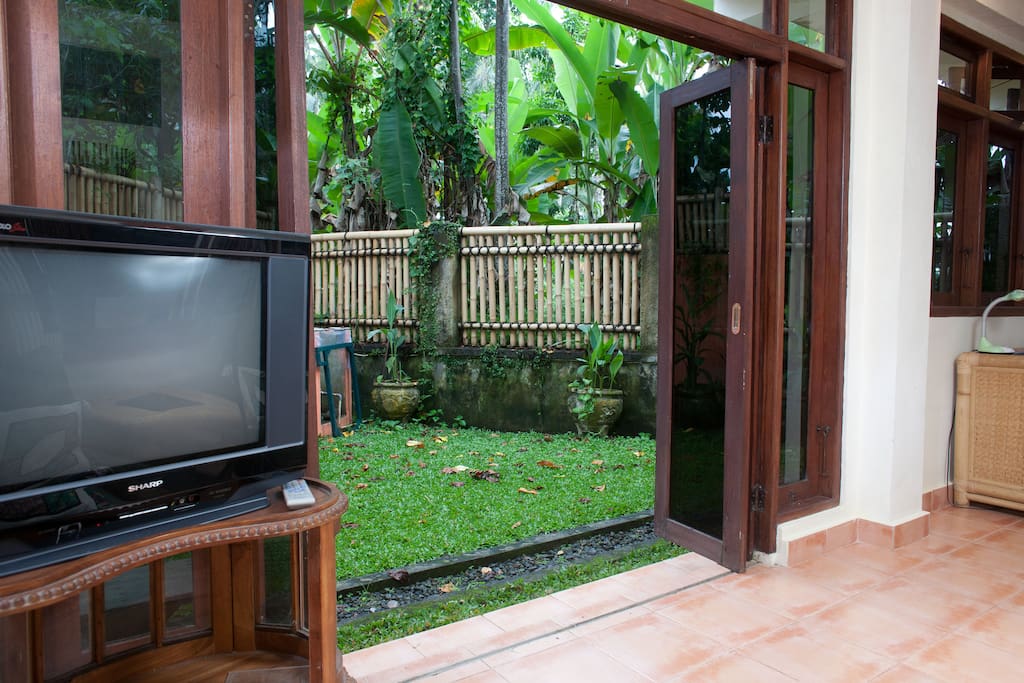 Space to Breathe & Relax Ubud, BALI
"An Introvert's Paradise". A relaxed, light-filled studio apartment with kitchen, comfortable double bed and private tropical garden. Delicious breakfast. Tucked away in Balinese village. Close to Ubud but away from the bustle (ten minutes drive).
房源
A comfortable, furnished apartment with a comfortable double bed.
This is the lower level of two completely self-contained Western-style apartments, tucked away in a traditional Balinese village and surrounded by lush tropical gardens.
You will have a well equipped kitchen and bathroom, light-filled, small casual living area with bi-fold doors onto your own private lawn. (We can bring in a single mattress for an extra charge, but it could be crowded after more than a few days.)
Apart from whispering breezes through the palm trees, you will only hear the sound of musicians, who occasionally practice their traditional instruments in the nearby Balinese temple.
HOW OUR PLACE WORKS:
Ibu Jen - a semi-permanent Australian guest in the upstairs home - or one of her ex-pat friends is always available to make sure everything is ok.
There's a good and inexpensive laundry 100 meters away.
We have good wifi connection (if you need super-speed for work, we can increase it for one month; you will pay an additional $30-45 for the month you are here).
Home-cooked dinner often available when Jen is in Bali; ask her in the morning if you'd like a home cooked meal that night. If not, there's several great cafes that will home deliver FOC!
RENT INCLUDES: Breakfast, cleaner 2 mornings/ week, gardener.
DRIVER: This is not included in the rental price, but we are VERY happy to arrange transport for you. Read below for more details.
房客使用权限
You will have access to your own private, well equipped kitchen and bathroom, a light-filled, small casual living area with bi-fold doors onto your own private lawn.
Your breakfast can be served downstairs in your apartment, or you are welcome to join Jen and any other guests upstairs.

与房客的互动
Ibu Jen has lived in this village for eight years and been visiting Bali for more than 20, so she is also happy to share her experiences and suggestions with you.
You'll find everything a lot easier after a simple chat over cofffee, after you arrive. Often when Jen is at home and there are several guests (full house is 7 including an apartment downstairs) Jen will cook waffles or French crepes and invite everyone for breakfast. But it's all really flexible and no-one is obliged to be social over breakfast - some simply want to do their own thing.
Sometimes, we'll get together for dinner. A home-cooked three course dinner - a delicious mix of Asian and international cuisine - can be pre-ordered in the morning, if Jen is in town ($20/ head). Many guests arrange this for their first or last night in town - one night we had ten for dinner including 2 locals, and only 2 were from the same country - other times, it's just a quiet 2-3 people.
Either way, it's a delicous, relaxing, fun evening.
Jen is a night owl and is often out dancing or listening to music or theatre. She'll let you know what's happening and you may be invited to go with her - on the back of her motor scooter!

Home-cooked three course dinner - a delicious mix of Asian and international cuisine - can be pre-ordered in the morning, if Jen is in town ($20/ head). Many guests arrange this for their first or last night in town - one night we had ten for dinner including 2 locals, and only 2 were from the same country - other times, it's just a quiet 2-3 people. Either way, it's a delicous, relaxing, fun evening.
"CONCIERGE SERVICE": If you'd like her professional help to arrange your schedule completely and make all your bookings, we will charge a reasonable concierge fee for that service.
Home-cooked dinner - a delicious mix of Asian and international cuisine - can be pre-ordered in the morning, if Jen is in town. Many guests arrange this for their first or last night in town - one night we had ten for dinner including 2 locals, and only 2 were from the same country - other times, it's just a quiet 2-3 people. Either way, it's a delicous, relaxing, fun evening.
Whether Jen's in residence upstairs or not, chances are that other guests will be staying. Often there'll be an opportunity to share a day tour or venture out to see a band together in the evening.
In fact, just ask us if you are a single traveler and you'd like to find out who will be there at the same time as you; we can connect you if both are happy about that.

其他注意事项
Please be aware that power blackouts can happen in Bali, due to the rapid development. If power goes out, it is usually on again in a few hours, but in rare instances, may be off overnight. The wifi will be unavailable if the power goes out.
---
---
---
---
THE BASICS:
Music turned down after 10.30pm please, as we live right next to a traditional Balinese village.
No smoking inside the house (nor horrible butts left in the garden or in beer bottles either).
Sorry, no pets; we have geckos, frogs and occasionally a small monitor lizard in residence, plus we can hear enough of the neighbours' dogs, roosters, cows, pig etc. to keep you company, lol.
Please leave little windows up high OPEN and both ceiling fans ON, preferably when you are home but certainly when you are out. This is a tropical country and rooms get stuffy very quickly if they are kept closed up. Opening the French doors to the garden also helps ensure a breeze and a pleasant atmosphere.
Any food - teabags, coffee, etc - are there for your use. If you finish something, it's up to you to replace it, or ask the maid to do it for you. We'd appreciate it if you tell us when supplies like this (and toilet paper, soap, etc) are running out, so we can replace them.
Your privacy is respected, but we welcome your sociability.
WELCOME: Occasionally, ibu Jen's work takes her to other islands or Singapore for a while. When she is in Bali, she often cooks for guests - a delicious three course "fusion" meal is very popular for the first or last night of a stay ($15 per person; food only.)
ID PLEASE: We are required to give a photocopy of your ID to our local Indonesian police, so please provide one on arrival.
SECURITY DEPOSIT/ DAMAGE: You have been asked for a basic security deposit of $250; we hope we never see it :-) (URL HIDDEN) keeps it and it will be returned to you by them if nothing is damaged. Your room will be inspected before you leave, so please be warned that an accurate fee for ALL DAMAGES will be charged, exceeding the security deposit if appropriate.
DOs and DON'Ts (here): Alcohol is ok but unless you want to end your life in an Indonesian jail, don't be silly and bring drugs. No crazy parties - but then you wouldn't be choosing this place if that's what you are after.
DOs and DON'Ts (temples): If you plan on going to a temple, make sure you bring (or borrow) a sarong and sash, and - if you are a woman - a blouse that at least covers your arms to the elbow. In some temples this is not compulsory, but in all cases, it will show your respect for our local Hindu people's values and beliefs. Jen can loan you one from her own collection.
---
---
---
I stayed at Jen's place for a month. I really enjoyed the raw and pure nature, the spaciousness and the lovely surrounding village. Unfortunately, Jen was away during my entire stay, so I did not have a chance to meet her in person. She did, however, stay in touch via messages. Staff/people: It was my first time to Bali and I am a solo traveler, so I was grateful to meet Kung, a driver and overall "fixer". He made sure I had everything I needed and helped me negotiate prices and provided me transportation everywhere I wanted to go at a fair price. There was also another woman staying upstairs, Estee. Jen said she would be able to assist me in her absence, but my interaction with Estee was minimal and I found her to be quite stand-offish. Wiwik, is a gem - friendly, open and a breath of fresh air. Everyday, she cooked a yummy breakfast, cleaned and helped me with my laundry. Property: I don't drive a motorbike, so I accumulated additional expenses hiring cars and bikes to take me to the Ubud center (15 min drive, hour walk). The place is secluded and can be isolating, but I enjoyed the quiet. There is also LOTS of wildlife, bugs and critters. Everyday, I was visited by spiders, geckos, roaches, ants, wasps, praying mantis, grasshoppers. And mosquitos! I wore repellant all day and everyday. You are in the jungle so it is to be expected! Also important to note, the apartment gets very hot. There is no A/C and I had to go and buy another small fan (in addition to the installed ceiling fans) to cool down the place. It never did get "cool" but with the extra fan and closing the doors during the day, it became bearable. Wifi: So, Jen told me that she could increase the wifi speed if needed once I arrived, which is necessary for me because I run a business from my laptop. However, once I arrived, Jen told me she was not able to increase the speed because the cable company required her to sign a new more expensive contract and she did not want to. So, her solution for me was to go to a place in the Ubud center to work and that she would pay for the membership at this internet place. Although it was a kind offer, This is not what I would consider a real solution. Firstly, I would have to leave the house to work, spending extra money to go back and forth to town. Then, I meet with clients online at night (because of the time difference), so going to the Center every night to work was not a good option for me. The whole point in me renting the place was to be able to "work from home". In the end, Kung helped me to improve the wifi connection via Ethernet cable (that I purchased), but the Internet connection was still too slow...
Please note that the wifi company changed those rules about upgrading, the month that Stacie arrived. Previous guests who need a faster-than-normal-Bali wifi - for continuing their international internet business while with us - HAVE been able to upgrade for the time they were there. It's no longer possible, without buying into a new more expensive system, which most travellers don't want or need, while they are on holiday. I've taken that option off my airbnb listing descriptions.
---
Jen is an amazing host. She organized the transfer from Gili islands for us and cooked a welcome dinner. She is very knowledgeable about the area and helped us with great advice many times. Her house is a treat located in a rural village among the rice fields. Jen is very connected with the community of locals and expats alike. We truly enjoyed our stay.
---
Jen was incrediblely friendly and helpful. She helped us with everything from ordering food the first night we got there when we were too exhausted to leave the house, to booking a scooter. The house itself is up in the hills which we liked a lot. It was nice to drive out of the town of ubud, which could be noisy and dusty, every evening. The bed was comfy and the shower was hot. The Kecak performance at the local temple was very cool. I highly recommend it if you are there on a Monday. The only downside to the place is that roosters and other fauna will wake you up early every morning and there isn't a lot of privacy because breakfast is brought to your door and the maid comes and goes throughout the morning. While this is very convienient, it does mean you shouldn't walk around naked or do anything else naked in the am. All in all, we had a great time at Jen's place.
---
I found that Space to Breathe & Relax provided a marvelously perfect stay. The lodging and the gardens are beautiful, and Jen, Guisti and Liz are kind, caring, helpful and fun, too. Staying here is like staying in a tropical paradise! On top of all this, each morning one rises to a bowl of local fruits, tea or coffee, and a Balinese omelet made from eggs just laid by the chickens. The occasional music from the nearby temple adds to the very pleasant atmosphere. The hosts spent time with me in Ubud and at the beach-- well beyond normal duty! Consider yourself blessed if/when you can stay here...
---
This was my first trip to Bali. I had no idea where to begin my journey, what to expect. Jen has guided me through the whole experience, from being picked up at the airport, by Made, one of her wonderful drivers, to how to have fun dancing and enjoying every aspect of my Balinese experience. On arriving at the homestay, she welcomes us like family and gives us a wealth of information about Bali, Ubud, and the culture. Anyone who books with Jen, will be so grateful for her kindness and generosity. Her room is comfortable, clean and has everything you could want nestled in the friendliest village away from the hustle and bustle of the tourist area, but an easy jaunt on here motorbike, or a driver. A full morning breakfast with fruit and entree brought down every morning and full kitchen if you prefer to cook on your own, a comfy bed, and hot water. Will come back again and stay with Jen!!
---
Jen wasn't there at the time but her friend/travel assistant, Kung, was SO accommodating. He answered all our questions and helped us out with a lot throughout the 3 days we were there. Jen also has a space for rent upstairs but we loved having the private room downstairs w/ private kitchen and bathroom. Comfortable bed, cool "winter" breeze at night and hot shower. 10 minute scooter ride into downtown Ubud and less than 10 minutes to the Tegalalang rice terraces and shopping district. Jen was a great communicator via email with us. Sadly, we didn't get to meet her, but until next time ;)
---
Jen is AMAZING, my Australian mother away from home… Full of love, stories, humour, dinners, and just generally on top of everything. The place is a cute little treehouse style home in what feels like the jungle and having 3 max guests there makes is feel like family. Our little home was a cute little rustic unit located below the main house, where we had our own kitchen and bathroom etc. Beautiful 15 minute drive into town on bikes that were organised by Jen… It was super lovely to be out of the hustle and bustle and have this nest to come home to. Highly recommend journeying to Jens home if you are ever in Ubud.
---
Your host Wayan Jen has lived in Ubud for almost ten years - she's our semi-permanent guest! She welcomes you and makes sure you are comfortable and content.

Jen is a traveling Aussie who lives mostly in Bali, which has part of her heart; another part in New Zealand, where she was born, and all of it wherever her two sons and her sisters are. It's great that she's often around to help with ideas for great travel around Indonesia. (Even when she's away, you can chat with her here, via airbnb).

Jen works in "Disaster". She's just finished a year in the Solomon Islands as a Communication Adviser for the National Disaster Management Office. In December 2013-January 2014 she volunteered in the Philippines, helping there after the horrific super-typhoon. And before that she did a 15 month stint to help an Indonesian non-profit expand their youth centre here in Bali, and set up another one in post-tsunami Aceh, at the western end of the country.

Here in Bali, if you want to try some Ubud nightlife, ask Jen. When she's in Bali, she loves dancing, especially partner dancing - Swing, Modern Jive, Salsa - and occasionally getting up with a local band to sing a song or two. There are many places to find good nightlife in Ubud.

For Jen, "a stranger is a friend you haven't met yet".
语言:
Bahasa Indonesia、English、Français