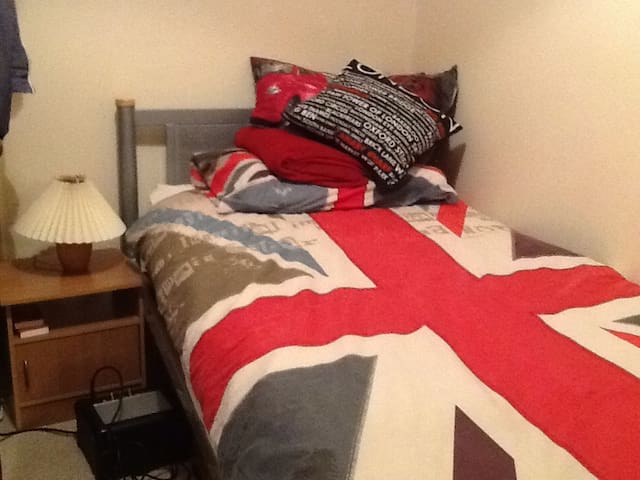 I really enjoyed my stay with Bethan and Dave. They have a very comfortable home walking distance to downtown Sunderland and the Stadium of Light, and just down the street from the port and beach. They also have a famous glass blowing studio nearby with a nice view up and down the river. Their home was a great location to walk to the Arsenal vs Sunderland match. Dave is a big Sunderland fan and we walked to the match together, met some of his friends, and had a bit of friendly banter about who would win. Bethan and Dave are incredible people and very generous hosts. The highlight of my visit was getting to know them and learning more about the Sunderland area. My only regret was being able to stay just one night! The train ride up from London was easy and next visit to the UK I'd definitely like to bring my family and stay with Bethan and Dave again.
---
Bethan and Dave could not have been more welcoming. I was in town to see Liverpool play Sunderland. Dave is a HUGE Sunderland fan but was great as he went with me on the short walk to the Stadium of Lights and back after the match. The next morning we went for a nice walk along the coast and he drove me to the train station. Breakfast go was very nice. The best fish and chips I had in England was at a shop down the street. Be warned though, you get a LOT of fish and chips. There's a cool pub around the corner too. If going to a match in Sunderland, you could not find a better place to stay.
---
Super stay with Bethan and Dave. Shame it was for only 1 night, I had come up to see Sunderland v Watford but they made me feel so welcome. Room was comfy and quiet, breakfast plentiful with a good choice and Beth even made me a sandwich for my 250 mile drive home. Dave goes to see the football regularly and I got on with them both very well. They are 5 mins from the coast and the walks and views there are spectacular. I hope to return with my lady one day. Thoroughly recommended. Thanks folks.
---
One word can summarise my stay with Bethan and Dave: Perfect! Not only was the accommodation codify able and clean in a great location but also they were two of the warmest, friendliest people I have met on my travels. I cannot state how kind and hospitable they are. I highly recommend staying here.
---
Hi! We have a lovely, spacious terraced house a minutes walk away from the sea front at Roker and the marina. We are on a main bus route which will get you to the city centre in minute. We have two available bedrooms.; 1 small single and 1 large double. Both are newly decorated…