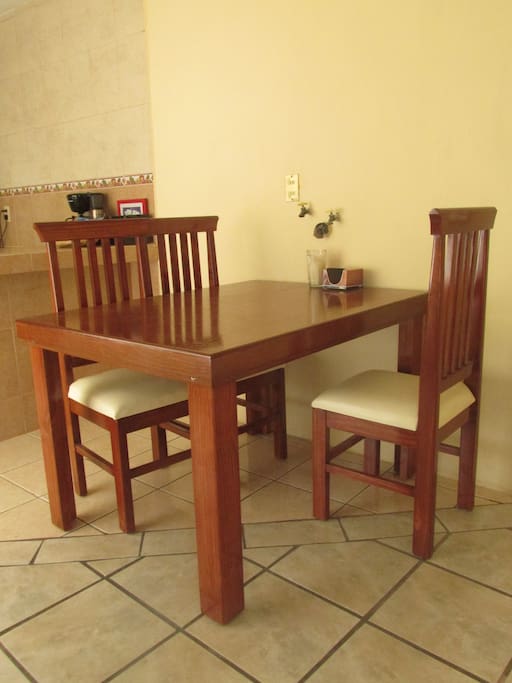 Very light small apartment
Very nice apartment at just 2 blocks from the center of Tlaquepaque where you can find all the restaurants, galleries and a nice park. Close to public transportation that takes you in 20 min to Guadalajara Center.
---
The place is located in the center of everything, you are 2 blocks away from "el parian" which is where everything starts, if you enjoy casual drinks and good food, you are in the right place, you can just walk a few blocks and you are ready to party, there is also a tour about 3 blocks away that takes you to Guadalajara and Tonala and you can do both for $120 pesos, you can get in and out of the bus any time, and I believe the last tour that takes you back to Tlaquepaque is at around 5:30pm so you have enough time to explore, I found street parking for all my stay without an issue.
---
This flat is an amazing place to be all day exploring Tlaquepaque by foot. It's location is very convenient even to get a bus or a cab into Guadalajara's downtown. Wouter is super nice and offered us to join him and his friends in a couple of great excursions that otherwise a first timer tourist wouldn't get to know about. :)
---
The apartment is in a very central location just a few blocks from the main square and many restaurants. Because it is located at a somewhat busy intersection it can be noisy. So if you are light sleeper you might consider packing some ear plugs. The apartment itself was well stock with all the necessities. Wouter was a fantastic host. Communication before my arrival was flawless and he was a great source of information about the local area. He even helped organize a trip to La Barranca de Oblatos. At first I didn't think I would use it, but having a TV that could stream Netflix ended up being welcome treat.
---
Ok, would you like to live in and see (San Pedro) Tlaquepaque, yet be close to Guadalajara to visit and explore as you wish? Then look no further. Seriously, this is the apartment to set up a base out of for sure, then take it from there as you want. Good for either one or two residents, as Wouter's airbnb listing will describe: the apartment is comfortable, has hot water, fresh water, TV w/ Netflix, Wifi, bed, couch, kitchen, dishes, glasses, silerware, pots/pans, dining room table, closet, bathroom, sheets, towels, and all the likes. It's self-sufficient, in a safe area, and a perfect for a stay in Tlaquepaque whether on vacation and/or having to do work. And, as far as wandering outside the interior of the apartment, as the guest reviews of other stays at his places will attest, it's very close to "it all" in walking distance: * Independencia Eje ("axis" in Spanish) where the town comes together * the Jardin (plaza with benches, a gazebo, adults talking and kids playing, vendors selling food and treats, town events) * Independencia (galleries, restaurants, and bars), El Parian (built 1878: restaurants and mariachi!) * Mercado Juarez (market: fruits and vegetables, lots of food stands [goat head soup, if you fancy...], breads, tortillas) * churches (San Pedro since 1845 and before] with orange lighting and another with blue-neon crosses * bakery across the street, cafe down the street, restaurants off main streets * Banks and ATMs * Calle Juarez (taxis, more artisan galleries, pottery, jewelry, art, and restaurants) * … and if that's not enough: then jump on a bus (6 pesos or 12 pesos if you want A/C) on the corner outside and in 25 minutes, you'll find yourself in Centro Historico in Guadalajara: museums, churches, buildings, food, and shopping (also Lucha Libre!) What else should/could be mentioned? Wouter was very helpful, informative and either suggested, or lined up, a couple local events that made the stay and excursions quite enjoyable. (For those that stairs may be an issue, please be aware that there is a staircase to walk up to get to the apartment floor upon entry.)
---