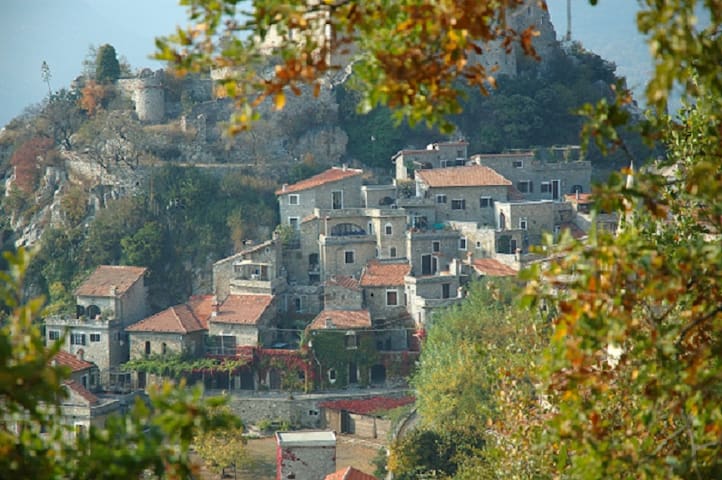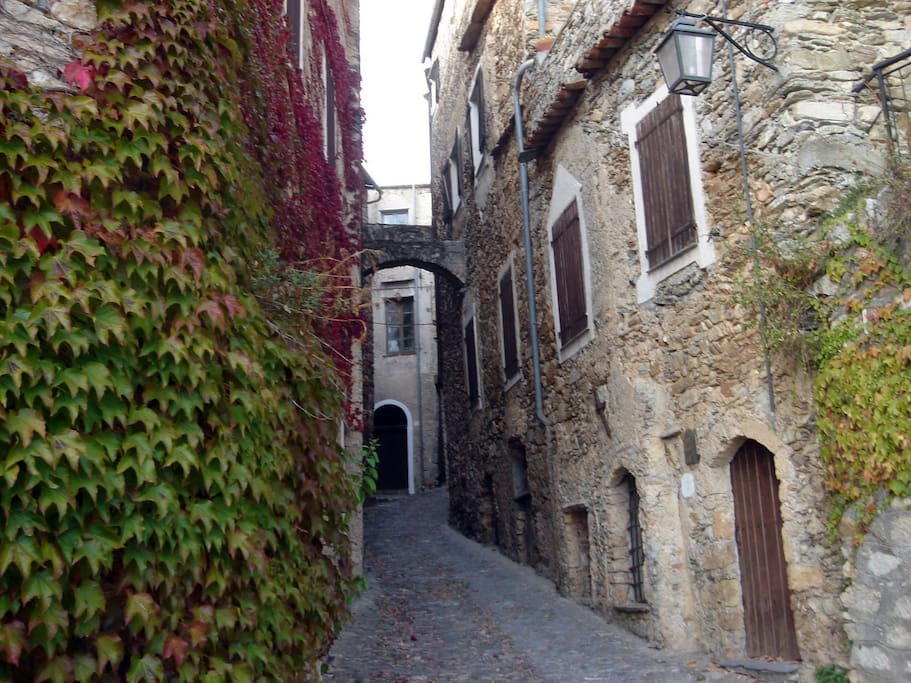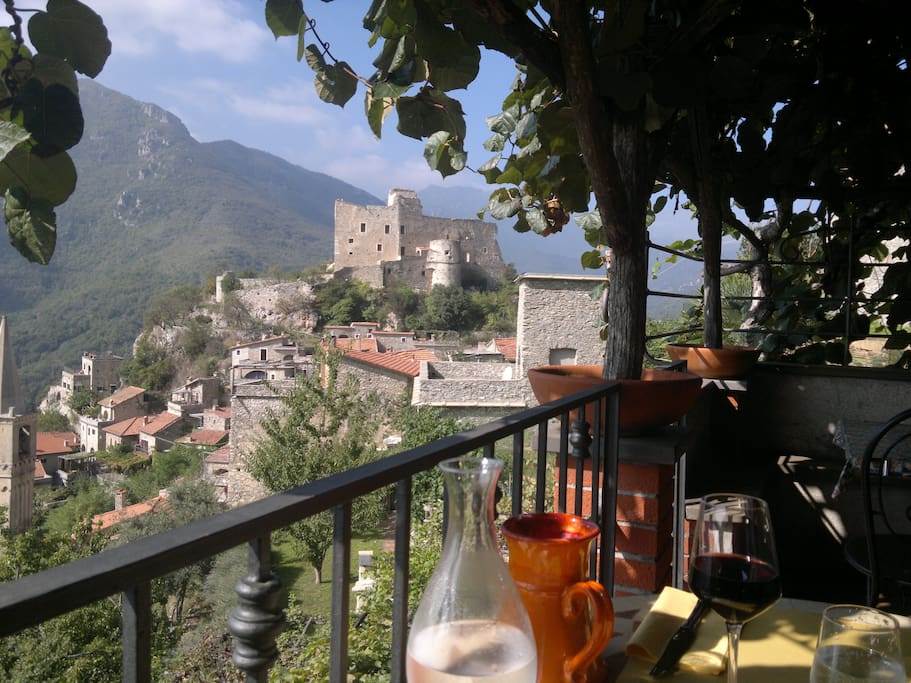 Our little casa with two bedrooms and rustic ambience in a protected medieval village is the real Italy! Old stone houses, winding stairways, restaurants and cafes. Enjoy mountain views from our rooftop terrace, just 10 km from the Mediterranean beac
房源
Our home has a stunningly beautiful view from the rooftop terrace over the Ligurian mountains and down the valley to Zuccarello. The furnished rooftop terrace of about 25 m2 is the place where you are staying, and since it is an extension of the kitchen, it is also here where you naturally consume his meal. There are sun-chairs and a grill on the patio.
房客使用权限
Guests have access to the unique medieval atmosphere in the Heritage town of Castelvecchio, the café and two local restaurants serving regional dishes that are very specific to Ligurien.Restaurant "Antico Melo" has a beautiful outdoor dining terrace with a wonderful view. Just 2 km. from Castelvecchio in the neighboring town Vercersio is a real Italian pizzeria and café "Wine Pignatte". There are hiking trails from Castelvecchio both Vercersio and Zuccarello and Erli, where there are also places to eat. There is a convenience store in Castelvecchio, as well as bus service to Albenga, where the old town is full of interesting shops, cozy restaurants and cafes, and just outside there are lovely beaches. If you are driving are magnificent Mediterranean beaches of Alassio and Laguelia.
与房客的互动
We live in Denmark during the summer period, but has a contact on site to address acute problems, and we are always to take the phone. We will try to help with any questions you may have, or find the right service person on site to remedy any. problems.
---
Bättre beskrivning på hur lägenheten"huset" var beläget och att beskrivning på hur nyckeln till huset skulle erhållas. Bättre beskrivning på gasanvändningen och ev användning av värmesystemet. Läget och byn helt fantastiskt. Afzelius ande svävade över oss och besöket på den närmaste restaurangen var en "höjdare".
---
This place is magical. The hosts have clearly worked very hard to bring this remarkable centuries old home up to a level that was very comfortable to stay for the week. For anyone looking for an authentic and beautiful step back in time, this is it! However, since there was no wifi nor cell phone service available in the home, the fact that the hosts were in Denmark during our stay made our arrival and first days precarious. It is entirely possible--and even a plesure--to step off the grid and find other places to connect with wifi or phone. Yet the listing for this home clearly says there is wireless internet available, but this is simply not true. Additionally, there were no instructions in English (only in Danish?) left to welcome us into the home and so we accidently turned off the hot water heater for the first two days of our stay. Cold showers as a result! Once we were able to get a text message to the hosts, the problem was easily resolved. Again, this home is fantastic and we will certainly look forward to the next time we can be so lucky to vacation here in the future. Next time, we will just plan on a fully rustic step into the past to soak up all the splendid views and history this place and town have to offer.
Hello Steve, we are now in Casa Luna, and the wifi is working ok. If you want to use a cell-phone here, it is only possible outsider on the corner of the terrasse, due to the vey thick medievalg Stone walls. Many husets here has been content with the wifi- modem here, but for a few there has been a problem. In Italy It sometimes Works and sometimes don't, but we have an account by the "Wind" it-Company, that Works through the modem in the house, but unfortunately they shut it Down last week. It is now up and running again. We also have a caretaker in the village to solve any problems that might be if we are not present.
---
With a little help of Italian bambini we found the front door of casa Luna. We felt immediately at home. In the kitchen we found all the necessary tools (of good quality) to prepare meals. Also there are good beds and a clean bathroom. We spend a lot of relaxing hours on the terrace, thanks to the deck chairs. Communication with Lone was easy, she was responding promptly all our questions. We enjoyed very much the medieval environment and to discover the passages and stairways in town. You better have portable luggage (no trolleys). And the "two minute walk " from the parking is a little bit optimistic, but it worth it all!
Hi Barbara, I guess you must have parked by the Rotunda,then, up above town, -because if you park by "Trattoria Malco" the walk to Casa Luna is less than 2 minutes :D We always park there when we arrive or leave, so we won't have to carry the luggage very far :D But thank you for the kind words, so nice that you enjoyed the stay in our house,you will always be welcome back.
---
We are a married couple, psychologist and teacher, with grown up kids, who loves to travel all over the world, but especially we just love Italy, Italian foods and wine, walks in the nature and the friendly people. We love hiking, kayaking and all sorts of watersports. We also l…