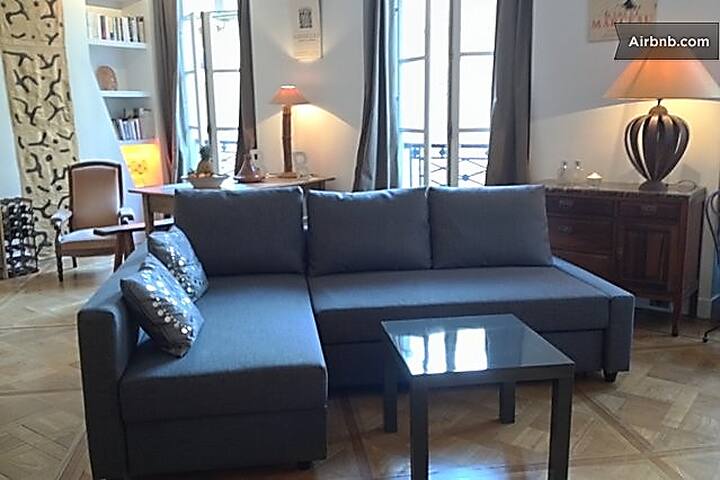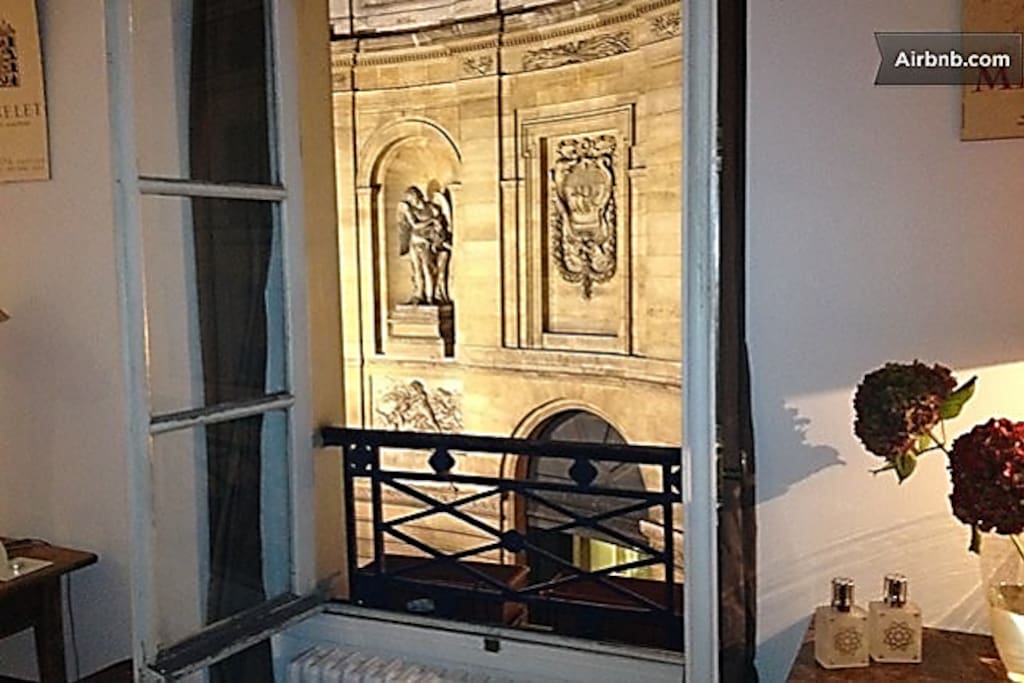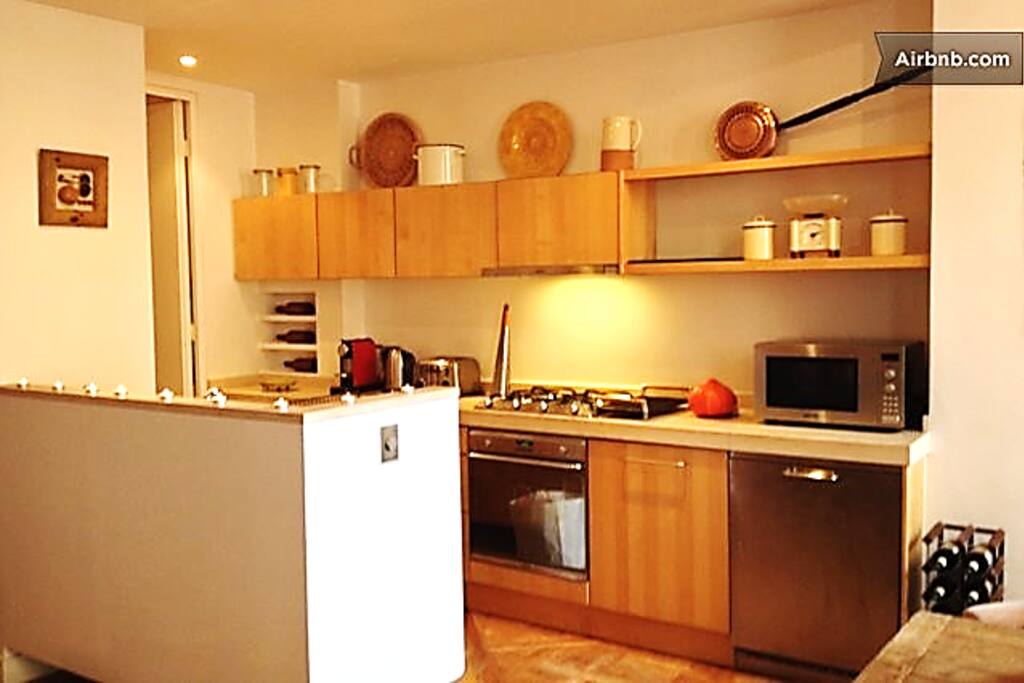 Beautiful 1 bedroom totally refurbished, exceptional,of 60 m² in the heart of saint Germain des Près bac/grenelle Maillol Museum/Bon Marché,100m from the tube, 2nd floor,in a 18th century building,facing south,view,with Us kitchen up to 4 guests
房源细节
Superb Premium flat very well located totally furnished with a mix of modern and old furnitures, one bedroom with a bed of 1.60x2.00m and and a brand new sofa in the living room (35 m²),US kitchen, where you can sleep up to 4 people
房客使用权限
All machines are from Smeg, washing machine, dish washer,micro wave,fridge, Krupp for coffee Nespresso,vaccum cleaner,iron,cable TV,wifi,bathroom with shower and bath,Hair dryer,separated toilets,many big windows for lots of light
i am expecting good people that feels at home,respect the property in any manners
Agnes was an AWESOME hostess. She met us at the flat and gave us great hints about where to eat, what to do. Her flat is located in St Germain close to many shops. Excellent cafe downstairs, wine stores and market within one block. I would stay here again in a heartbeat. Made our first trip to Paris a memorable one.
---
At this price and with so many great reviews, we were incredibly disappointed with this stay and actually left early to stay somewhere else at our own expense. Guests should know that this price does not match the quality and at this price point you can get MUCH better accommodations. I read the description thoroughly and was very careful with my choice, so I knew that there was no Air conditioning. What I didn't know is that the large windows get so much sun that the apartment gets very HOT even on a mild day and we were told to keep the curtains closed. There is also major construction happening on 2 buildings RIGHT OUTSIDE so in the cool mornings it was WAY too loud to open the windows and it was so noisy no one could sleep. There was no hand soap, a drop of dish soap, no nespresso cups provided although there is a machine. I let Agnes know right away but after 24 hours she only offered to meet us back at apartment - which is annoying and inconvenient because we were out sight seeing or we could buy the stuff ourselves and be reimbursed - also inconvenient. The living room is lovely as pictured, but what's not pictured is a teeny tiny bedroom with tiny plastic Ikea kids' stools for 'nightstands' and a gross, tiny closet for a toilet that you can't even turn around in also with a dangerous, raw edged cement lip that everyone stubs their toe on. 2 spiders were in our bed and there was the strongest scent from 2 diffusers that made my eyes and nose burn - although I'm a person who really loves fragrance. She has Paris books and guides available but most of them are 10 years old, so not really helpful. Our very first day I asked Agnes if she would refund us for the last 2 nights of our 4 night stay because we were miserable, thinking this would give here time to re-rent the apartment. She delayed so much in answering the question and then said NO. She was very defensive and just wanted to protect her review - saying she's not a hotel. She's right, we do have a standard of what to expect in an apartment which is why we paid the price we did. This apartment is totally fine for someone on a tighter budget if they know what to expect and if she wasn't charging so much. I almost didn't leave a review but if I had known these things I wouldn't have stayed here as it caused a huge fiasco in our vacation to Paris and led to more expense since we didn't get our money refunded and paid to stay somewhere else. It was the darkest spot on a 3 week European vacation.
---
Agnes was a great host. Her communication with me before our stay made me feel so welcome and informed about all we needed to know about her place. Agnes home is in the best area to stay in Paris - beautiful and surrounded by wonderful food stores and restaurants and easy walks to all the best site. I felt very lucky that her spot was available - our stay could not have been better!
---
Our stay at Agnes' flat in St. Germaine was fantastic! She is a wonderful host. Made sure we had everything we needed... Down to the best place to buy cheese! The location is ideal and the flat is beautiful, warm and inviting. Loved reading in the sitting room watching the rain fall outside her beautiful windows. While there is only one bedroom, the pull out couch was plenty big enough for our two kids (ages 11 & 7). Our son even said, "I think that was one of the best nights sleep I've ever had." Will definitely be back!
---
Agnes was an incredible host during our week stay in Paris. Communicating with her was prompt and she answered all of our questions leading up to our trip. She greeted us when we arrived via taxi and helped us to carry all of our belongings inside before going over the ins and outs of her beautiful Saint Germain flat. The flat was extremely clean and she had many extra items available to make us most comfortable with our one year old. I appreciated the beauty of the view and how easily we could make the space toddler proof for our stay. Agnes provided a complete list for everything you could possible need for the neighborhood and we loved trying out her recommendations. The list did not disappoint and provided ease when we arrived tired in the evening. The flat was extremely central for visiting all of the many sites and museums in Paris and had the metro and nearly every bus we took within one block. The flat also is near many parks which was wonderful for our little one. There is a grocery store right across the street, a wine shop downstairs, a coffee shop next door, a cheese shop across the way and every other shop you'd possibly need within a block. We enjoyed the variety of dining options and appreciated that there are two restaurants that serve breakfast and lunch outside of the normal set French dining hours to allow for our unpredictable time-change toddler nap schedules. We were most impressed with how the neighborhood cafes went above and beyond to adore our child when we were out as this was one worry we had for traveling to Paris is a one year old. In addition, our one year old became ill and Agnes was easy to reach to provide us a recommendation for medical services for the area and options for us. When we left Paris, there was a taxi strike and Agnes met us at the flat and went above and beyond to help us prepare transportation to the airport so we could make our flight and avoid public transportation with all of our travel bags. I'd highly recommend staying with Agnes if you're like my family and enjoy a vacation where you can settle in, feel instantly comfortable in a neighborhood and have a beautiful home base be part of your holiday memories.
---