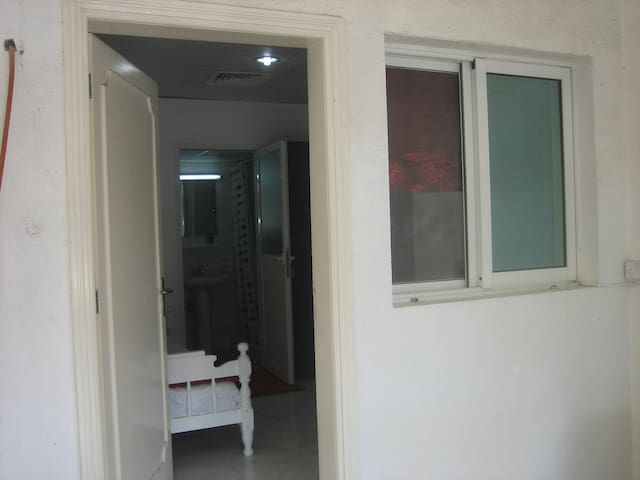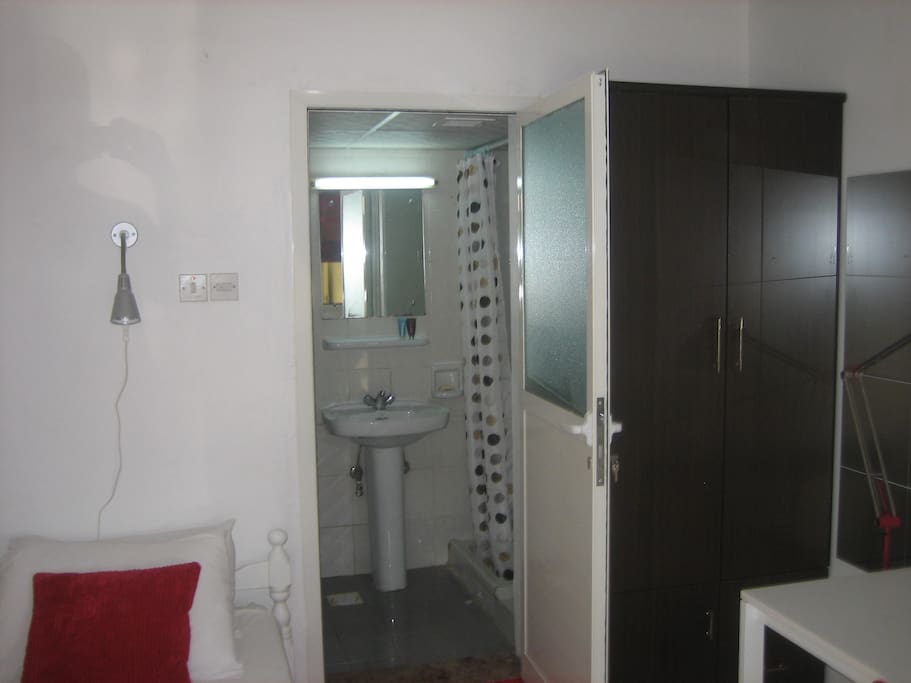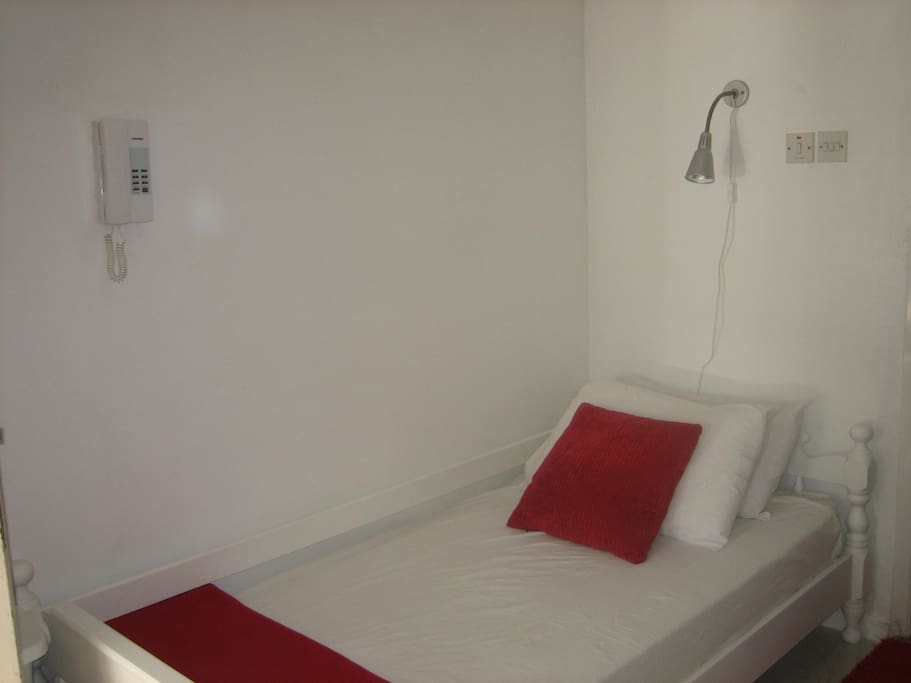 This small self-contained room measuring 3m x 2.7m plus shower room with its own entrance is in a perfect location in Dubai.
房客使用权限
The room has a single bed, wardrobe, fridge and table & chair.
---
I had a such great stay at Johns place. This place is exactly as described a small self contained room. Which was perfect for me. It's quiet and located in a safe area near Jumierah Beach which was only about a 15 min walk from Johns villa. I was a solo female traveler and felt so safe coming back and forth to the room regardless of the time. My flight arrived late at night and I was surprised to have a few bottles of water and some soup cups which came in handy after such a long flight. There was also coffee, milk, tea and sugar which was a nice addition. Transportation is not near the villa but if you go by the beach you can find public buses and taxis. If you have an über account it can be very useful and fairly cheap to get around if you don't rent a car. There is a grocery store right down the block from the villa and also a few restaurants not to far. John was very friendly and helpful when needed and would check in through (SENSITIVE CONTENTS HIDDEN) (which comes in handy) to make sure I was comfortable and that things were ok but he was never intrusive or bothersome. His directions to the villa was perfect and the fact that I had my own key and a private entrance to my room made for a perfect stay especially because I was always in the move. I would definetly stay at Johns place again. The one thing that he could do to make an already awesome place better is to add maybe a clock radio or a small TV for when you want to have down time and just stay in. Other than that everything else is great. Thanks John for a wonderful stay!!!
---
This was a great little space for a few days in Dubai. John made himself available without being intrusive, and was quick to respond to communication. After an overnight flight, it was nice to arrive to a couple of snacks and some cold drinks in the mini-fridge, and the guidebooks were helpful. The room doesn't get a lot of natural light as it is at the back of a garage, but it's cozy and generally quiet, and is well-appointed. It's also centrally located with regard to the major sights and attractions, and having a shop just two minutes away and a grocery store five minutes away is great.
---
This is a really nice room for one person. It looks better than the photos and has pretty much everything you'd need. I'd echo all the positives mentioned by the other reviewers and just add that it appears they may have added a couple of extra lamps to address the reviewer who thought the room was a little dark. I found there was plenty of light for nighttime reading. Also, I appreciate that they allowed me to check in late at night. I had a great time. Thanks for everything.
---
The listing is just as it says, a small room with private bathroom. It has it's own private entrance, which is very convenient because you will not disturb anyone when returning late. The space was perfect for one person. Comfortable and quick access to beach. Cabs had a little trouble navigating to the place, but just show them on a map and they'll know exactly where to go. (After the first trip, I found myself guiding all the cab drivers) John was very polite from the moment he accepted my offer. After informing him it was my first time using AirBnB, he was more than happy to answer any and all of my questions. He was always available when i needed any assistance and responded promptly every time I needed something. I would definitely recommend the spot, I had a great time and John did everything in his power to make sure I was comfortable. There is a small grocery store down the street and a supermarket not too far away. Easy access to bus and cabs. Cabs to anywhere from this location are fairly cheap. There was no noise and the AC was always kept at a comfortable temperature. (The room looks cleaner in person than it does in the photo) Thanks for the amazing hospitality John!
---
The room was exactly as described. It was small but clean and enough for one person. The area is very nice and quiet and close to shopping center. The private access to the room is a big plus. The bus is only 2 minutes walk and will take you to Metro (15 min). You can also get a taxi easily near Al Aswaaq market or Al Wasl road. Overall, nice place and good host so I highly recommend this place.
---
Everything was great during my stay at John's place in Dubai. Communication was excellent and John provided very detailed information of how to locate his place on my day of arrival, despite him being away for the day. Everything went smoothly. The space is exactly as depicted and described. It is small, if you are a single person, then it would be fine, two people, I cant even imagine. However, despite the size, there were all the adequate items needed to get you through your trip. I mainly used John's place as a location for sleeping as I had a pretty full agenda during my stay in Dubai, and for those purposes it worked perfectly. Shower was tight, but the water was hot and again, enough room for one person. I would say, for those that are looking to lounge around, the space is not ideal for that. There is a window that has a covering on it, but since the room is in the garage area, there is not any actual sunlight (which can throw some people for a loop), it didn't bother me at all. The only negative point I would say is just the noise level of the family coming and going (cars starting/ garage opening/ cooking in their kitchen), but I am a light sleeper, so everything tends to wake me up. There's a mosque very close by and the prayer call 5 times a day can be a bit much (strangely didn't bother me), so keep that in mind. Last, the location is just fan-freaking-tastic. Right next to Jumeriah and almost right in the middle (time wise) to the Marina or Dubai Mall. I had a rental car, and there was ample parking and the villa is really close to the major highways, so getting around was a breeze. The private entrance was really helpful (especially as I was coming and going at odd hours), there were keys to the room, so everything was safe. Overall, had a great stay, John and his wife were just lovely, everything was as depicted and the communication and location were excellent. If you are looking for a great place on a budget, this is highly recommended.
---