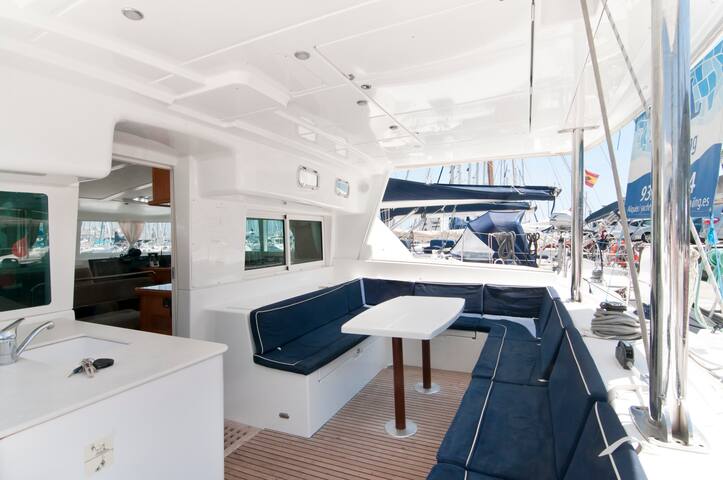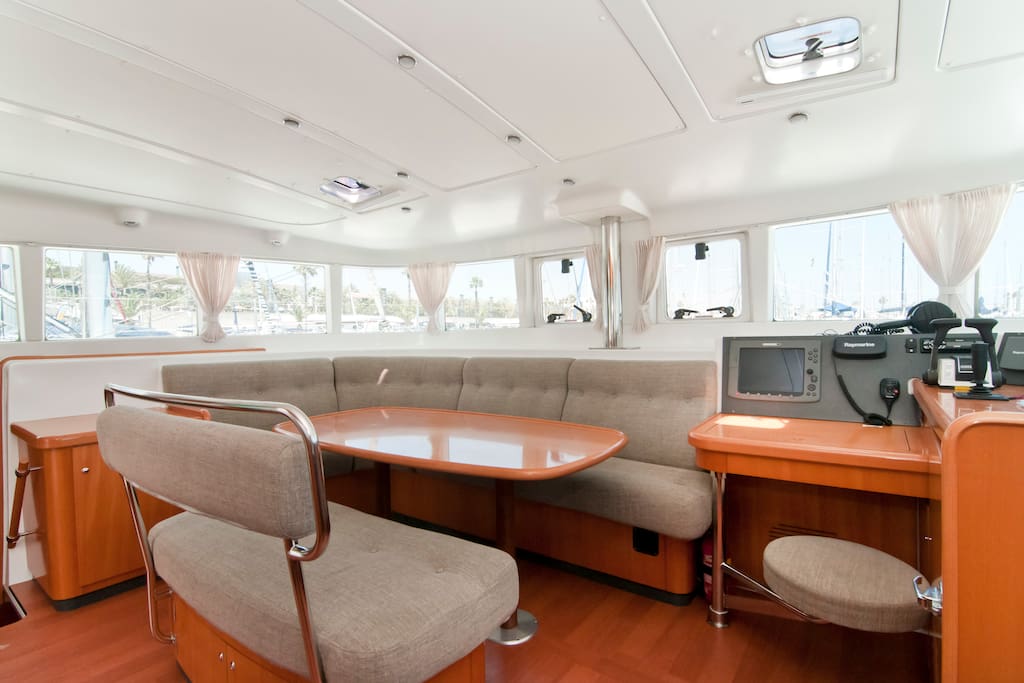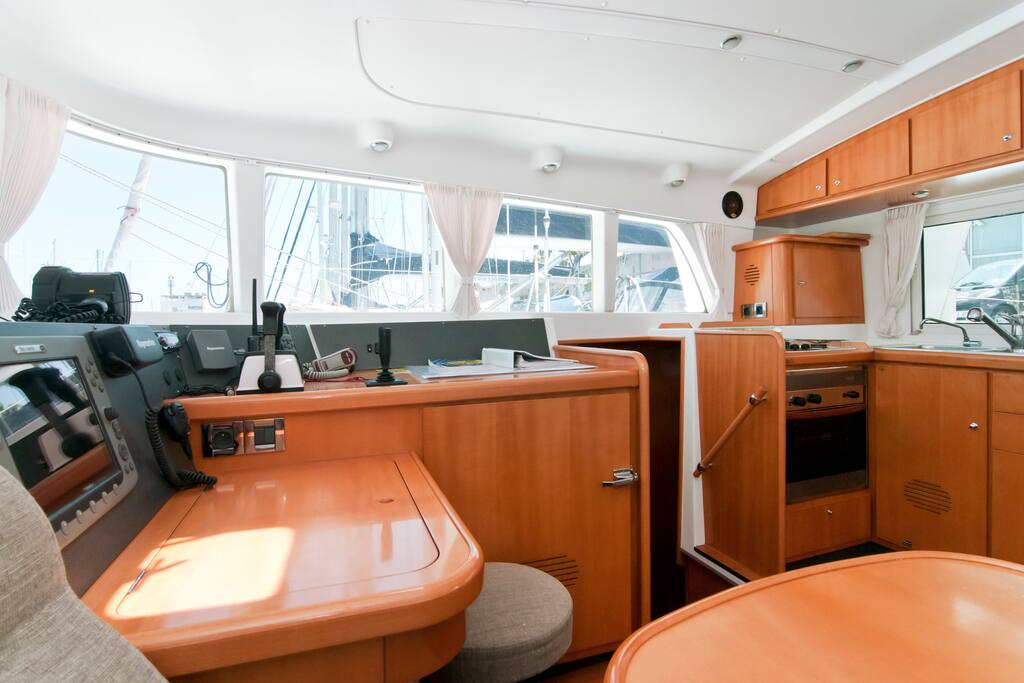 豪华双体船有4个双人舱和2个单人舱(小)和4间浴室。船上完成厨房。游艇距离海滩1分钟,是最好的夜生活点之一。
Luxuries catamaran with 4 double cabins and 2 single cabins (small) and 4 bathrooms. Complete kitchen onboard. Yacht is situated 1 minute from the beach and one of the most best night life spots.
房源
你可以坐在外面吃饭,享受巴塞罗那的阳光,或在前面的一个大网点睡午觉
You can sit and dinner outside and enjoy the sun of Barcelona or have a nap in one the big nets in the front
房客使用权限
The yacht is completely yours, inside and of course out side!
---
---
You are not allowed to smoke on board but you can smoke outside.
---
What a perfect way to spend time in Barcelona! We stayed two nights just the two of us. The boat is amazing! Joost was awesome. Great communication. Check in was a breeze. He was always available when we had questions. Made us feel at home. We took advantage of the day on the water. Our skipper Roger gave us an incredible tour of Barcelona and Badalona. We can't wait to come back with our friends!! Plenty of room for three more couples. The location is ideal. Close to everything! We felt safe at all times. The night in the winter gets a little cold but plenty of blankets on board! The morning sun on the deck is incredible! Definitely a once in a lifetime experience.
---
The boat was great, would stay again. Waking up every morning and going up on deck is great and the weather was just fantastic. Great location, Joost was available and helpful at all times. Any issues or requests we made were accommodated. We also booked an afternoon sailing via him, and the driver provider was professional and a great laugh - would definitely recommend doing that. The only real downside is two of the rooms are basically not rooms - so bear this in mind. There are 4 good sized bedrooms and we were good friends so we shared, but it would have been good to know this in advance.
---
After seeing the great reviews for this place I have to say we were very disappointed with our experience. We used it as a fun place to create a tv show (we're writers for kids TV) and thought the unusual environment would be fun. However our stay was compromised by a couple of things. Two of the 'rooms' were claustrophobically tiny (I know, you're on a boat) but even I was surprised by this. The beds inside them (if you can call them beds) were dirty smelly old foam squares with no linens on them. We decided that we'd get hotel rooms for the two people who were to sleep there instead as they really were too claustrophobic. You could put small people in there but not 6ft plus males. When we raised the issue with our Host he refused to entertain our complaint that he should have been more transparent regarding the size of two of the 6 beds on the boat. He told us that we should do our research on the boat. "It's a boat". We'd done this before on a boat and not encountered this. We asked him why he didn't show these rooms like the others on the website that way there would be no confusion or dashed expectations. He said he would in future but for now we were told it wasn't his problem. We suggested that due to it being a misunderstanding that he might want to split the costs between both parties as a gesture of goodwill. He refused. I asked him to reconsider and days later he still wouldn't at least try to see things from our point of view either and see if we could meet half way. We got cheap rooms nearby for the two people who couldn't stay on the boat and the figure wasn't extortionate. We were willing to share the burden. He wasn't. Again I feel that if there is any improvements to be made here is that Joost needs to put some money into the boat as it's starting to show it's wear and tear and for him to be more transparent so the next folk who show up expecting clean, sleeping arrangements for 6 separate people who need separate rooms aren't thrown by the two shockingly small (and stale smelling) he has described on this site as 'bedrooms". They more closely resemble 'Priest holes'. Add to that the faulty toilets that as the week progressed turned the place into something quite unpleasant. The power that kept cutting in and out for the first few days. We also paid for broadband that suddenly became more expensive when we arrived. It ran out after 24 hours and we were told that it was us using it too much (Not true, everyone knew its limitations). Joost claimed we used 2GB. I've a feeling that we got the remnants of someone else package. Joost topped it up with anther 4GB and told us we'd have to pay for...
Dear Allan, We have great reviews and you are the only one who is not happy; we are sorry that we could not meet with your expectations even we informed you very clearly all the points you mentioned before and during check in. We wished that if these conditions do not fit with your criteria, you could evaluate other alternatives before book with us. Apart of that informing us after 4 days that you booked a hotel for 2 guests and demanding we would pay the half of it or, you threatened us, you would write a bad review is not solving a misunderstanding as you call it. Apart of that you broke a handle of one of the hatches what is very expensive to repair and took the charger of the wifi device. I friendly asked you about it 2 weeks ago that but I got no response so far. For us your stay was a very bad experience but as we are professionals I prefer to leave it here…..
---