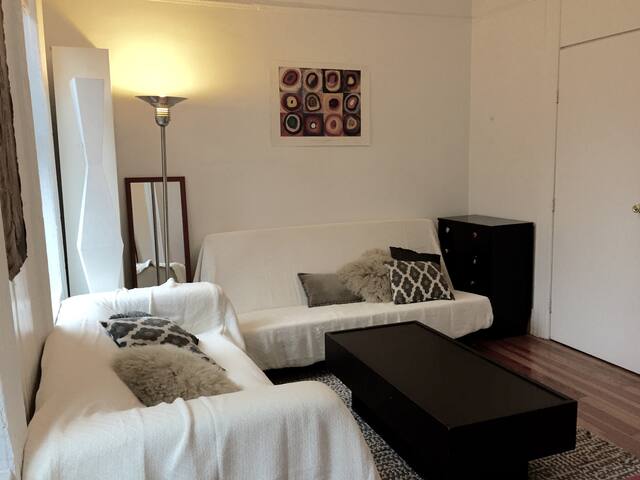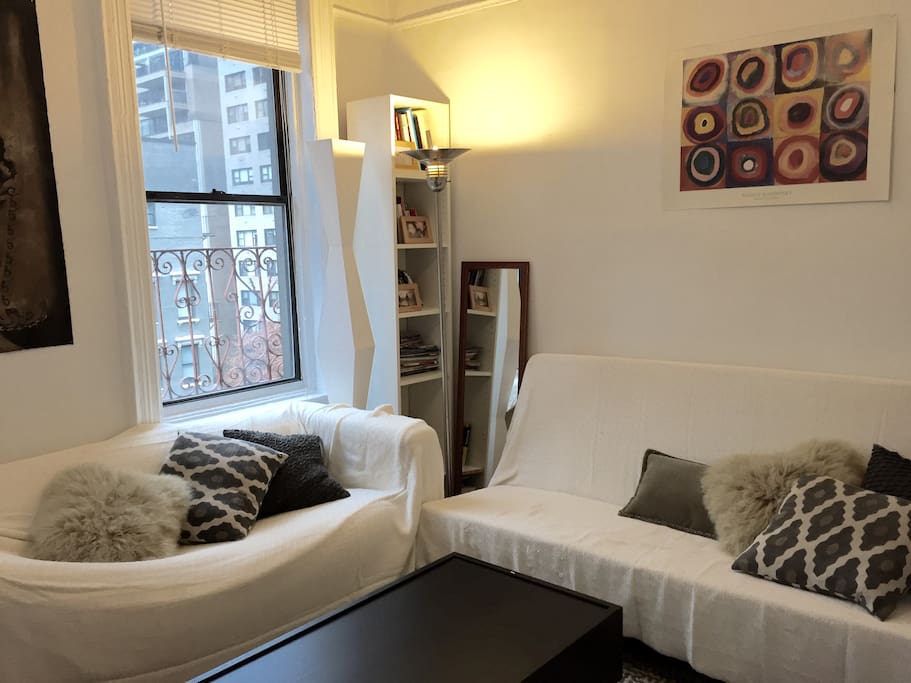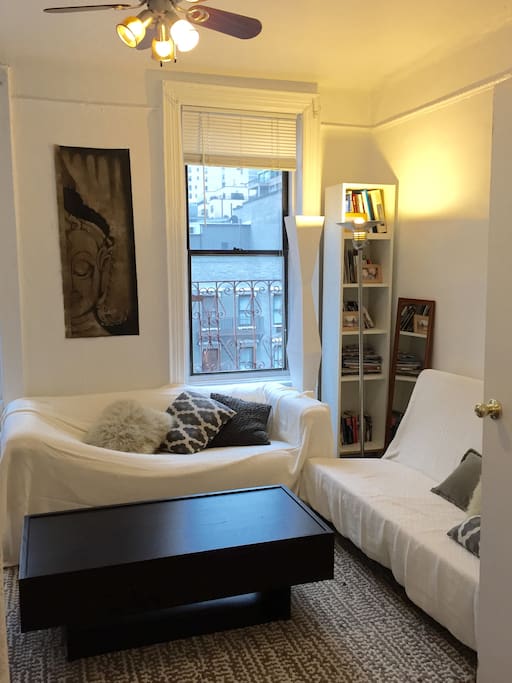 Cosy apt in the Upper East Side
About the location: - On 68th Street and 1st Ave, - 5th floor of a typical NY building with brick walls and lots of natural light - Subway: 3 min walk to the Q line (72nd and 2nd), 5 min walk to the 6. - Blocks away from Central Park - Lots of Museums around (Guggenheim, Met, Frick Collection, Neue Gallery) - Everything you need within a block: Great restaurants, Wine store, Starbucks, pharmacy, deli and grocery stores.
房源
The Space
I'm renting 2 rooms in a 3 bedrooms apartment.
The price you see is the price for 1 room (2 ppl) If you want to book both rooms (capacity 4ppl total) you would need to go on both listings below:
https://www.airbnb.com/rooms/244547
https://www.airbnb.com/rooms/246030
About the location:
- On 68th Street and 1st Ave,
- 5min walk from the 68th St-Hunter college stop (6 train).
- Few blocks from Central Park! A lot of Museums around (Guggenheim, Met, Frick
- Great restaurants and plenty of grocery store around.
- Laundromat in the building next door.
About the apartment:
- Is fully and tastefully furnished. :)
- Bright and sunny rooms but natural light
- Hard-wood floor.
- Brick wall
About the rooms:
- Hard wood floor
- Linens and sheets are provided.
About myself:
I work for an Event planning company specialized in business travel so I'll be a good adviser for off-the-track spots. You'll also find plenty of documentation and maps of NYC in the apartment. I work office hours (10 to 7pm). Afterwards I usually go to the gym and have a lot of events going on on weekday nights.
As busy as i can be sometimes, I also signed up to Airbnb because you get to know amazing people from all around the world and if you want to hang out around a glass of good wine, I will be more happy to do so!
---
The overall experience of staying in this apartment wasn't great. The biggest contributors to this were the cleanliness and the check-in. The bed sheets and pillowcase did not seem like they were washed since their last use, and the bathroom did not feel especially clean. The plumbing of the apartment was also an inconvenience. Due to poor plumbing, there is a notice next to the toilet requesting that toilet paper be thrown out in the very small trashcan rather than in the toilet. Trying to get the key to check in was very stressful because we were out in another neighborhood entirely at 1am trying to find it rather than it being located closer to the apartment. However, C. was relatively responsive throughout our stay, and she was gracious and kind enough to hail and pay for an Uber after we were out so late trying to retrieve the key. It was relieving to at least have such a nice host.
---
Quick & Dirty Details You Need to Know: The dece: The hostess was nice and accommodating. If there's a problem, she'll work with you. She offered to pay our taxi fare because we went to the wrong address originally provided by AirBnB (make sure you doublecheck with the host after making reservation!!). The bedroom was small, but cozy enough. The mattress – well two single beds mattresses together – sat on the floor with a small platform underneath. There were enough electrical outlets for our needs. I never felt like it wasn't enough room; it just wasn't a lot. But who wants to be inside too long when visiting NYC anyways? It's a good thing it wasn't too comfortable. The good: The wireless was reliable and worked the whole time we were there. The location is great. I went downstairs at midnight and got an amazing breakfast burrito for $5 and the portion was good enough for another meal! I love NYC delis! We were a ten minute walk from the metro and could travel downtown in about 20 minutes. There were lots of great French restaurants nearby and Oslo coffee shop is close and damn good! The bad: I'm healthy and in good shape, and I felt pangs in my legs walking to the top. Beware if you are overweight or have any difficulty climbing stairs. I struggled to fit my slender body in the bathroom. It was teeny tiny. One foot in the tub and one on the tiles did the trick. There were no blinds (hi, Tom!) and the toilet seat was broken. One issue was that our room was behind one of the other rooms that was rented out on Saturday night. Although she was friendly and barely there, it was just unusual and not felt more like a hostel or camp rather than an apartment. After we left, the worst by far was all the bug bites we had discovered. There must have been bed bugs all over. I briefly glanced at a bulletin board in the entry way that said something about "doing your part to prevent the spread of bed bugs." I was excited to be in New York City at the time so I didn't care much when I came back late at night … I was just happy to have a bed … but in hindsight the sheets and blankets didn't feel very clean. Would I stay again? Well, when you're watching your money, you can't afford to be too choosey. The location is decent and the neighborhood is the draw. It's also a great feeling to have a place to come "home" to. No one was there most of the time so it felt like we had the place to ourselves. However, I would only consider it again if the room next to us wasn't booked and there weren't bed bugs. Otherwise, I'd rather find a place just as decent and experience the thrill of trying something new.
---
The host is really nice, and welcomed. And the house really worthies this price, since it's so cheap. Be to honest, I had high expectation before I went to New York, but the house really disappointed me, the bathroom is so small, it barely can let one people stand in. Btw, there is no elevator, u can get a lot of exercises while the days in NY. Also, there is no air conditioner in the room, the only thing host provided is fan, the fan worked well, just too noisy during the night. After the first night lived there, my friend and I got bite by the flea I guess. However, the worst thing is the position of the room we lived, if we wanted to get into our room, we need to get in through other people's room, that's really stupid! And the last tip, don't ever trust the photos! That's not true!
---
Staying with Carine was great. As the first time in NY she gave me a lot of tips of how to get around, what restaurants and museums to go to, and was just there to chat as well. She seems to host a lot of people from France, which was cool since I enjoy meeting people from other countries.Place was clean, there was a nice kitchen. I would certainly recommend her.
---
Originally from the south of France, I've been living in NYC for 9 years and I LOVE it more and more every day. I know plenty of good spots in the city that I'm always happy to share with my guests.
I'm myself a real travel lover and usually make sure that I know somebody in the country I go to as I strongly believe that staying with the locals gives a big plus to the experience.
I do everything I can to make every guest as happy as could be. I work very hard to keep the space I host clean, comfortable & friendly. I am very accommodating and ready to work with your special requests & budgets.
语言:
English、Español、Français