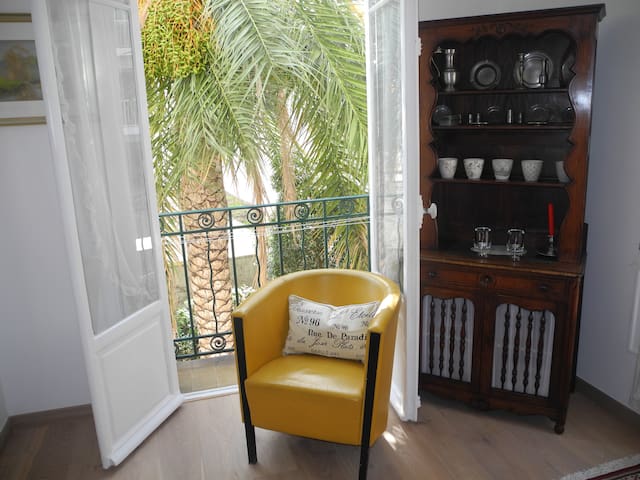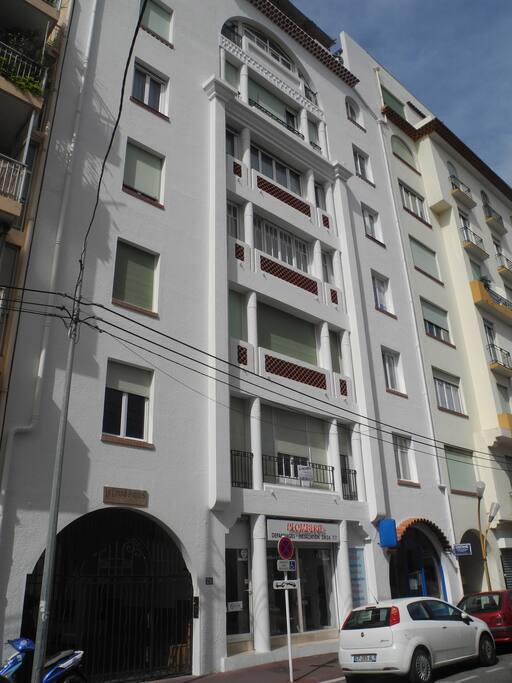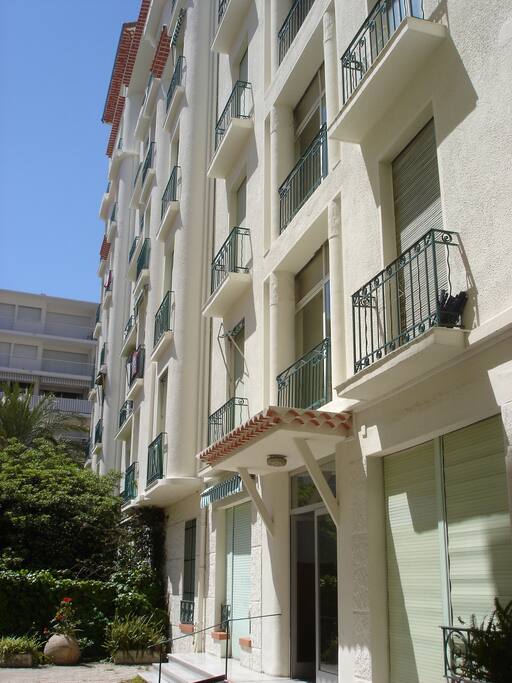 1 open living/dining room with divan
1 kitchen
1 bathroom, shower and washing-machine
1 toilet
1 bedroom with two singel bed (90 x 2.00 m)
1 entry with divan
entrance over one private little lockable balcony
Internet
parking on request
房源
Our flat for 4 persons is located in the city center and is within walking distance (5 minutes) to the beaches. It is a charming little apartment in the centre of Juan les Pins. It is in close proximity to shops, restaurants, parks, bus and train stations, etc. and within walking distance to the beach.  It is on the 1st floor in a courtyard with secure, private entrance.
The entrance over one private little lockable balcony is tastefully decorated with flowers and foliage and has a outdoor washing line and a small table and chair.
---
---
We only want quiet guest. Smoking and pets are not allowed.
---
Thank you again to Sandra Meier and her team for helping us feel so welcome and taken care of at this lovely apartment. Prior to booking, my friends and I had a few questions about the apartment, logistics, etc., and Mrs. Meier responded promptly and in detail, with many helpful pointers. I felt totally comfortable in choosing this apartment -- because of its convenient location (close to the train station, to shops, eateries, the beach), and because Mrs. Meier's warmth, sincerity and helpful attitude inspired my confidence. Prior to our arrival, Mrs. Meier sent clear instructions on where and how to find the keys, with local contact information, helpful hints, etc. And there are clear instructions on vacating the premises. The apartment was recently renovated, and everything is clean, attractive and comfortable. The beautiful large windows allow lots of light into the home, the bedroom is well appointed, the beds in the bedroom and living room new and comfortable. It's easy to cook some of your own meals in the well appointed kitchen, and the proximity of several markets. The bathroom is a dream -- love that shower!
---
Sehr schöne, gut und stilvoll ausgestattete und saubere Wohnung mit Flair. Die Küche ist super ausgestattet, gute Töpfe, Espressomaschine, Wasserkocher, etc.. Alles sehr gemütlich. Die Wohnung liegt zentral und man ist in wenigen Minuten zu Fuß am Strand, im Supermarkt oder in der Stadt. Auch Antibes kann man zu Fuß in 30 Minuten erreichen. Internet sehr stabil und gute Geschwindigkeit. Die Übergabe und Kommunikation verlief ausgezeichnet. Wir haben dazu einen Parkplatz im nahegelegenen Kongresszentrum gemietet, was absolut empfehlenswert war. Auf den Fotos zur Wohnung kann man allerdings schwer erkennen, dass der Balkon gleichzeitig Zugang zur Wohnung ist und nur wenige Meter vom gegenüberliegenden Haus entfernt ist. Auch vor den Wohnzimmerfenstern ist in ein paar Metern Abstand das Parkdeck des Nachbarhauses (auf gleicher Höhe). Das ist beides nicht weiter störend, sollte aber dazu gesagt werden, da die Fotos diese Situation ausblenden.
---