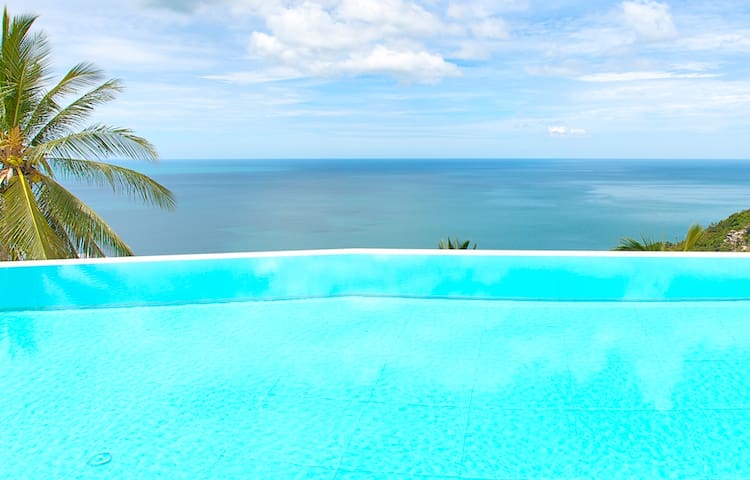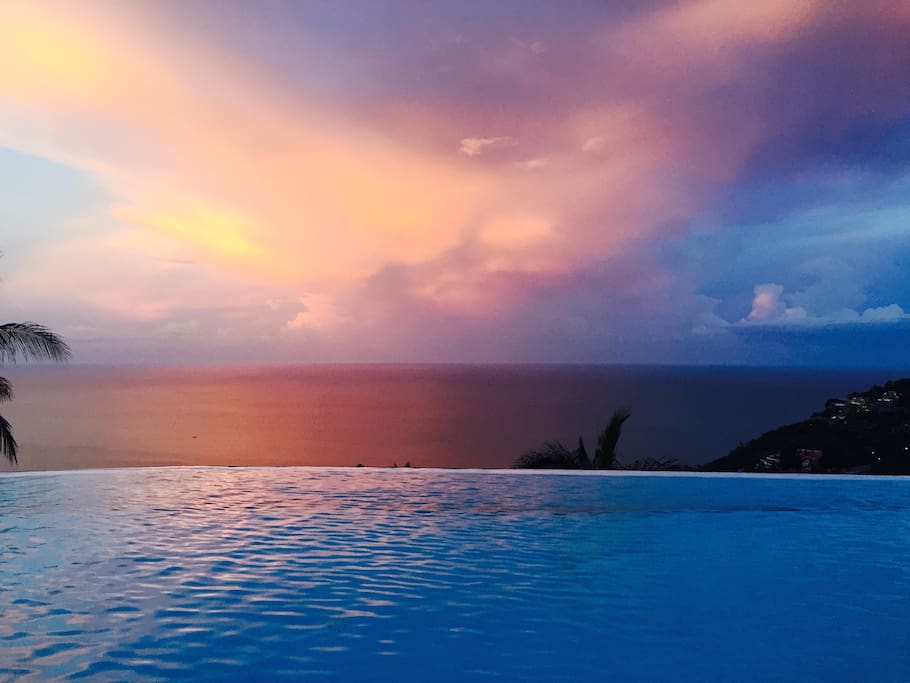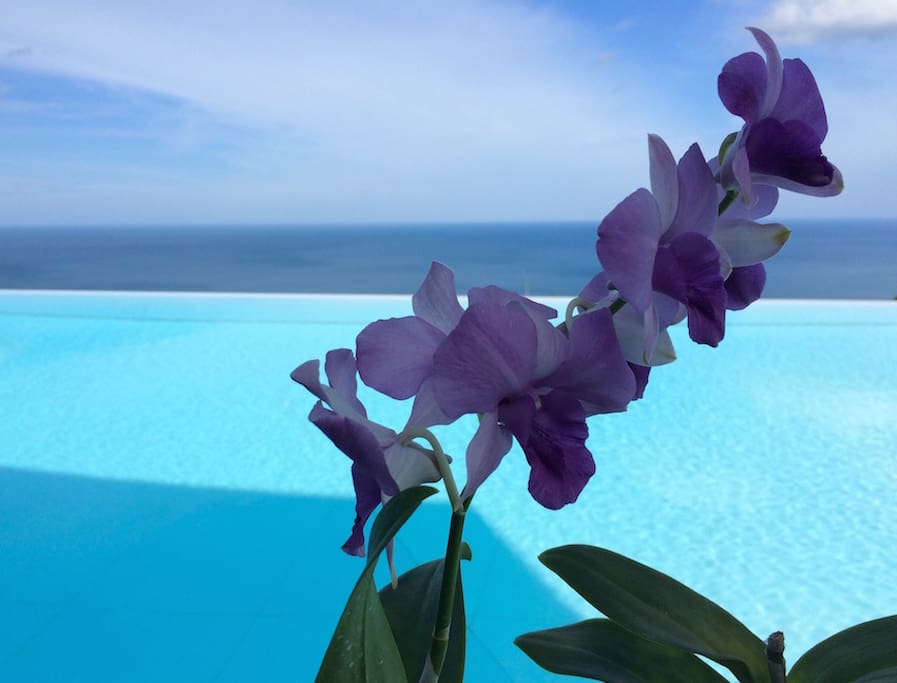 半山腰位置,面向东方,早上很晒,组合别墅楼梯较多,不适合腿脚不灵便的老年人。相当安静,私密度非常高,但是上山路比较差,开车要注意安全。两位服务生(夫妻)非常友善,生活上的所有需要都可以搞定。GM Jazz可以协助完成租车,租船等其他服务。入住体验度很高!
---
We had a great time at the villa. The view is just amazing, the bungalows are very independant from each other. Not good for people with walking problems since there are lots of stairs. The staff is just PERFECT, always helping and trying to do their best to help us, and the most interesting, the two ladies are great cookers. We wanted to try the food and cooking the first day, and that was so good, that we only had dinner at the villa. Some of days, just finishing the dishes. Just a comment, some villas are being built around. The workers make a lot of noise from 8am. This was not a big issue for us since we spent most of the time outside the villa riding our scooters, but this is important to mention. Those houses will be finished in a few months. Hope you will enjoy the villa and the island as much as we did.
---
We had 16 people stay at the property and we loved the common areas and pool. Most of us relaxed and ate the fantastic food the staff cooked for us (they charged a fee per person plus cost of food). We practically had dinner at the property every night since they (Fang and Wei) were great chefs. We loved trying out new dishes they prepared. All of us had an enjoyable vacation at the house. To note, the steps to get around the property are very steep so if you have some elderly or less mobile guests, this property might not be a good fit.
---
We had a group of 17 people who stayed there for two days and a smaller group for couple of extra days. Manu and Jazz worked with me on flexible rates, which made the value more appealing. The hosts were very responsive to my questions prior to arrival and Jazz even met me a day before our check in to ensure we had everything covered - as this was going to be a surprise birthday gathering for my uncle's 60th birthday. I couldn't be more impressed by Wei and Fon, the two angels who stay and help with everything at the Villa. Both of them always had a smile on their faces and were very considerate and accommodating with dietary requests. The food cooked at the Villa was very reasonably priced and absolutely superb. Jazz has great contacts for transportation services, tours and spa services so everything was just a quick call to her. The slightly tucked away location of the Villa gives a great sense of privacy and the only limitation we felt was access to popular areas such as Fisherman's Village and Chaweng, as you need your own vehicle or a taxi that can pick you up at the Villa - but the Villa host has a great contacts to arrange for either. I highly recommend staying at this villa for medium to large groups due to its layout with every bedroom being separate and private while still offering a great common space to hang around. Every room has great ocean views. Highly encourage guests to check out the food at the villa. I would definitely advice connecting with the host regarding your plans prior to arrival, so everything is set when you arrive .
---
Absolutely stunning view from the spacious living area of the villa. Great place to splash or sink in the big private pool with your family and friends and enjoy plenty of sunshine before noon - as the villa is facing east; Bedrooms are fully equipped with excellent views. Bedrooms are dispersed all over a small hillside, therefore connecting stairs are all outdoor and may be a bit steep for some people; the amenities are acceptable - not as fancy as those in luxury hotels of course. Nice, friendly and helpful staff. You can request for grocery shopping including beverages fruits wines etc. at a reasonable price. The in-villa meal they cook was awesome. You totally do not need to go outside to look for delicious Thai food. The only thing I would suggest is an ice-maker in the villa. The villa is located at hillside and is around 15 mins away from Chaweng beach. You can request for private van for transportation and the price is also reasonable. Overall, this is a very nice villa to stay and I would recommend it to everyone.
---
Suan Kachamudee,其优越的地理位置,令人难以置信的设计,宏伟的空间,所有需要的服务,驻地工作人员和经理打电话...最多可容纳20位客人的9间卧室,包含早餐套餐等为难忘的热带度假...我们期待在苏梅岛欢迎你!
Suan Kachamudee, its great location, incredible design, grand space, all desired services, resident staff and manager on call ... 9 bedrooms for up to 20 guests, breakfast set included, etc for a memorable tropical holiday ... we look forward to welcoming you in Koh Samui !
房源
我们诚挚地通知您,我们是一群拥有我们直接管理的所有财产的朋友;所有的别墅都位于查汶诺山,享有迷人的海景,私人游泳池,私人停车场,电话经理,驻地人员等: - Baan seThai,4间卧室,350平方米,在泰国房地产奖获得最好的建筑设计奖; - Baan Ines(以前的Villa I),4间卧室,300平方米; - 班吉娜,4间卧室,2个游泳池,250平方米; - Suan kachamudee,9间卧室,苏梅岛最大的别墅之一,1000平方米。
We cordially inform you that we are a group of friends owning all the properties we directly manage; all the villas are located on the Chaweng Noi Hills and enjoy amazing sea views, private swimming pool, private carpark, manager on call, resident staff, etc:
- Baan seThai, 4 bedrooms, 350 m2, highly commended at the Thailand Property Awards for best villa architectural design;
- Baan Ines (formerly Villa I), 4 bedrooms, 300 m2;
- Baan Gina, 4 bedrooms, 2 swimming pools, 250 m2;
- Suan kachamudee, 9 bedrooms, one of the biggest villa in Samui, 1,000 m2.
---
---
---
We are very friendly and flexible, BTW international common sense in terms of general respect, cleanness and tidiness is required at all time.
Beside the refundable damage/security deposit, we will require to hold one or two passports (depending on number of guests) which will be returned upon fully completed check-out .
---
---
---
Hello Everybody,

I am an Italian who has been living in Asia for over 10 year and in 2005 fell in love with Koh Samui during a quick vacation; since then the dream was to create something on the island, something to enjoy with Family and Friends, but also to share with People from all over the World.

Our first project started after several years of research for the perfect location, in 2009, and by 2012 Baan seThai opened its doors and views.

My career in Asia spanned from management consulting for financial institutions based in Bangkok, then financial management and general management for trading companies based ion Hong Kong, property development in Koh Samui, set-up and management of corporate services and business consulting firm based in Singapore, other private ventures and management of our Villas and others in Thailand.

I hope to welcome you soon in Koh Samui !

Manu

语言:
English、Italiano、ภาษาไทย