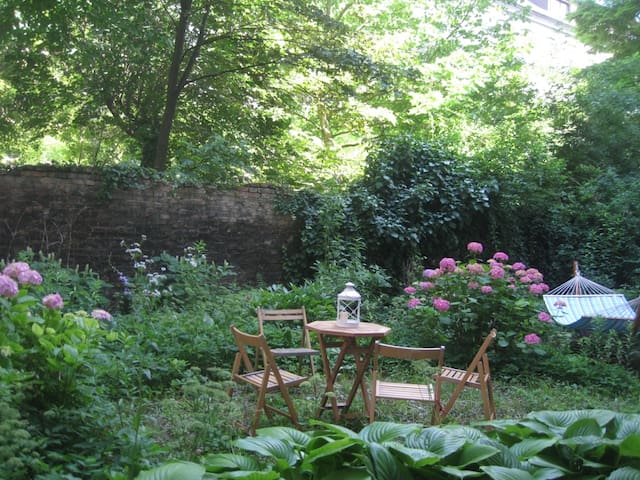 The location was great, bus stop a few steps away and metro round the corner. We were greeted with a small bottle of bubbly and chocolate. Very nice touch. Apartment was spacious and well equipped. Could have done with a lift though.
---
This apartment is perfect to visit Wien! The location is a bit outside the (touristic) center but at the main street you have a bus bringing you there in no time (just around the corner - 1 minute walk, the bus trip takes about 10 minutes until the Burgring). The flat is very spacious and cosy (with a lot of personal items of the owner which might be your taste or not - it didn't disturb us). All necessary things are available: towels, shampoo, soap, a hair dryer, oil and herbs to cook, a (German) travel guide, even a bottle of milk, a small bottle of wine and some chocolates! A supermarket is also just around the corner at the main street, about 3 minutes walk). The communication went very smooth, before our travel by mail and by arrival (Yasmin was very friendly and helpful!)
Hi Joachim, thank you so much for your nice and detailed review! We are glad you had such a nice stay! There are some english travel guides too, they were just left in the bookshelves by the guests before you...I , Corinna, came right after you to Vienna, found them again and put them back in the entrance room. Have a very nice summer!
---
Wij hebben het goed gehad in het appartement. Op loopafstand van de metro en van daaruit ben je zo in het centrum met al zijn bezienswaardigheden. Enige kleine minpunt is dat er staat dat het appartement voor 6 personen is maar er zijn maar 4 eetkamerstoelen en tuinstoelen. Wij waren met 5. Maar met een keukenstoel erbij was dat zo opgelost. Voor 4 personen is het een geweldig appartement, voor 5 of 6 goed te doen met wat improviseren.
Hi Pien, thank you so much for your Feedback. Yes of yourse it is more comfortable for 6 and we also write in the description that it is 80 m² , where the beds are and how many and that one of the sofabeds is very small and rather for kids ,than grown ups. However we know that many people do not mind , as it is a budget option staying for 6 , even in the summer . We can only write the circumstances as honestly as possibly in the ad, as we do and hope that people actually read it ( ;
---
非常舒适,阳光明媚的中央公寓,可以方便地到达一个美丽和艺术区域的所有景点。 甚至一个私人花园,在公寓下方两层,供您私人使用! 来到家里((
Very cozy, sunny and central appartment within easy reach of all the sights in a nice and artsy area.
Even a private garden 2 floors below the appartment for your private use!
Come and feel at home ( :
---
---
---
Check in: ab 15 h möglich
Check out : bis 11h
No loud music after 10p.m and please no parties.
No food or drinks in bed. We have just bought a superexpensive matress for extra comfort and great sleep. We would like to have it for many guests to come. Damage would be charged.
There are a lot of books and DVDS in the appartment, which you are welcome to read and watch while you stay.
Please put them back where you found them.
Please don't wear your street shoes inside the appartment, but use the slippers provided.
Watering of the plants once a week for longterm renters...
No smoking inside the appartment.
You can smoke in the garden.
No parties.
Very small ones on request for longterm renters...
Most important rule: Feel at home and enjoy ( :!
---
---
---
Corinna : I'm the owner of the appartment ( :I'm an actress/ writer and director and lead workshops in acting, meditation and creativity in Austria and abroad.
I love art, travelling, hiking, singing, dancing, painting and animals.
I spend a lot of time relishing nature and all the good things in life, like good food, a great conversation, a hug.
I grew up in Austria, both in Vienna and at a lake near Salzburg, then lived a year in France and Monte Carlo, then a year in Bergen, Norway (I speak fluent Norwegian) and then I lived in England for 4 years studying acting.
After that I spend about 2 years travelling around the world (during that time I spend a lot of time writing and meditating) and am now travelling again to find a place to live and settle down.
I have found this place for now in the beautiful eternal city of Rome .
I really love my appartment in Vienna, it has a great atmosphere, as you will see ( :, and therfore want to keep it, as I don't want to lose all contact with home.
Air B'nB will make that possible.
I've also always wanted to runa B'n'B..so now I do, kind of.. ( :
As I spent most of my time in foreign countries it is of real importance for me that my guests will feel at home and to provide them with an enviroment where they can really relax and feel welcome.
And I love doing that.
In that sense, airbnb is not just a great way to keep the appartment, but also something really heartfelt, that gives me the great feeling that I can do something to make people feel happy , well looked after and comfortable.
You can find more info about me and my work on

Marie : Marie manages the appartment in Corinna's absence and is the most likely to welcome you ( or one of the other lovley people who work for the appartment) and answer your requests.
She is a medicine student as has also studied one year in Cambridge.
She is also a very talented actress and has done her acting education with Corinna as well as performed in some of her plays with great success.
She adores dogs,(just like Corinna) so if you come with a dog he or she will be especially welcomed ( ;
Marie truely loves welcoming guests and taking good care of them.
语言:
Deutsch、English、Italiano