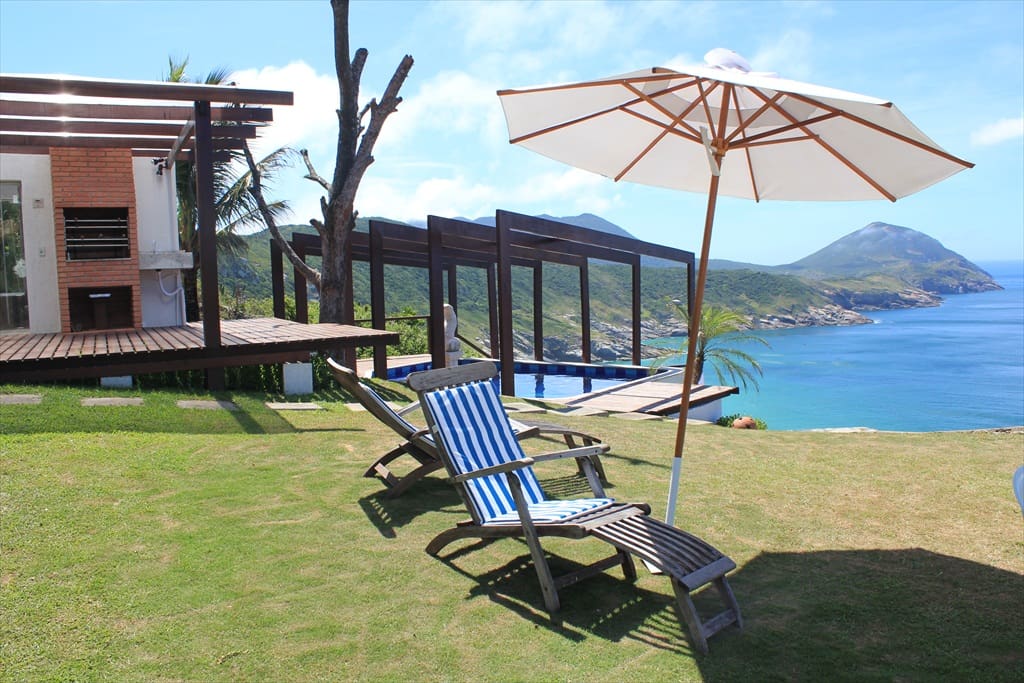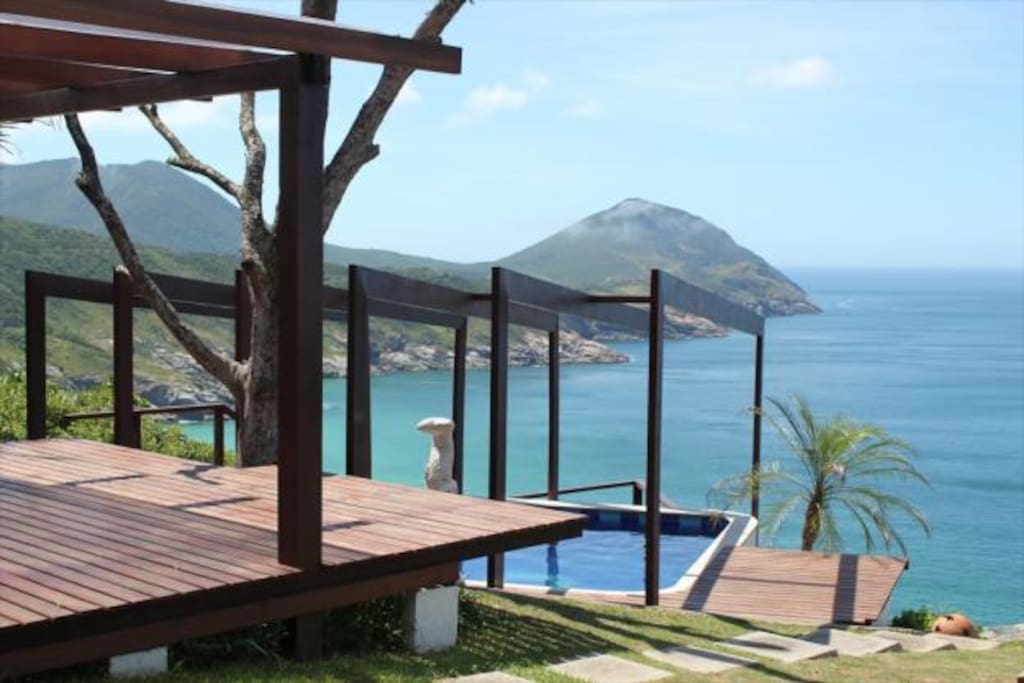 房源
Beautiful house in perfect condition and working order. 3 bedrooms, 2 suites. BBQ, Sauna and Swimming Pool.

Deck with panoramic views. 2 suites, with double beds and single beds.

1 bedroom: with 2 single beds and a double. It is located in the Pontal do Atalaia overlooking the Praia Brava, Praia dos Anjos, Praia Grande and Cape Frio. It is located high on the mountain - a privileged place.

See photos!

These are the main activities that you can find here:

Scuba diving: you'll be in touch with the nature of Arraial do Cabo. Scuba divers delight themselves with what they find there. It's really an incredible experience.

Boat trip: you go around the beautiful beaches from Arraial do Cabo, Pontal do Atalaia (Prainhas) and Ilha do Farol, Gruta Azul (blue Grotto) which is 15-meter high and blue reflex of the water on the walls gives the name of the Grotto.

Be welcome!

---
This place with its stunning view is amazing. I've never had the privilege to enjoy so many days in such a beautiful place on earth. We stayed for 5 weeks and so we had a lot of time to explore everything. The house is located in a natural reserve where the amount of cars are limited to around 250. Most of the people walk the 4 to 5 km to the beautiful white sand beach "prainhas do pontal". This beach is definitely worth a visit, we enjoyed it several times and found it very comfortable to rent a parasol, a table and chairs. In this whole area where the house is standing there just around 100 houses und you are kind of king of the hill with a very very beautiful view on the sea and the city. Everything worked very good with Felipe and his parents and as well with the gardener. Some special things to emphasis: - THE VIEW - cant' tell you how beautiful this is - The hosts - so friendly and very responsive and supportive hosts - the property is protected and with security service Tipps around: - do the Boat Trip with Don Juan and visit the oysters farm for lunch - try the sushi restaurant in town - visit the local market on Saturday - you can (SENSITIVE CONTENTS HIDDEN) with the laundry service that picks your clothes at your house. We paid around 36 R$ for a basket (most of the times 3 baskets for the whole family) and a fix amount of 8 R$ for delivery - visit Buzios and its wonderful restaurants Some things you should consider when booking this wonderful apartment: - Arraial do Cabo and Cabo Frio itself is not very touristic. It has started to develop its infrastructure. This leads to untouched wonderful beaches and on the other side to very basic services. We went to Buzios if we wanted to choose from more than 100 Top Restaurants. - We had power blackouts every now and then for some hours. This is not critical at all and the alarm systems still works and you have gas for the hot water and the kitchen. - The Internet is as powerful as possible there and it is stable - but compared to Europe and America its kind of slow. But hey - you're here for relaxing and the itunes movie downloads still works (but take 1 day) ;-) So everything in 1 sentence: A perfekt location with the most adorable view you have probably ever seen. Great!
---
A casa do Felipe é maravilhosa um verdadeiro paraiso, nem tem como explicar a sensação maravilhosa que é a vista, eu e toda minha família ficamos encantados e apaixonados pela sua casa. Fomos recebidos com uma cesta de frutas e cerveja gelada, foi muito bom pois estavamos exaustos da viagem, a casa é muito mais bonita pessoalmente, a decoração interna, a cozinha é totalmente equipada e com uma vista incrível da cidade. Eu recomendo a todos, e agradeço ao felipe, marise e César pela simpatia e recepção e por dividir esse paraiso com toda minha família. Muito obrigada
---
Sensacional! Não há palavra melhor para dizer sobre a casa de Felipe. O lugar é de vista privilegiada, exatamente como nas fotos. A casa atendeu bem eu e meu grupo (total de 10 pessoas). Chegamos e haviam toalhas e roupa de camas disponíveis para todos, o que foi muito bom! O Sr. Cezar nos recebeu, explicou todo funcionamento da casa e esteve sempre pronto quando o acionávamos por alguma dúvida. A casa estava limpa e tudo bem organizado. Foi uma grata experiência. Ah! Não poderia esquecer! Ainda nos deixaram frutas como cortesia, o que foi bem legal! Sem dúvida alguma recomendo e pretendemos voltar. É um verdadeiro paraíso! Obrigada Felipe e sua família.
---
What a place...Seriously by far the greatest airbnb experience I've had so far. It looks exactly like in the pictures, you can't get enough of the view. There is a nice pool, a terasse, a sauna and a bbq-place outside and the kitchen in the house is very big. Felipe's parents welcomed us at the house with a short tour, a bowl of fruits and cold drinks and a bottle of cachaca to make some Caipirinhas :) How awesome... I went there with 8 friends, rented a car in Rio, what I really recommend, since the house is on a hill, and a car is perfect to buy some groceries in town, so you don't have to bring them up the hill by foot. The beach on the picture is called praia brava, perfect for body surfing, boogie boarding and surfing, not a lot of people on that beach but the scenery is beautiful (the water is pretty cold though). Felipe gave us so many tips for activities in arraial do cabo, I would highly recommend you doing the boat trip and scuba diving. Cheers!
---
Nuestra estadía en la casa fue maravillosa, las fotos que figuran en la página no alcanzan a describir la belleza del lugar...Los padres de Felipe nos recibieron con mucha amabilidad y estuvieron atentos a si necesitábamos algo. La casa dispone de todo lo necesario y más para pasar unos días perfectos, contemplando la paz que ofrece el lugar sin necesidad de moverte de ahí. Gracias por todo ! ojalá podamos volver en otra oportunidad....un lugar altamente recomendable!
---
Que casa espetacular, superou TODAS nossas espectativas! Infelizmente choveu muito em Arraial durante nossa estadia e não aproveitamos muito a praia e cidade, mas a casa nos deu toda diversão necessária (piscina, sauna, churrasqueira, cozinha e VISTA!). Os anfitriões são uns amores e muito atenciosos (Felipe, Marise e Cezar) . Fizeram a gentileza de deixar umas cervas na geladeira hihi *Destaque para a cozinha gourmet da casa, completamente equipada e profissional. Tenho de voltar um dia e recomendo para todos!
---
Fomos muito bem recebidos, sentimos como se estivéssemos em nossa casa com total liberdade e privacidade. O local é muito seguro, as portas e janelas ficavam sempre abertas! A casa é muito aconchegante, os cômodos são bem arejados, a cozinha é nova e muito bem equipada digna de um grande "chef". Tivemos momentos inesquecíveis, assistir ao por do sol de camarote na rede instalada na varanda, admirar a beleza do mar dentro de uma piscina estrategicamente posicionada ou através das paredes de vidro da sauna. A Prainha do Pontal do Atalaia fica próximo há apenas poucos minutos de carro e de fácil acesso. Para os aventureiros existe uma trilha para a Praia Brava. Superou nossas expectativas, local ideal para fugir da agitação um verdadeiro paraíso!
---