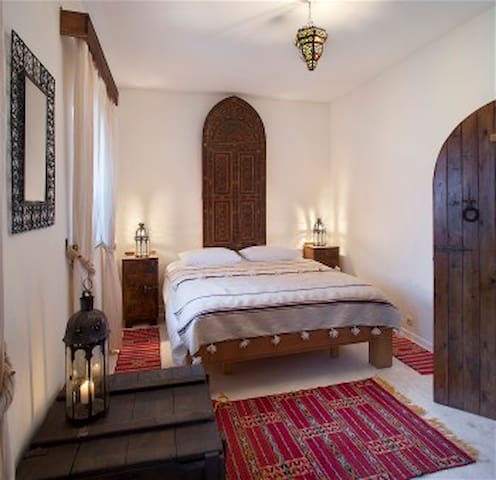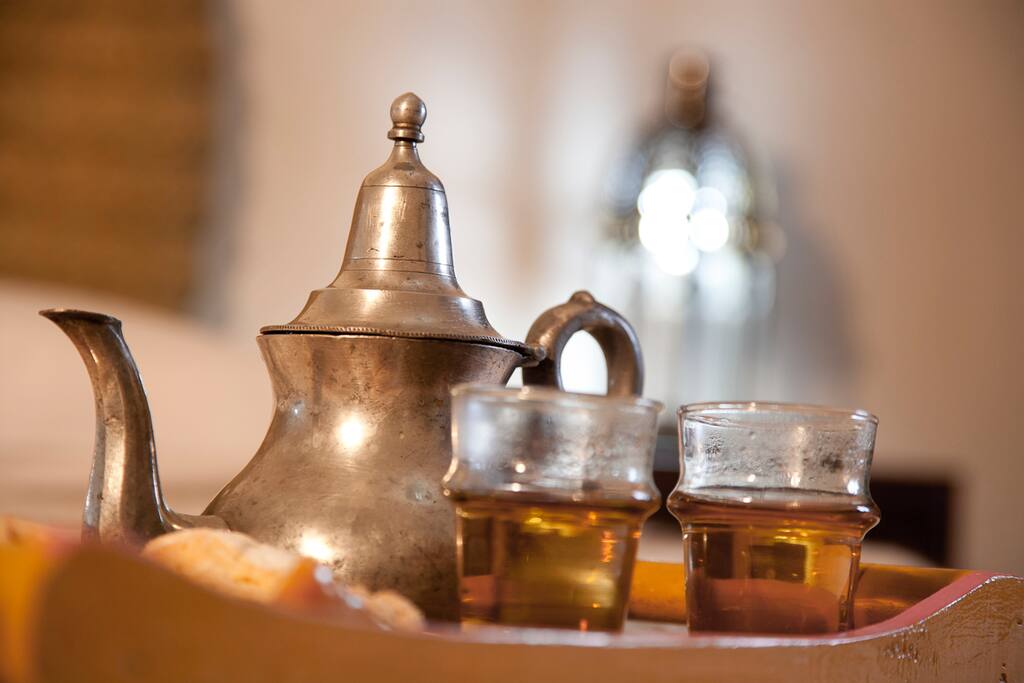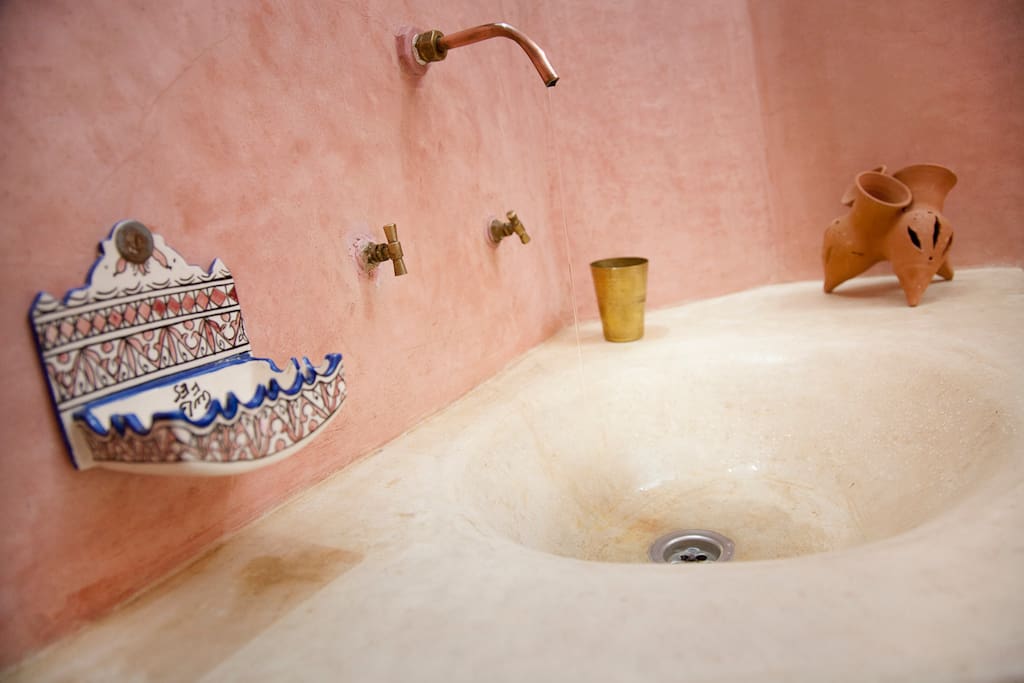 "惊人的经验!必须在菲兹地区访问! 住在Kamal的宾馆是我在Fez的时间里最好的体验之一。他把我们从菲斯从米开始
"Amazing experience! A must visit In Fez region!
Staying at Kamal's guesthouse is one of the best experiences I had in my time in Fez. He picked us up from Fez in the m
房源
"美丽的巴哈来美丽的人,真正难忘的住宿..超过5星,更像家人!" 一个已发布的TripAdvisor评论, 我的合作伙伴和我花了几个星期旅行摩洛哥在2015年10月。虽然从来没有在这个地方和人民之前写过一个TripAdvisor的评论,值得注意! 花了一个星期的时间开车穿过沙漠到梅祖加,直到非斯(有可怕的食物中毒),身体和精神上都是疲惫不堪。达卡马勒·肖维(Dar Kamal Chaoui)的意图是快速停下来,几天前赶到舍夫沙万。但是哦,我有什么意外的惊喜!原来是我们ENTIRE旅程的绝对亮点,我们不想离开! 首先,人民:卡迈勒,奈马。你会遇到的最好的一些。卡迈勒和他的智慧丰富,从不停止娱乐,让我们惊叹不已。政治,教育,历史,食物,他是一个很好的旅行和真正的鼓舞人心的人,我们从来没有停止笑,我们在那里的所有时间。奈玛,如此甜蜜可爱。更多的朋友不仅仅是一个惊人的厨师和主持人,她不懈努力地保持这个地方的运行,让你感觉在家里。没有什么太麻烦了!而且,当她听到我们被马拉喀什的指甲针妇女搞砸了的时候,她甚至为我们和其他客人做了指甲针! 第二:宾馆。可爱的景色和露台。美丽的木工和装饰(都来自当地的木工,Latif)。最好的睡眠和淋浴我们有一段时间。水是如此新鲜,你可以从水龙头喝...没有问题!和食物,哇。我们在这里吃过早餐和晚餐。当时还有一个法国家庭住在那里,我们都坐在一起吃饭。食物是如此的新鲜,奈梅比所需要的更多,所有的额外/剩菜都送给邻近的村民! Bhalil:一个迷人,正宗和快乐的村庄,(Fes以外30分钟),以洞穴住宅和djellaba按钮而闻名。我们做了村里的游览,并与Kamal一起参观了当地的一个洞穴家庭,值得一试。不幸的是,我们没有时间去山上漫步。旅游很少,你不会在这里被困扰。你不会被骗,只是幸福的人们日复一日的生活。卡迈勒和奈玛绝对是他们社区的当地英雄。由于卡迈勒搬到了巴勒勒,他正在清理街道,为村民创造一个更美好的环境。他鼓励他们画房子,所以对他来说,街道上色彩艳丽的外表是欠他的。此外,他还花时间教当地人英语! 至于一日游,我们被带进了Fes,在那里,Kamal开车带我们到郊外教我们历史和遗址,然后送我们,然后来接我们,之后我们去看了一个可口可乐的国际音乐学院他也帮助我们组织我们在舍夫沙万的酒店,来到车站帮我们买票,甚至打电话来看看我们是否到达那里好吧! - 感谢您的美好体验,并照顾好我们奈马和卡迈勒(我们的摩洛哥母亲和父亲!)。我们将回来赶上,进一步探索该地区。
"Beautiful Bhalil. Beautiful People and truly unforgettable stay.. More than 5 stars and more like family!!"
a published TripAdvisor review,
My partner and I spent a few weeks traveling Morocco in October 2015. Although never written a TripAdvisor review before this place and the people, deserves to be noticed!
After spending a week driving through the desert to Merzouga and up to Fes (with terrible food poisoning) we were absolutely exhausted, physically and mentally. Dar Kamal Chaoui was meant to be a quick stop off for a few days to catch our breath before heading up to Chefchaouen. But oh my, what an unexpected surprise!! It turned out to be the absolute highlight of our ENTIRE trip, we didn't want to leave!!
Firstly, the people: Kamal, Naima. Some of the nicest you will come across. Kamal, and his wealth of wisdom, never ceased to entertain and amaze us. Politics, education, history, food, he's a well traveled and truly inspiring man and we never stopped laughing the whole time we were there. Naima, so so sweet and lovely. More of a friend than just an amazing cook and host, she works tirelessly to keep the place running and makes you feel right at home. Nothing is too much trouble! And, when she heard we got scammed by the Henna women in Marrakesh, she even did Henna for us and the other guests!
Secondly: The Guest house. Lovely views and terrace. Beautiful carpentry and decor (all sourced from the local woodworker, Latif). Best sleep and shower we'd had in a while. The water is so fresh here you can drink from the tap... No problems! And the food, wow. We had breakfasts and dinners here. There was another French family staying there at the time, and we all sat and ate together. The food is so fresh, and Naima cooks more than is needed and all the extras / leftovers is given to the Neighboring villagers!
Bhalil: What a charming, authentic and happy village, (30mins outside Fes), known for it's cave dwellings and djellaba buttons. We did the village tour and visited a local cave family with Kamal and it's worth it. Unfortunately, we didn't have time to the trek around the hills. With little tourism, you won't get hassled here. You won't get scammed, It's just happy people going about their day to day lives. Kamal and Naima are definitely local heroes in their community. Since Kamal moved to Bhalil he's been cleaning up the streets to create a better environment for the villagers. He's encouraged them to paint their houses, so it's to him the delightfully colourful appearance of the streets is owed. In addition, he also takes the time to teach the locals English!
As for the day trips, we were driven into Fes, where Kamal drove us around the outskirts teaching us the history and the sites before sending us in, then came and picked us up, after which we went and watched a lovely gig from the international school of music. He also helped us organize our hotel in Chefchaouen, came to the station to help us buy our tickets, and even called to see if we got there okay!
- Thank you, for the amazing experience and taking such good care of us Naima and Kamal (our Moroccan mother & Father!). We will be back to catch up and explore the area further.
房客使用权限
所有的房子都是你的房子,我们有4间舒适的客房,每个房间都有自己的浴室或淋浴间,每个房间的费用为60欧元,这个露台享有美景。
All the house is yours, we have 4 confortable rooms, each room has it own bathroom or shower room, each room cost 60€, the terrasse has a wonderful view.
与房客的互动
"惊人的经验!必须在菲兹地区访问! " 住在Kamal的宾馆是我在Fez的时间里最好的体验之一。他早晨从菲斯接过我们,开车去巴尔利。他正在告诉我们Fez的历史和不同建筑物的历史。很有意思。这家宾馆装饰精美,手工制作的木制家具和木匠Latef的艺术作品。卡马勒带领我们在山上度过了13公里的跋涉,我们和一个当地的柏柏尔家庭有一个可爱的烧烤。与他们度过时间,并更好地了解当地人如何生活是非常好的。但是我不得不说,我整个旅行的亮点是第二天早上的早餐。奈梅是一位年轻的柏柏尔人,他是厨房的主厨,为我们提供了三种不同类型的自制果酱的新鲜煎饼。还有自制酸奶!无花果果酱和酸奶的组合是天上的!这是值得的。 在菲兹地区一个美好的经验和必须的。
"Amazing experience! A must visit In Fez region! "
Staying at Kamal's guesthouse is one of the best experiences I had in my time in Fez. He picked us up from Fez in the morning and drove to Bahlil. He was telling us the history of Fez and history of different buildings along the way. Very interesting. The guesthouse was tastefully decorated with handcrafted wooden furniture and artwork by their carpenter Latef. Kamal led us for a 13km trek in the mountain and we had a lovely BBQ with a local Berber family. It was so nice to spend time with them and get a better understanding of how local people live. But I have to say the highlight of the whole trip for me was the breakfast next morning. Naima, a young Berber woman, who's the chef for the house, served us freshly made pancakes with three different types of homemade jams. And also homemade yogurt!! The combo of the fig jam and yogurt is heavenly!!! It's worth going just for that.
A wonderful experience and a must in Fez region.
其他注意事项
这是卡迈勒在这里的巴哈勒达卡马勒·肖维的经理,我会很高兴地告诉你关于我的摩洛哥, Naima我们的厨师,我们的木匠Latef&I将很高兴在我们的宾馆在Bhalil, 4间客房,每件60欧元 我是谁? 我是摩洛哥人,在我活着的前18年,我住在费兹, 然后我完成了我在法国的大学学习,在Hewlett-Packard在法国工作了9年,在德国担任了10年的化学分析师工程师。我总共花了29年生活在摩洛哥。 我的成功秘诀很简单,我们举办非常小的团体,Latef木匠,Naima我们的厨师和我做所有的我们自己。 我们会从机场照顾你,向您展示隐藏的摩洛哥远离旅游之路!充满历史参考和农村景观。 Naima我们的柏柏版厨师将准备美味的自制食谱Yoghourts和Tajines.etc等......... 我的欧洲眼睛,我所说的法语英语德语阿拉伯语,我深深的摩洛哥历史和社会知识,是你保证与你回来的美好回忆。 Bhalil位于Fez以南24公里,没有卡车通往机场。 一旦你在巴尔勒村,我们宾馆的路线: GPS:(PHONE NUMBER HIDDEN) 或此格式: 北(PHONE NUMBER HIDDEN) 我在此与我的谷歌地图,请查看这里的链接了解如何找到我们在巴尔勒 (URL HIDDEN) 如何找到我们: 如果你自己来,不用我们的接送服务车,你需要方向, 最好的是在加油站等我们,巴哈勒入口处唯一一个加油站叫做Petrofine! 在(SENSITIVE CONTENTS HIDDEN)地图中看到我们,我们已经努力在(SENSITIVE CONTENTS HIDDEN)地图中看到 从那里的加油站打电话给我们,我会来告诉你去我们家的路。 很难找到我们的宾馆在巴尔勒,一些好的人可能会要求你指导你的钱。 所以为了避免这种情况,最好是从加油站打电话给我们,还要告诉我们你什么时候要在巴尔勒。 (URL HIDDEN) = 0BxPXswSxUSp5dmU2N1NmVnU1QWc 您在Fez和地区的计划是什么? 请注意,我们提出几项服务,并将很高兴为您制定定制计划,包括接送服务租车,游览梅克内斯,沃卢比利斯,雪松森林,Boulemane&Tazzeka国家公园。 我可以自定义和组织它,告诉我你想去哪里...你有什么兴趣,我可以照顾所有,并为您做一个成本估算。 我最喜欢的游览之一是让我们感觉到远离其他游客,分享柏柏尔人的正常生活,也许你应该考虑在巴尔勒山与我一趟旅程。 接机服务: 我们有机场接送服务,从火车站出发275dh,我的妻子Béatrice或者更有可能来接你。我的附加值是所有的停止,你可以做所有的现场说明,我会给你英语法语或德语! 一次最多4人可以搭配我的车。 可以从拉巴特1870Dh卡萨布兰卡3300Dh Tanger 3300Dh Chefchaouen 3850Dh或Meknes 1320Dh或Elswhere组织接送服务。 巴勒勒村旅游费用:每人如果少于4人,每人达到275人迪拉姆(DH),4人以上每人140人 村里的旅游是2小时游览, 我是参加的人,我没有把这个任务交给别人,我对自己的文化充满热情,我希望我的客人能够充分利用它!我会很乐意用法语或英语给出所有的解释, 我会给出所有的历史故事,解释我村民正在生活的方式,进入一个裁缝店,谈论djellaba按钮,关于我所在地区的农业和橄榄树,我们将访问一些洞穴,并将有一个好喝的一杯茶与住房业主,如果机会发生了。 我们还将前往村庄的主要地点,看到水泉和洗涤地方,妇女正在洗布,地毯羊毛和面粉! 请阅读这一个证言: 卡马尔在巴勒利宾馆的采暖系统中,对他的创造力着迷,并着迷于他通过绘画和塑料袋从街道拆除带来经济的承诺,他在灯具和配件中使用"全木"。他有一个可爱的木匠,自己是一个宝藏,并且让我们做了一些家用摩洛哥油漆刷与山羊的头发。我回到家里,不仅发现了摩洛哥的惊人,而且感谢有遇到这样的事情 迷人而亲切的主人。 你想和我们一起吃饭吗? 180 dh 3道菜, 我需要你的答案 我们的主厨Naïma受到我们的客人的赞赏, 一个3道菜的膳食每人将花费180Dh,它包含一个起始者,主菜(Tajine),通常是法国甜品, 请阅读关于Naïma我们的厨师,在TripAdvisor,宾馆在Bhalil。 午饭时间只有午餐,我们可以准备一顿午餐,只有2道菜,每人130Dh, "迷人的宾馆靠近费兹,塞夫罗和机场" 美妙的财产,美景,令人惊叹的食物,我们受到欢迎。与家人有一个美好而轻松的晚餐。我们的住宿形成了我们对摩洛哥全景的最宝贵,真实的记忆,我们不能推荐这家宾馆。 5 5étoiles 你想和Naima&I,330 Dh每人做一个烹饪课吗? 我们的主厨Naïma总是很高兴分享她的秘密和摩洛哥风味,我将协助她翻译所有正在准备的眼前,要求更多的细节.... 我们的客人在我们的宾馆Dar Kamal Chaoui在Bhalil 1人或2人的房间每房每晚660Dh,房间Beatrice Sophia或Adil, 亚当,最小的房间,每晚550 Dh, 这包括早餐,但不包括每人每晚27 Dh市税 我们位于村庄内的迷人的房子是一个很好的机会,学习很多关于我们邻居的生活,并享受我们为客人准备的简单舒适。在冬天,房子被烧木头加热。 要了解更多信息:(URL HIDDEN) "宝石宝塔" Dar Kamal Chaoui酒店是一家位于Bhalil的迷人而精美的宾馆。每间客房明显不同,舒适。卡迈勒是一个梦幻般的主人,食物真的很美味丰富。我强烈建议您在此途中停留在Fez的路上,度过一两夜,发现Bhalil的美丽与独特。你不会失望的。 5 5étoiles 如何存款: 为了安全预订,我们要求我们的客人存入我们的法国银行帐户,我们要求的金额是总住宿的50% 请使用我们的法国银行详细信息附件: 更多游览卡马勒 选择一个讲师,然后再选择一次游览! 1 / Guigou Souk星期日,包括我的车和我作为讲师, 我和客人一起去贵吉,一个位于费兹以南80公里的柏柏尔村,这个游览只能在星期日, 贵州高1500米,相对于已经950米高的巴哈勒村。 在开车期间,我们做了两个有趣的站点,一个是关于传统烤炉的祖先石灰石产品,您将获得良好的技术水平的信息,然后是第二站的洋葱生产和储存! 一旦我们到贵贵的地方,我们就会在里面走进一小时半的里面,贵贵的人是柏柏尔人,他们说自己的语言,出卖自己的生产,什么是真正的地方。唯一的游客! 午餐后,我们将加入奈迈的家庭,享用美味的蒸丸,包括甜点和茶,每人费用为165Dh,在那里您将有机会了解柏木家庭,听他们的音乐家(每人165Dh),并学习如何制作他们的生活! 2 /雪松森林和湖泊路每天特别在星期二:同样的故事为Tazzeka国家公园 包括我的车,我作为司机和英语讲师。 这个游览是雪松森林的一个自然山,我们将花几天的美好的一天开车,看猴子(不要喂他们),我们也可以在森林里度过漫步,我们将跨越Immouzzer并停下来药用香料和苹果, 我们将看到两个美丽的湖泊,与人们交谈,遇见他们,当他们能够发现,不理会他们的生活方式,每次停下来,我们将尽快停止在伊夫兰德摩洛哥最干净的城市,好像我们会有在瑞士。 3 /对于冒险者而言,Bhalil和Immouzzer之间经过山脉漫步28公里, 我们将步行7到8小时,在一个非常容易的步行高原,然后在一个漂亮的森林,然后爬上从(PHONE NUMBER HIDDEN)米杰贝尔Abbad, 景观是惊人的!关于我的摩洛哥文化的讨论非常赞赏。 包括一个沙丘和一个出租车从Immouzzer到Bhalil。 没有可比的跋涉,如这个与卡马勒 Kamal提供了一个特殊的经验,不仅因为他的热情好客和个人的关注,而且还因为他愿意投资计划所有后勤细节的时间基于
This is Kamal here, Manager of Dar Kamal Chaoui in Bhalil, I'll be very happy to tell you about my Morocco,
Naima our Cook, our carpenter Latef & I will be glad to host you in our Guesthouse in Bhalil,
4 rooms, each cost 60€

Who I am?
I'm Moroccan, I lived and brought up in Fez during the first 18 years of my live,
then I finished my University studies in France & worked as a chemical Analyst Engineer with Hewlett-Packard 9 years in France and 10 years in Germany. In total I spent 29 years living abroad Morocco.
My success secret is simple, we host very small groups, Latef the carpenter, Naima our Cook & I do all by our own.
We would take care of you from the Airport and show you the hidden Morocco far from touristic path! filled with History references & Rural landscapes.
Naima our Berber cook will prepare delicious self made marmelade Yoghourts and Tajines.etc etc etc .........
My European eyes, my spoken French English German Arabic languages, My deep Moroccan history & society knowledge, is your guarantee for nice memories to bring back with you.

Bhalil is located 24 km south of Fez with no jam access to the Airport.

Directions to our Guest house once you are in the village Bhalil:
GPS : (PHONE NUMBER HIDDEN)
Or this format :
Nord (PHONE NUMBER HIDDEN)
West 4 52 308
I herewith my (SENSITIVE CONTENTS HIDDEN) map, please check the link here to understand how to find us in Bhalil
(URL HIDDEN)

How to find us :
If you come by your own, not with our pick up service car, you would need directions,
The best is to wait for us at the petrol station, the only one petrol station at the entrance of Bhalil called Petrofine !
See us in (SENSITIVE CONTENTS HIDDEN) map, we have made the effort to be seen in (SENSITIVE CONTENTS HIDDEN) map
Call us from the petrol station there, and I would come and show you the way to our House.
It is difficult to find our Guesthouse in Bhalil, and some nice people may ask to guide you for money.
So to avoid that, the best is to call us from the Petrol Station and also to tell us when you are expecting to be in Bhalil.
or to find this big sign on the Bhalil main street : (URL HIDDEN)

What is your planning in Fez and region?

Be aware that we do propose several services and would be delighted to make customized plan for you including pickup service rent a car, excursions to Meknes, Volubilis, Cedar forest, Boulemane & Tazzeka National Park.
I'm able to customize & organize it all, tell me where you want to go...what are you interests, I can take care of all and make a cost estimation for you.
One of my favorite Excursion, is the one that makes us feel alone far from other tourists, sharing the normal life of Berber people, maybe you should consider a day trek with me in the Bhalil Mountains.

Pick-up Service:
We do have a pick-up service from the airport and from Rail way station for 275dh, my wife Béatrice or more likely I would come and Pick you up. my added value are all the stops you can make and all the on spot explanations I would give you in English French or German !
4 people max at a time can fit in my car.
Pickup can be organized from Rabat 1870Dh Casablanca 3300Dh Tanger 3300Dh Chefchaouen 3850Dh or Meknes 1320Dh or Elswhere, please ask.

Bhalil village tour Cost : 275 Dirhams (DH) per person if less than 4, 140 Dh per person for above 4 persons
The tour in the village is a 2 hours tour,
I'm the one who is making the tour, I'm not giving this task to somebody else, I'm passionate about my culture and I want my guests to have the most of it ! I'll be happy to give all the explanations in French or English,
I will give all the historical stories, explain the way my people in the village are making their living, entering a tailor shop and talking about the djellaba buttons, about the agriculture and Olive trees in my region, we will visit some caves and will have a nice cup of tea with the dwellings owners if the opportunity happend.
We will also head to the main place of the village and see the water spring and the washing place where the women are washing their cloths, carpet wool and flour !

Please read this one testimonial among others :
We were fascinated by kamal's ingenuity in the heating system at his Guesthouse in Bhalil, and fascinated by his commitment to bring economy by his project of painting and plastic bag from streets removing, he is using 'all wood' in the fixtures and fitting. He has a lovely carpenter who is a treasure himself and who made us some home made Moroccan paint brushes with goat's hair. I came home not only having discovered the amazingness of Morocco but thankful to have met such charming and gracious hosts.


Would you like to have dinner with us? 180 dh for a 3 course meal,
I need your answer please
Our Chef Naïma is appreciated by our Guests,
a 3 course meal would cost 180Dh per person, it contains a starter, a main dish (Tajine) and usually a French Dessert,
Please read about Naïma our chef, in TripAdvisor, section Guesthouse in Bhalil.
for lunch and only for lunch, we can prepare a light lunch including only a 2 course meal, for 130Dh per person,

"Charming Guesthouse close to Fez, Sefrou and airport"
Wonderful property, great views, amazing food AND we were made so welcome. Had a superb and relaxing dinner with the family. Our stay formed the most precious, authentic memory of our full tour of Morocco and we cannot recommend this guesthouse enough.
5 5 étoiles
Would you like to have a cooking lesson with Naima & I, 330 Dh per person ?
Our Chef Naïma is always very happy to share her secrets and Moroccan flavours, I will be assisting her to translate all what she is preparing in front of your eyes, ask for more details....


Room at our Guesthouse Dar Kamal Chaoui in Bhalil
The room for one or 2 people is 660Dh per room per night, for room Beatrice Sophia or Adil,
Room Adam, the smallest, is 550 Dh per night,
this is including breakfast but not including 27 Dh city Tax per person, per night
Our Charming house located inside the village is a great opportunity to learn a lot about our neighbours live and to enjoy the simple comfort we have prepared for our Guests. In winter the house is heated by firing wood.
To learn more : (URL HIDDEN)
"A Gem in Bhalil"
Dar Kamal Chaoui is a charming and beautifully decorated guesthouse in Bhalil. Each room is distinctly different and comfortable. Kamal is a fantastic host and the food is really delicious and abundant. I would strongly recommend stopping here on the way to Fez and spend a night or two discovering the beauty and uniqueness of Bhalil. You won't be disappointed.
5 5 étoiles
How to make a deposit :
to make a secure reservation we ask our Guests to make a deposit to our French Bank account, the amount we ask for is 50% of the Total lodging,
please use the attached file with our french Bank details :

More excursions with Kamal :
Choose a lecturer before choosing an excursion !
1/ Guigou Souk on Sundays, including my car & me as a lecturer,
I'm taking Guests with me to Guigou, a berber village located 80 km south of Fez, this excursion is only possible on Sundays,
Guigou is 1500 meters high compared to Bhalil our village which is already 950 meter high.
During the drive, we make two interesting stops, one is about Traditional ovens for Ancestral lime stone productions where you will get a good technical level of information, then a 2nd stop for the onion production & storage !

Once we will be at the Guigou place, we will walk inside the souk and spend one hour & half inside it, people from Guigou are Berbers, they speak their language and sell their own production, what an authentic place where more likely we will be the only tourists !
for lunch we will join Naima's family for a nice couscous including dessert and Tea that would cost 165Dh per person, where you will get the chance to know a berber family, listen to their musicians ( 165Dh extra per person ) and learn how they are making their living !
2/ Cedar forest & the lakes road every day specially on Tuesdays: same story for the Tazzeka National Park
including my car, me as a driver & as an English speaking lecturer.
This Excursion is a nature mountains Cedar forest one, we will spend an nice day driving with several stops, see the monkeys ( do not feed them) we can also plan a short walk in the forest, we will cross Immouzzer and make a stop at the medicinal spices and Apples,
we will see 2 beautiful lakes and talk to the people, meet them when It can happend, undestand their way of living, make a stop each time, we will make a short stop by Ifrane the cleanest city in Morocco, as if we would have been in Switzerland.

3/ For adventurers, A trek of 28 km between Bhalil and Immouzzer via mountains,
We would walk 7 to 8 hours in a very easy walking plateau, then in a nice forest, then climb from 950m to 1683m Jbel Abbad,
The landscape is amazing ! and the discussions about my Moroccan culture are well appreciated.
Including a sandwitch and a taxi back from Immouzzer to Bhalil.
There no comparable trek such as this one with Kamal
Kamal provided an exceptional experience not only because of his hospitality and personal attention, but also because of the time he was willing to invest in planning all of the logistical details based on the sites we wanted to see. He is passionate about his country and its history and takes great pride in sharing its beauty.
(URL HIDDEN)

4/ A day in Sefrou and the Unknown cascade in the afternoon
Visiting Sefrou, including my car and me as a driver & as an English speaking lecturer.
Join me in Sefrou to understand the Jews-Berber Common past, we will look for the Jews traces in Sefrou, visit a Synagogue, a Caravanserail, a small and nice Medina, we will hardly meet tourists and will have lunch inside the Medina for 130 Dh per person,
then during the afternoon and for 110 Dh more : we will visit and easy climb a small fertile Land, 12 km far from Sefrou, and easy walk to the Unknown Cascades which no Tourist knows.

5/ last but not least, the Fez Medina Introduction and self guiding tour:
Take one hour to hear about the Medina history, learn about what are the must to visit, how and why to visit the best places depending on your visit's time. After my speech, you can surf by your self without any guide's help inside the most big & complex open sky Museum or Medieval city in the world.

Imagine you can make the Medina tour without the help of anyone !
110Dh /person / hour for this creative & informative training of one hour or more.
To maximize the benefit of this training, send me your questions a head !

Enjoy,
Kamal Chaoui

(URL HIDDEN)
Tel et (SENSITIVE CONTENTS HIDDEN) : +(PHONE NUMBER HIDDEN)
Tel et (SENSITIVE CONTENTS HIDDEN) : +(PHONE NUMBER HIDDEN)

Visit My (SENSITIVE CONTENTS HIDDEN) Pages:
Kamal Kamal Chaoui (URL HIDDEN)
Dar Kamal Chaoui : (URL HIDDEN)
Excursions Dar Kamal Chaoui : (URL HIDDEN)

Have a look at my Videos : (URL HIDDEN)
Read Press Articles : (URL HIDDEN)


Press article by Daniela Frendo : (URL HIDDEN)
Press article by the View of Fez : (URL HIDDEN)
press article by Jannah in French : (URL HIDDEN)
a 2nd press article by Jannah in French : (URL HIDDEN)
---
---
始终通过爱彼迎进行交流
为了保护您的账号隐私和付款安全,请不要相信其它任何平台的折扣或优惠券代订,并始终在爱彼迎站内转账和交流。
了解更多
---
We are waiting for all kind of Guests, specially curious people willing to learn the traditions and daily life.
---
---
---
I can't say enough about how amazing our stay was with Kamal and Naima! From the very start, Kamal went out if his way to make arriving easy and our entire time wonderful. We had so many excursions available, it was hard to choose only 3, but each day was a total adventure and Immersion into Moroccan life. We experienced small town living, souks, local people, the Cedar forest, snow, heavenly meals, deep fascinating conversations, a visit with Naima's Berber family and lessons in history, culture and language daily. Naima is one of the best cooks ever! I highly recommend having her cook for you every night. And her breakfasts.... Wow! Yummy and varied. On top of that, we have a few food related medical issues and both Kamal and Naima went out of their way to make sure we didn't eat things that could have harmed us. It was lovely and I can't wait to come back!
---
If you want to have a local experience then this is a perfect choice! Kamal was always quick to respond to questions, easy to communicate with and flexible to accommodate our needs throughout our stay. He offers customized tours of the region including the town Bhalil. He showed us around Sefrou and then took us to some amazing waterfalls outside of Sefrou that you would not be able to find yourself. The house itself is really beautiful and the views from the rooftop terrace are amazing! We enjoyed having breakfast and tea up here throughout our stay. Making the trip to Bhalil is definitely worth it, and we recommend Kamal's house! We would definitely come back here to stay again. Thanks Kamal for having us!
---
Je suis Kamal Chaoui, à 18 ans j'ai quitté ma ville natale Fès afin de poursuivre mes études de Chimie et de Physique à Rouen en France, ensuite j'ai travaillé chez Hewlett-Packard en tant qu'Ingénieur en Analyse chimique pendant 9 ans en France et 10 ans en Allemagne, mon vécu en Europe m'a permis de mieux connaitre les besoins et standards Européens en matière de confort et de savoir vivre et codes Européen, je suis prêt à partager avec vous mon Maroc, celui qui m'a tant manqué pendant 29 ans de vie en Europe !
Attention, le prix de 60€ est le prix par chambre, nous avons 4 chambres, donc le prix de toute la maison est de 60*4 = 240€ pour une nuit pour les 4 chambres, les taxes de séjour sont de 2.5€ par personne par nuit.
语言:
Deutsch、English、Français、العربية