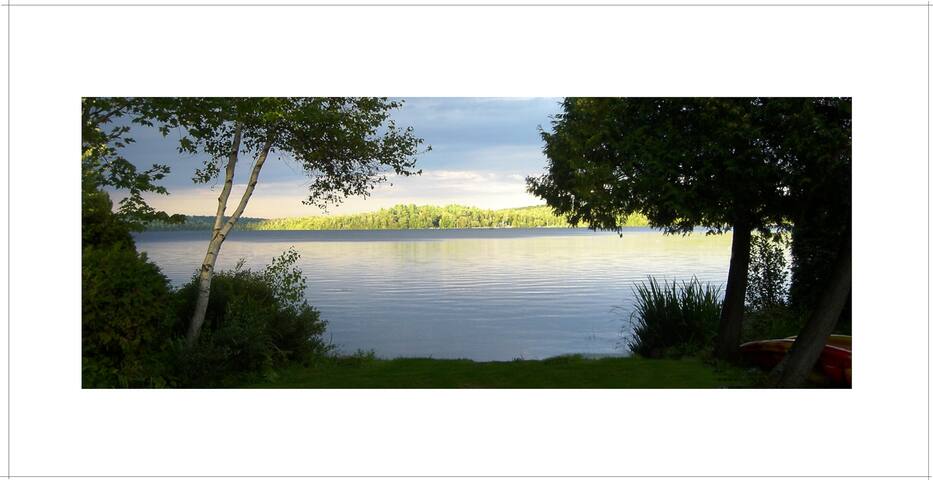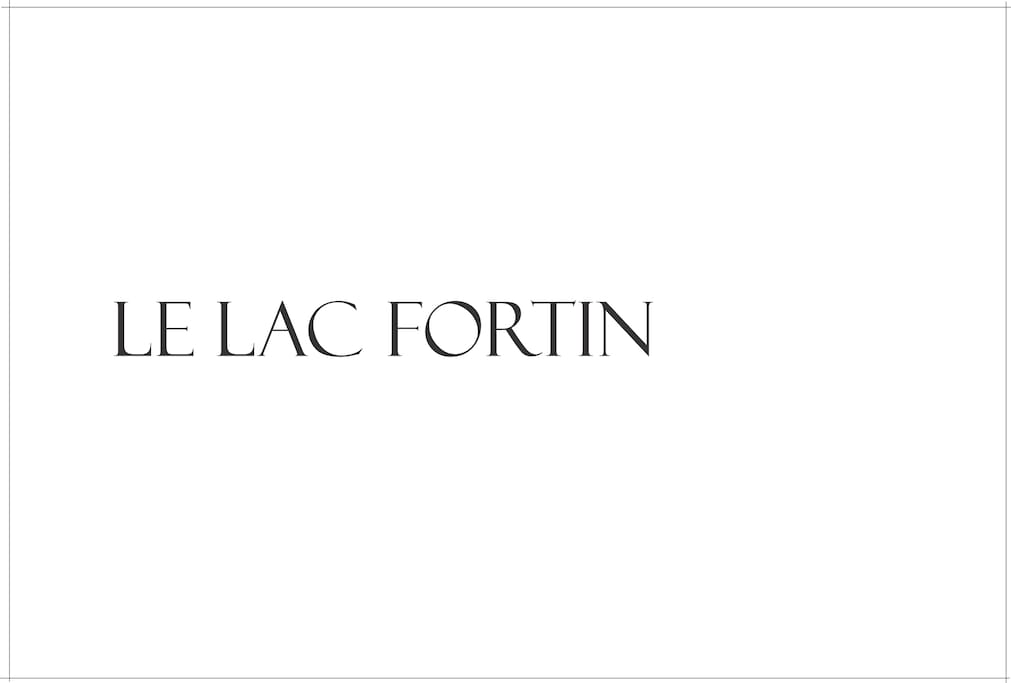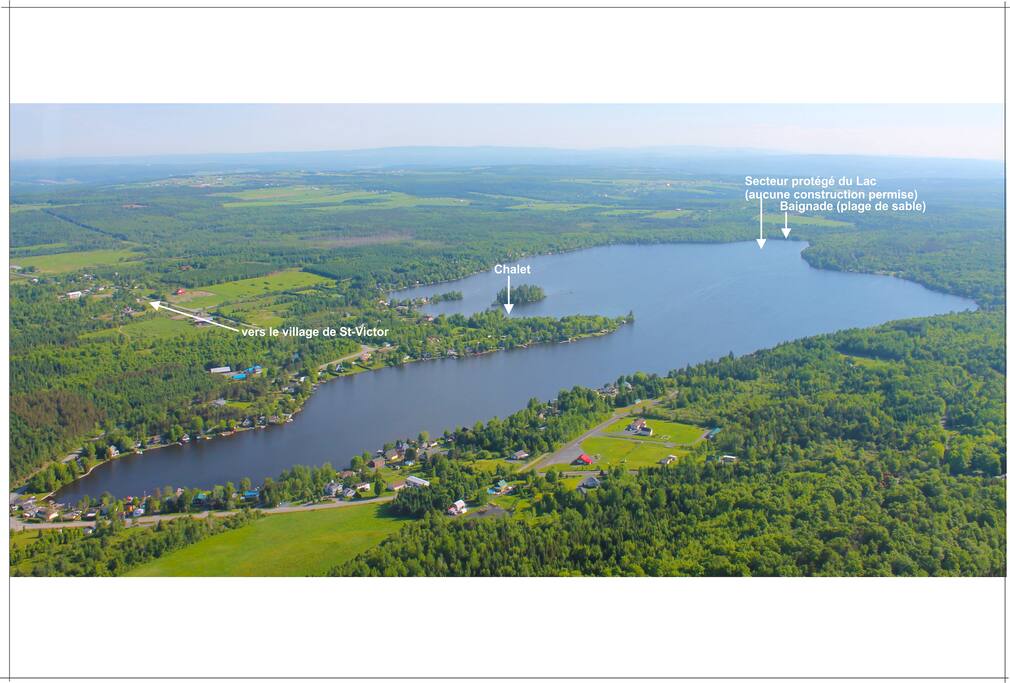 An easy summer at the water's edge, or a cozy winter at the edge of the snow. A spacious covered terrace 40 feet long, facing the lake, allows you to enjoy summer, in rain or sunshine. You can access the terrace through three patio doors. You'll find yourself surrounded by a magnificent lot of 17 000 sq.f. surrounded by a cedar hedge 7 feet in height and three majestic trees planted just at the right distance to hang a hammock and let you be rocked by the lake breeze.
房源
Our charming 20 'x 40' country house is located on the banks of Lake Fortin in the Beauce, 20 minutes from Beauceville and 5 minutes from St-Victor village where you will find groceries, restaurants, pharmacy, etc. It includes a large living room, dining room, kitchen, bathroom and 3 bedrooms.
Its beautiful open kitchen overlooking the dining room enjoys beautiful views of the lake and it features a huge kitchen island, stove, microwave, toaster and coffee maker. The master bedroom is on the ground floor (double bed) and communicates with a beautiful bathroom on the ground floor with a shower and two sinks on a marble counter. The other 2 bedrooms are on the first floor (double bed and single bed).
LCD TV, DVD player, DVD movies, internet, dishes and cutlery, bed linen and towels, housekeeping, both kayaks and pedal boats are included in the rental.
其他注意事项
We are searching for tenants who will appreciate and preserve the environment and peaceful life of the place. Sheets, pillows and towels are provided. You only need to bring your desire to spend a few moments in a dream location.
---
We were very dissappointed by the water You need to know this place doesn't have clean drinkable running water as it comes directly from the lake via a hose and unfiltered They provide big water bottle but it doesn't help with showers as it was brown at times and always smell like 'swamp water' Cooking, washing dishes and keep the kids from drinking it was a nightmare since our gr son has cystic fibrosis The kitchen doesn't have cabinets under or above counter. Food is all exposed with nowhere to keep it ////////////////////////////////// L'eau est insalubre et vient directement du lac, à une mauvaise odeur et est même brune qq fois. Ils nous ont fourni des 5 gallons mais ça aide pas pour prendre une douche , cuisiner ou laver la vaisselle La seule eau chaude vient du lac et pue. Avec notre petit fils qui a la fibrose cystique c'était vraiment dangereux et nécessitait une attention constante La cuisine n'a pas d'armoire ni de portes en dessous et au dessus du comptoir et l'évier Ç'est comme pas fini
Chère Patricia, la plupart du temps, les pires malentendus sont le fruit de mauvaises communications. Il est triste que nous apprenions votre déception une journée avant la fin de votre séjour. Pourtant, pendant votre longue visite chez nous, nos numéros de téléphone et courriels n'ont pas cessé d'exister (notre taux de réponse est 100%). Si nous avons accepté, de changer notre matelas à une dimension supérieure et faire de changements à notre chalet avant votre arrivée pour vous satisfaire, pourquoi nous n'aurions pas eu la bonne volonté de répondre à votre insatisfaction concernant l'eau? L'installation d'un appareil de filtration portatif aurait réglé ce problème qui jadis semble être propre à vous étant donné qu'aucun autre client ne s'était plaint de l'eau. Nous avons appris récemment que vous avez cloué de garde-corps sur notre belle terrasse (pourtant sa hauteur est bien réglementaire et conforme au code de construction). Nous avons aussi appris que vous avez construit un plancher dans une ouverture de notre terrasse prévue pour planter un arbuste décoratif. Tous ces travaux ont été faits sans aucun avis de votre part et sans notre consentement. Nous considérons que vous avez manqué de respect à cet égard. Sachez que le Lac-Fortin est le lac qui fournit l'eau potable à la ville de Beauceville et que l'organisme de protection de notre Lac ''APELF'' contrôle la qualité de l'eau. ______________________________________________________________________ Dear Patricia, most of the time, the worst misunderstandings are the result of poor communications. It is sad that we learn your disappointment one day before the end of your stay. Yet, during your long visit, our phone numbers and e-mails did not cease to exist (our response rate is 100%). If we had accepted, to change our mattress to a larger size mattress and make changes to our cottage before your arrival to satisfy you, why would we not have the goodwill to respond to your dissatisfaction with the water? The installation of a portable filtration unit would have solved this problem which seems to be unique to you as no other customer had ever complained about the water. We have recently learned that you have nailed a guardrail to our beautiful terrace (although its height is in conformity with the code of construction). We also learned that you have built a floor in an opening of our deck planned to plant a decorative shrub. All this work was done without any notice from you and without our consent. We consider your actions disrespectful. It must be known that Lac-Fortin is the lake that supplies drinking water to the City of Beauceville and that the protection organization of our lake '' APELF '' controls the quality of the water.
---
Petit havre de paix! Endroit très tranquille! Le lac est magnifique et le pédalo a définitivement été notre activité familiale préférée! Le chalet est confortable et propre! À savoir pour les familles avec de jeunes enfants: pas de bain et les escaliers pour le 2e étage sont à pic et stressants! La grande galerie avec ses belles chaises est parfaite, invitante et permet d'être dehors même s'il pleut! Nous y retournerions sans hésiter!
---