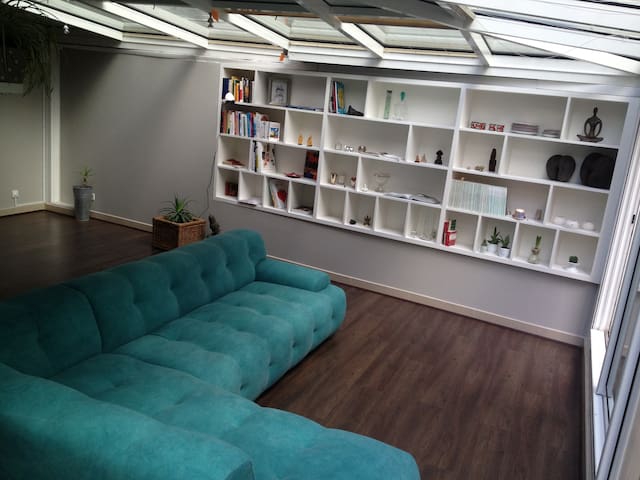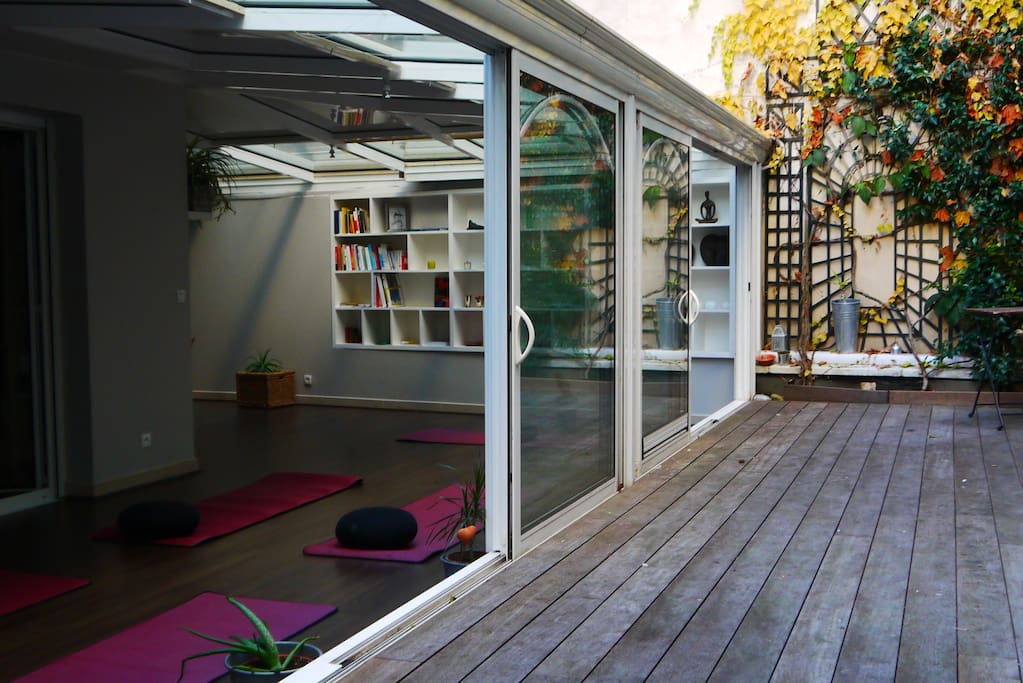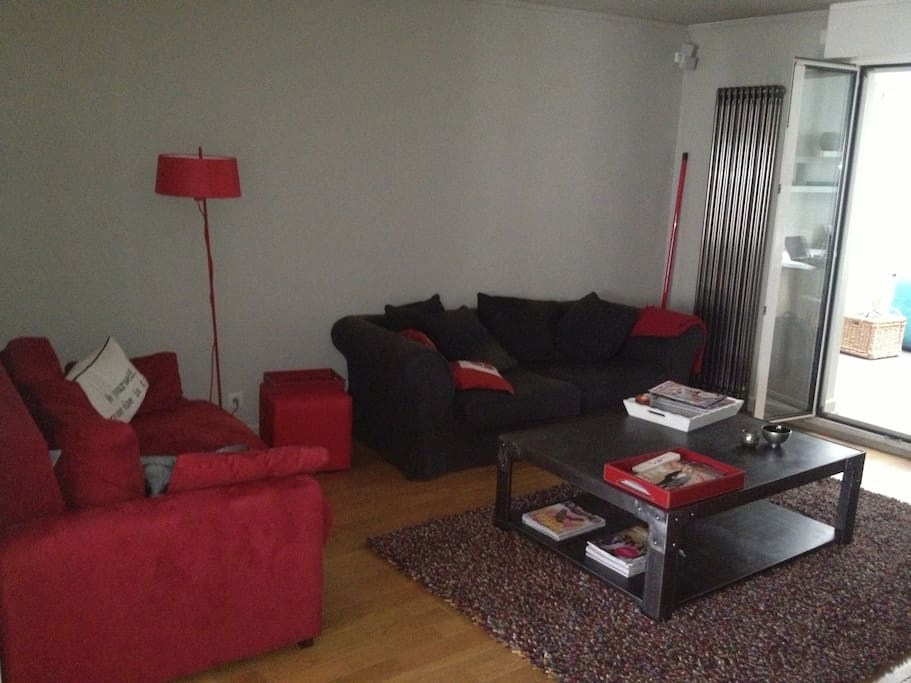 此房源的描述已由谷歌翻译从英语翻译成您的语言,但谷歌翻译并不能保证翻译的准确性。
这间公寓位于蒙马特的中心,靠近MarchéSaint Pierre,距离SacreCœurBasilica大教堂有200米。
独特和非典型的地方
房源
这是一间位于一楼的五房公寓,电梯面积为169平方米,设有一个50平方米的露台。最多可容纳8人入住
公寓设有1间厨房,3间卧室,2间浴室,1间起居室,1个阳台下的其他客厅,1个露台。
厨房:厨房设备齐全,配有热板,烤箱,冰箱,洗碗机,洗衣机和大型水槽,空间很大。
生活区:配有一张双人沙发床,八张餐桌,一张咖啡桌,一台带国际频道的大屏幕有线电视。它还包括电话和互联网的连接。
餐厅:他们都有桌子的双人床。
浴室:一个带浴缸,一个带淋浴
VERANDA:有一个大教练和瑜珈垫!在露台上享用午餐或晚餐
与房客的互动
一个不容错过的绝佳机会!如果您有任何问题,请不要犹豫,我将很乐意回答您的要求。
其他注意事项
如果您有任何问题,请不要犹豫,我将很乐意回答您的要求。
---
Words cannot accurately describe how wonderful this apartmemt is, on EVERY level! I had been dreaming of going to Paris since I was a little girl, so I was almost sure I was doomed to be dissapointed because even if it was great it couldn't have matched the specifics I'd created in my mind (much like how movies dissapoint after reading the novel). But my trip superseded all expectations and let me tell you, that was in large part due to Fredric's apartment! First of all, the location. Montmartre if you don't already know, is the area where a lot of the great artists used to have apartments and/or studios during the Belle Epoque (Picasso, Modigliani, etc. - and even the ones that didn't live there would go there to create or draw inspiration), so being able to stay in that part of the city is heady stuff in of itself when you imagine you are walking the same streets they drunkenly stumbled down on their way to show Gertrude Stein their latest stuff. A trio of cafes (all of them wondeful) that look like they came out of some Parisian postcard are at the bottom of the block you're on, to the right. In that same picturesque triangle you will see what looks like a park with a path and some stairs...if you take either, you end up AT the Sacre-Couer. I mean it, BOOM you're there taking in one of the best views in all of Paris and one of the most striking Basilicas (you will see this same Basilica from different vantage points when you travel through the rest of Paris and it's really cool to know your "living" right next to it!) . Travel around behind it and you'll eventually get to that famous and charming square where people set up to draw your picture, or the Dali museum (highly recommend but I'm a little biased, I love Dali). To the bottom of the block directly in front of the apartment, there is a VERY good restaurant, higher end than the cafes, that had a fashionable crowd of the beautiful set sashaying in and out. I had dinner there with my mother and it was superb. One more block down was an award-winning boulangerie. If you turn right at the swanky place instead you'll find, I exagerate you not, some of the best pizza in Paris (online publications verified, it was so good we checked, I recommend the one with duck). If you turn left instead, you get to a major road thay has EVERYTHING. Great bars, restaurants, cafes, grocery stores, THREE metro stations, absolutely everything you could need in walking distance. A matter of mere blocks and I'm talking tiny, Parisian blocks not huge New York or Chicago blocks. And it's all just so PARIS around there that it's a pleasure to walk anyway; I woke up every morning to get fresh croissants and bread and I'm about the laziest person I know. Now, the...
---
Our family of 8 (everyone over 18 years old) greatly enjoyed our 4.5-day stay in Fred's apartment. There's plenty of room to gather together and there's also privacy if you need that. The kitchen is great - we wish we'd used it more but we wore ourselves out seeing the sights - and the patio is lovely. Apartment is a few minutes from Sacre Coeur, close to a supermarket and plenty of restaurants/cafes, a short walk to the metro. If you stay here, you'll enjoy it.
---
This is a gem of a house, in a gorgeous neighborhood in Paris. The apartment is very spacious - well furnished, and extremely comfortable. The kitchen is lovely, and having a washer and dryer were an added bonus. There is a beautiful veranda that would be delightful in warmer weather. The location is divine - just blocks from Sacre Coeur, and an easy walking distance to all the restaurants and shops you could want. Also, on the corner was THE best bakery imaginable. Also, there was a supermarket 3 blocks away. The communication with Frederic was WONDERFUL - he was incredibly and immediately responsive and helpful. The friend who met us when we arrived was there as soon as we called him, so checking in was perfect - and he gave us a full tour and explanation of the apartment. We will always remember this beautiful home very fondly, and many thanks to Frederic for allowing us to enjoy it for 4 days!
---
Frederic was on holiday but arranged for his friends to meet us and explain all about the apartment. They were waiting for us when we arrived having walked the short distance from Gard Nord station. They spoke very good English and explained about everything such as washing machine etc. They told us where the nearest metro was (10 minute walk) and the supermarket (five minutes). They were very nice and helpful. The apartment is very spacious, nicely furnished and comfortable. The pictures do not do it justice and the terrace at the back is very nice, quiet and private. It is in a great location just down the road from Sacre Coeur and there are many nice restaurants within five minutes walk. The internet is good and enabled us to hook up our laptop to the TV and watch Netflix. Fredric was only a phone call away if we needed him and was very accommodating and helpful. We really enjoyed our Holiday in Paris and would highly recommend this apartment.
---