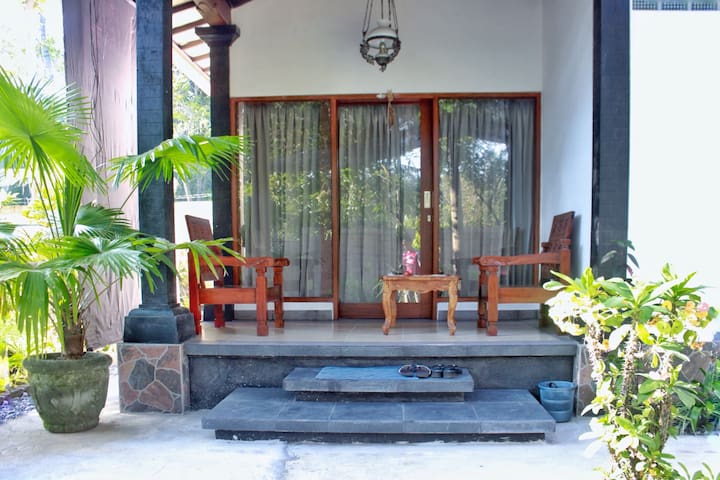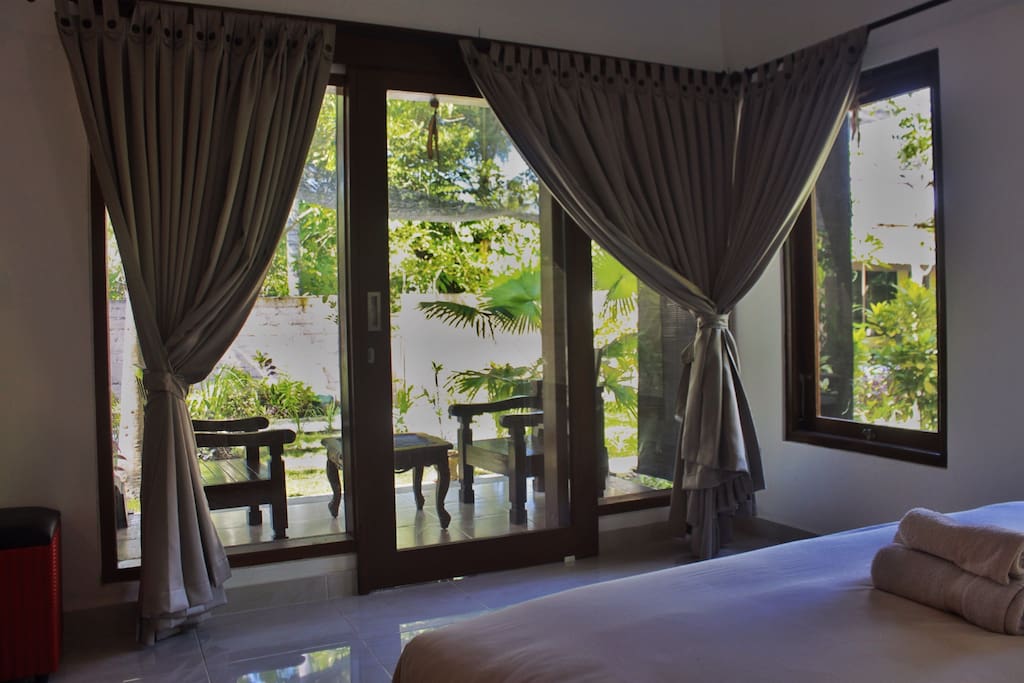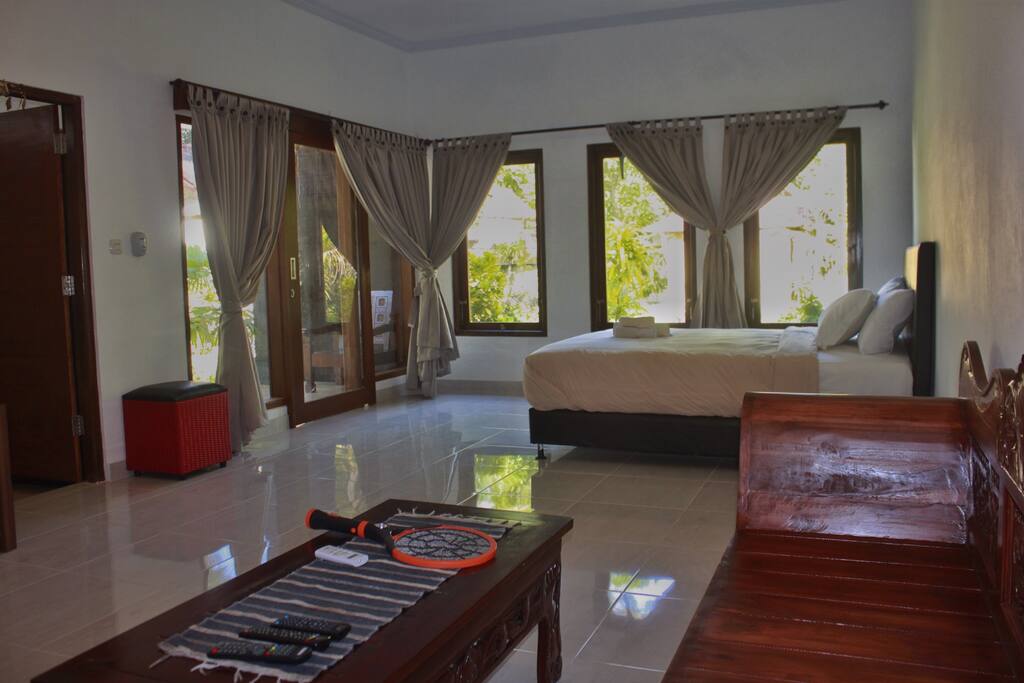 住在巴厘岛北部Tejakula的安静的未游览的渔村Les。您可以在设在巴厘岛花园内的别墅舒适享受隐私。游泳,浮潜,潜水,海上鱼只有5分钟步行路程。沐浴在Les瀑布。
Live in the quiet un-touristed fishing village of Les in Tejakula, North Bali. Enjoy privacy in the comfort of your own villa set in a Balinese garden. Swim, snorkel,dive, fish in the sea, only 5 minutes walk away. Bathe at Les waterfalls.
房源
Gobyog门面由Gobyog村庄制成的华丽雕刻的前门主宰。 这是一个空调的私人空间,带热水淋浴的连接浴室。它是一个理想的休养场所,用于恢复和远离这一切。当你走出大门时,或者沉浸在一个巴厘岛的渔村里。或者在自己的私人空间里写作和发现自己。 一个独立的小别墅有一个内部图书馆,您可以浏览和借阅书籍。 该化合物有一个美丽的厨房和餐厅,你可以在那里做饭和吃饭。它设置在一个小而精美的巴厘岛花园,您可以来回走动,使自己内容变得容易。
Gobyog facade is dominated by its ornately carved front door made from Gobyog village.
It's a private space with air condition, ensuite bathroom with hot shower. It is an ideal retreat place for recuperating and getting away from it all. Or immersing and losing yourself in a Balinese fishing village when you step out of the gate. Or for writing and finding one's self in your own private space.
A separate small villa house has an in-house library where you can browse and borrow books.
The compound has a beautiful kitchen and dining hall where you can cook and eat meals. Its set on a small but beautifully maintained Balinese garden where you can walk back and forth to get things easy within yourself.
房客使用权限
您将可以进入厨房和停车位。 您将可以使用免费饮用水,自行车,以及停留3天以上的客人,免费使用呼吸管和面罩。 Wifi是免费的。 私人空间之外的村庄的美丽是你的体验和分享。
You will have access to the kitchen, and parking space.
You will have access to free drinking water, bicycle, and for guests staying for 3 days or more, free use of snorkel and mask.
Wifi is free.
The beauty of the village outside your private space is yours to experience and partake.
与房客的互动
主持人将留在该大楼内回答您的问题,并指导您在Les Village社区内。
A host will stay in the compound to respond to your questions and guide you within the community of Les Village.
其他注意事项
可应要求提供从机场或任何点到巴厘岛到La Kubu的交通服务。 对于那些从登巴萨开车的人,要去乌布,到达金塔马尼。路线分开为两个 - 一个为库布坦汗,另一个为马丹南/特雅库拉沿着通往马丹南/特雅库拉的道路直到你到达邦达勒姆的沿海公路。右转,前往阿姆拉普拉。你将通过Tejakula村。 Les来了。将其与Tejakula分开的桥梁有道路标志"DESA LES"和"WATERFALLS",沿着第三条街道左转,从桥上左拐,这条街的一角有一个大的红色招牌,有"SEA COMMUNITIES"和几个沿着这条路,直到你看到一个小商店在左边,La Kubu在这个小商店旁边,你可以通过手机联系我们进一步的方向。
Transportation from the airport or any point in Bali to La Kubu is available upon request.
For those who are driving from Denpasar, take the road going to Ubud and up to Kintamani. Where the road branches into two -- one for Kubutambahan and one for Madenan/Tejakula follow the road to Madenan/Tejakula until you reach the coastal road in Bondalem. Take a right turn heading to Amlapura. You will pass the village of Tejakula. Les comes next. The bridge separating it from Tejakula has road signs "DESA LES" and 'WATERFALLS". Take a left turn on the 3rd street to your left from the bridge. The corner of this street has a large red signboard with "SEA COMMUNITIES" and several arrows. Follow this local road until you see a small store to the left. La Kubu is beside this small store. You can reach us by mobile phone for further directions.
---