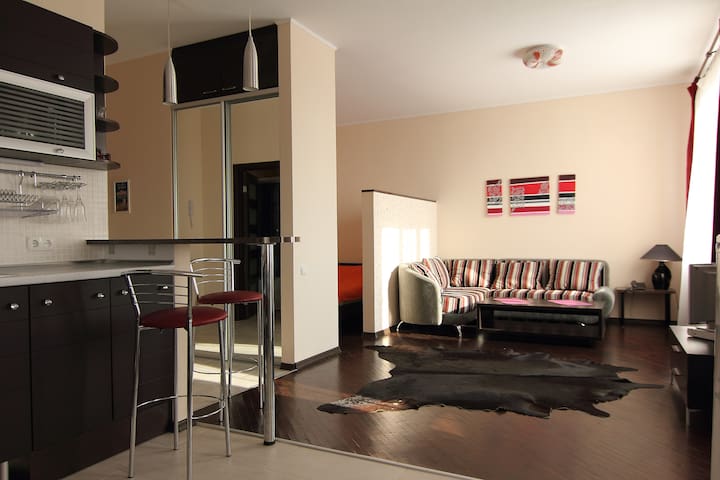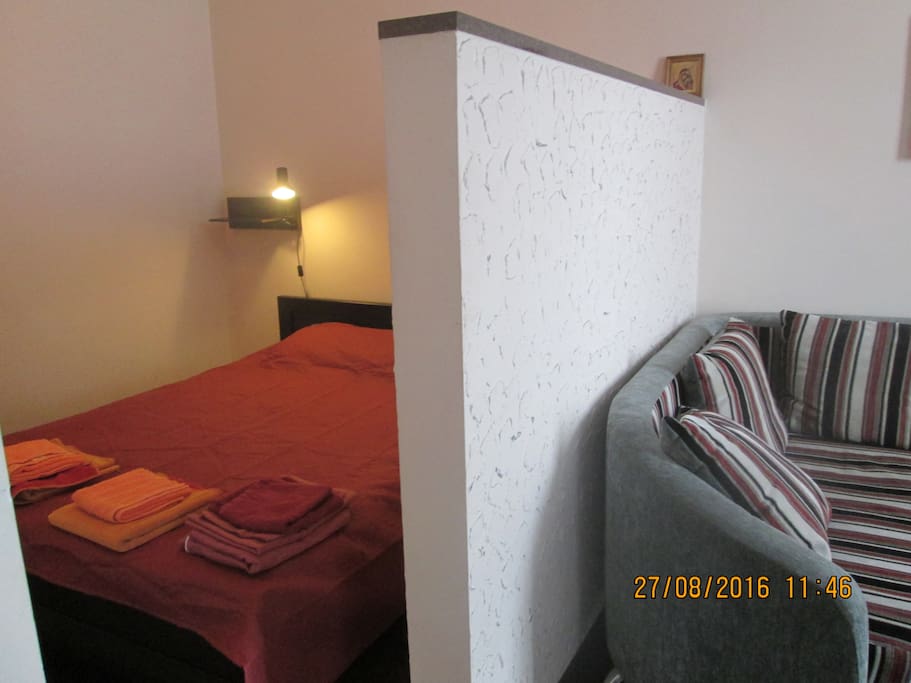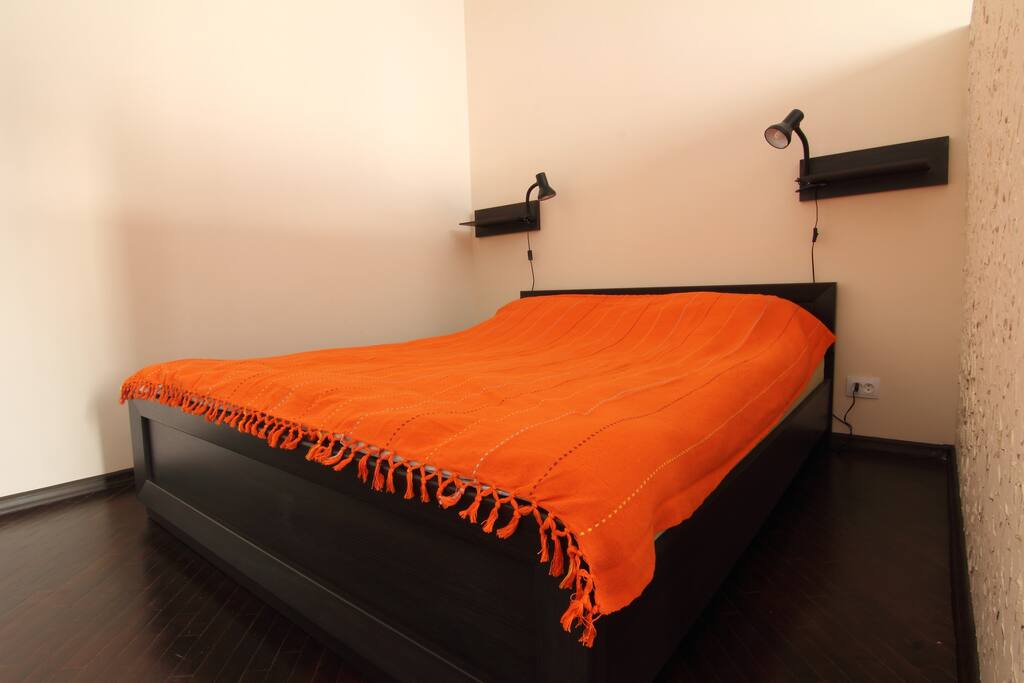 The House is located in one of the best areas of the city. This is determined by the district and make it really cozy at the same time, the proximity to the sea, green area, entertainment (Lunopark, Dolphinarium) and the central part of the city, 20
房源
Great Studio in a new house (commissioned in 2010). Near the park and the sea. 11th floor of 16-storey brick house. Panoramic views of the city and the sea. Repair euro zone dedicated bedrooms, double bed, built-in wardrobes, lounge - comfortable sofa for 2 beds, TV player, a big kitchen with breakfast bar, refrigerator, air conditioner, a bathroom combined, shower with hydromassage. The apartment is located in the maritime zone of the city, convenient transportation, near the parking lot. 10 minutes from the "Historic Center", 10 minutes to the beach, near the park.

In April 2012 we had a guest from Airbnb, Alexander, and he left us here such a good review (you can see it in Russian below):
"My trip to Odessa, has been planned in advance, and not after the long search for a comfortable home, I stopped at the apartment of Larisa. Upon arrival in this great city without the complexities found the street and house itself, as in fact, the apartment is in a convenient location, you can say in the center of the city, where everything is close, 10 minutes to the beach "Langeron" walking pace for 20 minutes, reached the famous Deribasovskaya. very flat, consistent picture shown. but what a pity it is not possible to convey the atmosphere (per capita), an apartment, it is so comfortable ( I write without exaggeration) in the morning caught myself thinking that you do not want to rush away from it. the first thing came out onto the balcony and enjoyed the morning the city, on the left view of the sea, right on the church and city buildings. the evenings .... all in lights and so pleasant to sit on the balcony with a cup of tea wrapped in a rug. ... is an expression of my apartment ... so here's the apartment is fully coincided with my inner desires and impulses. And it happened even so, this room has inspired me to stay One day in the city. Although the city itself, and I really liked. But that's another story. Just everything was harmonious. Thanks to Larissa and her husband are wonderful welcoming, positive, good natured, sympathetic people who are ready to help. If the opportunity to return, for sure I will book this place again."

You can see this review below, it is attached to the first announcement of the apartment, which was created before the visit of the photographer Airbnb. See Airbnb Verified photos of our apartment in this ad and come to visit us soon! We will be happy! Welcome!
The presence of animals is discouraged, but there may be exceptions. Ask guests to smoke on the balconies.
My stay was very enjoyable in Odessa. The apratment was exactly like te photos well kept and clean. My guests commented on such a beautiful flat. I will always stay here when in Odessa, Larissa picked me up at the airport and also showed me the city center. When I forgot my power adapter she graciously came out on a Sunday to show me where to purchase one. Thank you Larissa!
---
Larissa & Alexander's flat in Odessa was great!!! Both the apartment AND building complex were clean, modern, well-designed and comfortable. We enjoyed cocktails at night on the small outdoor, screened-in porch 11 stories above the city and when we looked out the windows, we could see across the rooftops to the Black Sea! The contemporary kitchen is sleek and contains all the essentials one might need in the event cooking was necessary. Luckily, there were also a few nice restaurants in the area – a couple even had menus in English – and we used the apartment mostly for wi-fi, cocktails and sleep. The neighborhood felt very safe. There are beaches & more restaurants about a twenty-minute hike away and we never felt the need to go to the more crowded touristy parts of Odessa. (We'd been there before.) Larissa & Alexander were wonderful hosts – always available when we needed them. (Larissa was instrumental in getting my luggage delivered to me when it didn't arrive on my flight. I don't know what I would've done without her!)
---
Квартира расположена очень удачно. Действительно близко к морю и к центру. Большая печяль с парковкой, но это вроде как проблема всей Одессы. Машину во дворе поставить не получиться. Парковка платная и парковаться нужно на тротуарах среди пешеходов. Очень маленькая ванная. В душевую кабину во весь рост не влез )) Хозяева приветливые.
---
Прекрасная квартира, отличное расположение. Можно дойти пешком как до моря, так и до центра города. Современный жилой комплекс, охраняемая территория, уютный двор. Квартира очень светлая, чистая, есть все необходимое. Приветливые и гостеприимные хозяева. С удовольствием вернулась бы еще раз, спасибо!
---
I've stayed in the apartment for a week together with my daughter in June 2014. Very Nice, convinient, cosy and well-equiped place where you find all you need for a Nice holiday within a walking distance! Quiet area, new house, apartment is exactly as on the pictures. We enoyed our stay and I would recommend it to those who will visit Odessa as it it Nice an conviniently located. Both seaside and city senter are within walking distance. Just great!
---
We meet and accompany guests.
Hello friends! My name is Larisa. I live in Odessa, and I'm happy that you can come to my place! Contact me here if you have any questions.

Добро пожаловать в Одессу! :-) Пишите!
语言:
English、Русский